Panjeeri or Panjiri is a delicious and nutritious mix of roasted nuts, seeds, and roasted semolina. It's kind of a South Asian take on granola. It is primarily made for postpartum mothers for its ample health benefits with postpartum recovery.
Also try this Suji ka Halwa or Anday ka Halwa, which are great for their warming properties.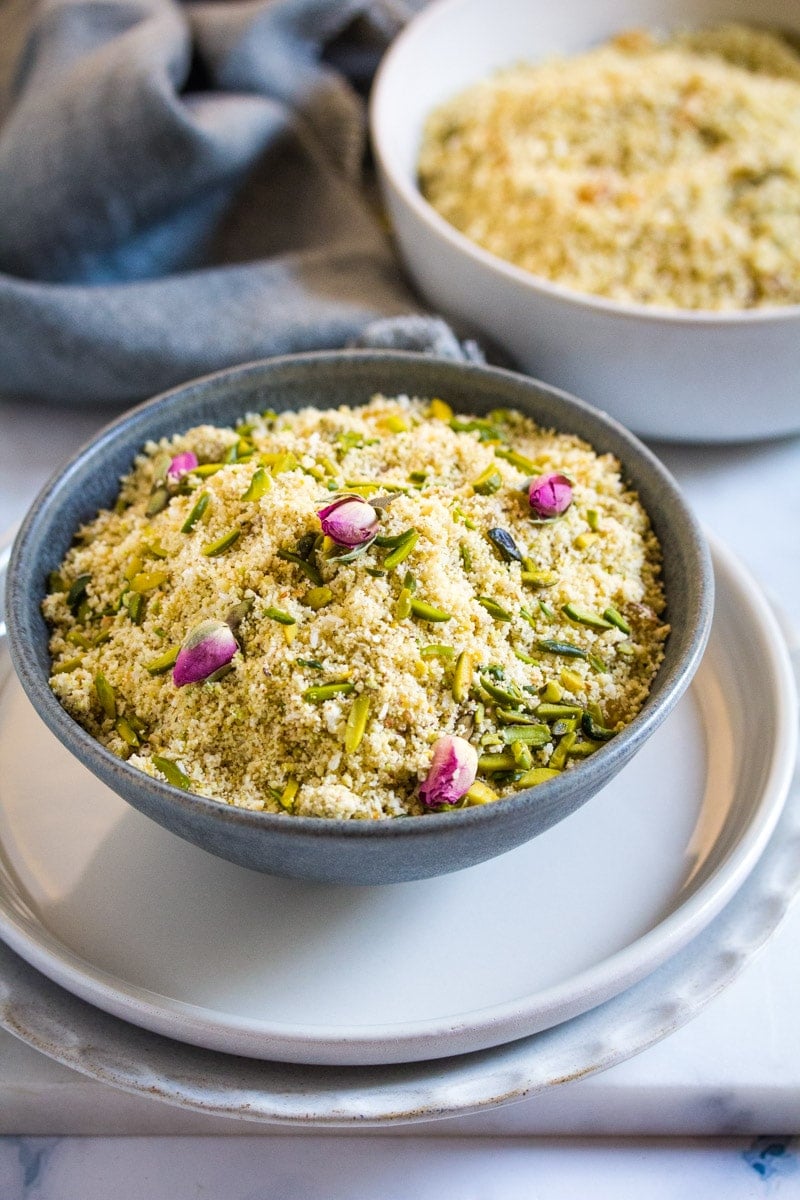 Panjeeri is a popular meal known as an excellent postpartum dish for women in India and Pakistan because of the nutritional value offered to the mother. Consisting of coconut, assorted nuts, powdered sugar, roasted semolina, and several other ingredients, the flavorful dish promotes healing and helps lactating women. While it's perfect for new mothers, anyone can enjoy the incredible taste of this easy-to-prepare dish.
Jump to:
Homemade Panjeeri Recipe
If you've ever tasted Panjiri before, there is a good chance that you loved it because it has such a unique and delicious taste. Of course, you might think that it's hard to make this dish at home, but it's much easier than it sounds. Most people don't realize how easy it is until they give it a try for themselves. If you want to make this nutritional dish loaded with flavor, be sure to give this recipe a try.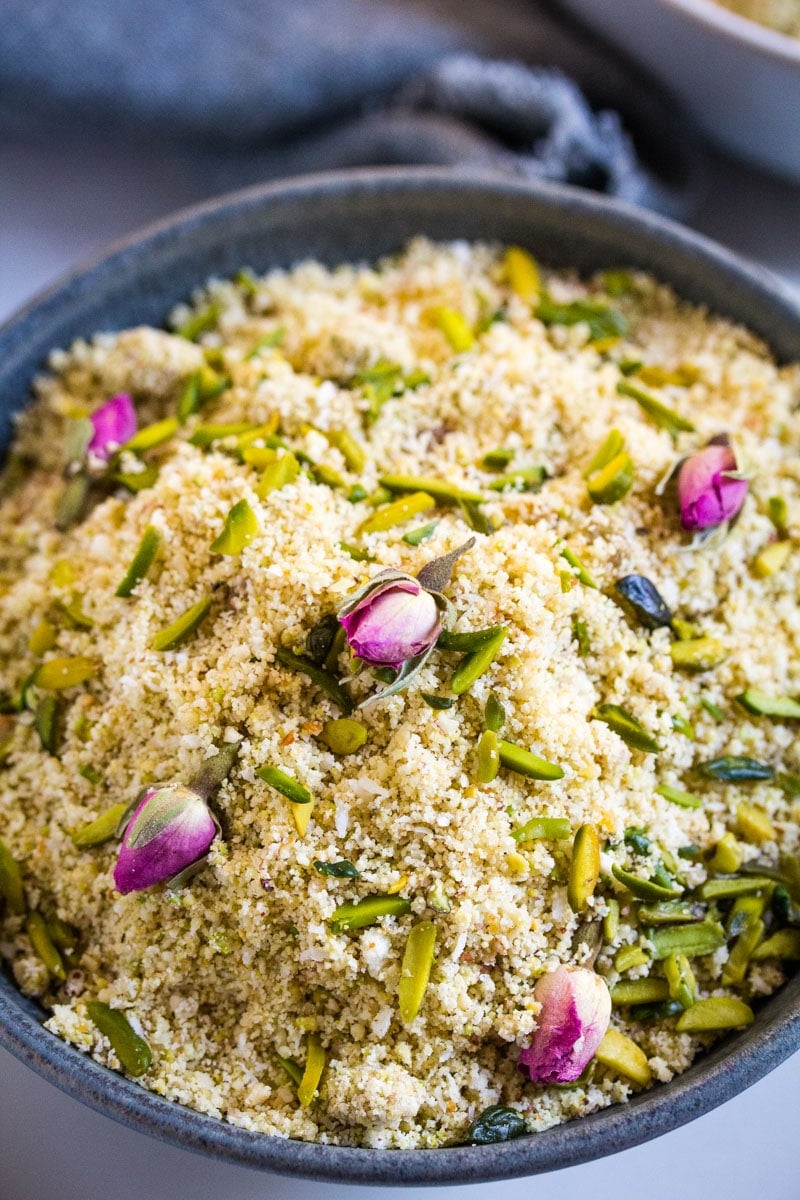 Why You'll Love This Recipe
It's loaded with good-for-you ingredients. The nutritional value of this recipe is out of this world! It's great as a warming meal for winter days, and is esepcially fortifying for new mothers who are postpartum.
It tastes amazing. If you're looking for something enjoyable with a great taste and texture, this is the perfect recipe for you.
The Panjiri helps with lactation, especially if you add some roasted oats in it. If you're a new mother, you may want to increase your milk supply, and this is a great food to eat for that.
Panjiri Ingredients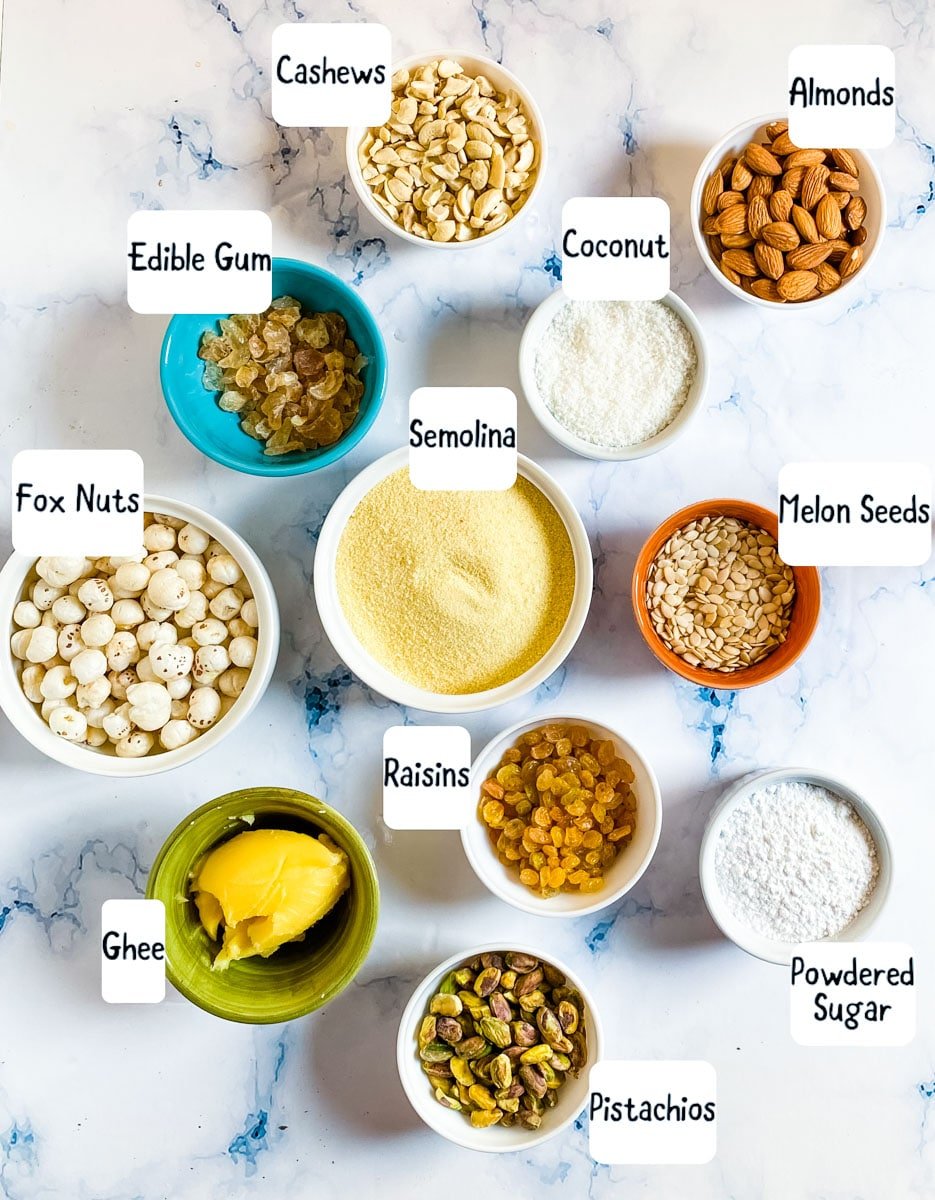 There are a few essential ingredients you're going to need before you get started. These ingredients include:
Ghee - You'll need around ⅓ cup of ghee for this recipe. We don't need much ghee here, which makes this recipe nutritious, and not very indulgent. After all the focus is on nutrition value and not so much on calories.
Nuts: I used almonds, cashes, and pistachios. But you can really use any nuts of your choice such as hazelnuts, pralines and even Brazilian nuts.
Desiccated Coconut - If you don't have desiccated coconut, you can use coconut flakes.
Golden Raisins - Add a naturally sweet touch using some golden raisins.
Fox Nuts (Makhane): Also known as lotus seeds or phool makahne are lightweight and similiar to popcorn. However they are hard, and you can only bite into them after they've been roasted.
Melon Seeds: Also known as chaar maghaz these seeds are full of health benefits such as vitamin B6.
Edible Gum: Also known as gond, it is extracted from the drying sap of the plant Acacia. When fried in ghee it puffs up and then it can be ground to use in different recipes such as gaund ke laddoo. It's quite an essential ingredient for panjeeri as well.
Powdered sugar: The addition of powdered sugar to this recipe brings forth an additional touch of sweetness that pairs well with the natural saltiness of the fox nuts and unique flavor of the melon seeds.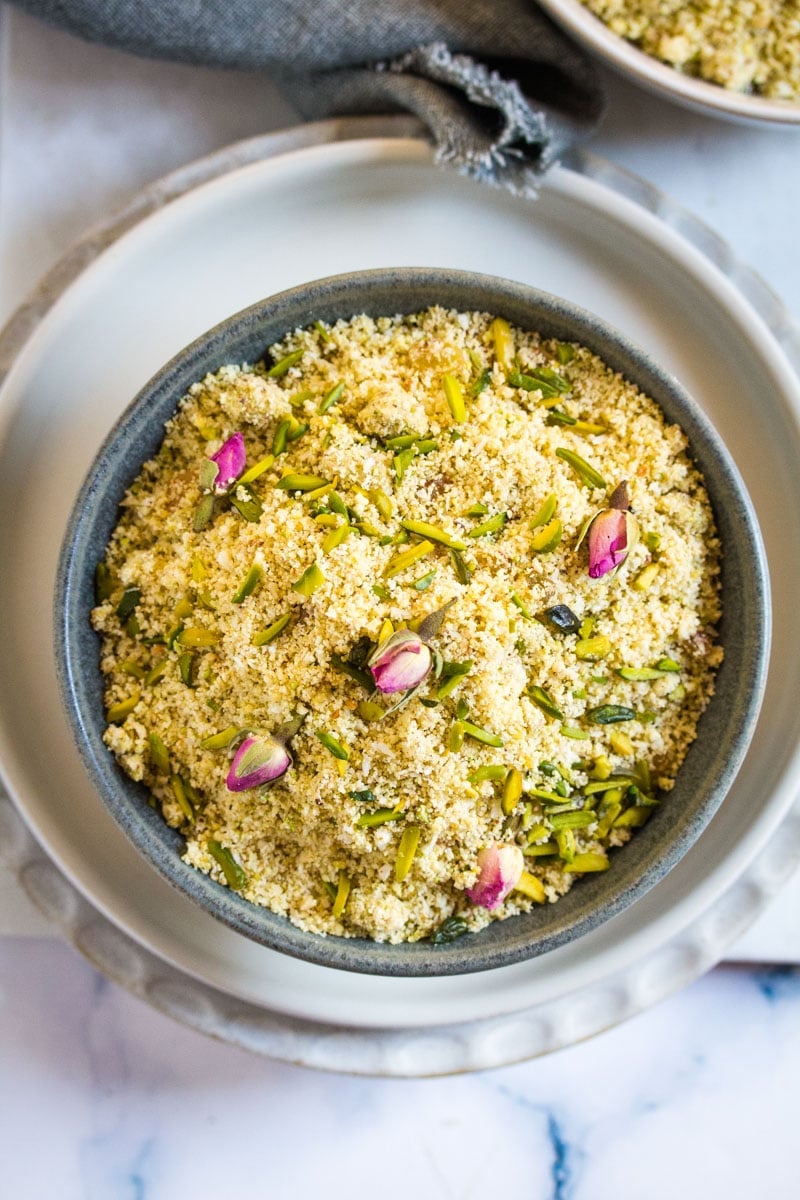 How to Make It
Making Panjiri may seem complicated, but the process is much simpler than most realize. It's a process that begins with roasting the dry fruit first, followed by roasting the nuts, melon seeds, and other ingredients, including the golden raisins and semolina. It's then the process of grinding the dry fruit and combining all your ingredients after using a food processor or mortar and pestle to grind things down to size.
1. Roast the Nuts & Dry Fruit:
First, start by roasting the nuts and other dry fruit in ghee. Keep a kitchen paper towel with you to wipe the pot in between roasting the ingredients. It's important to roast each separately because all of the ingredients have different roasting times as listed below:
Almonds: Roast in 1 teaspoon of ghee for 30-60 seconds until dark brown.
Cashews: Roast in 1 teaspoon of ghee for 30-60 seconds until golden.
Pistachios: Roast in 1/2 teaspoon of ghee for about 30 seconds.
Desiccated coconut: Roast in 1/2 teaspoon of ghee for 15-30 seconds until lightly toasted. Be very careful with it, as it can burn quickly.
Melon seeds: Roast in 1/2 teaspoon ghee for 30 seconds.
Edible gum: Roast in 1 teaspoon ghee for 1-2 minutes. It will make crackling sounds and puff up. If they remain hard, do not use in the panjiri.
Phool Makhane: Roast in 1 teaspoon ghee for 2 minutes. You should be able to bite into them when they're ready.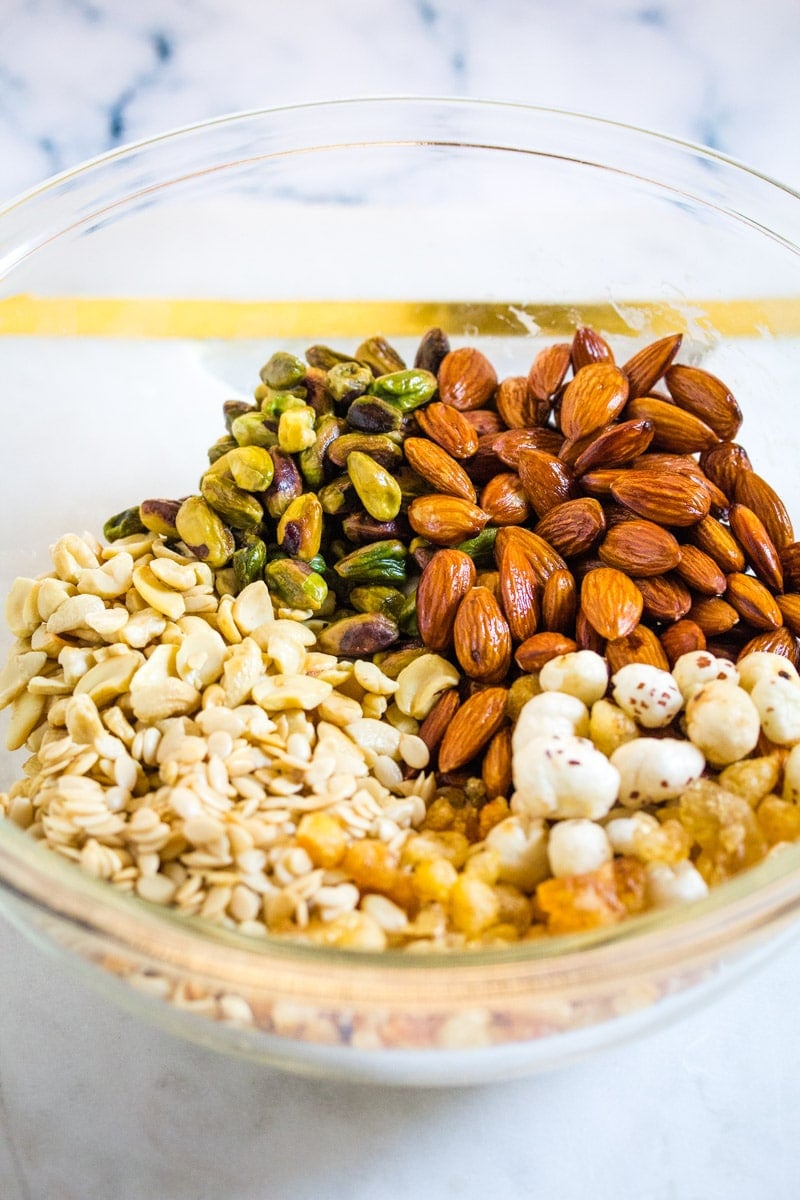 2. Grind the Roasted Nuts and Seeds in a Food Processor:
Once you've roasted all the ingredients (except the golden raisins) in ghee, it's time to process them into a rough ground consistency. You can do this in batches in a food processor or like me use a NutriBullet.
We aren't going for a very fine consistency here, so only a couple of pulses should be good enough. You can also reserve some of the whole nuts to later mix in with the panjiri if you like more texture. You can see what kind of texture we are going for in the picture below.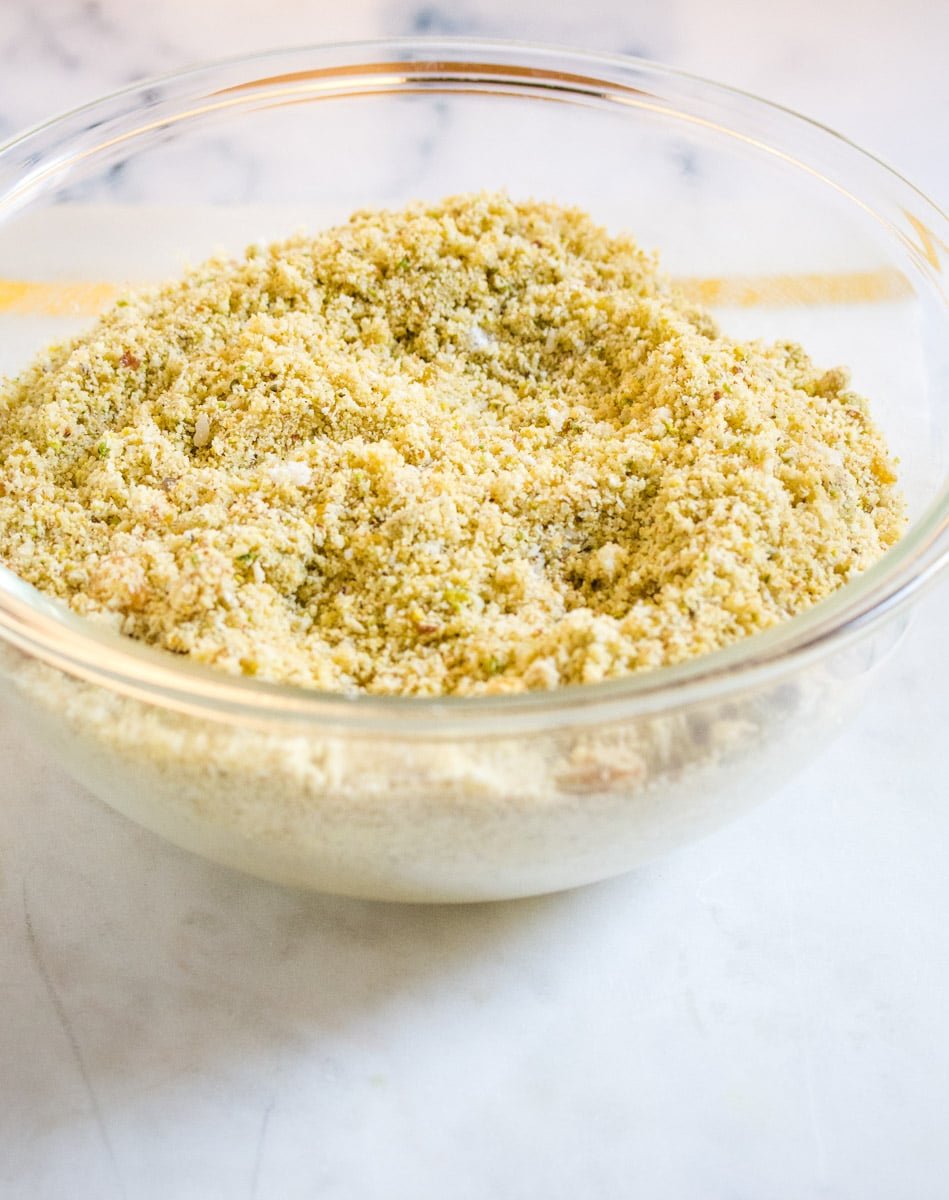 3. Roast the Semolina (Suji) in Ghee until it's Nutty and Golden Brown:
It's sometimes confusing to know when you've roasted the semolina properly. That's why I've added a visual for you to compare raw semolina with roasted semolina below.
Raw semolina will be lighter in color, and when the roasted semolina is golden brown, is clumping together a bit like damp sand, and has a nutty aroma, that's when you know it's ready. It takes about 10-12 minutes on medium-high heat.
As compared to the roasting of the dry fruits, you will need a bit more ghee to roast it properly.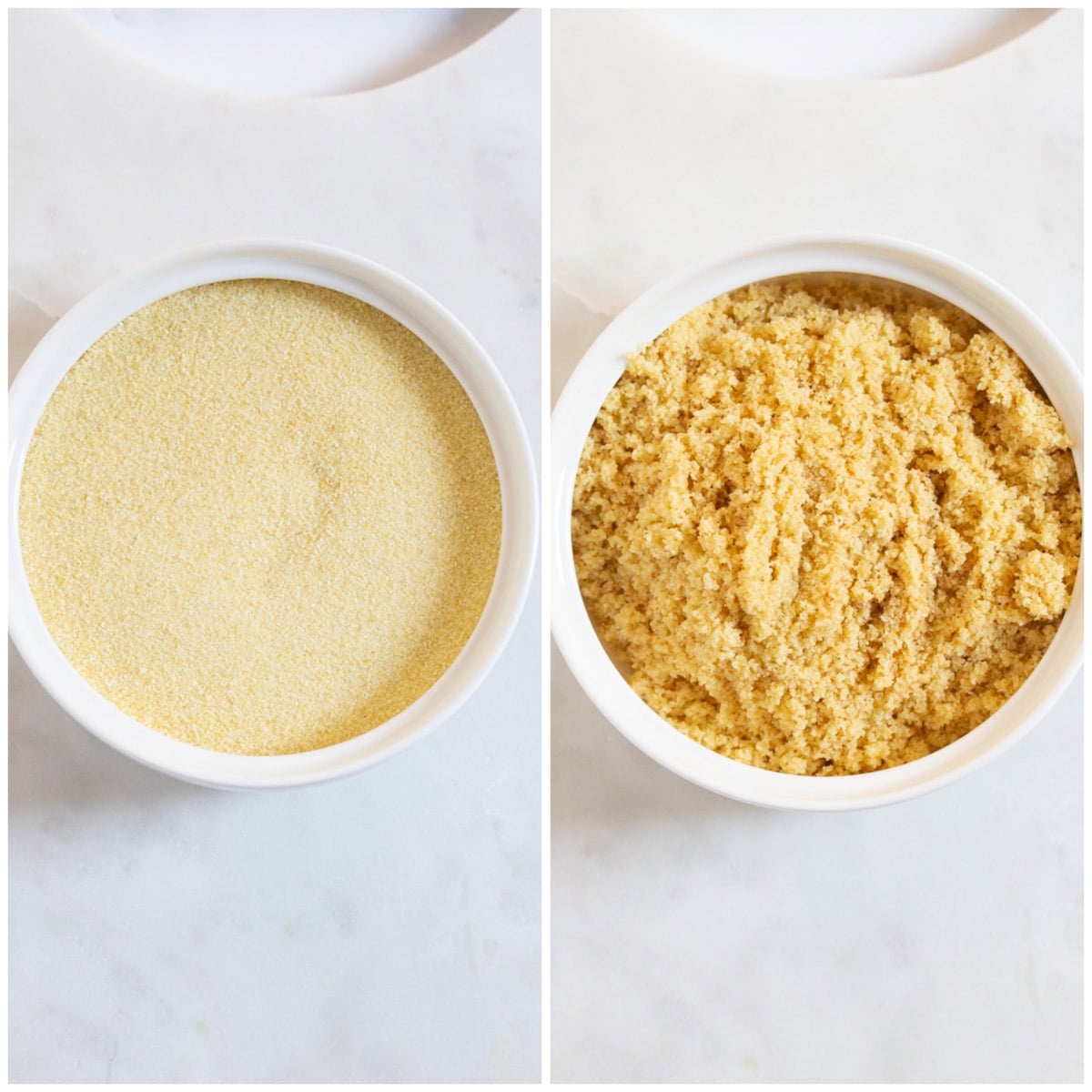 4. Combine All the Ingredients:
In a large mixing bowl, combine the coarsely ground dry fruit, powdered sugar, roasted semolina, and golden raisins. Mix well, and your panjiri is ready to be enjoyed.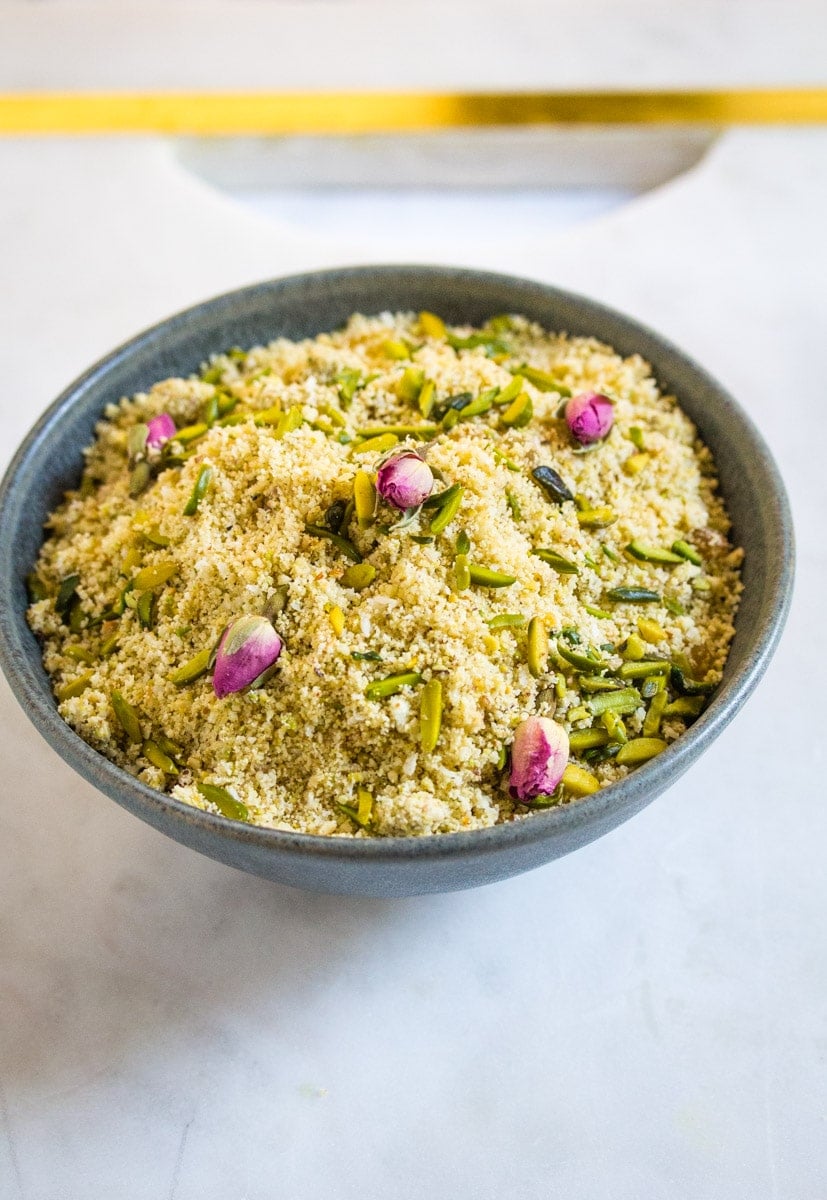 Frequently Asked Questions
What can I do if I don't have a food processor?
If you don't have a food processor for grinding the nuts, you can use a mortar and pestle. If you don't have that, place your nuts in a sealed Ziploc bag and then roll over them multiple times using a rolling pin or heavy can of vegetables.
Do I need to use wheat flour (atta) in this recipe?
Wheat flour isn't a requirement in this Panjiri recipe. However, it's optional, and if you're planning to use it, you can use a cup of it while roasting it in the ghee for around 20 minutes.
What does panjiri taste like?
This recipe has a nutty taste with a slight hint of sweetness that comes from the dried fruit. While it's an interesting flavor, it's a good one that you're sure to enjoy if you've never tried it before.
Recipe Notes & Suggestions
If you want to achieve the best results, use high-quality ghee in this recipe. It's not a good idea to substitute it with cooking oil because it's going to change the flavor while taking away from the nutritional value of this recipe.
If you can't find ghee or don't want to use it, the best thing to replace it with is high-quality, grass-fed butter. Of course, if you're vegan and don't want to use that, you have the option of using coconut oil instead.
Be sure to roast your dry fruit separately on medium low heat. It's easy to feel tempted to do it all at once to save yourself some time. However, if you're roasting everything together, some of the fruit won't roast evenly, which means some pieces might burn. Take your time and do it right to get the best results.
Don't overprocess the dry fruit as that can lead to a buttery consistency.
Panjiri can be stored in an airtight jar for up to 4 weeks.
Consume the panjiri in small portions, as it is dense in calories but full of nutrition.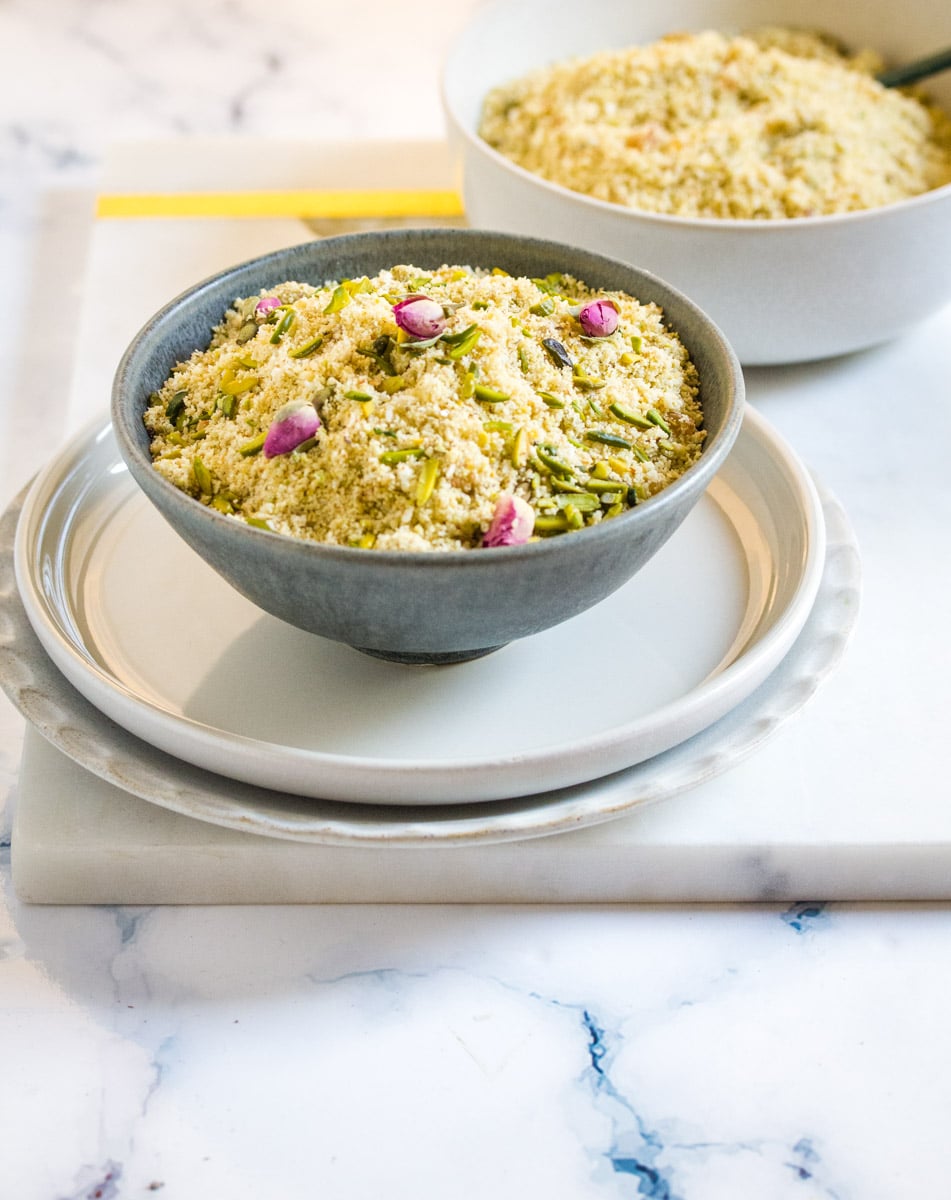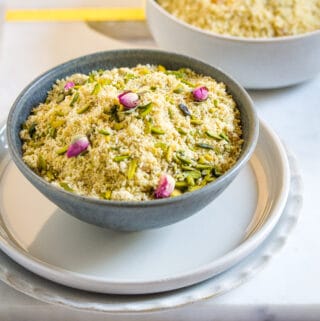 Panjeeri Recipe
Panjeeri is a popular dish made for mothers who are postpartum in India/Pakistan. It consists of nutritious ingredients such as roasted nuts, semolina, and seeds.
Print
Pin
Rate
Equipment
Food processor

Large, heavy bottomed pot.
Ingredients
1/3

cup

ghee

or as needed

1/2

cup

almonds

1/2

cup

cashews

1/2

cup

pistachios

1/2

cup

fox nuts

makhanay

1/2

cup

melon seeds

chaar maghaz

1/2

cup

desiccated coconut or coconut flakes

1/4

cup

edible gum

goond

1/2

cup

golden raisins

1

cup

semolina

sooji

1/2

cup

powdered sugar
Instructions
Roast the Dry Fruit
In a heavy bottomed pot, start by roasting each dry fruit separately. Keep the heat medium low.

Almonds: Roast in 1-2 teaspoons of ghee for 1-2 minutes until the color darkens. Set aside.

Cashews: Roast in 1-2 teaspoons of ghee for 1-2 minutes until lightly golden brown. Set aside.

Pistachios: Roast in 1-2 teaspoons of ghee for 1-2 minutes fragrant. Set aside.

Fox Nuts: Roast in 1/2 tablespoon of ghee for 3-4 minutes until lightly golden. To test if they're ready, try one. It should be crispy and not hard. Set aside.

Melon seeds: Roast in 1/2 teaspoon of ghee for 30-45 seconds. These can quickly burn, so don't leave them in the pot for too long. Set aside.

Desiccated Coconut: Roast in 1/2 teaspoon of ghee for about 1 minute. This can quickly burn too, so don't roast them for too long. Set aside.

1/4 cup edible gum: Roast in about 1-2 teaspoons of ghee for about 3-4 minutes. They will puff up and change color to white. Set aside.

Golden Raisins: In 1/2 teaspoon of oil, roast the golden raisins for about 30-45 seconds.
Roast the Semolina (Suji)
Wipe the same pot clean, and add 2 tablespoons of ghee.

Add the semolina, and on medium low heat roast for about 10-12 minutes until it changes color and becomes fragrant. Remove from pot, and set aside.
Coarsely Grind the Dry Fruit
Combine all the dry fruit (except for the desiccated coconut and golden raisins) together in a bowl, and mix well.

Using a food processor or a mortar & pestle, coarsely grind the almonds, cashews, pistachios, fox nuts, melon seeds, and edible gum in 2 or 3 batches.

Transfer to a mixing bowl.

Add the desiccated coconut, golden raisins, powdered sugar, and roasted semolina to the bowl.

Mix well until fully combined.

Store in an airtight jar for up to 1 month.
Notes
Ghee: Use a high quality ghee for the best results. Do not substitute with cooking oil, as the flavour and the nutrients just aren't the same. However, you can use high quality grass fed butter. For a vegan option, you can use coconut oil. Roast each dry fruit separately: It may be tempting to roast all the dry fruit together, but they may not roast evenly and even burn. So it's imperative to roast them separately. Wheat Flour: Lots of recipes call for wheat flour as well. If you want to add it to your panjiri, use 1 cup of wheat flour and roast it in 1/3 cup of ghee for about 15-20 minutes until golden brown. Additional nuts: You can use any of your favorite nuts for this recipe. Some good options are walnuts, hazelnuts, pecans and even Brazilian nuts. Edible gum: Edible gum adds more nutrients to the panjiri, however it's not always easy to find, so you can easily skip it. Additional Ingredients: You can also add other seeds such as flax seeds and hemp seeds for added nutrients.
Nutrition
Calories:
297
kcal
|
Carbohydrates:
30
g
|
Protein:
7
g
|
Fat:
18
g
|
Saturated Fat:
7
g
|
Polyunsaturated Fat:
3
g
|
Monounsaturated Fat:
7
g
|
Trans Fat:
1
g
|
Cholesterol:
15
mg
|
Sodium:
4
mg
|
Potassium:
264
mg
|
Fiber:
3
g
|
Sugar:
12
g
|
Vitamin A:
26
IU
|
Vitamin C:
1
mg
|
Calcium:
36
mg
|
Iron:
2
mg