Prepare this easy, stress-free Indian-inspired Mutton Karahi made with fresh ingredients, such as mutton (or lamb), fresh tomatoes, and lots of ginger and garlic. It's full of the bold, zesty flavor that you're going to love. You can also use the same recipe to make lamb karahi!
Also, try this delicious Chicken Karahi or Aloo Keema!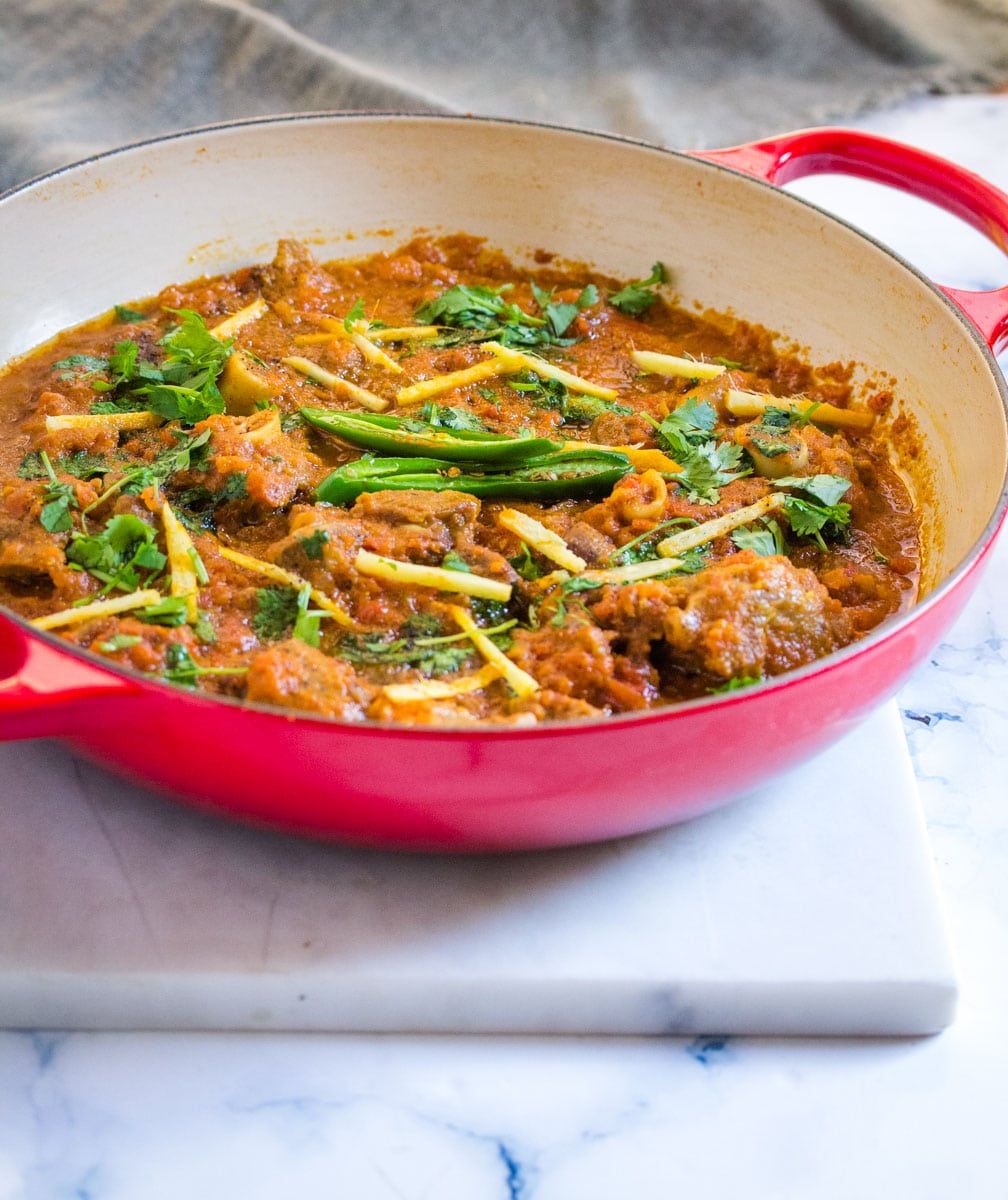 When you want to start making meals at home but you're tired of eating the same handful of meals all the time, it's a good idea to think outside the box while making meals that can satisfy your craving for something different yet delicious.
For example, this Mutton or Lamb Karahi recipe is amazing, and it's much easier to prepare than you might think, making it worth a try!
Jump to:
Karahi Gosht Recipe
Mutton Karahi, also referred to as Karahi Gosht when consisting of lamb, is a classic Indian dish consisting of various spices and fresh, wholesome ingredients. In Pakistan, it's mostly made with mutton. However, lamb karahi seems to be more common in the rest of the world. The best part is that it's the exact same recipe with either meat.
This delicious recipe is made with a simple base of sauteed onions, lots of fresh tomatoes, ginger & garlic, and pantry spices.
It's like nothing you've ever tasted before. We emphasize the use of fresh ingredients in this recipe.
If you're in the mood for a savory meal that contains healthy ingredients, be sure to try this recipe because it will impress you!
A little note on the term on Karahi: Karahi is a heavy-based iron wok in which you can cook on high heat and lots of fast stirring.
That's where the name comes from, but really most karahis can be made in other pots as well.
I used a dutch oven skillet for this recipe, and it worked really well. You can also learn more about this in my recipe post for Chicken Karahi which is extremely popular in Pakistani dhabbas and everyone loves them.
Why You'll Love This Karahi
Fast & Easy: It's easy to prepare. You won't have to spend too much of your time in the kitchen to make such a satisfying meal. Especially if you use an Instant Pot or pressure cooker like me to speed up the cooking process of the meat.
Restaurant-Style: You can prepare a restaurant-quality dish at home without stepping foot outside! Serve it with some naan or matar pulao, and it will be a fabulous meal right at home.
Make it a Fancy Dinner: It's the perfect meal to make when you're setting up an intimate date night dinner with your partner at home. If you're feeling fancy, you can also make this delicious Sheer Khurma as a dessert.
Ingredients to Make the Recipe for Mutton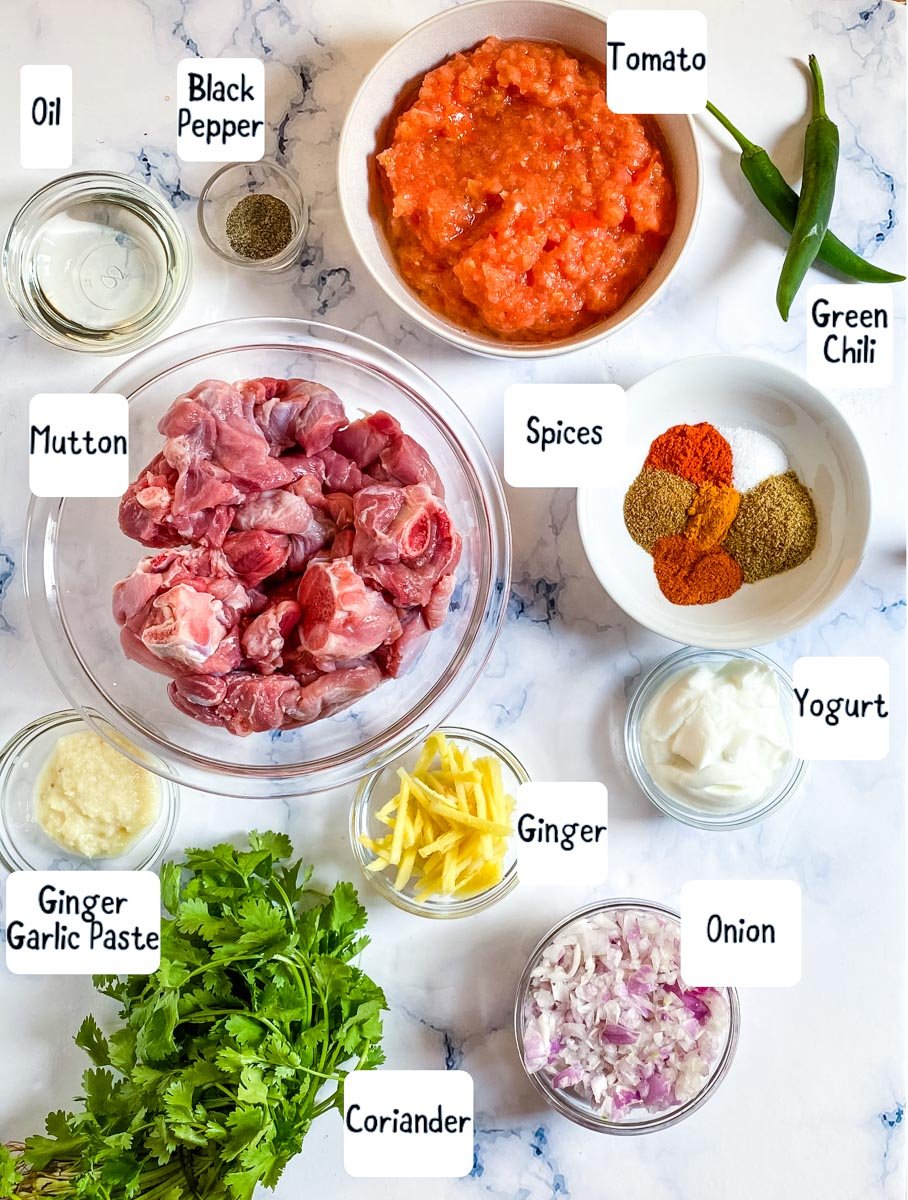 Before you can prepare this Karahi Gosht, you'll need these ingredients:
Onions - Choose medium onions and chop them into fine pieces. Use a small chopper to make the process faster and easier. Okay let's also talk about the controversy here. The original karahi recipes do not call for onions at all. But I feel adding a little bit of onion adds so much flavor and gravy to the recipe. If you want to go for the real deal version though, you'll have to skip the onion.
Mutton - Be sure to pressure cook in the Instant Pot for around six minutes. You can also use lamb in place of mutton in this recipe.
Ginger Garlic Paste - The combination of fresh ginger and garlic will blow you away! Or you can use the jarred kind or make a big batch of my ginger garlic paste!
Yogurt - You'll need around a ½ cup of yogurt to add flavor and texture to this dish. It also adds a richness to the gravy.
Tomatoes - Finely chop or puree the tomatoes in your food processor.
Green Chilies - Slit the chilies lengthwise before you use them. If you are spice averse, you can de-seed the chilies.
Fresh Coriander - Make sure you're chopping the fresh coriander into small pieces.
Julienned Ginger: Peel and chop the ginger into matchsticks. Karahis are always, always finished with lots of fresh ginger before serving.
Spices: Ground coriander, cumin, kashmiri lal mirch (for color), lal mirch powder, and salt are the only few spices needed. You can also optionally add a sprinkle of black pepper at the end when the mutton karahi is ready.
Oil: You will need about 1/2 cup of oil for this recipe if you want a restaurant style dish, but you can also reduce the amount a bit if desired.
How to Make It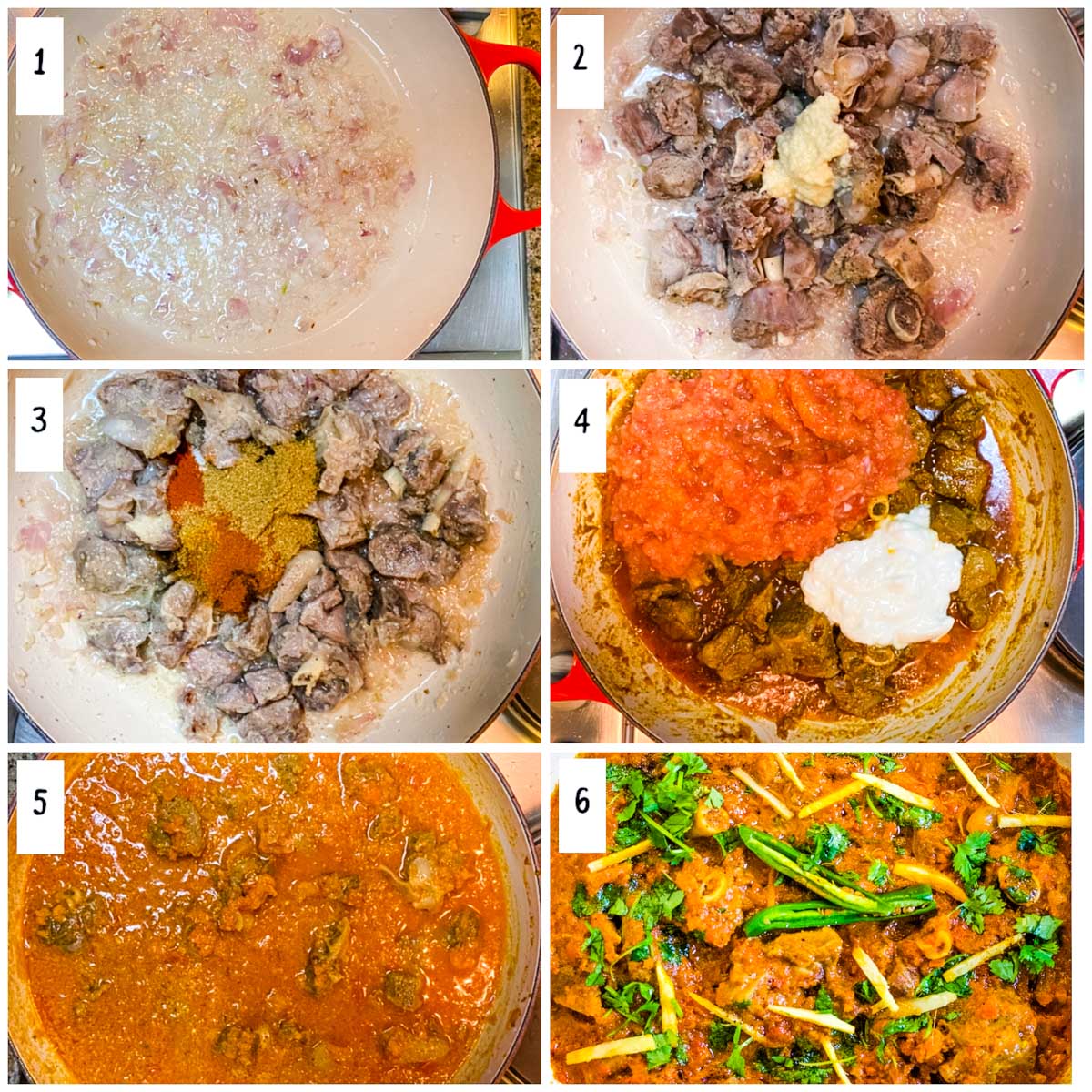 Saute Onions: In a karahi or wok, add the oil and fry the chopped onions until translucent and light golden brown.
Mutton: Add the pre-cooked meat and ginger garlic paste, and saute for a few minutes.
Spices: Now add the spices, and cook for another 3-4 minutes until you can see the oil separate. During this time you can add a splash of water once or twice to ensure the spices do not burn from the high heat.
Tomatoes & Yogurt: Add the freshly pureed tomatoes and yogurt, mix well, and cook for 2-3 minutes on high heat. Add the water now and stir to combine.
Slow Cook: Lower the heat, cover the pot, and cook for 1 to 1.5 hours or until the meat is fully cooked through.
Cook on High Heat: Remove the lid, increase the heat to high, and cook while stirring frequently for 4-5 minutes or until you can see the oil separating at the edges. Remove from heat. Top with fresh ginger, fresh coriander and black pepper (if using), and cover for 5-10 minutes. Your mutton karahi is ready to be served now.
Recipe Notes
If you plan on using lamb instead of mutton, be sure to adjust the cooking time. Lamb takes a bit less time to cook than mutton, so you wouldn't want to cook it as long because then it might taste dry.
Pressure cooking the meat is a great way to take a bit of a shortcut while making the Karahi at a much faster pace. If you have a pressure cooker at home, it's worth doing this to save yourself some extra time.
If you don't have a pressure cooker, you can use the boiling technique, cooking the meat in water until it's at least 80 percent cooked.
Mutton Karahi is a delicious Indian-inspired meal that you can learn to make at home using this simple recipe. Love mutton dishes? Try these Mutton Chops!
It may seem complicated, but it's easier than you think to make such a wholesome, flavorful meal full of ingredients that are naturally good for you.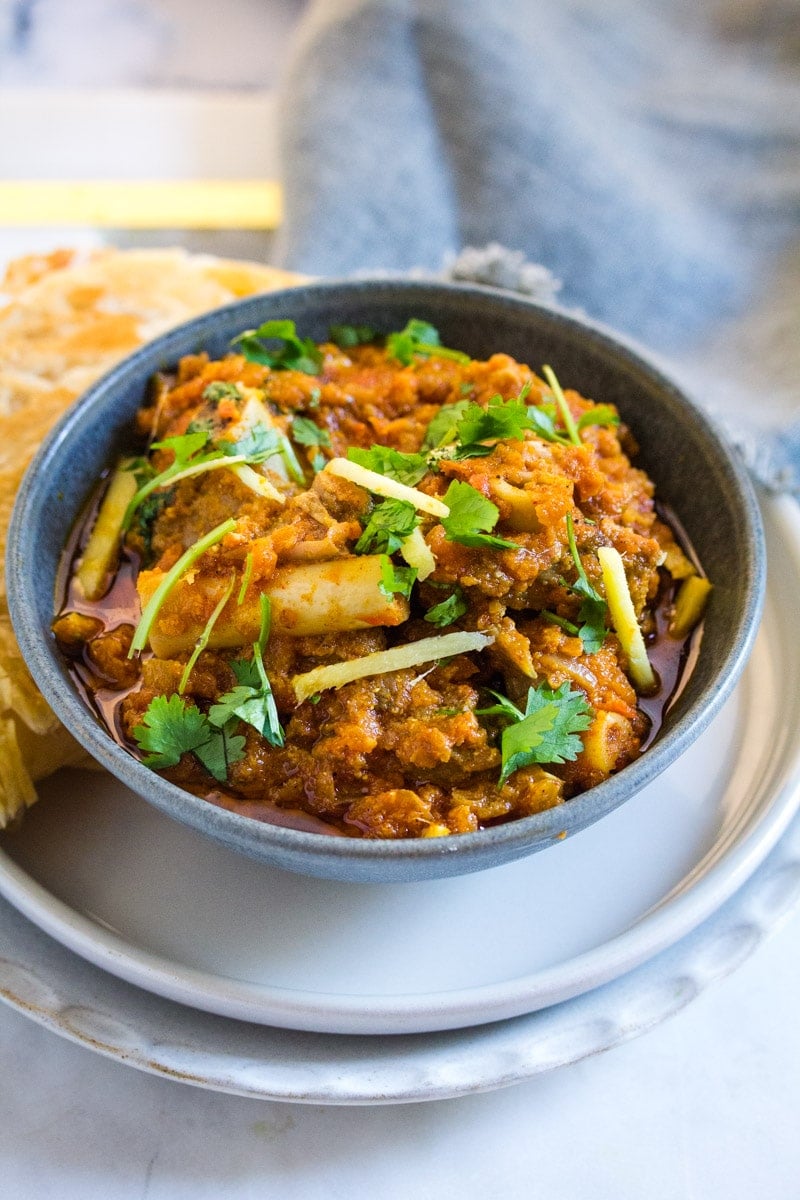 How to Adjust this Recipe to Make Lamb Karahi
To make this recipe with lamb, you'll need to cook it for less time. If you pre-cook the lamb in the instant pot or pressure cooker, it'll take even less time. Just substitute the mutton with lamb, and follow the rest of the recipe as written. The lamb will take about 30-45 minutes of cooking time if it's pressure cooked.
You can also make this recipe with chicken or even shrimp. However, cooking times will vary for each and will be much shorter. You can even try this White Chicken Karahi recipe, which is made with a base of yogurt and spices.
Serving Suggestions
Recipe FAQs
Do I need any special equipment to prepare this meal?
You're going to need a wok or karahi to prepare this meal. If you don't have a wok, you can still make it, but you're going to need a large skillet with more than enough space for all the ingredients you're going to cook. The best alternative to the wok is a dutch oven.
Is this dish a bit spicy?
No, this dish isn't spicy, but it does have a bold, zesty taste that may be different from what you normally prepare at home. If you would like it to have a bit of a kick, you can increase the amount of black pepper added to it or even add a bit of red pepper chili flakes into the mixture with the other ingredients.
Do I have to use mutton in the karahi?
No, you don't. You can use lamb as an alternative for mutton. Lamb karahi is a popular dish because of its light texture and great taste.
How do I thicken this up?
increasing the heat while thickening the mixture up a bit and getting the oil to separate from the rest of the ingredients.
What is the difference between lamb and mutton?
The main difference is in the age of the animal. Mutton is typically from an older animal (commonly around 3 years old), while the lamb is the meat of a young animal.
Mutton Karahi
Mutton Karahi is a fabulouse restauranty-qualtiy recipe made with fresh tomatoes, spices and lots of ginger and garlic. You can also make it with lamb!
Print
Pin
Rate
Equipment
Karahi or Wok

Instant Pot

Food chopper
Ingredients
1/2

cup

oil

2

medium onions

finely chopped

1

kg

mutton

pressure cooked in the instant pot for 6 minutes until about 70% done

2

tablespoons

ginger garlic paste

2

teaspoons

coriander powder

1.5

teaspoons

cumin powder

1.5

teaspoons

lal mirch powder

1.5

teaspoons

kashmiri lal mirch

1.5

teaspoons

salt

or as needed

1/2

cup

yogurt

4

large tomatoes

finely chopped or pureed in the food processor

1-2

cups

water

2

green chillies

slit length wise

A handful of fresh coriander

finely chopped

Fresh ginger

julienned

1/2

teaspoon

black pepper

optional
Instructions
In a wok (karahi) or heavy bottomed pot such as a dutch oven, heat the oil.

On medium high heat, saute the onions until translucent. Do not brown.

Add the mutton and ginger garlic paste and cook for 3-4 minutes.

Now add the spices, and cook for another 3-4 minutes until the oil separates. While doing so, add 1-2 tablespoons of water so that the spices do not burn.

Now add the yogurt and tomatoes. Mix well. Cook on medium high for 3-4 minutes.

Add about 1 cup of water and cover with a tight fitting lid. On medium low heat cook for 45 minutes or until the mutton is fully cooked. Keep checking during this time, to make sure there's enough water.

Remove the lid, and increase the heat to high. Cook for 5 minutes until you can see the oil separating.

Garnish with chopped coriander, black pepper powder, and ginger.
Notes
Mutton: You can also use lamb in this recipe but the cooking times will differ. Lamb will take a little less time than mutton. Pressure Cooking the Meat: This is a shortcut, and making the Karahi becomes much faster. To pressure cook, I added about 1 tablespoons of ginger garlic paste, salt & pepper, the mutton and about 1.5 cups of water. Pressure cook for 6 minutes. Remove from the pot, and set aside while you saute the onions. Similarly you can also boil the mutton using the same ingredients until the meat is cooked 80-90 percent. Slow cooking: I pressure cook the mutton to make the cooking process faster. However, you can definitely slow cook the mutton. Just add the raw mutton after the onions are translucent. Add about 2 cups water, and cook on low heat for about 2.5 hours or until the mutton is fully cooked. Then follow the next steps in the recipe.