Aloo Keema is an iconic Pakistani and North Indian recipe made with ground beef and potatoes. It's an easy, fail-proof recipe to make, and yet so delicious to enjoy with a side of paratha or this Chana Pulao. Traditionally it's served with a simple Kachumber Salad and Cucumber Raita.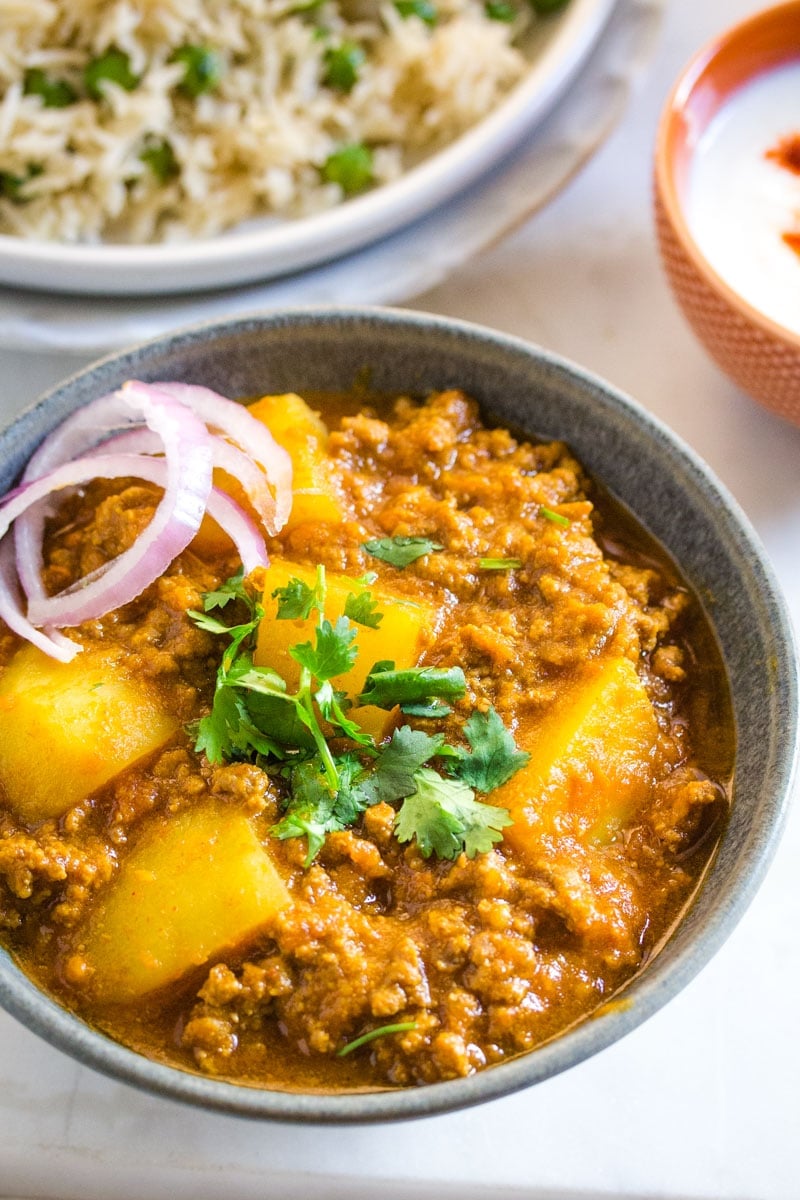 I'll be honest, growing up, I found aloo keema a bit boring. It actually was my brother's favorite recipe growing up, and his answer would always be keema aloo when our mother asked what we wanted for dinner.
Now that I'm a mom myself, it's become one of my favorite recipes to make because it's so quick and so wholesome to have after a long day. Comfort food at its best!
Jump to: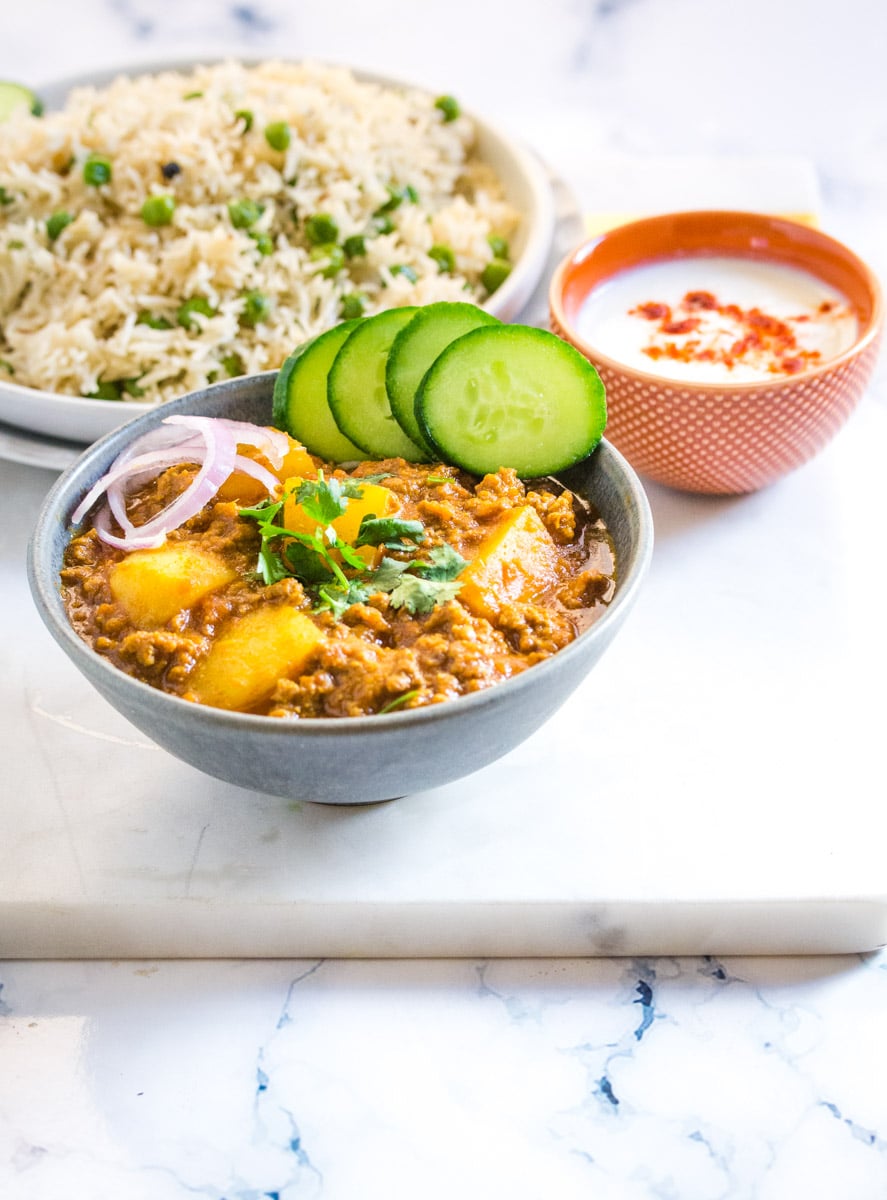 Why this Recipe Works
Tried & Tested Recipe: This is one of the first recipes I learned to cook from my mother, and have been making for many years. Over the years, I've tested and tweaked the recipe to make the best version possible.
This is a no-fail recipe that will quickly become part of your weekly rotation. My secret ingredient: Add tomato paste! It adds amazing flavor and color to the dish.
Perfect for Beginners: If you're a beginner in South Asian cooking, this is such an easy yet delicious recipe to make. We only use a few basic spices, and no whole spices at all for this recipe.
One-Pot: Like most South Asian recipes, this aloo keema is a one-pot recipe which makes cleaning up super easy. If you love one pot recipes you must try this mutton karahi or achari chicken.
Great for Leftovers: This recipe makes enough to have some leftovers, and leftover aloo keema is perfect with paratha and green chutney!
Ingredients You'll Need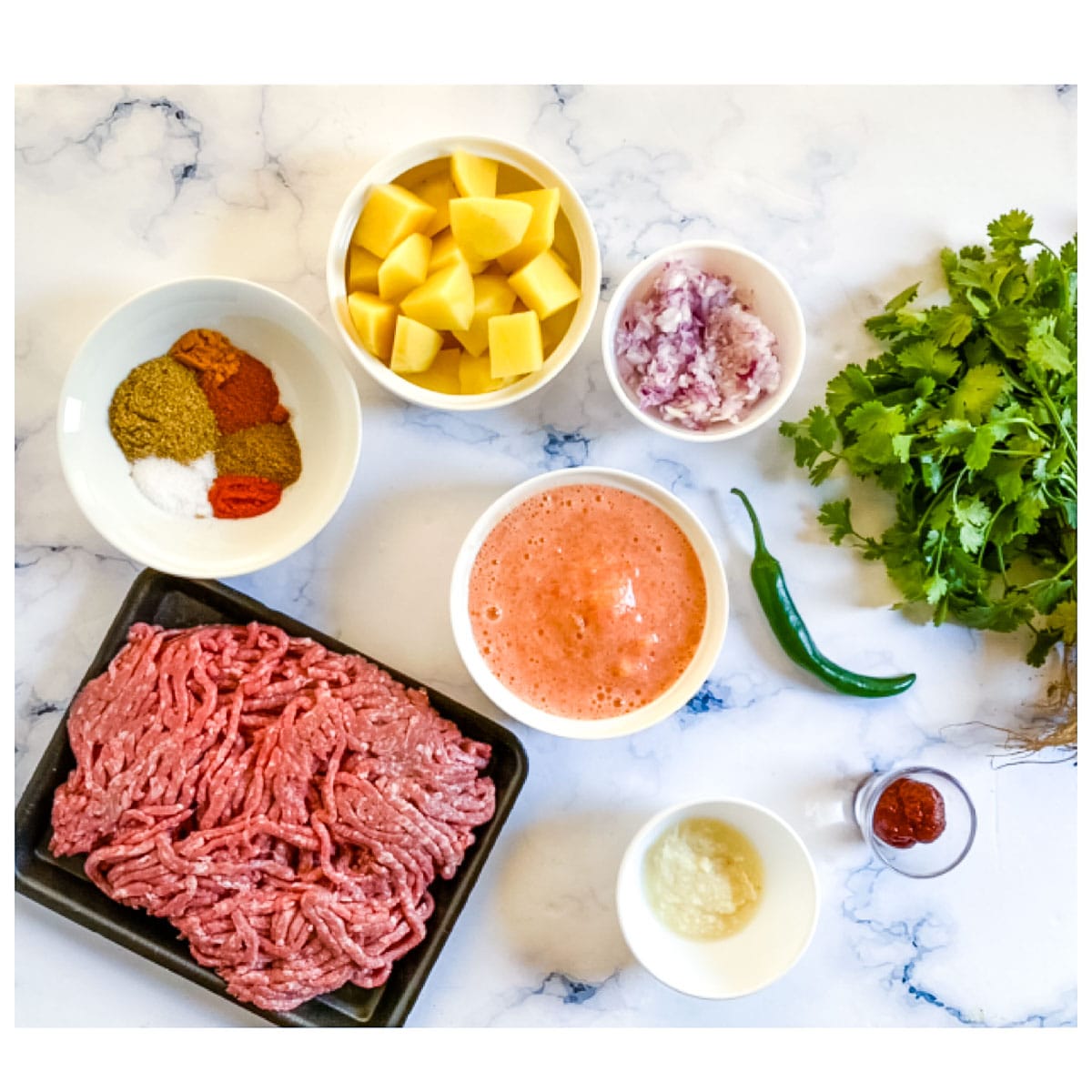 Ground Beef: Keema aloo is most commonly made with ground beef, which is what we are using in this recipe. However, you can easily swap with chicken or lamb mince, just like for this Keema Recipe.
Tomatoes: South Asian cuisine focuses heavily on using fresh ingredients, so I always recommend using fresh tomatoes if you can. However, you can also make this with canned crushed tomatoes as well.
While most recipes call for hand-chopped tomatoes, I usually just pop them in my chopper or blender and blend them into a puree. This makes the process quick and easy, and we also don't have to worry about tomato skins floating in the cooked dish.
Tomato paste: This is an unusual ingredient for this recipe, however just a little bit of tomato paste adds fantastic color to the keema aloo and also amps up the flavor as well.
Onion: You can pretty much use any onion you have on hand, red, yellow, or white. While you can chop them finely by hand, I prefer to use my chopper because it's faster and chops the onions finely enough that they cook fast when making the ground beef curry.
Potatoes: Use potatoes with a high starch content such as russet potatoes. I do not recommend using other varieties of potatoes such as red potatoes.
Spices: These are the most basic spices always used in South Asian cuisine: red chili powder (lal mirch), turmeric powder, salt, coriander powder, and cumin powder. Some recipes call for whole spices, but I prefer to skip them as my kids don't like the overpowering flavor.
Ginger & Garlic Paste: Use my recipe for ginger garlic paste, or use it from a jar. You can also use freshly crushed garlic and ginger.
Fresh coriander & green chilies: To finish off the recipe, these ingredients add a fresh aroma to the recipe!
Oil: Use any neutral-flavored oil for this recipe. You can also adjust the amount as per your liking.
How to Make Keema Aloo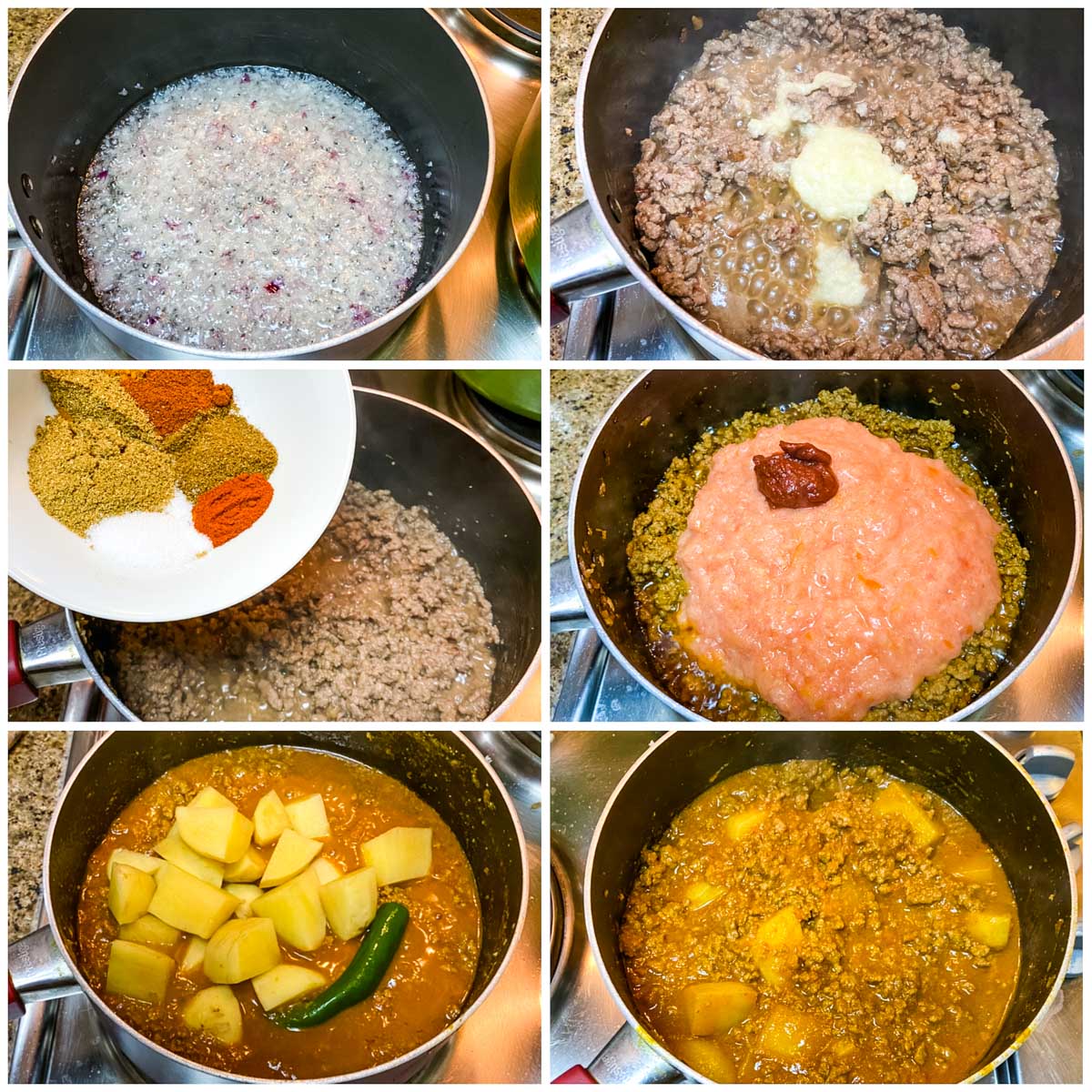 Saute the Onion: Add the oil to a medium-sized pot (I use a non-stick saucepan), and bring to medium-high heat. Saute the chopped onion until translucent, but do not brown.
Cook the Keema: Add the ground beef, and cook on high for a few minutes until it changes color. Now add the ginger-garlic paste, and cook for another 2-3 minutes.
Add the Spices: This is time to add the spices, and cook the keema on high heat for 5-7 minutes until you can see the oil separating.
This is called bhunnai, and it's what helps give the keema really good flavor. If there's one thing you need to get right in this recipe, it's this part.
I talk a lot about this in my other qeema recipe as well. This cooking process helps sear the ground beef and helps in developing really good flavor.
Add tomatoes & tomato paste: Now we add the tomatoes, about 1/4 cup of water, and cook on low heat for about 10 minutes until the tomatoes no longer have a raw flavor.
Potatoes: Add the cubed potatoes along with the green chili, and cook covered for an additional 10 minutes or until the potatoes are cooked through and tender.
Finishing Touches: Finally we add the freshly chopped coriander (the more the merrier), cover, and leave on low heat for about 5 minutes. Now your dish is ready to be enjoyed with fresh cooked roti or rice!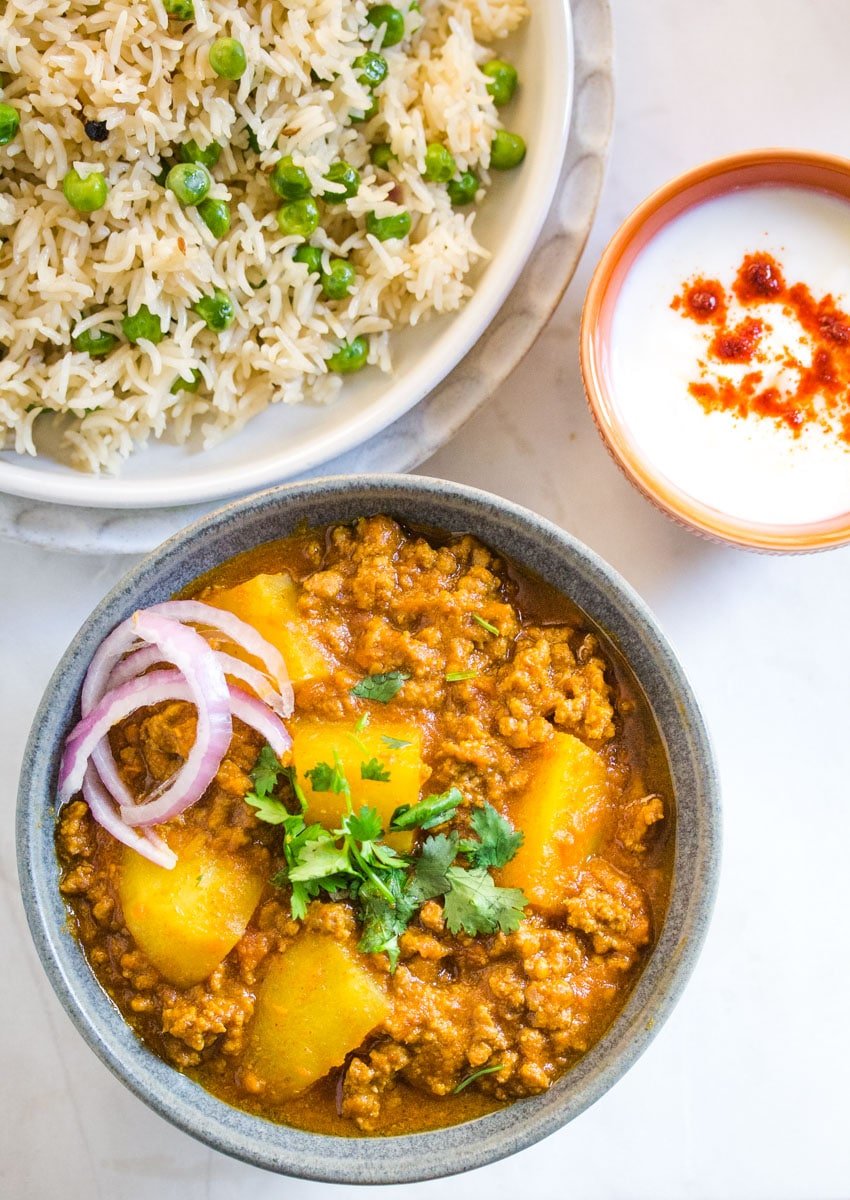 Expert Tips
Machine vs Haath ka Keema: I always use ground beef that's been minced by a machine. But that means it's a very fine mince. It still is very delicious and easily available everywhere.
However, if you want even more delicious keema, then try having your butcher mince the meat using a good old knife. Haath ka keema is quite literally minced beef that's been chopped by hand.
Lean vs Fat: You can use lean ground beef, but for more flavor, I prefer it with some fat content. This makes the keema aloo more juicy and flavorful.
How to Get Rid of the Smell: Ground beef (or mutton or lamb) can sometimes be a little smelly which may not be appreciated by everyone, especially little picky eaters.
If you cook the meat really well after adding the spices, this problem will be pretty much solved on its own. Most people go wrong when they don't bhunn (sear) the keema enough.
If you however still feel that the keema has this issue even after cooking you can add freshly chopped mint along with the coriander OR finish it off with dried fenugreek leaves. That will definitely do the trick!
Adjust the Amount of Curry: I like my keema to be on the drier (yet juicy) side, so I add only 1/4 cup of water to the curry. However, if you want your gravy to be on the looser side, feel free to add up to a 1/2 cup of water.
Size of Potatoes: If you cut smaller cubes of potatoes they will cook faster. I keep them on the larger size, so they have to cook for a little bit longer.
Variations
Peas: If you don't want to use potatoes in this recipe, you can also use peas to make keema mattar. Just add the peas instead of the keema and cook about 10 minutes. Here's my recipe for Keema Matar.
Bell Pepper: You can also add chopped green bell pepper to make it into shimla mirch keema. It only needs a few minutes of cooking, so add it right before the keema is done cooking, about 5-7 minutes before it's ready.
Recipe FAQs
Do you need to wash the ground beef?
No, if you are getting your ground beef from a reliable source, there is no need to wash the keema at all. If you still want to wash it, you can do so by placing it in a strainer and running it under running water a few times.
How to Store
Aloo keema is perfect for leftovers and can be stored in an airtight container for 2-3 days. You can also freeze it for up to 1 month.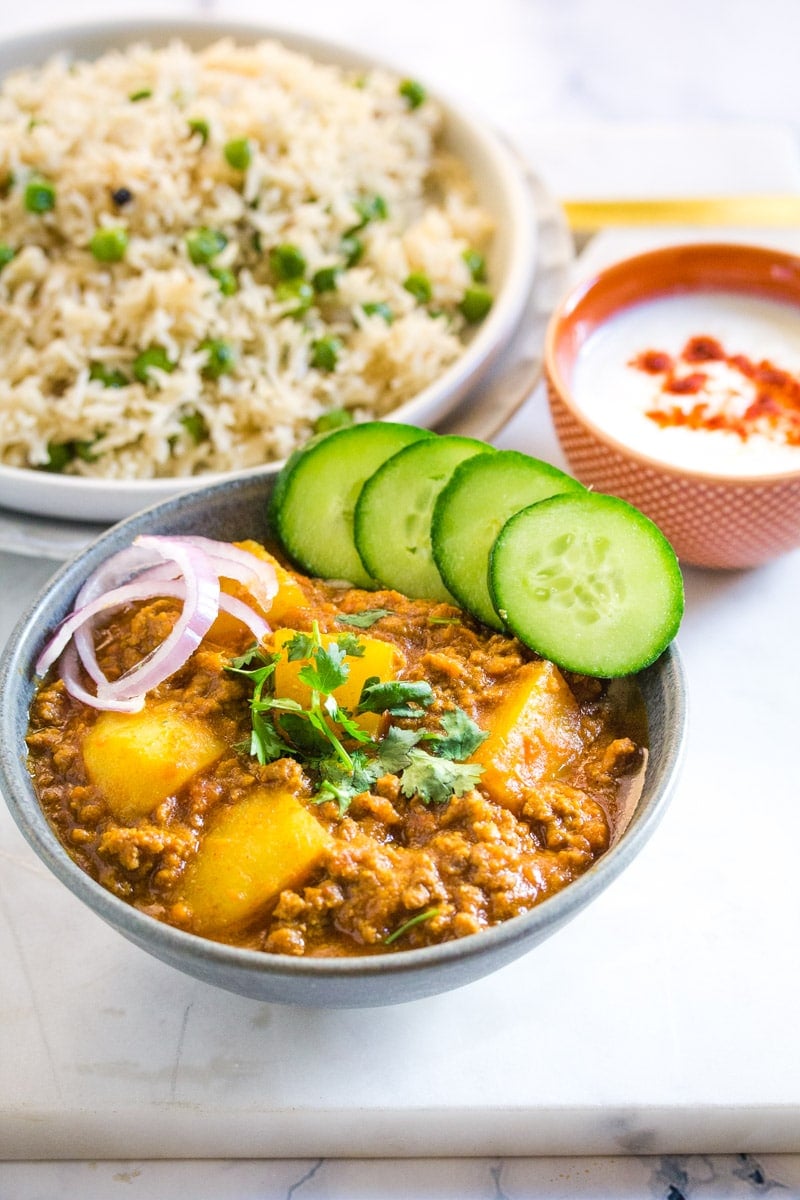 Serving Suggestions
Note: This recipe was originally published on Jan 7, 2019. It's been updated for new pictures and step by step tutorial. The recipe remains the same, and it's as delicious as ever.
Aloo Keema
Aloo Keema is a classic Pakistani recipe made with ground meat and cubed potatoes. It's easy, wholesome recipe best served with roti and a simple salad.
Print
Pin
Rate
Ingredients
1/3

cup

oil

2

medium onions

finely chopped

500

grams

ground beef

1

tablespoon

ginger garlic paste

1

teaspoon

lal mirch powder

1

teaspoon

kashmiri lal mirch

1

teaspoon

turmeric powder

1

teaspoon

cumin powder

2

teaspoon

coriander powder

1

teaspoon

salt

3

medium tomatoes

chopped or pureed

2

teaspoon

tomato paste

optional

2

medium potatoes

peeled and cubed

1

green chilli

1/4

cup

water

A handful of fresh coriander

finely chopped
Instructions
In a medium sized pot, heat the oil to medium high.

Add the onions and saute for about 3-4 minutes or until the onion is translucent. Do not brown the onion.

Now add the ground beef, and cook on high heat, stirring frequently for 3-4 minutes until the color changes.

Add the ginger garlic paste, and cook for another 2-3 minutes.

Now add in the spices and cook 5-7 minutes on high heat, while stirring frequently, until you can see the oil stirring. This is called bhunnai (searing) of the ground beef and it's important to develop the flavour of the whole dish.

Add the tomatoes and lower the heat. Cook with a lid on for about 10 minutes to ensure the tomatoes are cooked through.

Now add the potatoes, green chili, and 1/4 cup of water. Cook for another 10 minutes or until the potatoes are tender. If you want more gravy in the curry, add about 1/2 cup of water.

Finish with a sprinkle of freshly chopped coriander and enjoy with roti or rice.
Notes
Ingredient Notes 
Quantity of Oil: You can reduce or increase the amount of oil as per your liking.
Onion: Use red, yellow or white onions.
Type of Ground Meat: Instead of beef, you can also use ground chicken, lamb or mutton. Cooking times for ground chicken will be a bit less, where as for lamb and mutton it will be roughly around the same time as beef.
Tomatoes: Use hand chopped tomatoes or puree them in a chopper. You can also use canned crushed tomatoes in a pinch.
Tomato Paste: This is an optional ingredient but adds fabulous flavour and color to the dish.
Potatoes: Use potatoes with high starch content such as Russet. I do not recommend using smaller varieties of waxy potatoes such as red or purple potatoes.
Green chilli: I usually keep the green chilli whole so that it doesn't add too much spice to the curry. But you can slit it lengthwise and then add it to the ground beef if desired.
Troubleshooting
If you feel the ground beef is smelly even after cooking it really well in the fourth step, you can add freshly chopped mint OR dried fenugreek leaves (methi) along with the coriander in the end. Leave to cook covered with a lid on low heat for about 5 minutes. This should help with reducing the aroma of the beef.
Washing the Ground Beef
I do not wash it but I know some people prefer to wash ground meat before using it. To do this, place the ground beef in a strainer, and put it under running water a few times to wash it. Then proceed to use it in the recipe.
How to Store
Store in an airtight container for upto 2-3 days in the fridge or in the freezer for 1 month.
Nutrition
Calories:
412
kcal
|
Carbohydrates:
20
g
|
Protein:
17
g
|
Fat:
30
g
|
Saturated Fat:
7
g
|
Polyunsaturated Fat:
4
g
|
Monounsaturated Fat:
15
g
|
Trans Fat:
1
g
|
Cholesterol:
59
mg
|
Sodium:
495
mg
|
Potassium:
766
mg
|
Fiber:
4
g
|
Sugar:
4
g
|
Vitamin A:
549
IU
|
Vitamin C:
27
mg
|
Calcium:
48
mg
|
Iron:
3
mg