Okay, so have you ever tried making dinner with a toddler? A toddler that is clinging on your leg?
Or a toddler that is fishing out day old banana peels from the trash can?
Or a toddler that opens the freezer drawer of your refrigerator and then stands in front of it, enjoying the blasting cold air?
Well, if you haven't, welcome to my world. It's an art to cook with your toddler in the kitchen. And if you have a toddler then you know exactly what I'm talking about.
Yesterday was one of those days when said toddler just did not want me to cook. But I had to.
There's only so much take out you can live on. I know, I know, take out food rocks.
But I'm trying to eat healthier these days so had to make something quick and easy. Without going nuts in the kitchen.
And this easy 30 minute Chickpea Curry is just the answer for a situation like this. This is one of the easiest recipes I've ever made, but it does not compromise on flavour at all.
There are minimal ingredients involved, little time spent on chopping onions that make you cry (thank you onions, for making this even more difficult for me) and a big va va voom flavour to this chickpea curry.
So let's get down to the ingredients that go into this dish. We start with freshly chopped onions that are lightly sauteed until just softened and translucent.
Then we add in freshly crushed garlic and ginger and take in the lovely fragrance of the garlic and ginger hitting the oil and releasing their flavours.
Then go in two cans of chickpeas and the spices and tomato paste.
We saute for a few minutes, ask the toddler to close the door to the freezer, and watch in exasperation as they move onto  to dumping the cereal box on the floor and then go on towards the garbage can to foray for trashy treasure.
Then we add in two cans worth of water into the pot, put the stove on medium heat and let the flavours marry and simmer for 15-20 minutes.
This time can be spent cleaning the kitchen after the mayhem caused by said toddler. Or you know, just leave the kitchen and pretend you don't know there's a mess in it.
Come back to the kitchen after 20 minutes or so.
Take off the lid of the pot, and watch this beautiful orangey curry simmer away and dream of having it for lunch in peace when the said toddler is down for a nap.
Take off of heat.
Serve with white rice or flatbread.
P.S. Pat yourself on the back, you successfully made dinner with a toddler at home. You deserve a gold medal! 😉
P.P.S. If you're looking for more quick and easy curry ideas check out my friend's Shadi's recipe for Cauliflower Potato Curry at Unicorns in the Kitchen. She makes delicious recipes and you'll lover her blog! 🙂
Looking for more easy recipes?
Baked Greek Chicken & Oregano Rice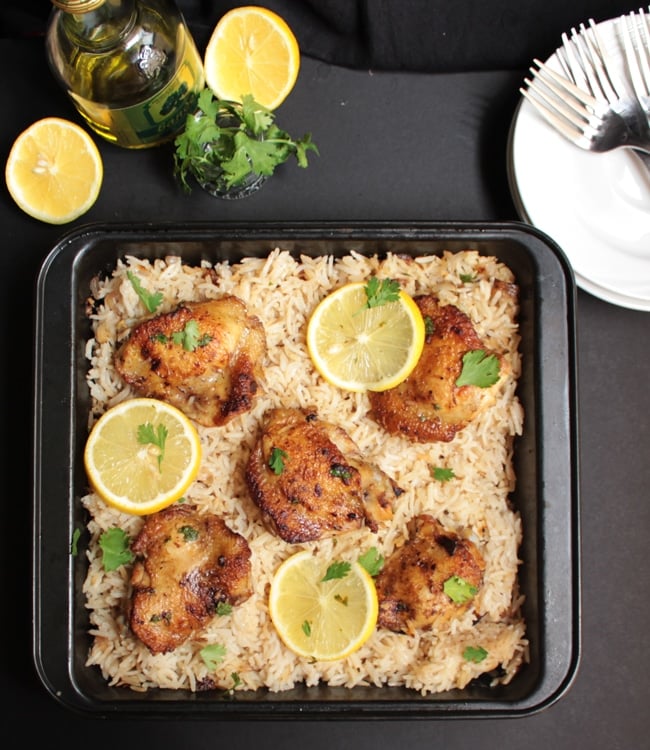 Easy Indo-Chinese Chicken Manchurian
Chicken Teriyaki with Vegetables 
30 Minute Chickpea Curry
This delicious chickpea is easy, quick and very healthy. Ready in just 30 minutes, it's delicious served with rice and flatbread.
Ingredients
1

tablespoon

olive oil

1

medium onion

chopped

1

teaspoon

chopped garlic

1

teaspoon

chopped ginger

2

chickpea cans

400 grams each, drained

1

teaspoon

salt

or to taste

1/2

teaspoon

red chilli powder

can be substituted with paprika

1/2

teaspoon

ground coriander

1/2

teaspoon

ground cumin

1

teaspoon

tomato paste

Water

I used the chickpea can, and filled it twice with water and added it to the chickpea curry
Instructions
In a large heavy based pot, heat the olive oil and add the chopped onion. Fry the onion for a few minutes until just slightly softened and translucent.

Then add in the chopped garlic and ginger, and fry for 1-2 minutes until just slightly cooked.

Add the drained chickpeas, the spices (salt, red chilli powder, ground coriander and ground cumin). Also add in the tomato paste. Cook on medium high heat for a few minutes and then add in the water. I used the same chickpea can to measure the water and added two cans of water. You can reduce the amount if you like a less soupy curry.

Bring to a simmer and then cover and cook on medium low heat for 15-20 minutes.

After 15-20 minutes take off heat and garnish with fresh coriander.

Serve with white rice or flatbread.