Green Tea with Ginger is the perfect soothing drink to have after a heavy meal, or just to relax after a long day. Made with fresh ginger, cinnamon powder, lemon juice, honey, and green tea, it's a healthy detox drink. Enjoy it hot or cold!
Also try Lemon Tea, Karak chai, and Homemade Pakistani Chai.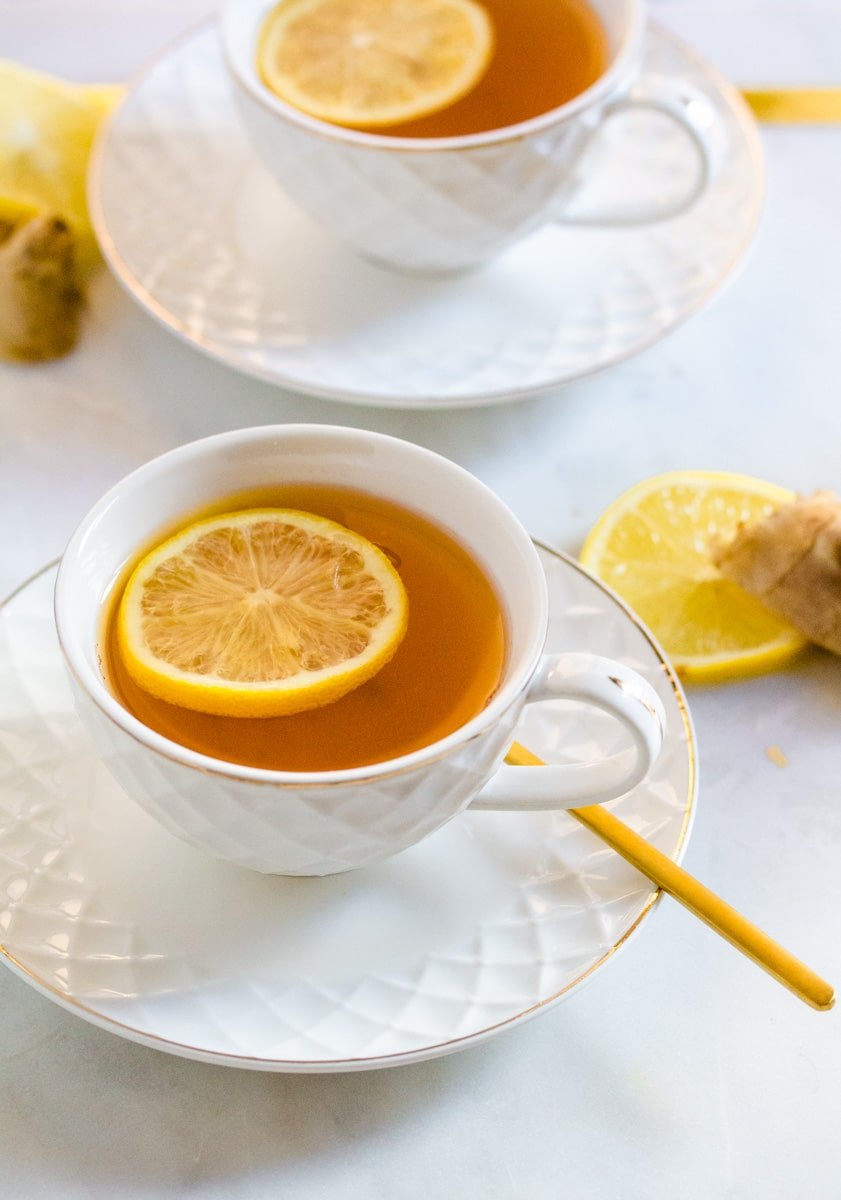 Jump to:
About this Recipe
Ever had a heavy meal and then felt so uncomfortably full? Try this ginger green tea for a soothing effect that helps with digestion and faster metabolism.
This hot beverage is often served after dinner in Pakistan, as a nice way to round up the evening and help with easy digestion.
However, you can even enjoy it in the morning, or whenever you want to! It's also particularly good when you have a cold and sore throat. It also helps with menstruation cramps and helps soothe an upset stomach.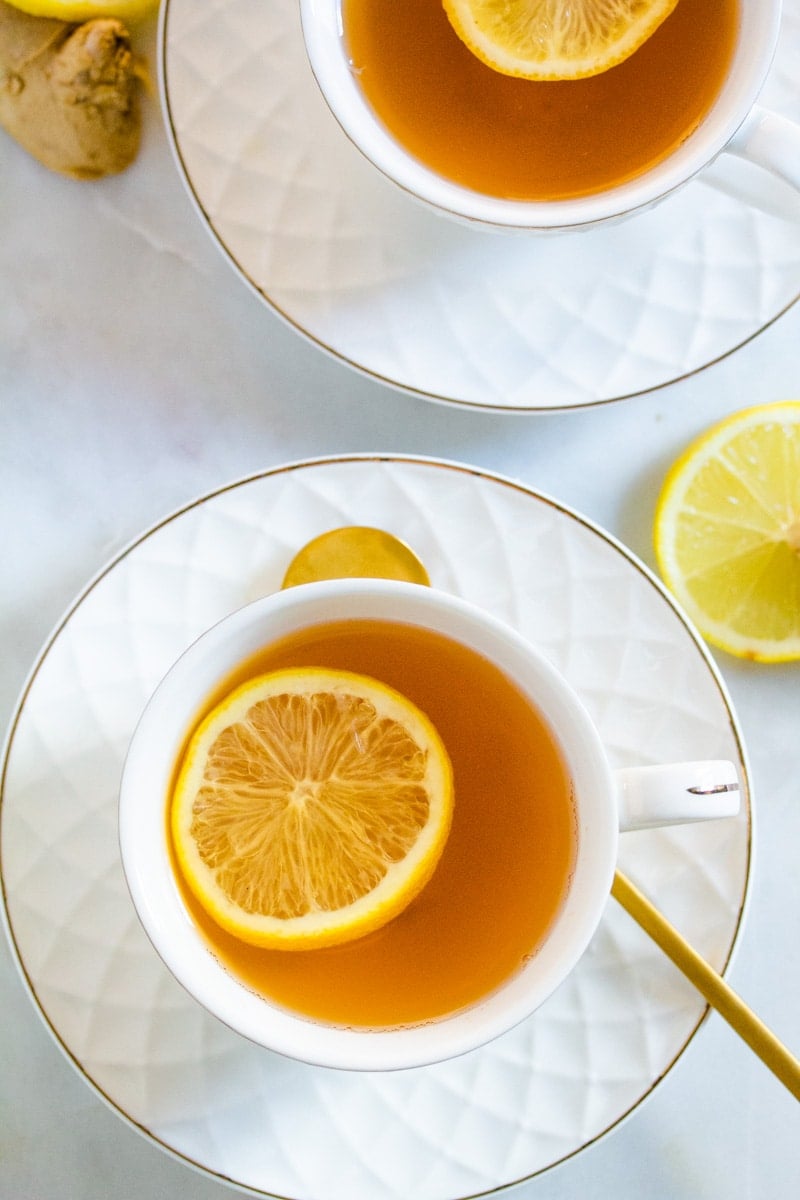 Ingredients You'll Need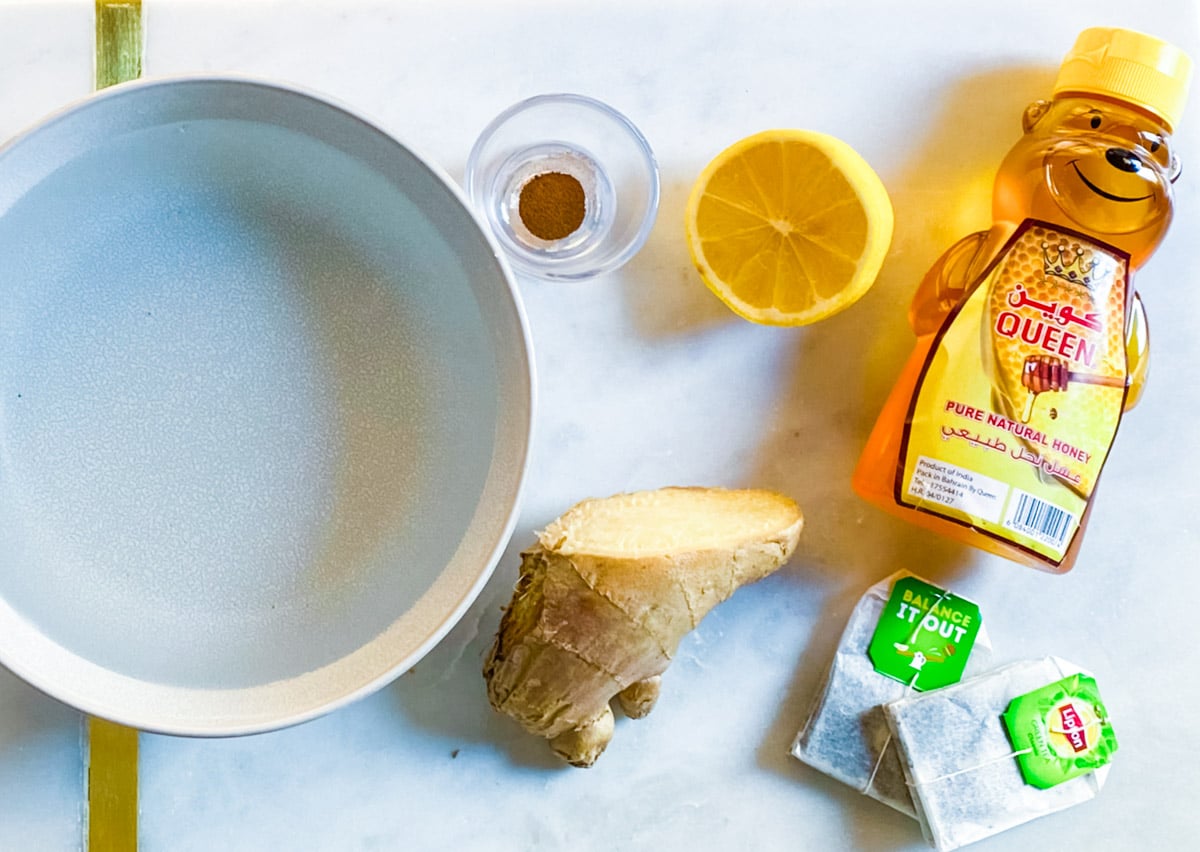 Green tea: I use green tea bags because I always have them at home. You can also use organic loose leaves. All are great options.
Fresh ginger: Ginger has many benefits, and boiling it in water helps it infuse it's flavors and nutrients into this soothing drink. I use thinly sliced ginger, but you can also use freshly grated ginger.
Lemon juice: Adds a nice bit of tang, and we all know how good lemon is at brigtening up flavors.
Cinnamon powder: You can also use a small stick of cinnamon, or switch it up with cayenne pepper or even add green cardamom, to change up the flavors.
Honey: You can also use other sweeteners such as stevia, jaggery, brown sugar or even skip it altogether if you prefer.
Water
How to Make It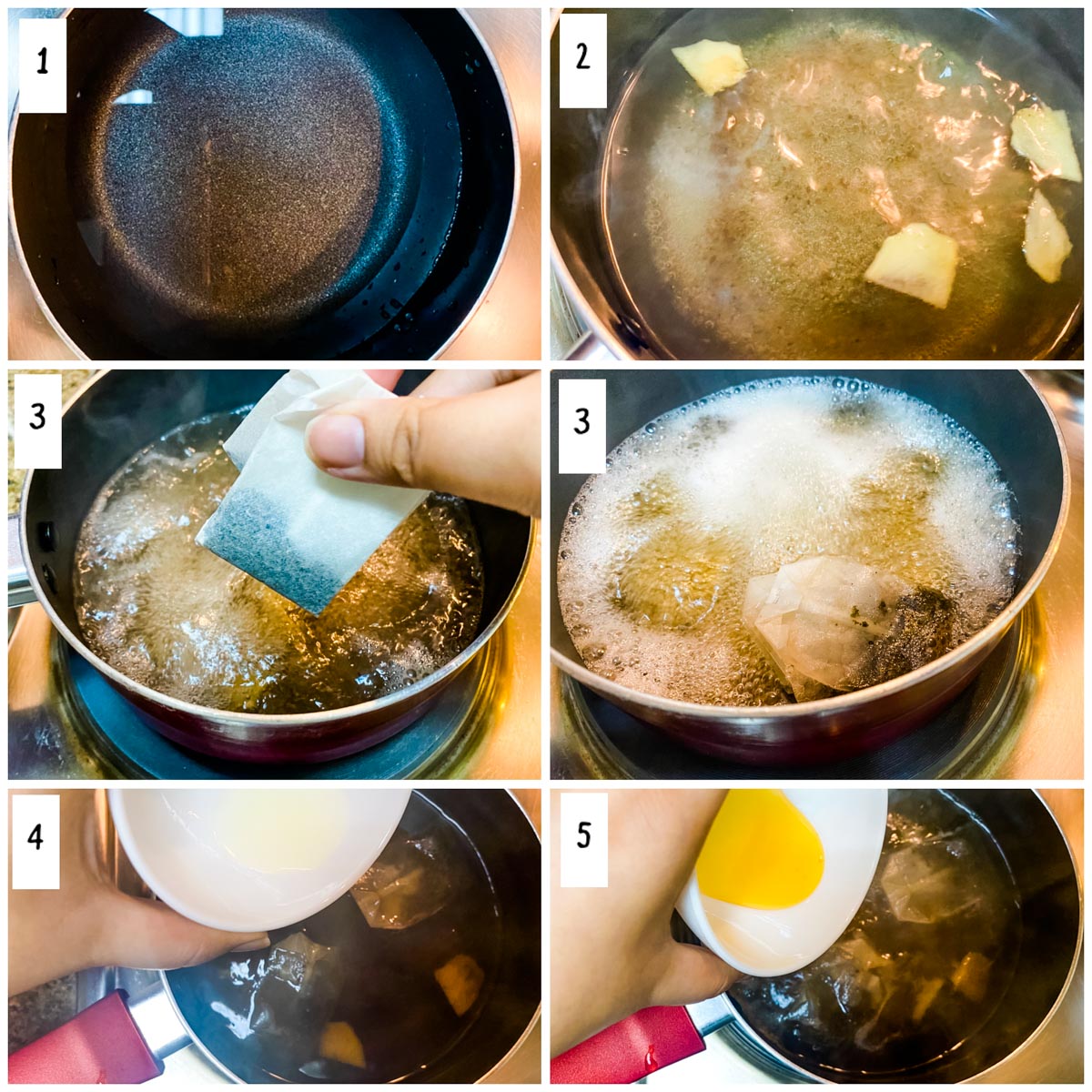 Bring water to a boil in a small saucepan.
Add the ginger and cinnamon powder. Simmer for 2-3 minutes until the flavors infuse.
Now add the green tea bags, and simmer for another 2-3 minutes until the color changes.
Finally add the lemon juice and honey.
Serve and enjoy! Note: You can also cool it down, and add ice cubes to make iced green tea.
KEY TIP: Use a spoon to easily peel the ginger. Then using a hand grater, finely grate the ginger or simply slice it thinly like I do!
Which Green Tea is Best to Use?
While I always prefer to use loose black tea leaves for my other chai recipes such as Karak Chai and Honey Lemon Tea, of course, we make an exception in this recipe.
I'm happy to use Lipton Green Teabags for this recipe, but there are many other brands on the market that are great too, such as Twinnings and Bigelow. You may also use the loose leaves variety if you prefer.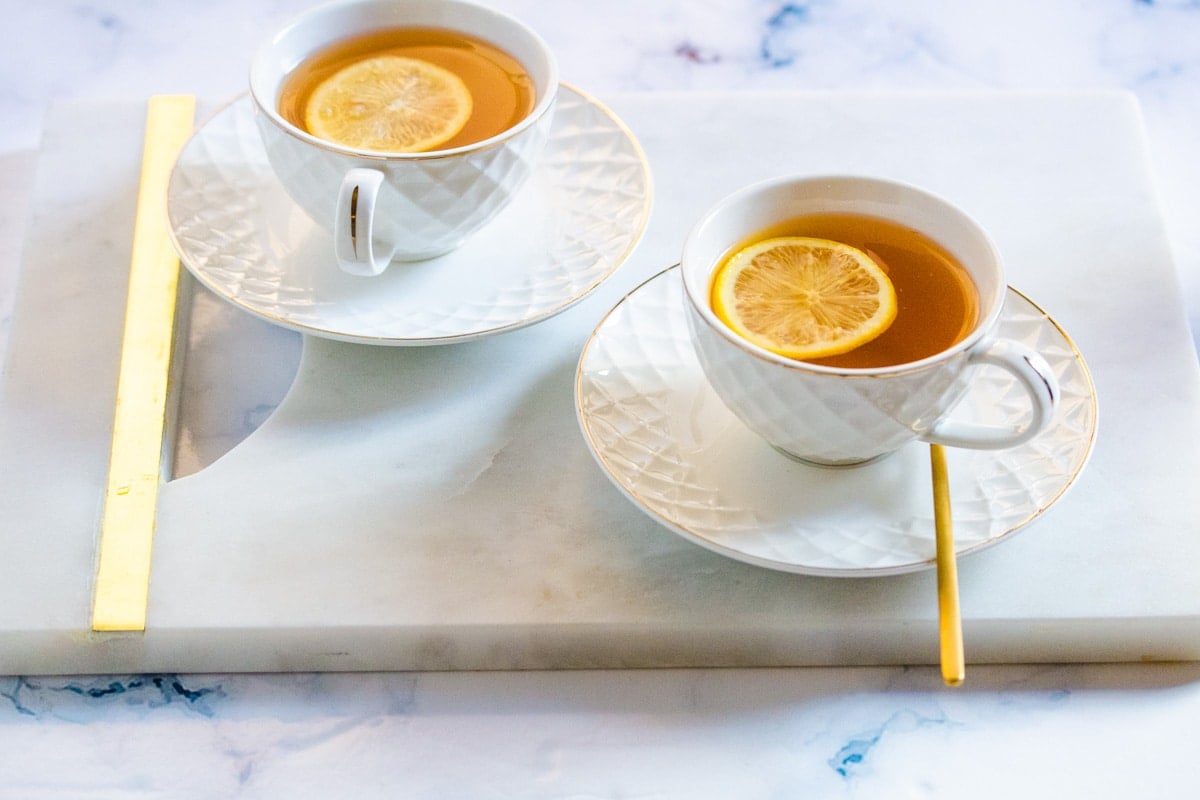 Benefits
Medicinal: Both of these ingredients have great medicinal benefits, including antioxidants and anti-inflammatory properties. Read more about the benefits of ginger here. They also work as immunity boosters.
Helps with nausea: Taking small sips of it, helps with nausea, especially with morning sickness. Or try it before bedtime as a warming and relaxing ritual.
Aids digestion: The combination of green tea with ginger is great for digestion and some studies claim that they might even speed up the metabolic rate. Want to learn more about the beneficial properties of green tea? Click here.
Great for Sore Throat: Whenever I have a cold or a particularly sore throat I always opt for this recipe. Both are great for sipping on slowly and help soothe sore throats.
Flavor Variations
Fresh Mint: When infusing the water with ginger, add 2-3 leaves of fresh ginger for a fresh brightness to the recipe.
Lemongrass: You can also add a 1-2 inch piece of lemongrass into the water. Skip the lemon if doing so.
Cayenne: Instead of adding cinnamon powder, you can also add a pinch of cayenne powder to make a ginger and cayenne detox tea. Cayenne powder is known to have detoxing properties too.
Other Flavors: You can also add other spices such as cardamom, fennel, or even turmeric. This is a very flexible recipe, and you can adjust it to your preferences.
Sweeteners: My first choice of sweetener is honey, but you can also use other sweeteners such as stevia, maple syrup, or brown sugar. You can also skip it completely if preferred.
Recipe FAQs
What is green tea?
Green tea is extracted from one of the varieties of Camellia Sinensis bush. This variety is grown in China and is used for white and green tea. It's less processed than black tea, and is claimed to be a superfood!
Can you drink it every day?
Yes, you can drink it every day, but remember it still has caffeine in it.
Can you drink it cold?
Yes, after brewing it, you can store it in a pitcher in the fridge for up to 1-2 days.
Does green tea have caffeine?
Yes, an 8 oz (230 ml) cup has about 35 mg of caffeine in it. It is still less than a cup of coffee.
Can I use ginger powder instead of fresh ginger?
Yes, you can use it, but fresh gives the best flavor and nutrients.
Other Warming Beverages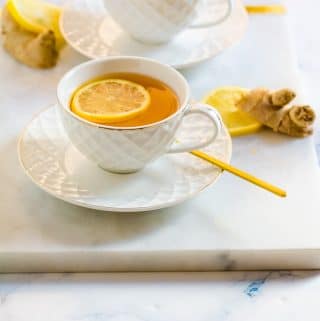 Green Tea with Ginger
Green Tea made with fresh ginger and cinnamon is great for an energy boost and aids with digestion as well.
Print
Pin
Rate
Equipment
1 small pot

1 Tea Strainer
Ingredients
2

cups

water

1

inch

ginger

sliced thinly

1/8

teaspoon

cinnamon powder

2

green tea bags

1

teaspoon

lemon juice

2

teaspoon

honey
Instructions
Bring water to a boil in a small saucepan or pot.

Add the ginger and cinnamon powder, and simmer for 2-3 minutes, to let the flavors infuse.

Now add the green tea bags, and simmer for another 2-3 minutes.

Finally, add the lemon juice and honey, and stir to combine.

Using a tea strainer pour into serving cups. Enjoy immediately.
Notes
How to Store: Green tea can be enjoyed hot or cold. To serve cold, let it cool down and add ice cubes. You can also store it in the fridge for up to 1-2 days.
Flavor Variations:
Fresh Herbs: Add 2-3 fresh mint leaves into the water along with the ginger. You can also use 1-2 inch pieces of lemongrass too. 
Spices: Switch up the spices and try using cayenne powder, fennel, turmeric powder, or even 2-3 cardamom pods. 
Sweetener: Use your choice of sweetener such as brown sugar, jaggery, stevia or skip it altogether for an unsweetened beverage. 
Nutrition
Calories:
25
kcal
|
Carbohydrates:
7
g
|
Protein:
1
g
|
Fat:
1
g
|
Saturated Fat:
1
g
|
Polyunsaturated Fat:
1
g
|
Monounsaturated Fat:
1
g
|
Sodium:
13
mg
|
Potassium:
21
mg
|
Fiber:
1
g
|
Sugar:
6
g
|
Vitamin A:
1
IU
|
Vitamin C:
1
mg
|
Calcium:
9
mg
|
Iron:
1
mg