Homemade Pakistani chai is made with just a few simple ingredients, including whole milk, loose-leaf, cardamom, and sugar. Use my easy tricks to make a creamy, frothy chai in just a few minutes. Keep your favorite biscuits for some tea dunking action!
Don't forget to check out this delicious Karak Chai made with evaporated milk and cardamom or try this Soothing Lemon Honey Tea with Ginger or this Green Tea with Ginger that's perfect for those cold winter nights!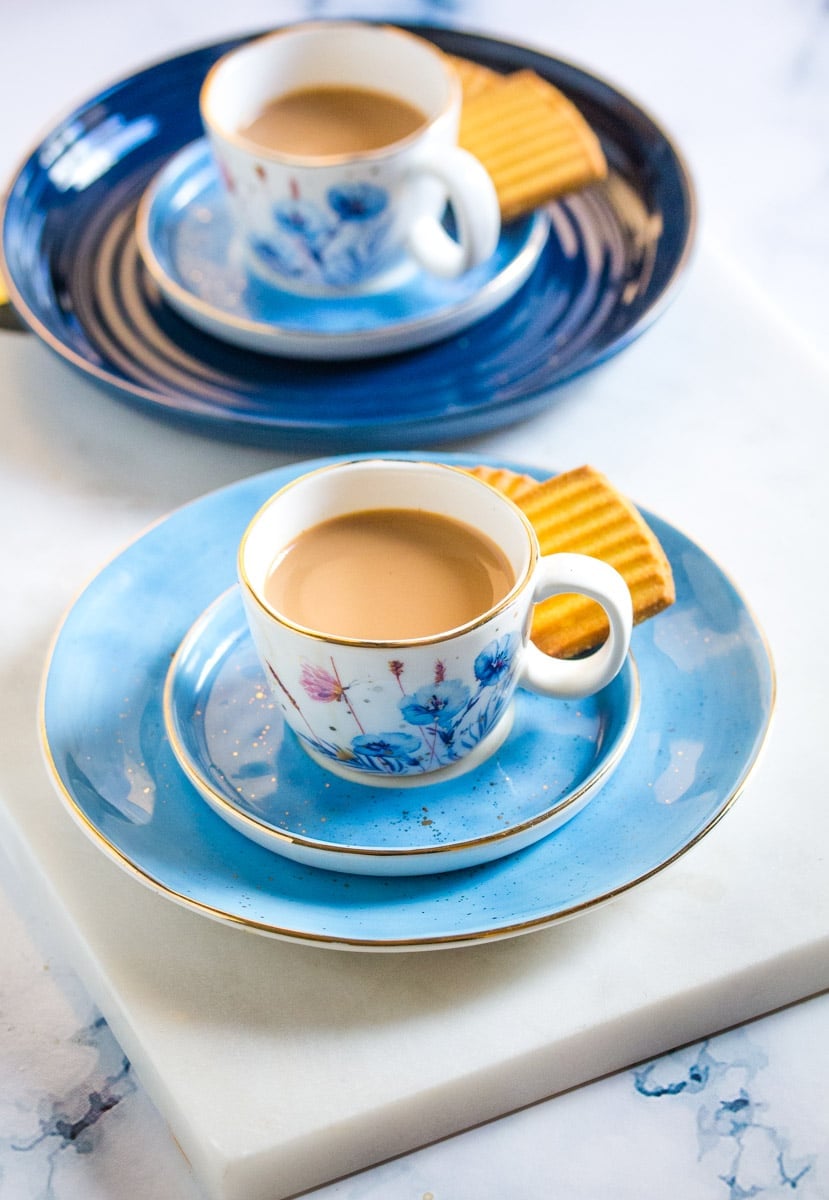 Why this Recipe Works So Well
This is the real deal authentic doodh patti recipe. It's made with just a few simple ingredients, but it's the cooking technique that makes all the difference.
If you're craving for a Pakistani dhaba style chai today, this is just the recipe for you. Love those little steamy cups of chai from the dhabas back home? Me too! And after trying countless recipes and ratios, I've finally nailed the perfect recipe.
This chai recipe is creamy, frothy, and full of flavor. And here are some reasons why:
Authentic Cooking Technique: Ever wondered why your chai never comes out as frothy and creamy as the ones you get from the little tea shops? It's because they use a simple cooking trick. They keep ladling the tea as it's cooking, in an upward and downward movement (see video). This simple cooking technique creates aeration in the chai, forming that beautiful froth.
Using Whole Milk: Whole milk or full-fat milk is vital for this recipe, as it is what gives the best flavor and creaminess to the chai. If you're looking for a recipe using evaporated milk do try this Karak Chai recipe.
No teabags: This chai is made with the real deal black tea leaves. Not only is loose leaf more flavorful, it also lends a beautiful golden color to the tea.
Infused with Cardamom: We aren't using any fancy garam masala here such as cinnamon or ginger. We only need a few caradmom pods, which are added to the boiling water and milk. This helps in infusing the milk with that delicious aroma.
[mv_video doNotAutoplayNorOptimizePlacement="false" doNotOptimizePlacement="false" jsonLd="true" key="o98qizochnepx8tooxr4" ratio="16:9" thumbnail="https://mediavine-res.cloudinary.com/video/upload/o98qizochnepx8tooxr4.jpg" title="Authentic Pakistani Chai" volume="70"]
Ingredients You'll Need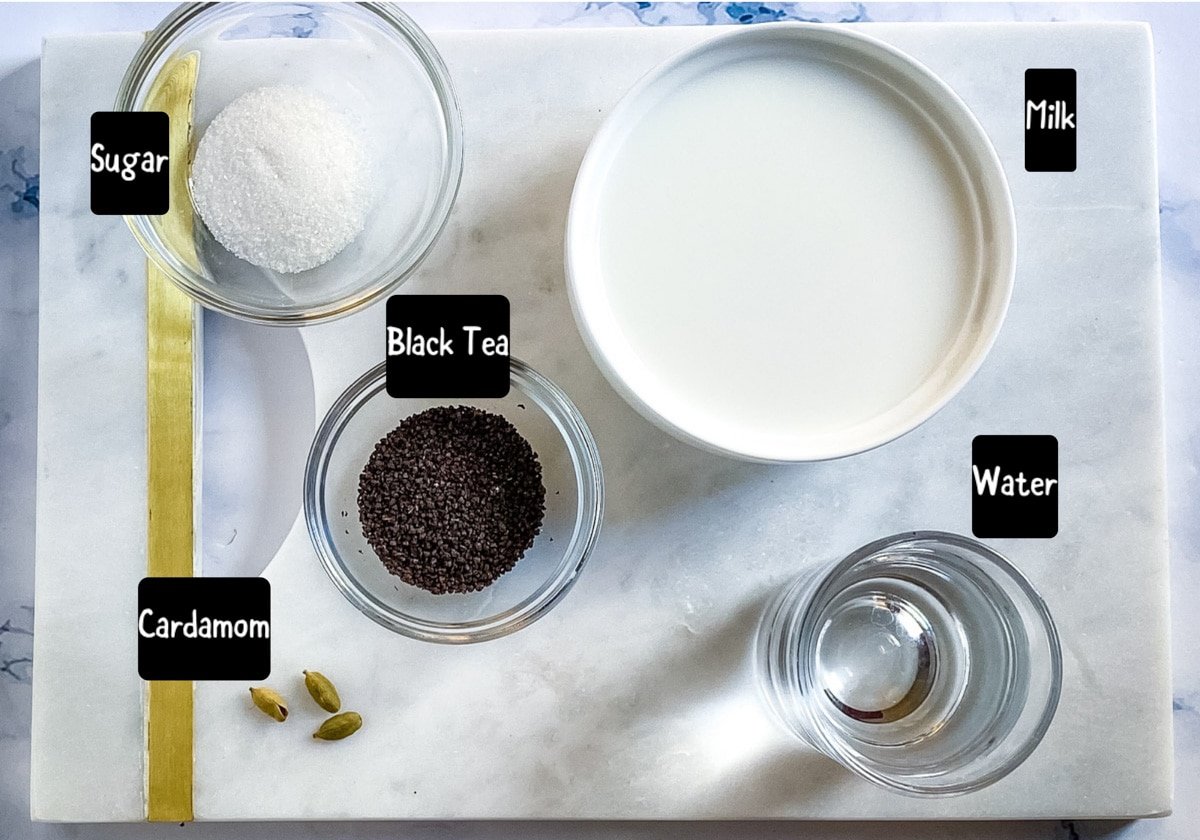 Milk

: Full fat or whole milk is the best option here, but you can also use low fat or skim milk. Please note that using anything other than whole milk will affect the creaminess of the chai. I highly recommend using whole milk for this recipe. Using evaporated milk or milk powder will also change the flavor profile of this chai.
Loose leaf: For this homemade chai it's best to use loose leaf as they give the most beautiful flavor and aroma. The dhabas in Pakistan use their own special blend of Quetta tea leaves. If you can source it easily, that's excellent. However, I only ever have loose leaf at home, so that's what I use and it always gives great results. Some brands I use are Lipton and Tetley. Please do not use tea bags for this recipe, it just won't be the same!
Green cardamom: You only need 2-3 green cardamoms. When the cardamom is cooked in the milk, it infuses it's flavor beautifully. Once the milk is infused with cardamom, only then do we add the tea leaves.

Sugar

: This chai tastes best when it's sweetened with a little bit of sugar, but it is optional and can be omitted completely. You can also use any sweetener of your choice instead of sugar.
Water: Adding just a little bit of water helps to thin out the milk and prevent from it scalding while we are bring it to a boil.
Loose Leaf vs Tea Bags
I wanted to add a small note here on the difference between loose leaf and tea bags. The production process and grade for both is different, resulting in different tastes and aromas.
Teabags are made with a lower grade of tea leaves, using something that is called fannings or dust. Loose-leaf on the other hand is composed of the whole tea leaf being processed. This results in a stronger, better-tasting tea.
How to Make It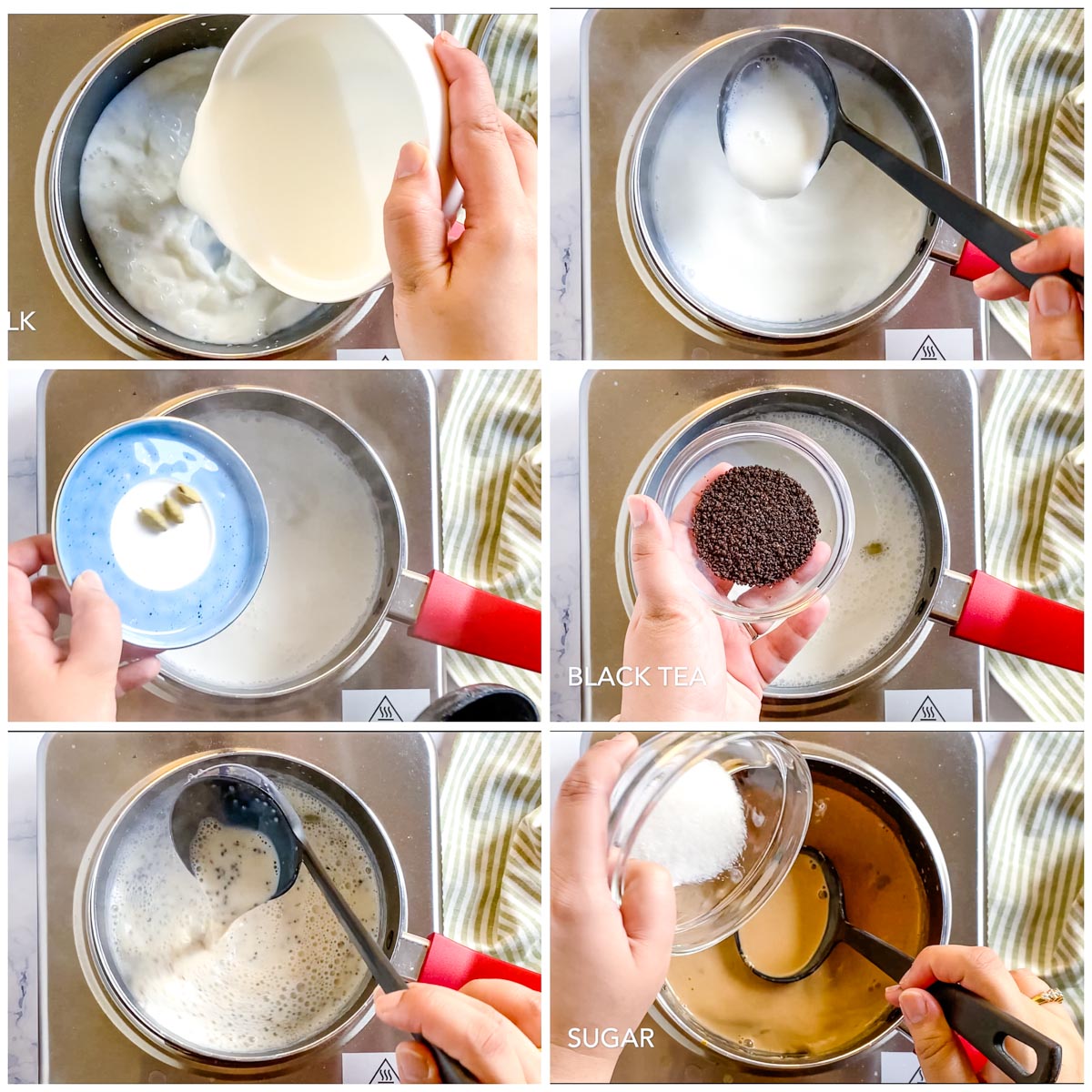 Bring Milk to a Boil: Start by adding the milk and water to a small pot, cover and bring to a gentle boil.
Cook the Milk: Remove lid, and using ladling movements, cook the milk.
Infuse with Cardamom: Now add the cardamom pods, and keep mixing with the ladle in upward and downwards movements, whisking the boiling milk well. You may refer to the recipe video to see it in action.
Add the Tea: Once the milk has been cooked for 2-3 minutes, add the black tea leaves.
Cook and Ladle: Continue cooking and ladling the tea until it achieves a deep strong color and is frothy. The trick here is to bring the tea to a boil, and then lower the heat immediately to keep cooking it. Do this 3-4 times (ie bring to a boil and lower heat) until you achieve your desired color.
Sweeten: Finally, add the sugar and mix.
Pour: Using a strainer, pour the tea into cups and enjoy immediately.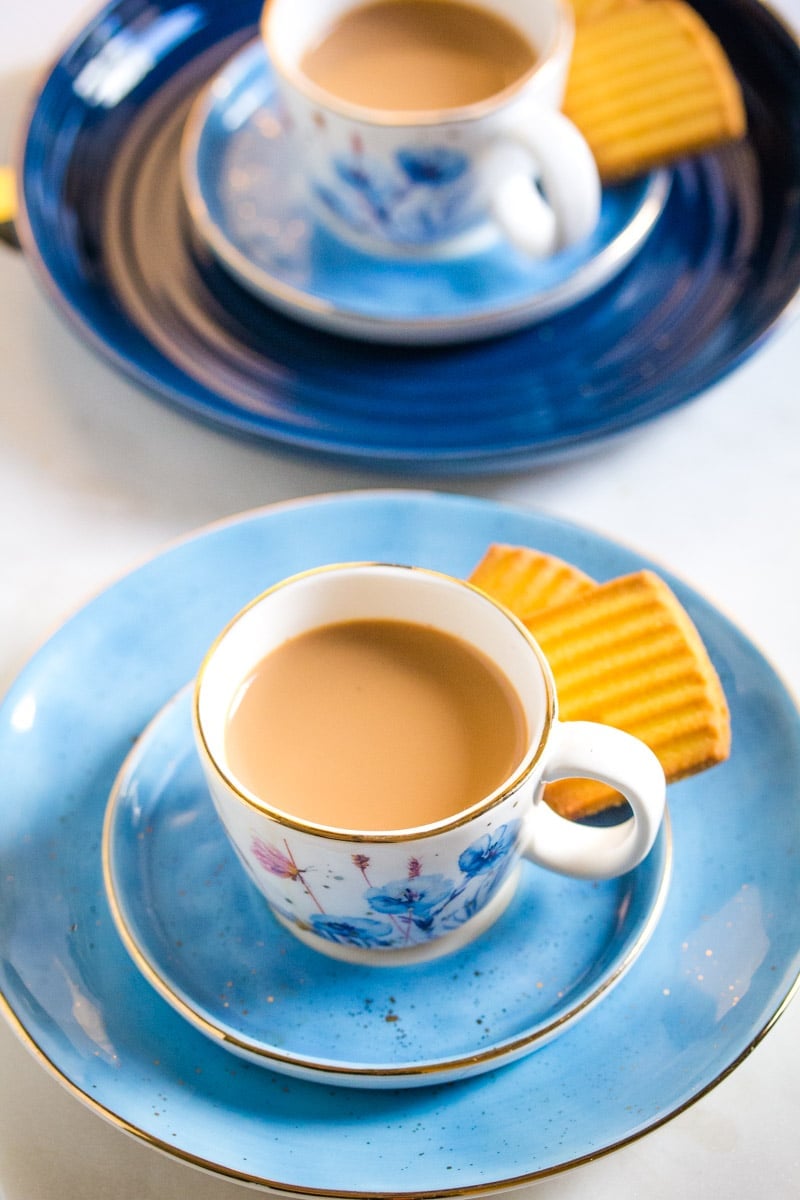 Recipe Tips & Tricks
Non-stick Pot: Since we are cooking the milk, it's best to use a non-stick pot, to reduce the chances of the milk scalding and burning to the base of the pot. If you don't have a non-stick pot, then try to use a pot with a heavy base.
Don't let the milk boil over: Milk can go from not boiling to boiling all over the place quickly, so always keep an eye on the milk while it's boiling.
Pour from a height: When you're pouring the tea into cups, pour it from a bit of height. This will help in creating more froth in the chai.
Crush the cardamom: For a stronger cardamom flavor and aroma, you can also crush the pods before adding them to the boiling milk.
Recipe FAQs
What is Pakistani chai made of?
Pakistani chai is typically made with whole milk, loose leaf, cardamom, and sugar. Sometimes more spices are added such as cinnamon sticks, cloves and fresh ginger.
Can I use teabags for this recipe?
I highly recommend that you use only loose leaf for this recipe, as it gives the best flavor. If you only have teabags at home, then you can certainly add them to the boiling milk after adding the cardamom, and follow the recipe as written.
Can I use anything other than whole milk for this recipe?
The base of this chai is whole milk and it plays a key role in making the chai creamy and frothy. I highly recommend that you use whole milk, but it can also be made using skim milk. I do not recommend using powder milk or evaporated milk for this recipe.
Pair it with These Delicious Snacks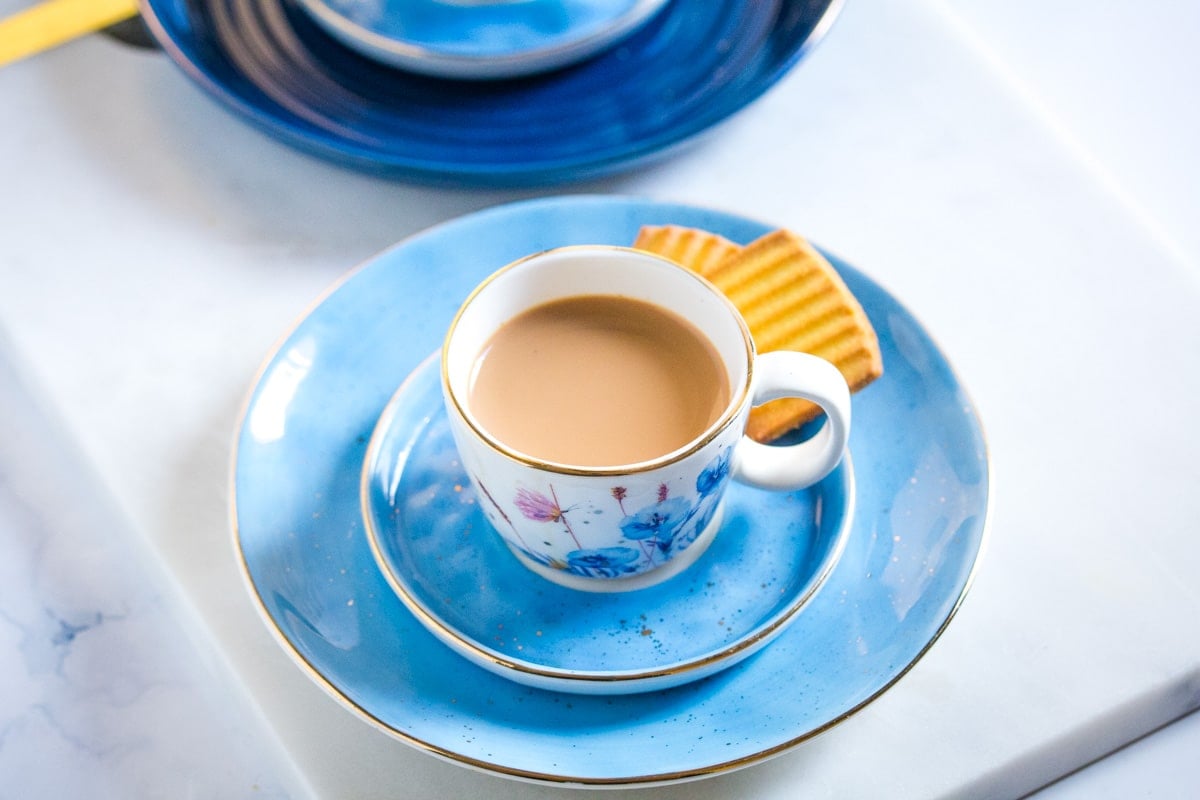 Note: This recipe was originally published on Oct 29, 2018. It has now been updated with new pictures, step-by-step photos, and a recipe video.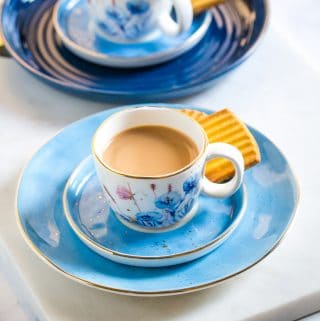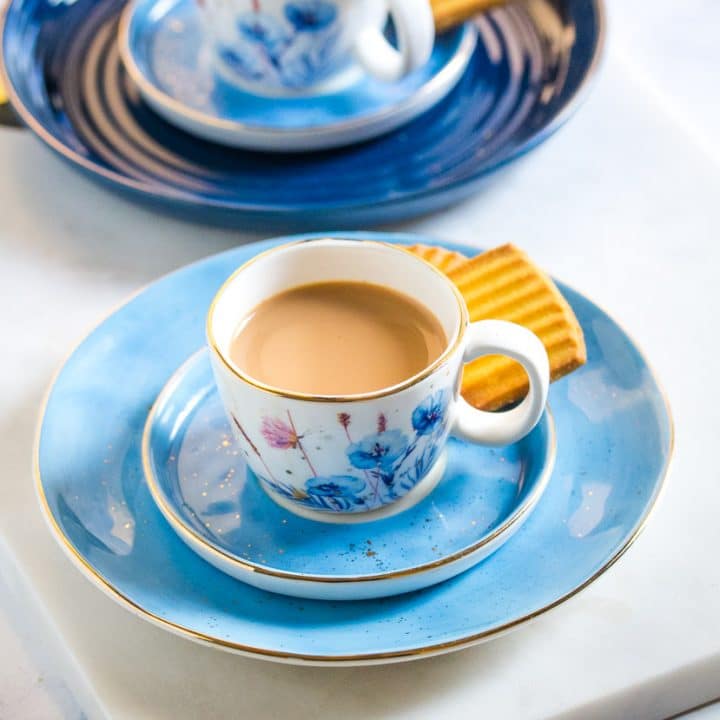 Homemade Pakistani Chai (Authentic)
Authentic Pakistani Chai is made with whole milk, loose tea, and cardamom. It's creamy and frothy, just like the real deal!
Print
Pin
Rate
Ingredients
2

cups

whole milk

1/4

cup

water

2

green cardamom

3

teaspoons

loose black tea

2

teaspoons

sugar

or to taste
Instructions
Bring milk and water to a boil in a saucepan, mixing it constantly using a ladle.

Add the cardamom pods, and continue cooking the milk for 2-3 minutes to infuse the milk with cardamom flavor.

Now add the black tea, and keep cooking the milk while mixing it with the ladle in upward and downward movements for 3-4 minutes. Bring to a boil to 3-4 times for it to develop its flavor and color fully. See video for reference.

When the color of the tea has darkened to your liking, add sugar and mix for 1-2 minutes.

Using a tea strainer, pour the tea into cups and enjoy!
Notes
Milk: For this chai recipe, it's highly recommended to use whole milk, for the creamiest results. You may also use skim or low-fat milk, but the chai won't be as creamy and frothy. I do not recommend using evaporated milk or powder milk for this recipe. 
Cardamom: Use fresh cardamom pods for this recipe. You can also substitute with cardamom powder, if that's what you have on hand. 
Loose Black Tea: Authentic Pakistani chai calls for loose black tea as it has the most flavor as opposed to tea bags. If you can find Quetta tea leaves that is the best option here. But I usually use Lipton or Tetley with great results. You can also use tea bags, but the flavor may vary. 
Sugar: This is optional, and can be skipped or replaced with your choice of sweetener. 
More Spice Options: If you want to add more whole spices to your chai, then you can add a couple of pieces of cinnamon sticks, cloves, or even a small piece of crushed ginger. 
Nutrition
Calories:
164
kcal
|
Carbohydrates:
16
g
|
Protein:
8
g
|
Fat:
8
g
|
Saturated Fat:
5
g
|
Polyunsaturated Fat:
1
g
|
Monounsaturated Fat:
2
g
|
Cholesterol:
24
mg
|
Sodium:
107
mg
|
Potassium:
325
mg
|
Sugar:
16
g
|
Vitamin A:
395
IU
|
Calcium:
277
mg
|
Iron:
1
mg