So I went there. I actually added chocolate to a samosa and here I am introducing you to the Chocolate Samosa. I think this proves the level of my addiction to chocolate. For those of you who are familiar with the samosa, will know that it's a popular savory South Asian snack. It's basically a triangular shaped thin crisp pastry filled with savory fillings ranging from spicy mashed potatoes to chicken to minced meat, etc.
But of course I don't always like going the traditional route, and since I'm always finding excuses to eat chocolate, I ended up making a recipe for the Chocolate Samosa. The 'Chocolate Rehab' people are probably coming for me as I write this post. But don't worry, I'm going to make sure I publish this post before they take me away, because I wouldn't want to deprive you of the deliciousness this recipe is for Chocolate Samosa. See my dedication to you guys? It's almost at the same level as my dedication to all things chocolate. Lol. 😛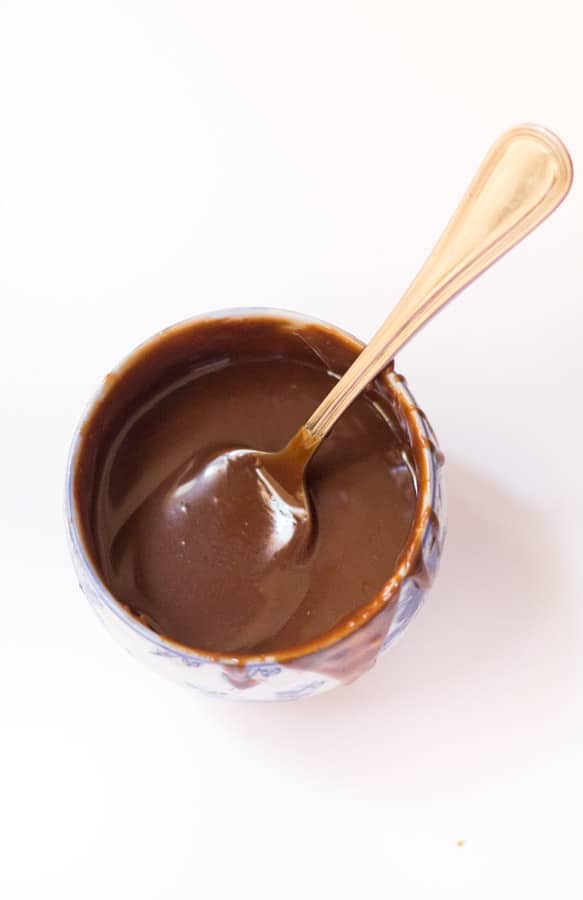 So the recipe is extremely easy, because you're essentially just folding pieces of chocolate into pastry; but the actual folding of the pastry may seem complicated at first.
However, there's no need to fret because I've made a video for the Chocolate Samosa (see above), so that you can see for yourself how easy the folding of the pastry actually is! I would highly suggest watching the video before making this recipe, because it's important to understand how to fold the pastry correctly, or else the chocolate will leak out during baking, and that would be a pity.
So before I leave you to make this recipe for Chocolate Samosa, I want to give you a few Chocolate Samosa making tips:
1.) You'll see in the video that the long rectangular sheet of pastry is folded diagonally several times, so make sure that when you're folding the pastry that you do it tightly, so that the corners are fully enclosed and there's no chance of that precious chocolate melting out of the samosa during baking. It seems tricky at first, but by doing it a few times, it gets much easier and soon you'll be a chocolate samosa making ninja! After all practice makes perfect. 🙂
2.) Don't place the chocolate directly at the bottom edge of the pastry, as you won't be able to make that first perfect diagonal fold (watch the video to see what I mean) but in fact place it a bit higher and not directly in the middle of the pastry. I know, I know I'm horrible at explaining the folding process, which is why I encourage you to watch the video. 😉
3.) Samosa pastry is usually widely available in the frozen section of large grocery stores, but if you can't find it, try at a nearby Asian or Indian store near you.
4.) You'll also be making a flour paste which will work as the 'glue' to seal the chocolate samosa. This is a simple mix of all purpose flour and water. One other tip I'd like to give you is to separate the number of sheets you need beforehand (the recipe calls for 12 sheets for 12 chocolate samosas) and have your flour paste ready. It sort of gets hard to separate the pastry sheets while you have the flour paste on your finger. The process is simpler and quicker if you have all your things ready for the assembling of the samosa.
5.) You can use any kind of chocolate you like. Dark, milk, nutty, anything you like! I would just suggest not overfilling the samosa pastry with chocolate because it won't seal properly and too much chocolate may rip through the samosa pastry.
6.) These Chocolate Samosas are served best straight out of the oven. I like to drizzle them a bit with chocolate ganache (never say no to more chocolate) and crushed pistachios.
Phew, that was long post explaining how to make the perfect Chocolate Samosa! That just shows how passionate I am about all things chocolate, no? Or maybe a tad too obsessed? Lol.
Yum! Don't you want a bit of these hot crispy filled with melted chocolate samosas? 😉
Happy samosa making, and a happy Friday! 🙂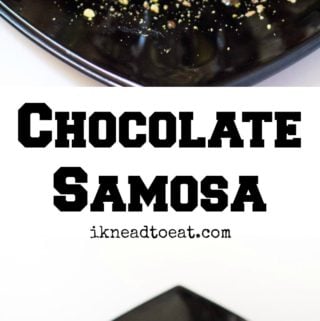 Chocolate Samosa
A step by step guide to making the perfect Chocolate Samosa, a delicious crispy chocolate snack. Video included to explain the folding process of the samosa.
Print
Pin
Rate
Servings:
12
chocolate samosas
Ingredients
Flour Paste:

2

tablespoons

all purpose flour

1 1/2

tablespoons

water

12

rectangular sheets of samosa pastry

Chocolate Filling:

100

grams

chocolate

broken into blocks - see in video

Chocolate Ganache for Drizzling:

80

grams

chocolate

1/4

cup

heavy cream

1/4

cup

crushed pistachios for topping
Instructions
Preheat oven to 180 C and prepare a baking sheet by greasing it lightly.

Mix together the flour and water to form a thick paste. This flour paste will act as a 'glue' to seal the chocolate samosas.

Take one sheet of samosa pastry and place a piece of chocolate, and following the steps in the video, fold the samosa pastry into a triangular shape. Seal the samosa pastry by spreading the flour paste on the last flap and fold it over to seal the samosa completely. The folding steps are easier to follow in the video, so please watch that before making the samosas.

Place the prepared samosas on the baking sheet and bake for about 10-15 minutes until the samosas are light golden brown.

While samosas are baking quickly prepare the chocolate ganache. Place the chocolate and heavy cream in a microwave safe bowl and heat for about 1 minute, stopping the microwave every 15 seconds to stir so that the chocolate doesn't burn.

Remove the samosas from the oven, drizzle with the chocolate ganache and sprinkle with crushed pistachios. Serve immediately. These chocolate samosas are best eaten right after being baked.