After a very chocolatey post and video on Monday, I'm here with a fast, simple and delicious dinner that is perfect for those weeknights when you just can't put too much effort in the kitchen but also don't want to order in because ummm, you did that already last night, lolz. In such a situation this Honey Mustard Chicken will be your saving grace.
This Honey Mustard Chicken is the Prince Charming of your kitchen. The kind you need when you're a damsel in distress (read stressed out mom), trapped in a tall tower by hungry monsters (aka toddlers in the real world) and you just can't take it anymore, let alone think of making dinner.
At a stressful time like this, this Honey Mustard Chicken is the perfect recipe to whisk you into an evening of a happily ever after dinner.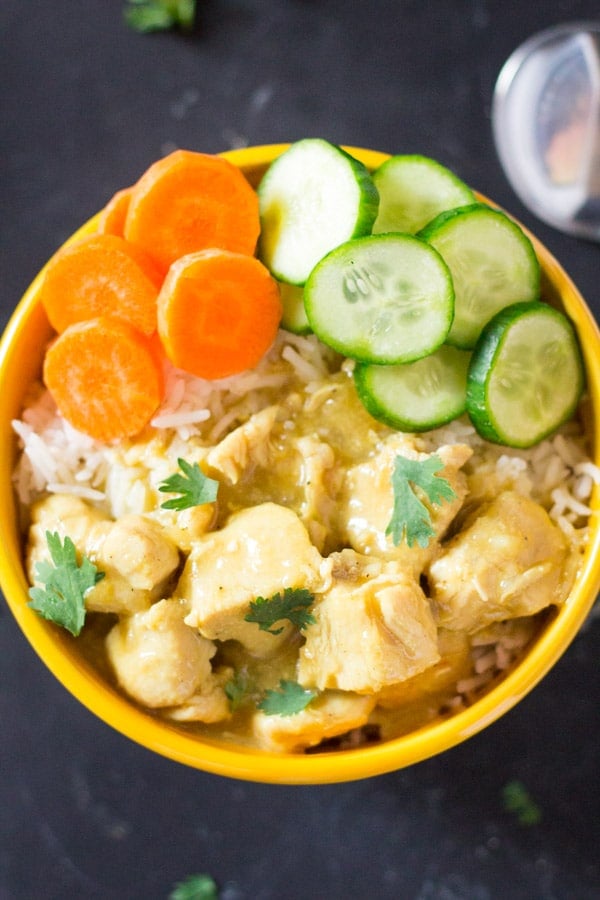 It's also perfect because you literally don't even have to lift a finger.
Okay, okay I exaggerate...you do have to lift a knife to chop the chicken, although you can even skip this step if your grocery store carries boneless breasts that have already been chopped.
And then all you have to do is mix the sauce ingredients, dump everything in a baking tray and bake!
And just like that, in less than 30 minutes this Honey Mustard Chicken is ready, and the hungry monsters are ready to be fed! Yay for fast and easy dinners, and double yay for such dinners to be delicious as well!
Out of all the recipes on the blog, this Honey Mustard Chicken is one of the recipes I make the most. You know a recipe is a winner if:
1.) It's super easy to make. 
2.) It's super delicious to eat. 
3.) It's super easy to clean up after dinners as well. 
This Honey Mustard Chicken checks all the points above, and therefore is a winner in my recipe book...I mean recipe blog. 😉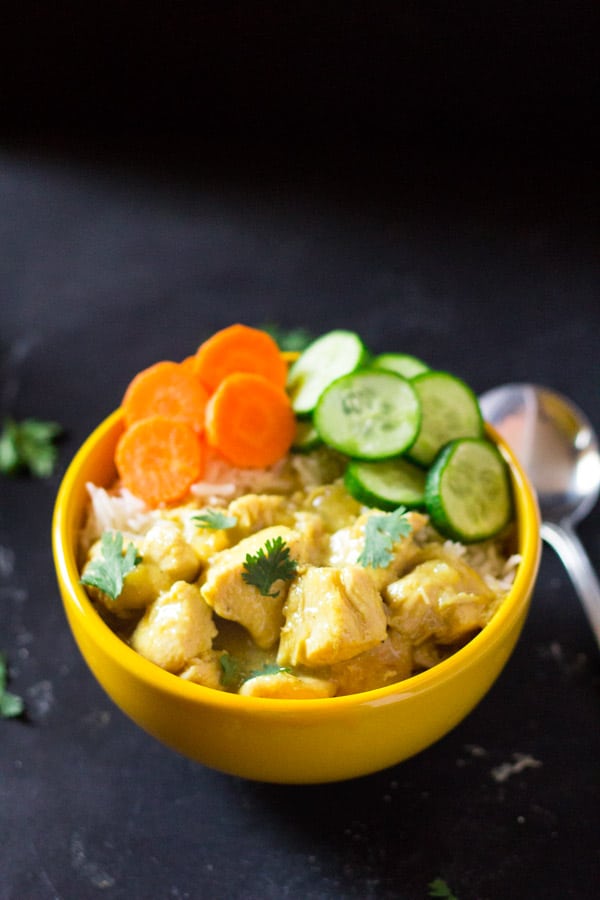 So let's talk about the very few steps you'll be taking towards having a delicious dinner which involves this Honey Mustard Chicken:
1.) Make sure the chicken is cute into 1 inch cubes so that it cooks evenly. Place it in a 10 inch baking tray, and set aside while you mix up the sauce ingredients.
2.) Whisk together the sauce ingredients: stock + honey + mustard + garlic powder + salt + pepper + mayonnaise + cornflour = delicious sauce ready to be poured onto the chicken.
3.) Bake for about 15-20 minutes. The cooking time depends on your oven, so keep an eye on the chicken as it can very quickly overcook.
4.) The sauce will thicken up because of the cornflour and mayonnaise, but it won't be super thick, so you can adjust the amount of cornflour and mayonnaise depending on how thick or thin the sauce you would like.
5.) While I've written the recipe for the chicken to be baked in the oven, this Honey Mustard Chicken can also be made on the stove top. Just cook the chicken in a bit of oil in a frying pan or medium sized pot, until it changes color, then add the seasonings - garlic powder, salt and pepper and cook for a minute or so.
Then you can add the sauce ingredients (except the cornflour and mayonnaise) and continue cooking until the chicken is fully cooked through. Once the chicken has cooked through, bring the sauce to a boil, and add the cornflour and mayonnaise (mixed together) and keep stirring until the sauce thickens up. 

And that's how it's done, ladies and gentlemen. Dinner at the table in less than 30 minutes, just in time too, before the hungry monsters (toddlers) go crazy and/or drive you crazy! 😉
P.S. Looking to pair this Honey Mustard Chicken with more delicious recipes?
How about this Rosemary & Cheddar Cheese Potato Gratin as a side?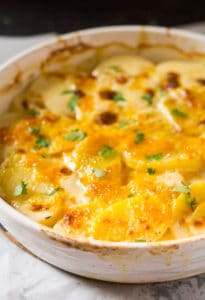 And this recipe for Chocolate Samosa is a perfect, fun and easy dessert!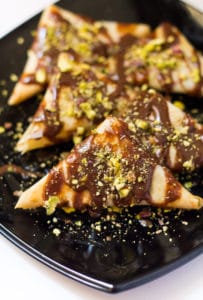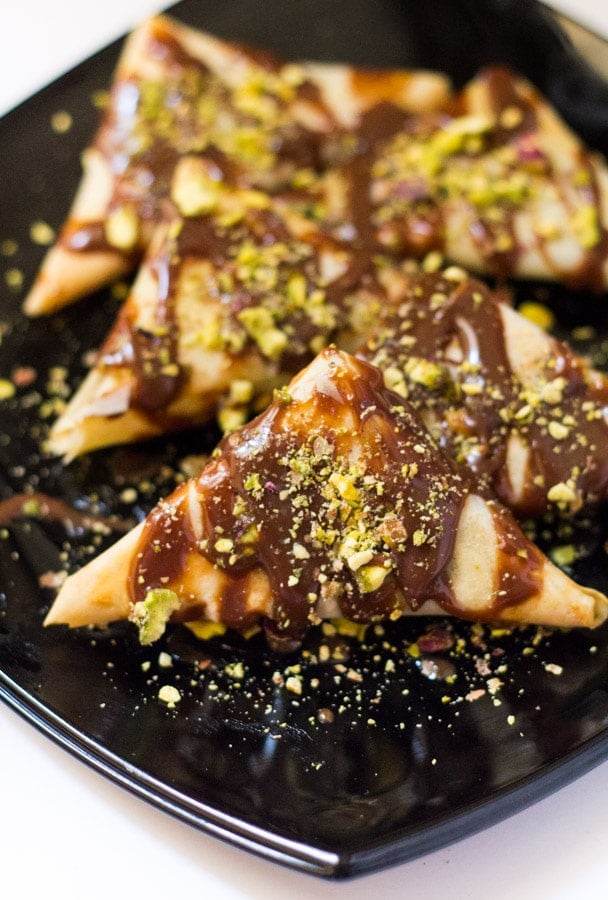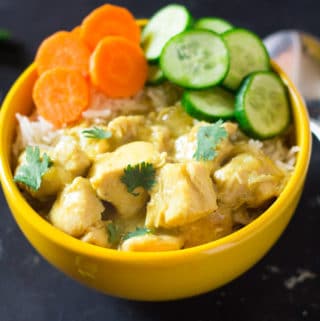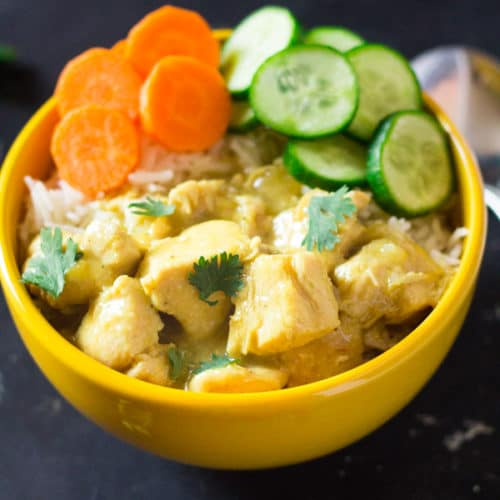 Honey Mustard Chicken
This baked honey mustard chicken is perfect for quick weeknight dinners and is ready in less than 30 minutes. The sauce is slightly tangy, sweet and creamy!
Print
Pin
Rate
Ingredients
3-4

medium boneless & skinless chicken breasts

cut into 1 inch cubes

2

tablespoons

oil

1

cup

chicken stock/broth

see notes for substitution

1/4

cup

honey

1/4

cup

mustard

1

teaspoon

garlic powder

Salt & pepper to taste

1

tablespoon

mayonnaise

1

teaspoon

cornflour + 1 teaspoon of water

this is for thickening the sauce
Instructions
Preheat oven to 200 C.

Place chicken in a 10 inch baking tray.

In a medium sized bowl, combine all the ingredients (including the cornflour and water) and whisk until fully incorporated.

Pour this mixture over the chicken and mix the chicken up a bit so that the chicken is fully coated in the sauce ingredients.

Bake the chicken for about 20 minutes until cooked through. Make sure to turn the chicken around during baking so that it cooks evenly.

Serve over white rice and with a salad.