Hello, I'm Cottage Pie, and I'm here to be your new best friend for winters. Don't you just like the golden bits of crunchiness all over my mashed potato topping, covering a flavorful white sauce and minced beef filling? I know, you want to dig in, so grab a fork and feel free to devour me up...
Oh hi, I'm sorry, the deliciousness of this Cottage Pie temporarily took over my senses, so all that you see above? It was the Cottage Pie in me talking. But let me tell you, there weren't any lies stated in the above paragraph.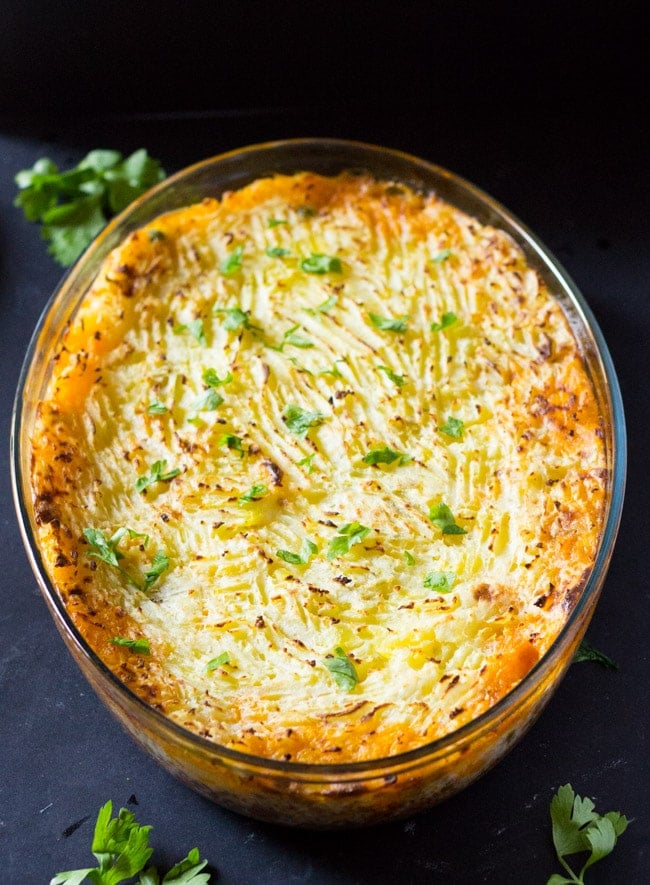 So let's talk about this Cottage Pie, which I previously used to call Shepherd's Pie. I was reading up about cottage pie the other day, and I made an interesting discovery. While I thought you could use Shepherd's Pie and Cottage Pie interchangeably, there is an actual difference between the two. Cottage Pie is made with minced beef, while Shepherd's Pie is made with minced lamb.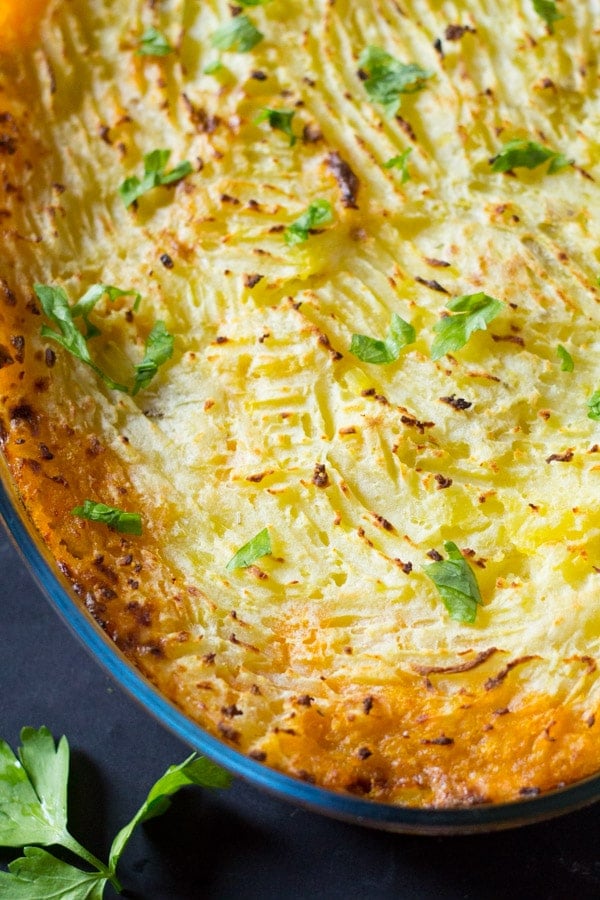 This is comfort food at its best, in my opinion. Although, my recipe is by no means authentic (because I like to use a lot of short cuts and make an addition of white sauce because we all know white sauce makes everything better), it is fully delicious!
I even made a list of reasons for you to make this ASAP because you need it in your life, seriously! Sorry, I'm being bossy, but you need to make this right now (okay maybe not right now, right now) but like as soon as you can, because this is your ticket to comfort food paradise. Also try this Creamy Garlic Pasta.
Three Brilliant Reasons Why You Should Make this Cottage Pie ASAP
1.) The minced beef filling is made with marinara sauce, and literally takes no time. It's rich with flavor, without any really effort on your part. This is my favorite kind of cooking and I'm sure it's yours too. 😉
2.) There's garlicky white sauce involved, which basically makes everything better. It also only takes like 10 minutes to make.
3.) MASHED POTATOES!!! Okay, sorry for shouting, but I'm really excited about this reason, for obvious reasons. Hello, carb central!
Now that I've convinced you to make it, let's talk about some Cottage Pie basics.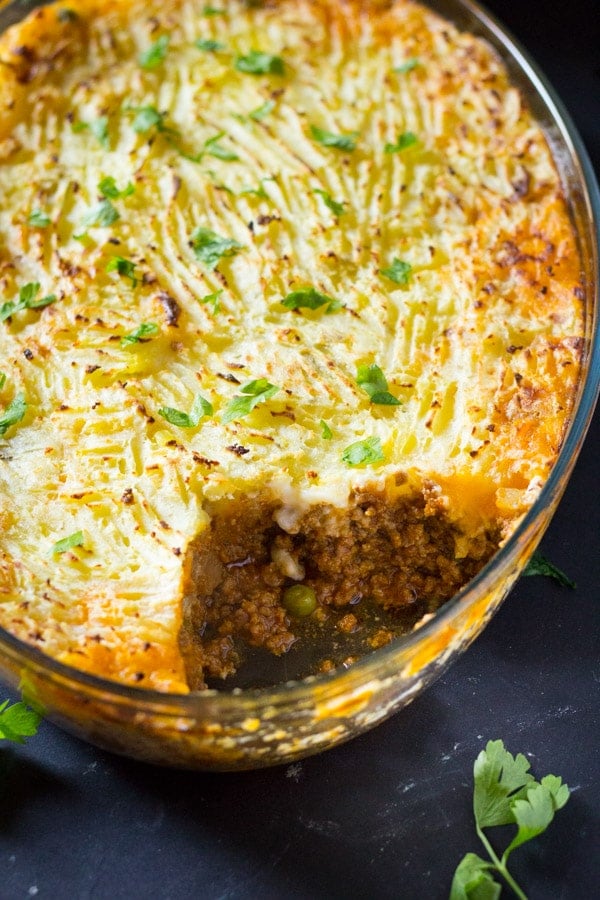 Cottage Pie 101
1.) Let's talk about the minced beef filling first. This is not your authentic minced beef filling at all for Cottage Pie, and I do not apologize for it because it is simple, fast and delicious. All you have to do is cook onions, add the beef, garlic and ginger paste, and then cook until the beef is nicely browned. Oh you also have to add a couple of spices and the marinara sauce, but that's about it. Minimal ingredients, but lots and lots of flavor, just the way I like it.
2.) The white sauce is fairly simple, and is actually optional. But seriously it takes just a little bit of effort, and adds an extra punch of flavor to the whole recipe. All you have to do is make a roux (butter + flour) and then add milk and a couple of seasonings, and cook until the sauce is lusciously thick. Easy peasy.
A little trick that I learned from Nagi to make the perfect cottage pie is to cool the minced beef filling before spreading the mashed potato topping on top of it. This ensures that the mashed potato topping doesn't sink into the minced beef filling.
So to ensure separate layers, what I do is: I layer the baking dish with minced beef filling, then add a layer of the white sauce. I then place this baking dish into the fridge while I'm preparing the mashed potato topping so that it has a chance to cool before I add the mashed potato topping.
3.) The mashed potato topping, which is probably my favorite reason to eat this pie, is so easy! For making the whole recipe quicker, I would recommend to start boiling the potatoes when you start making the minced filling. In the time that the minced filling takes to cook, your potatoes will be boiled too!
Another tip I'd like to add here is that I don't peel the potatoes before boiling, I just chop them into half and plonk them into the pot to boil. This is primarily because I don't like peeling raw potatoes. Lol.
So once the potatoes are boiled, the skin is much easier to peel off. This really depends on your preference. If you peel the potatoes before boiling, that's fine too because then you can mashed them right away after boiling. But if you don't peel them before boiling, then you will have to wait a bit before you can peel them, as they'll be too hot to handle (ooh la la 😉 lol) after being boiled.
Whew, that was a lot of explaining for just a recipe. But wait, the recipe for this Cottage Pie, is not just a recipe. It's the gateway to eternal happiness during the dark winter days, when all you want to do is put on your PJ's, thickest socks and curl up on the sofa with a warm, comforting dinner.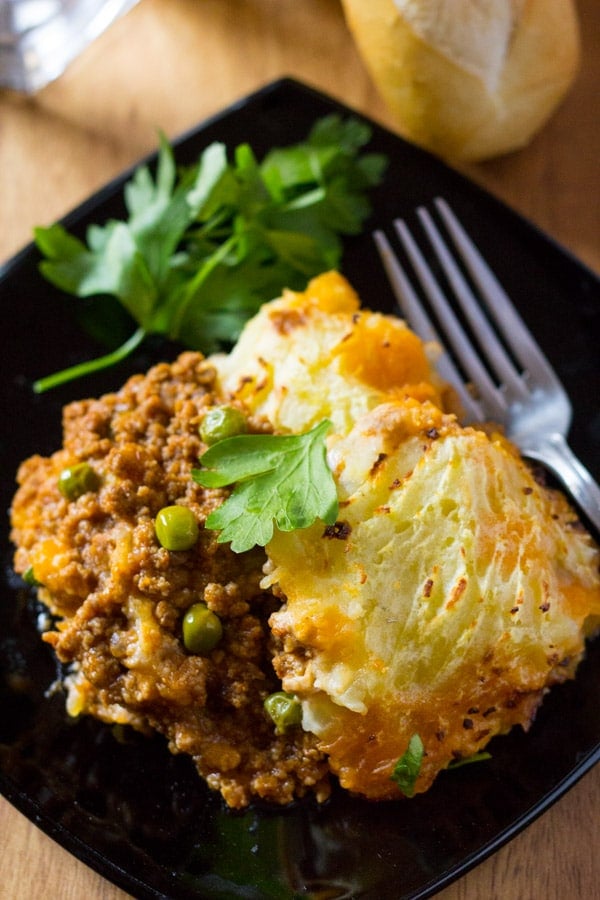 I gotta go now, because after all that writing, I think I deserve to curl up with a good book and a bowl of this steaming hot Cottage Pie.
Enjoy!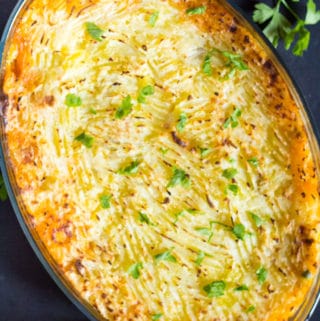 Cottage Pie
This cottage pie is the perfect comfort food, but also very easy and hassle free! This cottage pie is ready in no time, and is the perfect winter dinner!
Print
Pin
Rate
Ingredients
For the Minced Beef Filling:

1 1/2

tablespoons

oil

1

medium onion

finely chopped

700

grams

minced beef

1/2

tablespoon

garlic

finely minced

1/2

tablespoon

ginger

finely chopped

Salt and pepper to taste

1/2

teaspoon

paprika powder

2 1/2

cups

marinara sauce

1/2

cup

peas

optional

For the White Sauce:

4

tablespoons

butter

4

tablespoons

all purpose flour

2

cups

milk

1/2

teaspoon

garlic powder

Salt and pepper to taste

For the Potato Topping:

Water for boiling

1.2

kg

potatoes

chopped into half, no need to peel - also see notes

1

teaspoon

garlic powder

Salt and pepper to tase

2

tablespoons

butter
Instructions
For the Minced Beef Filling:

Heat oil in a large pot and add the chopped onion. Fry for 2-3 minutes until slightly translucent and softened. Add the minced beef, ginger and garlic. After 1-2 minutes of cooking, add salt, pepper and paprika. Cook on high (stirring frequently) for 10-15 minutes until the minced beef is nicely cooked and browned.

Add the marinara sauce and peas, and cook for 5-7 minutes. Transfer the minced beef filling to a 9 by 13 inch oven safe dish. Set aside.

For the White Sauce:

Melt butter in a small saucepan, and then add the flour. Cook for about 2-3 minutes until the flour is cooked, and then slowly pour in the milk while continuously stirring. Keep stirring until the sauce has thickened, about 6-7 minutes.

Add the salt, pepper and garlic powder and mix.

Spread the white sauce on top of minced beef filling, and transfer to a fridge to cool for 15 minutes or so.

Preheat oven to 180 C.

For the Potato Topping (also see notes):

Fill a large pot with water, and add the potatoes. Cover and bring to a boil. Boil until the potatoes are fork tender (meaning the fork goes in easily when inserted into a potato). This will take about 15-20 minutes.

Drain and then return to the pot and place on the stove again for 1-2 minutes so that the extra moisture evaporates.

Wait for the potatoes to cool until you are able to handle them. Peel the skins off, they will come off easily after being boiled.

Mash with a fork or potato masher, add the garlic powder, salt, pepper and butter and mix until combined.

Now take out the dish with minced beef filling and white sauce from the fridge, and using a fork spread the mashed potato topping evenly. Fluff up with a fork so that you can get golden bits of crunchiness on top while baking.

Bake for about 30 minutes until the edges are golden brown, and the minced beef filling is bubbling. I also turn on the grill for about 5-7 minutes to get those golden bits of crunchiness on the surface of the potato filling. If you do this, then make sure you keep an eye on the cottage pie, as the grill can very quickly take it from golden bits of crunchiness to over browned spots on the pie.

Remove the dish from oven and let rest for 10 minutes or so before serving.

Enjoy!
Notes
To make the dish even quicker, you can start boiling the potatoes when you're making the minced beef filling.
I like to boil my potatoes with the skin on, because it's much easier to peel off the skin after the potatoes have been boiled. This is just a personal preference, so you can either peel the potatoes before boiling, or after boiling. Whichever you find easier.