Okay, so are you a mashed potato fan? Raise your hands, if yes. Are you a fan of cheese? Raise your hands again, if yes. And if you're not a fan of either, then maybe we can't be friends. 🙁 Just kidding! 😛 Anyway if you're still around reading this post, and love potatoes, stringy cheese and yumminess all over then these Mozzarella Cheese Stuffed Mashed Potato Balls are the perfect dream come true recipe for you.
These little golden crispy nuggets of cheesy carbs are a perfect snack for when you have leftover mashed potatoes, or when you're having people over, or if you have cranky toddlers, or if you're going through a rough phase in life and need comforting carbs.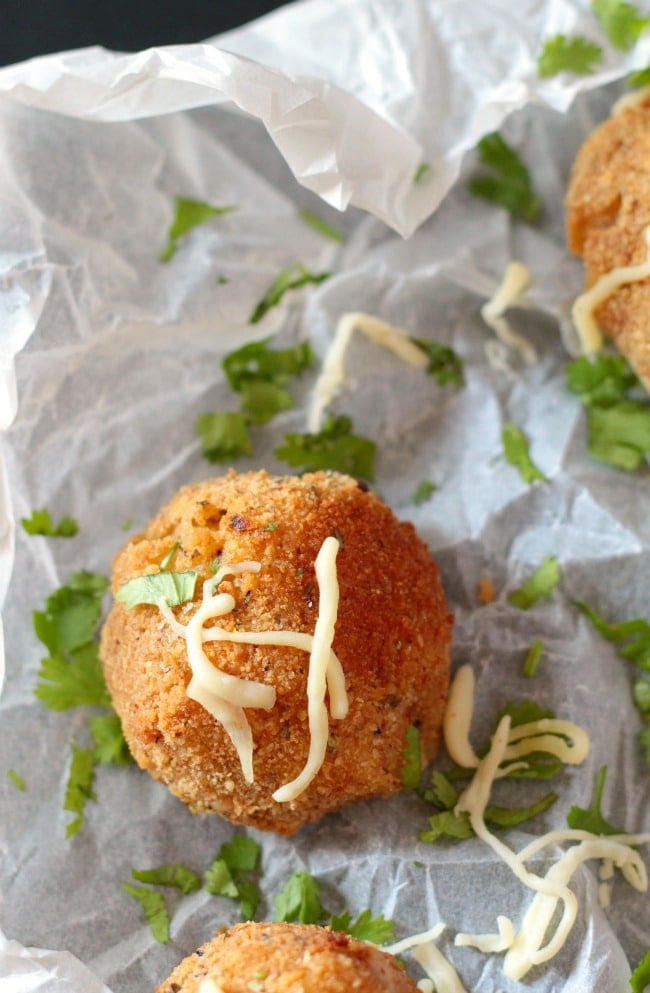 However, there is some good news and some bad news that I have to give you before we move onto the recipe. The good news is that these cheesy mashed potato balls are super easy to make, and the bad news is that I must warn you that these are addictive and you won't be able to stop snacking on these until they're gone. And then you'll want to make more. Just wanted to put this out as a disclaimer, in case you want to come back later to me and complain for making you become a Mozzarella Cheese Stuffed Mashed Potato Ball addict! 😛 Don't worry though if you do become an addict, because I'm right there with you, hehe.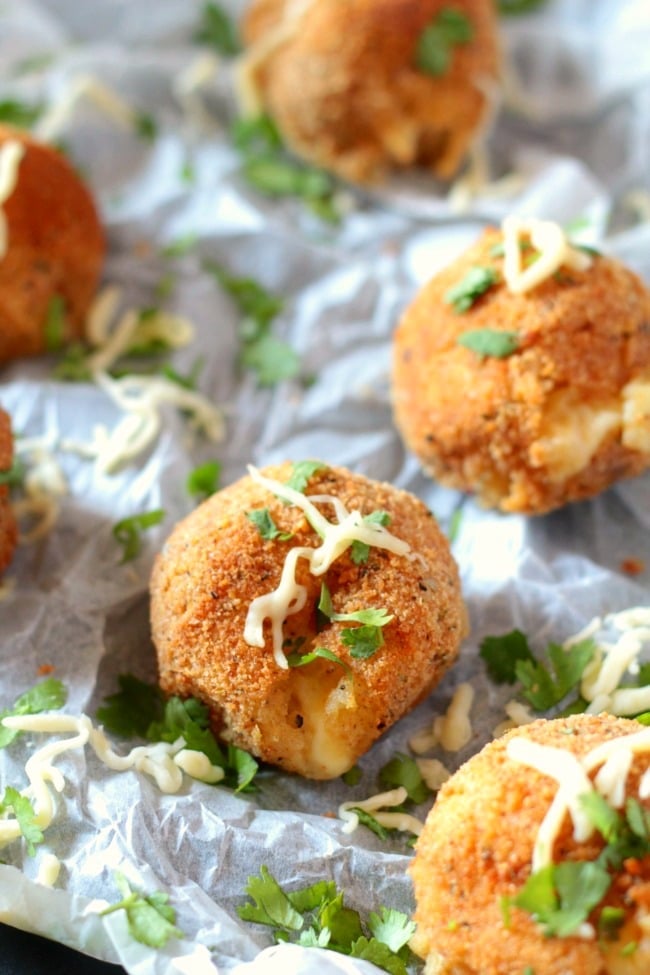 So now that you've been warned about the addictive deliciousness these cheesy mashed potato balls are, go ahead and make them. You won't regret it! 😉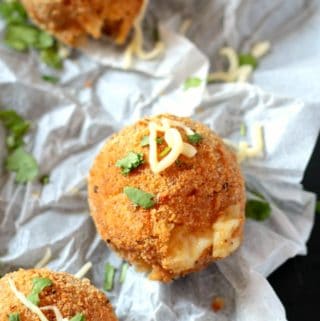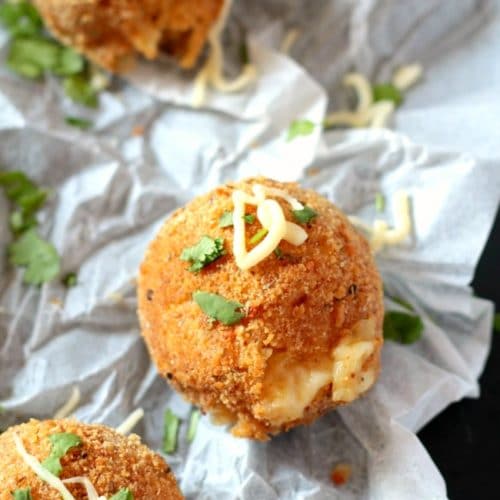 Mozzarella Cheese Stuffed Mashed Potato Balls
These Mozzarella Cheese Stuffed Mashed Potato Balls are so easy and perfect for get togethers or for when you just want to use up leftover mashed potatoes for an great snack!
Print
Pin
Rate
Ingredients
3

cups

leftover mashed potatoes

1

teaspoon

salt

or to taste

1/2

teaspoon

paprika

or to taste

1/2

teaspoon

garlic powder

1

cup

shredded mozzarella cheese

1 1/2

cups

all purpose flour

2

large eggs

beaten

1 1/2

cups

dry bread crumbs

2

cups

vegetable oil
Instructions
Combine the mashed potatoes with salt, paprika and garlic powder. Taste and add more seasoning if desired.

Scoop out about 1 1/2 tablespoons of mashed potatoes and flatten into a disk on your palm. Fill with a little bit of mozzarella cheese (about a teaspoon) and then fold over the mashed potato disk so that it forms a ball, roll to shape evenly into a round shape. Continue until the mashed potato mix has been used up.

Now it's time to set up the dredging (breading) station: In a shallow dish place the flour. In another shallow dish whisk the eggs. Place the breadcrumbs in a separate shallow dish.

Taking each mashed potato ball, dredge it lightly in flour, rolling it so that it's covered completely. Lightly shake to brush off the excess flour.

Then dip the mashed potato ball into the whisked eggs and coat completely, and then dip in the breadcrumbs, making sure it's fully coated in the breadcrumbs.

In a large wok or dutch oven, heat oil to a medium high heat. Fry the mashed potato balls in batches for about 2-3 minutes until golden brown. Transfer and drain on a paper towel lined plate.

Serve immediately.
Looking for more delicious snacks?
Crispy Baked Chicken Tenders with Garlic Mayo BBQ Sauce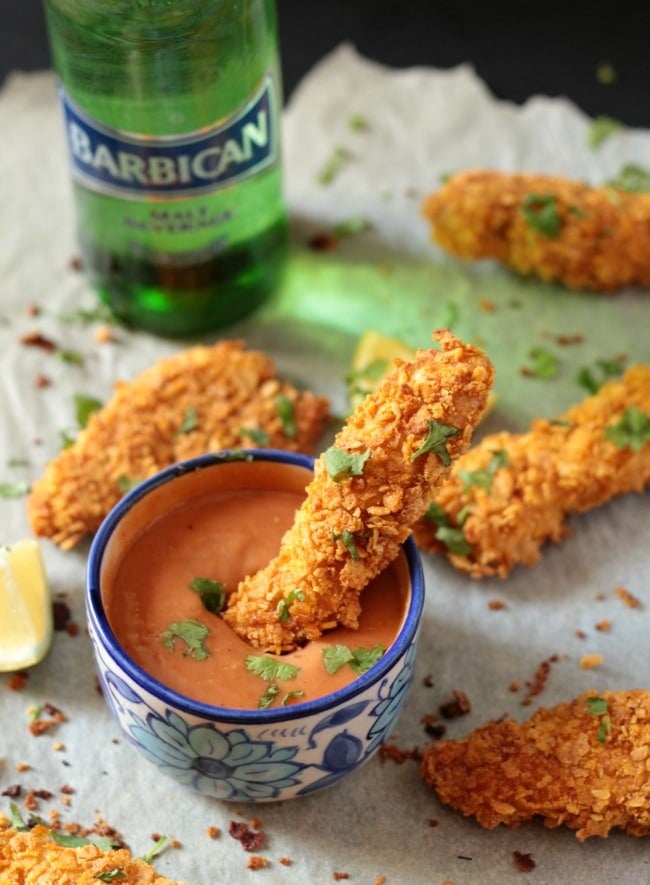 Doritos Crusted Cheddar Cheese Sticks