These Doritos Mozzarella Sticks are an incredibly delicious appetizer, perfect for gameday or any get-together. Or when you're just staying home watching Netflix!
Dorito cheese sticks are super easy to make. Almost too simple, which can be a dangerous thing because you'll be craving these crispy, golden, melty cheese sticks all too often.
About this Recipe
I came up with this recipe a few years ago because of my love for Doritos and string cheese. It's a take on the basic mozzarella stick, but instead of using breadcrumbs we are using crushed up Doritos.
Yes, you heard me right. It's actually happening, and it really is so delicious.
Why this Recipe Works
Super crispy: These Doritos cheese sticks turn out very crispy and remain crispy longer than the traditional breadcrumb-coated mozzarella sticks.
Easy: These fried cheesesticks are so easy to make, and only require a handful of ingredients. Nothing complicated here!
Make ahead: You can easily double this recipe, and freeze the Dorito mozzarella sticks in a single layer on a baking sheet or tray. Once they are frozen, transfer them to a ziplock bag and store up to a month in the freezer. 
What You'll Need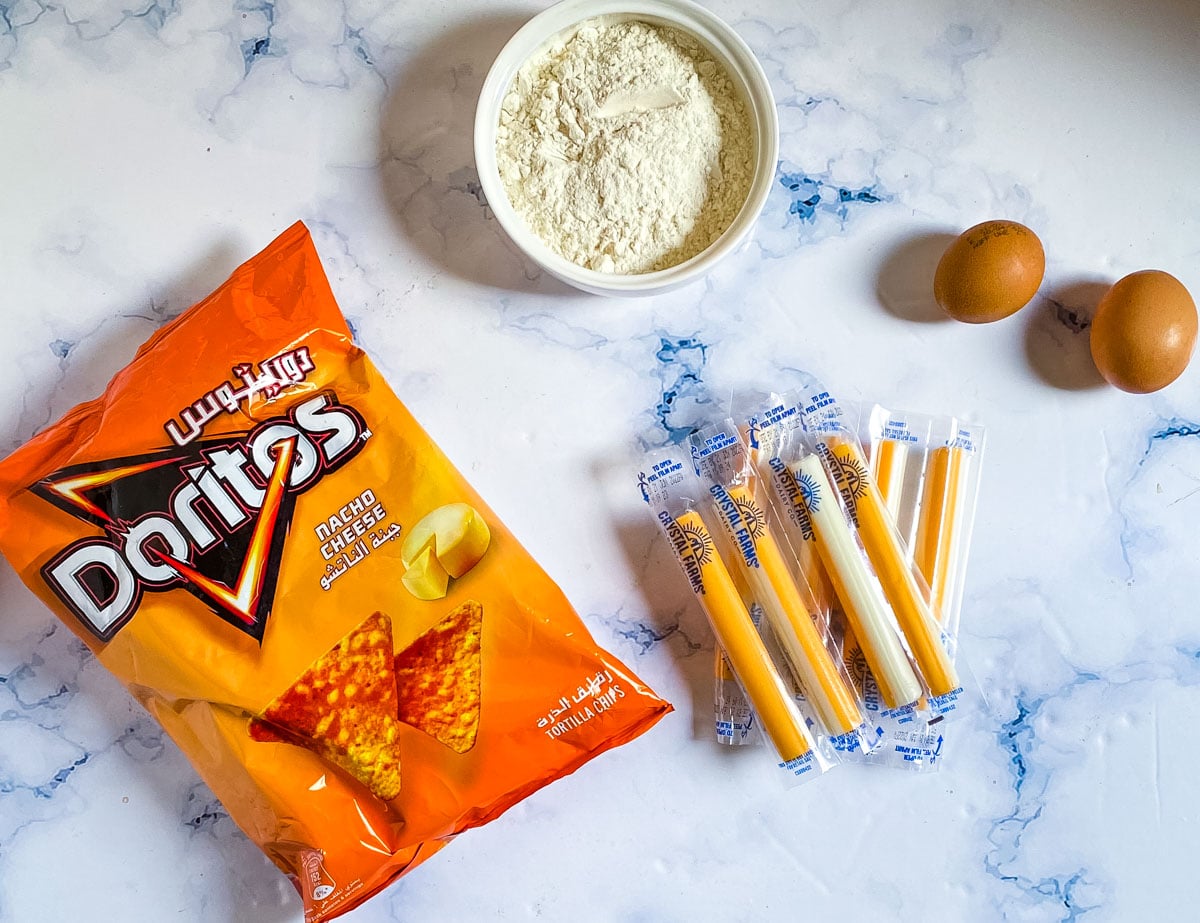 Doritos: I used my favorite flavor here which is Nacho Cheese, but honestly you can use any flavor you like! 
Flour & Eggs: Other than crushed up Doritos, we will also need the standards for a breading station: eggs and all purpose flour.
Mozzarella Cheese Sticks: You can also use cheddar cheese sticks if you're able to find them. I used 8 which I cut up into half, to make a total of 16. This size is easier to work with, and is great as a serving because this cheese sticks snack is a filling appetizer. 
Oil: You will need oil for frying. You can use canola oil or peanut oil.
How to Make Doritos Mozzarella Sticks
Step 1: Prepare the cheese sticks. Start by slicing the cheese string into halves. Set aside.
Step 2: Crush the Doritos. We want the Doritos to be crushed finely. Place them into a food processor or Nutribullet, and pulse a few times. We are looking for a sandy texture as can be seen in the picture. If you want to add more flavor to this 'bread crumb mixture', you can mix in some Italian seasoning and garlic powder at this point.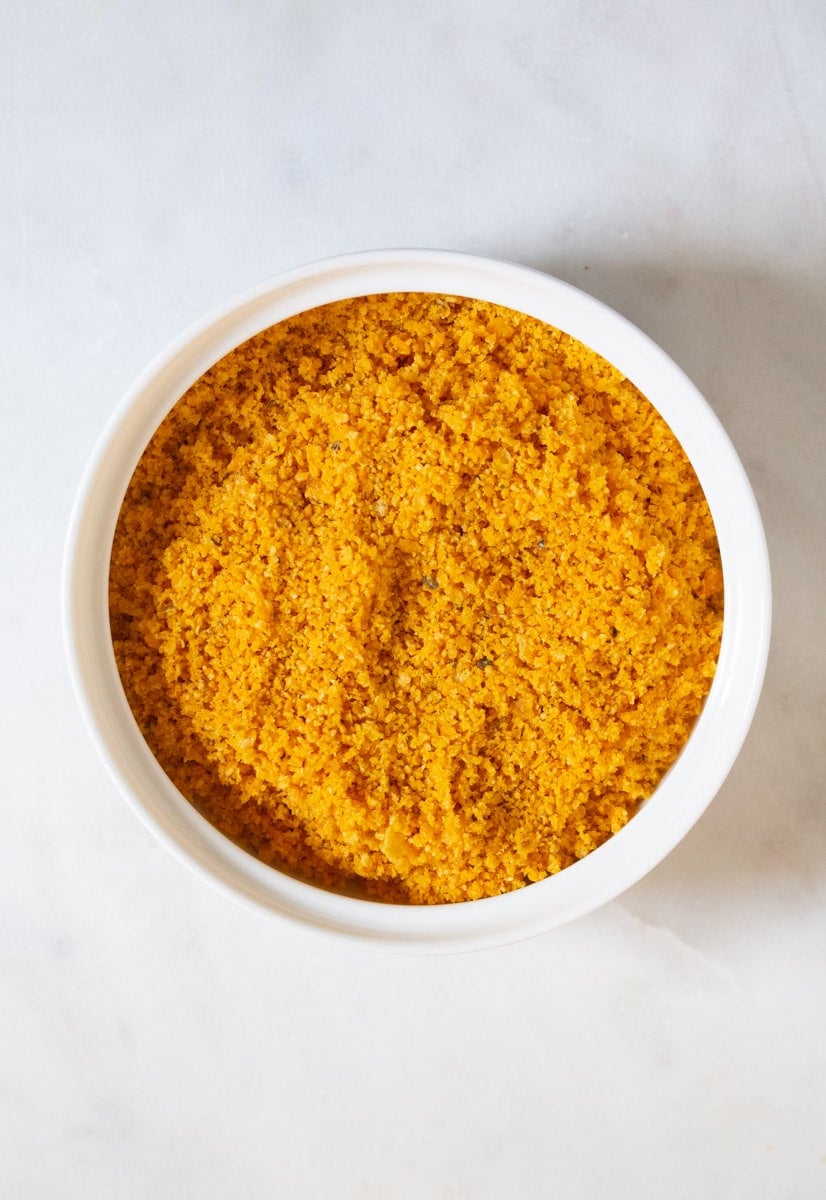 Step 3: Set up a breading station by placing the flour, crushed up Doritos, and whisked eggs in separate bowls.
Step 4: Coat the string cheese. Take each string cheese, dip it in the flour, then the whisked eggs, and finally into the Doritos 'breadcrumbs'. Coat until completely covered, and repeat the process one more time to make a second coating.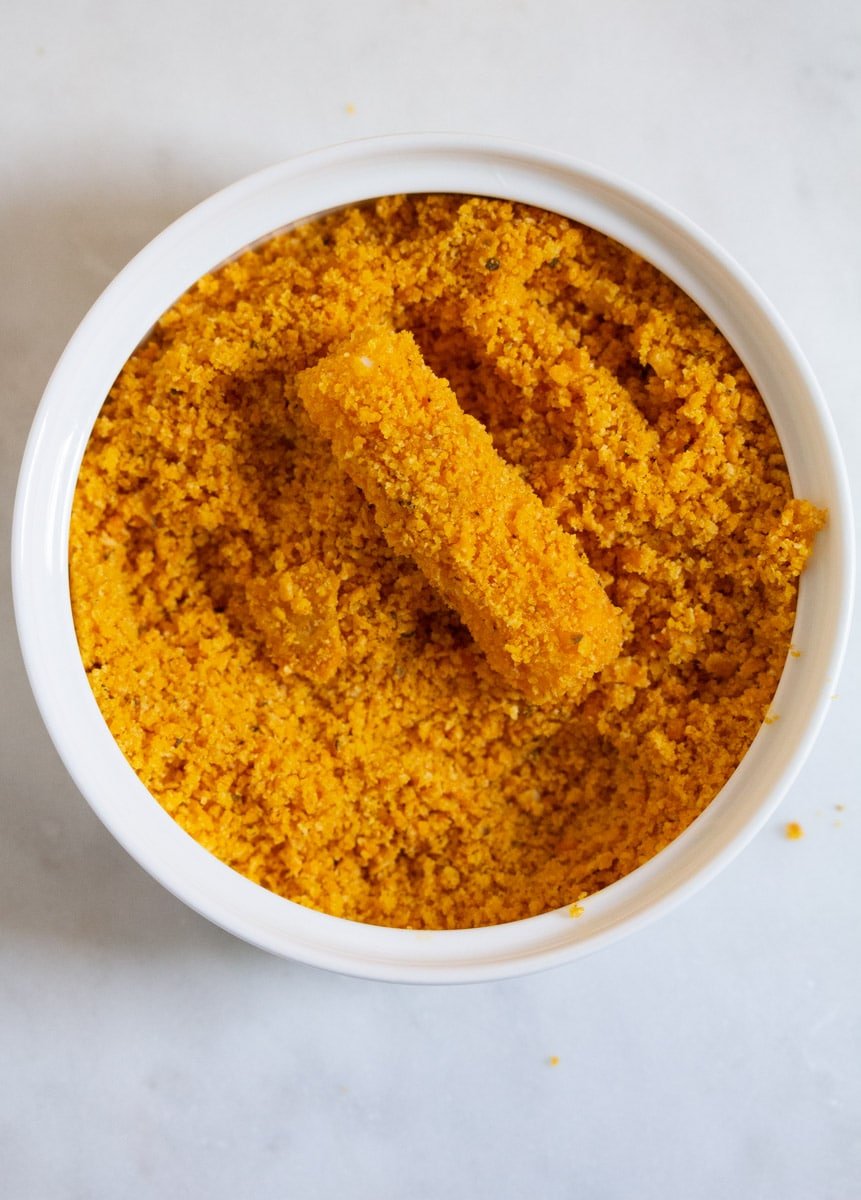 Step 5: Place the prepared cheese sticks in the freezer for at least 1 hour.
Step 6: Heat the oil to medium-high, and place the cheesesticks. Fry for 2-3 minutes until a light golden brown. Do not fry on high heat or the coating will easily burn.
Step 7: Drain the oil, transfer to a plate lined with paper towels, and serve with your favorite sauce. I used Sriracha, but marinara or ranch dressing would be great here too.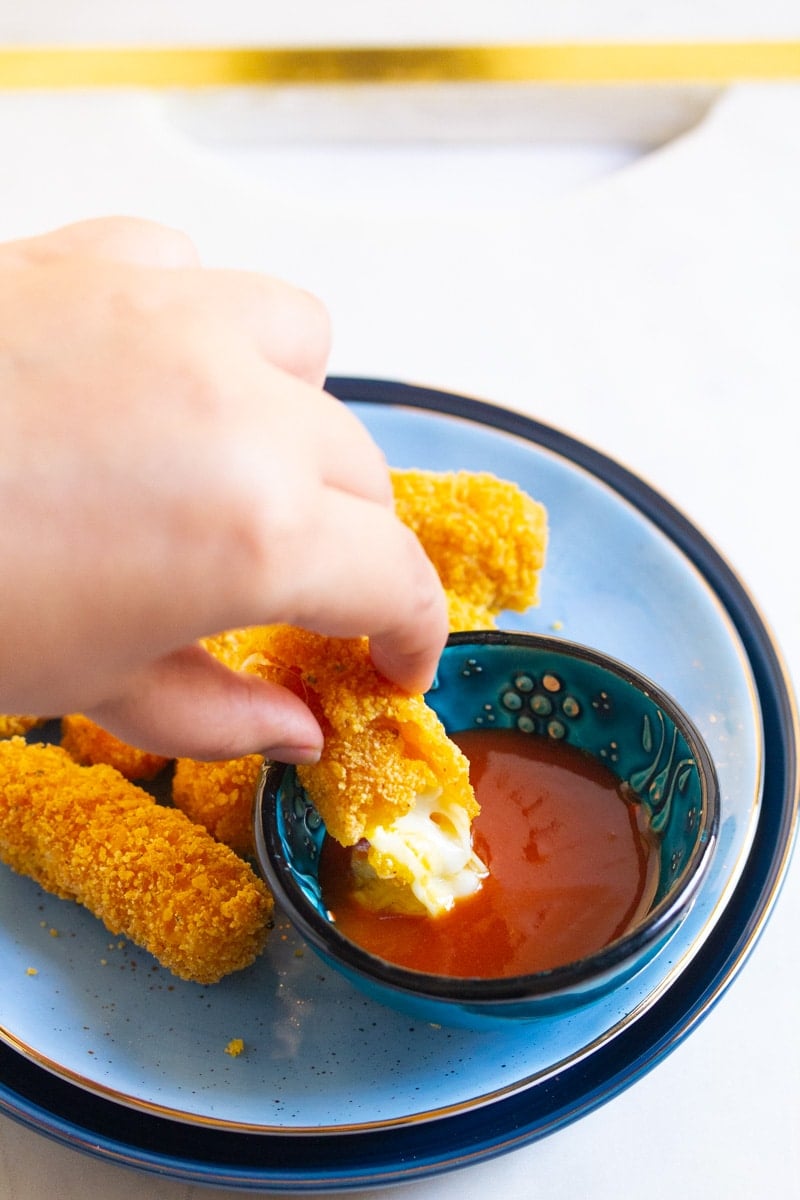 Recipe Tips for the Best Cheese Sticks
Since the Doritos crumbs will never be as fine as bread crumbs, we need to double coat these cheese sticks. This helps ensure that the cheese sticks are fully covered with crumbs, and that there is no risk of the cheese leaking out during frying.
It's also important that you freeze these cheese sticks for a bit before frying them. Frozen cheese sticks are easier to fry and again the cheese is less likely to leak out when frozen.
These Doritos crusted mozzarella sticks only take a few minutes to fry, or else the crust will burn. So be very careful and just quickly take them out the moment they are golden brown. Burnt Doritos don't taste good, I can tell you from experience. 😛
Doritos sticks can be made ahead and frozen. So you can take them out whenever you want and just fry them. Just fry them in the frozen state, and don't let them thaw.
I have only tried these with Doritos, but you can try any kind of flavor or type of chips. If you experiment with a different kind of chips, let me know how it goes in the comments!
These cheese sticks are best served immediately when the Doritos crust is crispy and the cheese is ooey gooey meltingly delicious! 🙂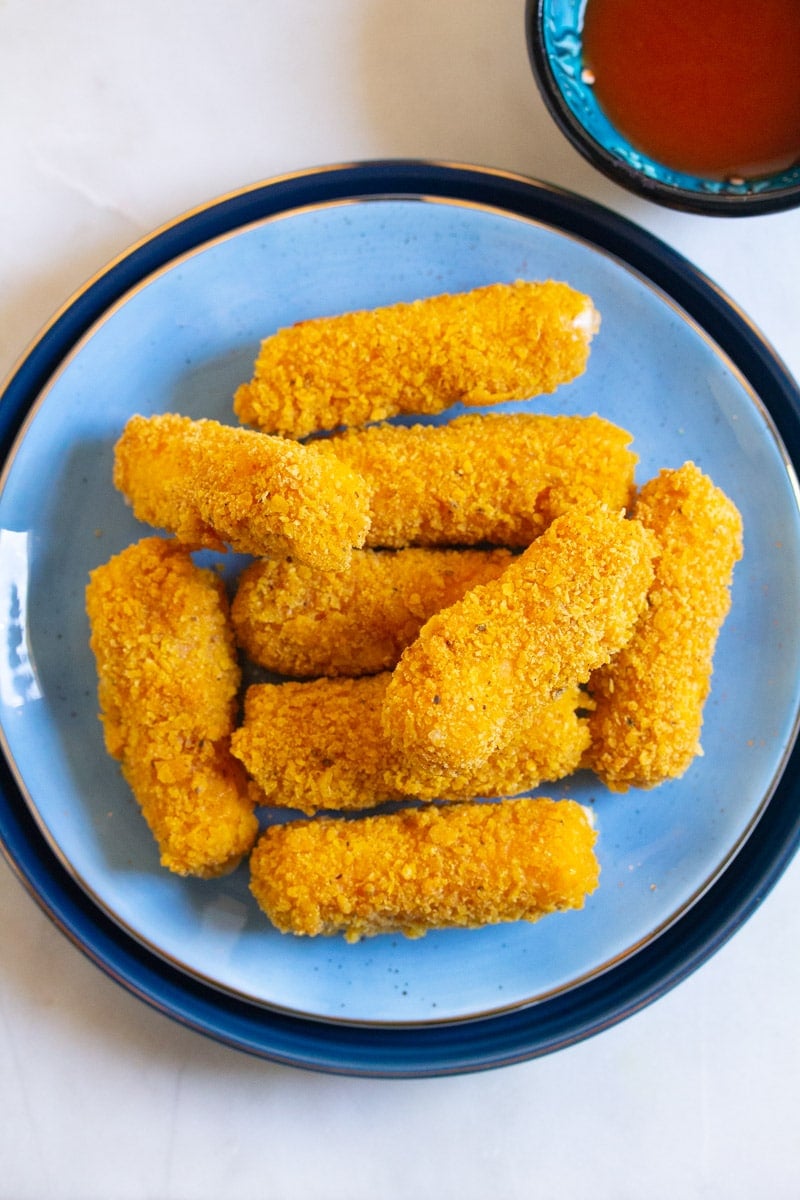 More Delicious Snacks!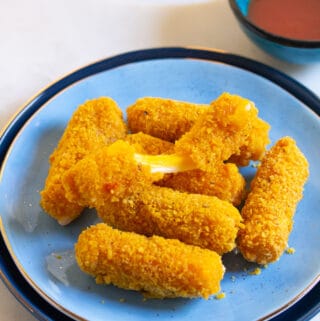 Doritos Crusted Mozzarella Sticks
These Doritos Crusted Mozzarella Sticks take the humble cheese stick to another level of flavour. The Doritos make for a crispy zesty crust and the cheese is oozingly melty in the middle when fried. A great snack for enjoying with your loved ones!
Print
Pin
Rate
Ingredients
1-2

cups

Doritos

any flavour of your choice - I used Nacho cheese

1-2

cups

flour

2

eggs

whisked lightly

8

mozzarella sticks

can also use cheddar cheese sticks

oil for deep frying

marinara/salsa sauce for dipping
Instructions
Place the Doritos in a food processor and finely crush until they resemble bread crumbs. The aim is to get the Doritos as finely crushed as possible. So I would suggest after food processing them, to place them in a freezer bag and bash away with a rolling pin or wooden spoon. Good for anger therapy too.

Cut each cheese stick in half so that you have a total of 16 cheese sticks

Working in batches, coat the cheese sticks in flour, dip in the egg mixture and then evenly coat with the Doritos crumbs, and repeat. It's important to double coat each cheese stick or else they will not be covered with the Doritos crumbs completely.

Once all the cheese sticks have been covered completely, place in the freezer for at least 1 hour.

Heat oil in a large pot and place the cheese sticks gently. The oil should be medium hot, not too hot or else the cheese sticks will burn.

Fry until they are golden and crispy on the outside. This takes about a 1-2 minutes. Do not leave the kitchen, the Dorito crumbs burn super fast. We don't want any browning on the Dorito crust because it basically means they're burnt. I did this with a couple and they didn't taste good at all. So remember to take them out in a minute or so.

Serve with marinara sauce or salsa. Enjoy!