Well, well, well. Here I am back with the two loves of my life: potatoes and garlic. If you're a regular reader around here, you must know that I love everything garlic. I will add garlic to almost everything I eat, minus desserts, because obviously that's crazy. Want proof? Just check out my Crispy Lemon Chicken with Creamy Garlic Penne Pasta and Garlicky Chicken Nuggets.
This side is also perfect as a light side dish or appetizer after the holidays. It's healthy too because it's baked! So if you get a craving for fries, and are trying to eat healthy this is a good option. You can still get your potato fix without all the extra oil. Not that I would judge you if you gave into that craving for fries, I would totally bring the ketchup (or this insanely delicious garlic mayo dip below) to dip the fries into hehe. But sometimes you need to be good, and you need to try and eat healthy. Obviously minus the garlic mayo sauce, although that's really delicious with these smashed potatoes so maybe it's okay if you have a little taste? I won't tell, promise. 😉
These smashed potatoes are crazy good. And also crazy easy. Crispy on the outside, and fluffy in the inside, these smashed potatoes will be the new best friend of your main dish. They're also a perfect snack served with garlic mayo sauce.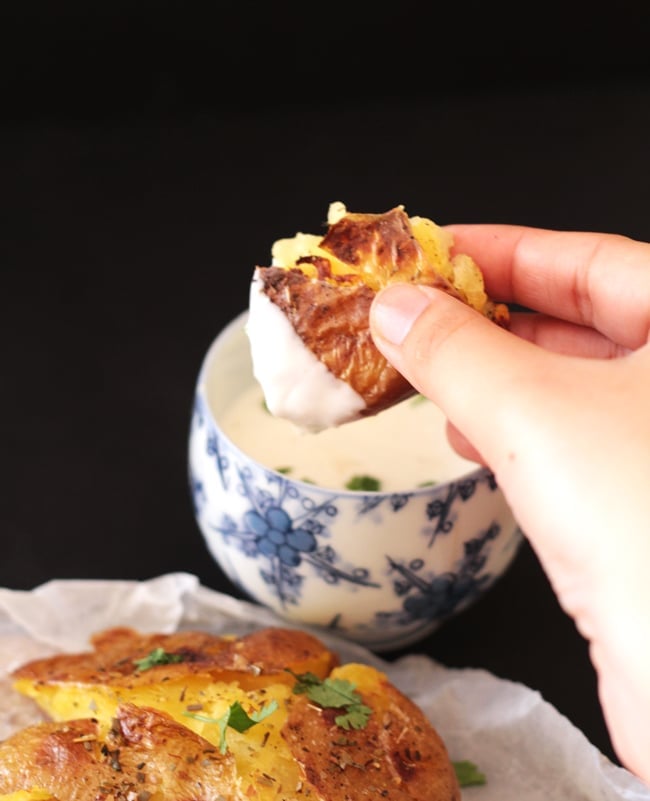 Most recipes that I've seen for smashed potatoes use baby potatoes, but I used russet potatoes here. No reason, except that I went grocery shopping and forgot that I was supposed to get baby potatoes for the smashed potatoes and not huge russet potatoes. So if you're like me and forget to buy the baby potatoes, or can't get them where you live, you can use russet potatoes. They turned out perfectly fine, and by that I mean perfectly mind blowingly delicious. Just a little on the bigger side. Which is fine by me. More potatoes for everyone!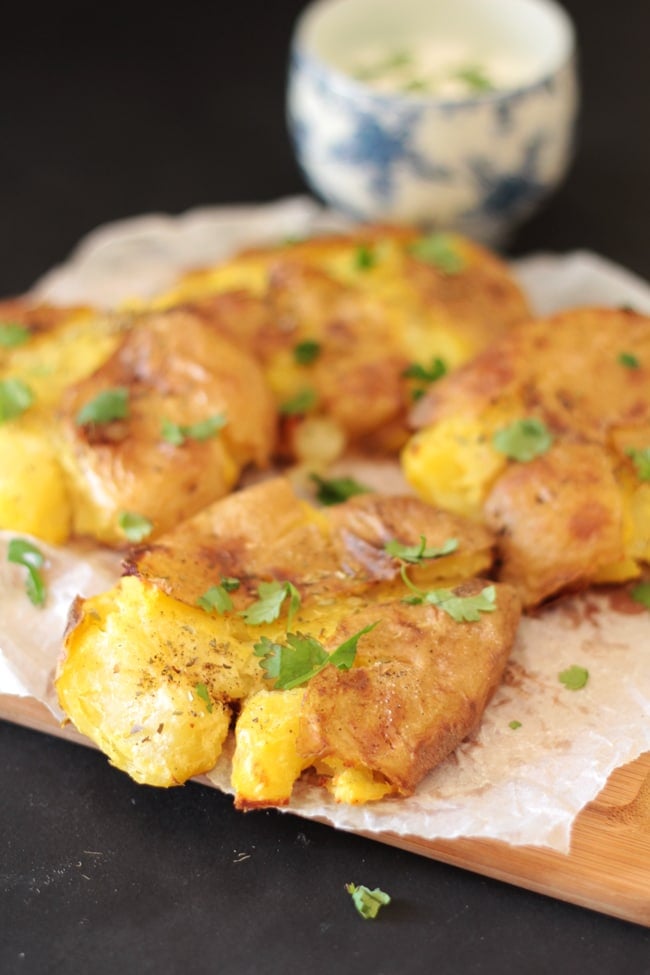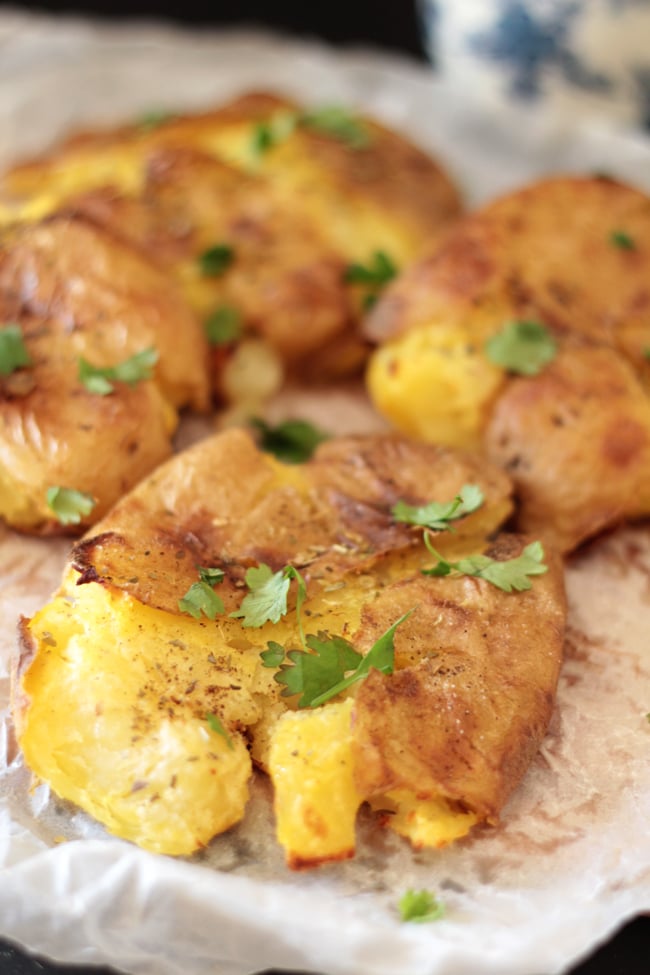 Smashed Potatoes with Garlic Mayo Sauce
These smashed potatoes are so easy to make, and delicious served with a garlic mayo dip. Crispy on the outside and fluffy on the inside. Perfect as an appetizer or as a side dish.
Print
Pin
Rate
Ingredients
For the Smashed Potatoes

5-6

russet potatoes

1

teaspoon

salt

1

teaspoon

black pepper

1

tablespoon

dried oregano

1/4

cup

olive oil

For the Garlic Mayo Dip

8

tablespoons

mayonnaise

2-3

teaspoons

garlic paste

2

tablespoons

vinegar

Salt and pepper to taste
Instructions
For the Smashed Potatoes

Preheat oven to 450 degrees F.

Fill a large pot with water and place the potatoes, and boil until a fork or knife pierces through easily. This will take about 20-25 minutes but depends on the size of your potatoes.

After the potatoes have boiled, drain them and let them cool until they can be easily handle.

Cover a baking sheet with foil, and coat it with oil.

Place the potatoes on the foil, and using the heel of your hand (or the back of a spoon) gently smash the potatoes so that they spread, but don't break apart.

Coat with oil, and season them with salt, black pepper and oregano.

Bake for 15-20 minutes or until the smashed potatoes are golden and crispy.

For the Garlic Mayo Dip

Mix all the ingredients together until fully incorporated.

Serve with smashed potatoes.
Want more garlicky recipes? Click below:
Crispy Lemon Chicken with Creamy Garlic Penne Pasta