This Tandoori Chicken Pizza is the perfect blend of east and west. We're talking a perfectly chewy crust made from scratch, tandoori chicken chunks, and lots of cheese of course!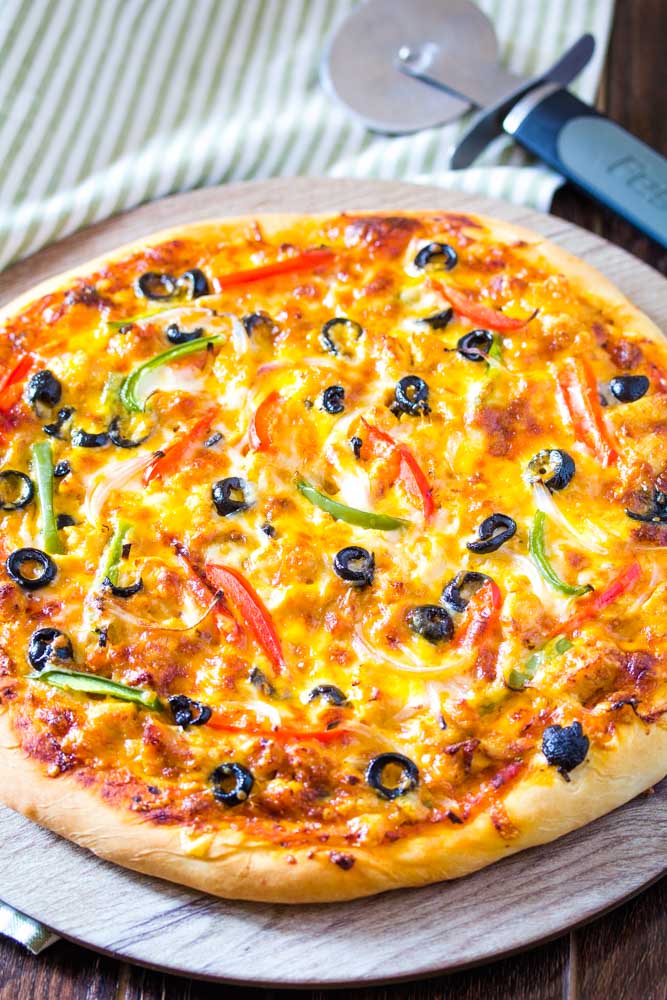 I'm so excited to be sharing this chicken tandoori pizza with you today, because it's the first pizza recipe I'm sharing on my blog. The internet is full of pizza recipes, I know, so I wanted to go for a little something that's unique in taste.
About this Recipe
This is a fusion pizza, and it's so very delicious. Let's forget about pepperoni for a while shall we? The pizza crust for this recipe is standard, so you can make it from scratch like I do or use your favorite store bought pizza crust.
The real star of the show here is the tandoori chicken. It's delicious, spicy and so full of flavor!
What is Tandoori Chicken?
Tandoori Chicken is a popular marinated chicken recipe that's typically cooked in a tandoor or clay oven. The chicken is first marinated in yogurt, spices and lemon juice and then cooked on high heat until chargrilled. It originates from the Indian subcontinent and is absolutely delicious.
Why this Recipe Works
A Unique Twist: Adding tandoori chicken chunks to this pizza adds a whole other dimension of flavors. If you're bored with the standard pepperoni or margherita pizza, do give this flavor a try!
Fool-proof Dough: I've been using this pizza dough recipe for years, and it's fool-proof and works every single time!
Easy: Since making pizza from scratch can be a bit much, we are using a shortcut to the tandoori chicken marination, but with no compromise on the flavor!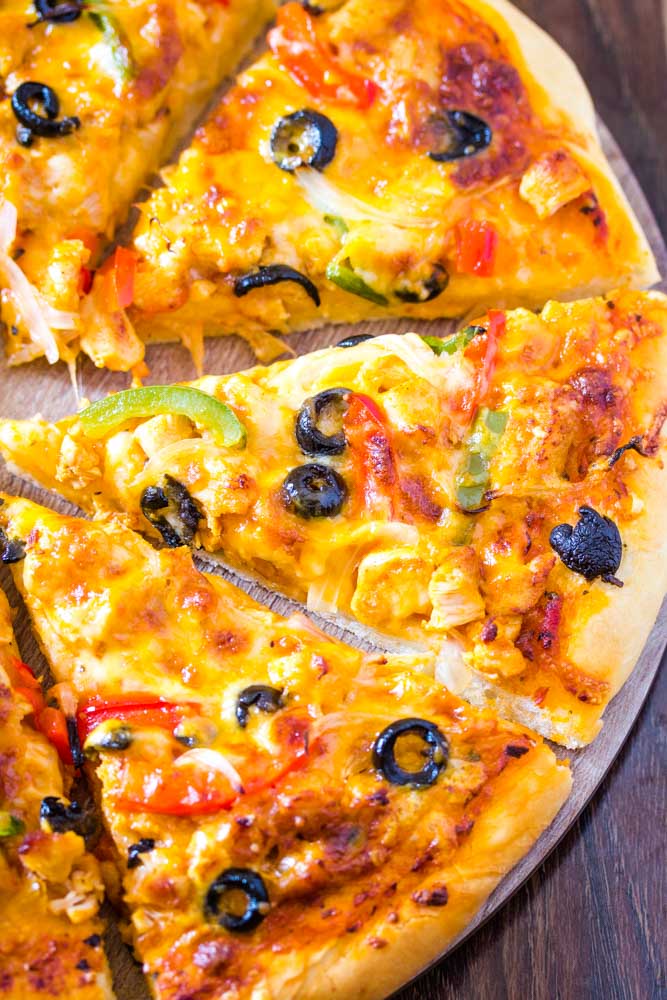 Ingredients You'll Need
For this tandoori pizza recipe, we're going to learn how to make the perfect, no-fail pizza dough and easy tandoori flavoured chicken chunks.
Then we're going to make a yummy pizza topped with tandoori chicken, assorted veggies and two types of cheese! Of course there's pizza sauce too, but let's make our lives a little easier and just use some store bought pizza sauce.
Here are the tandoori chicken pizza ingredients you'll need:
Pizza Dough: We are making the pizza dough from scratch in this recipe, but you can use your favorite store-bought crust too.
Tandoori Chicken: While authentic tandoori chicken is made from scratch and with bone-in pieces, for this recipe we will be using boneless chicken marinated with yogurt, lemon juice and Shan Tandoori Masala. It makes the process so much easier yet as delicious as the original.
Pizza Sauce: Use your favorite pizza sauce or make it from scratch.
Cheese: For this recipe you will need about 2 cups of freshly grated mozzarella cheese.
Toppings: I used bell peppers, onions and olives. But there are so many more toppings you can add and have fun with.
How to Make Tandoori Chicken Pizza
Marinate the chicken: Start by marinating the chicken with the yogurt, lemon juice and tandoori spices. Marinate for at least 30 minutes.
Cook the chicken: In a wide skillet, cook the chicken chunks with a little bit of oil until cooked through and the moisture has dried.
Prepare the pizza dough: Follow the recipe for the pizza dough in the recipe card, or you can use pre-made crust.
Assemble the pizza: Top the pizza dough with pizza sauce, and then top with the cooked tandoori chicken pieces, cheese, and the toppings.
Bake: Place into a preheated oven and cook for 12-15 minutes or until the crust is golden brown and the cheese has melted.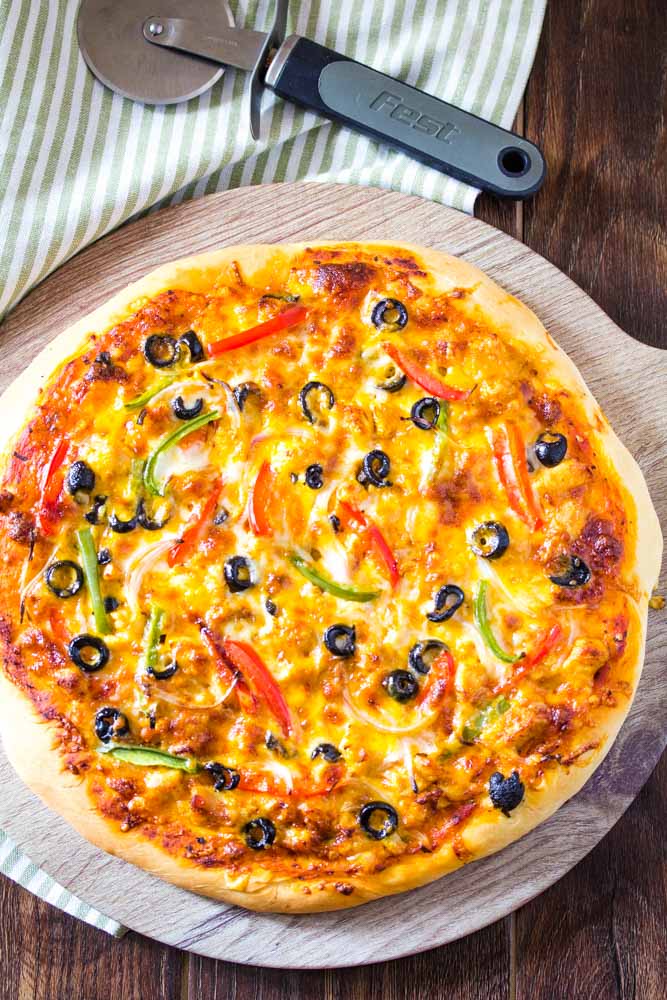 Recipe Tips
If you're making the pizza dough from scratch, I highly recommend that you proof the yeast before adding it to the dough mixture. This ensures that your yeast is activated and this way when you add it to the dough mixture, you know that the dough will rise.
You can easily make the tandoori chicken ahead of time and store it in the fridge for 3-4 days.
I recommend that you freshly grate your cheese yourself, as pre-shredded cheese has stabilizers and as a result it does not melt easily.
More Tandoori Chicken Pizza Toppings
Add pickled jalapenos for a spicy kick to your pizza.
If you're really into spicy food, try adding sliced green chillies to the pizza.
Mushrooms are also a great option for this recipe, but I would saute the sliced mushrooms in a skillet first to get rid of the excess moisture.
If you want to add a sweet touch to the pizza, use sweet corn.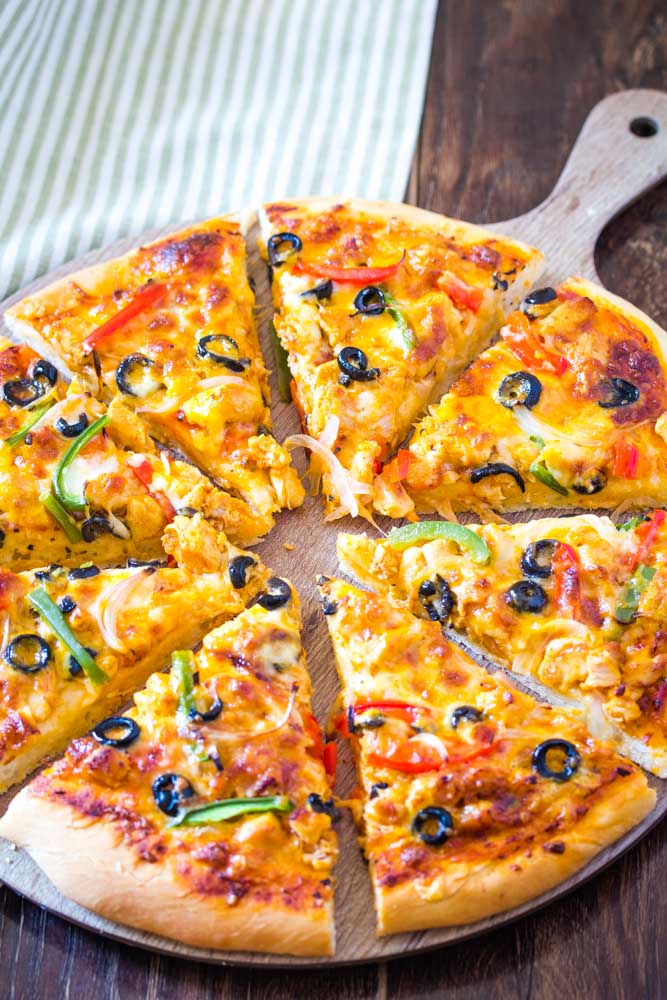 Recipe FAQs
How do you freeze homemade pizza dough?
This pizza dough recipe yields enough dough for two pizzas. Once the dough is ready, you can simply divide it into two balls and cover tightly with cling film. Freeze for up to 1 month. 
How do you make tandoori pizza sauce?
For an extra kick, try making tandoori pizza sauce by adding some tandoori masala to your traditional pizza sauce!
I hope you enjoy this delicious and easy tandoori chicken pizza recipe!
Tandoori Chicken Pizza Recipe
This Tandoori Chicken Pizza is the perfect blend of east and west. We're talking a perfectly chewy crust made from scratch, tandoori chicken chunks, and lots of cheese of course!
Print
Pin
Rate
Ingredients
For the Dough
1 1/3

cups

warm water

between 100-110F, 38-43C

2 1/4

teaspoons

instant yeast

dry active yeast is fine too

1

tablespoon

granulated sugar

2

tablespoons

olive oil

or any neutral flavour oil is fine

3/4

teaspoon

oil

3 1/2

cups

all purpose flour
For the Tandoori Chicken
450

grams

chicken breast

cut into small pieces

2

tablespoons

yogurt

1

tablespoon

Shan Tandoori Masala powder

1

tablespoon

freshly squeezed lemon juice

2

tablespoons

oil

for cooking
For the Pizza
Prepared crust

1/2

cup

pizza sauce

I use storebought

Prepared tandoori chicken

2

cups

cheese

Additional toppings

I used green & red bell peppers, sliced onions, and olives
Instructions
For the Pizza Dough
Whisk the warm water, yeast and granulated sugar together in a bowl. Cover and let stand for about 5 minutes. Properly activated yeast looks foamy, and has completely dissolved in the water. Also preheat the oven to 150 F (66 C) and turn it off once fully preheated.

Add olive oil, salt, and flour to the bowl of a stand mixer (or any bowl if using hands to knead the dough). Now add the yeast, and beat on low for about 2 minutes or so. Continue kneading the dough on medium speed for at least 7-8 minutes until l a cohesive dough ball has formed. If the dough looks too sticky, add 1 tablespoon of flour at a time. But don't add too much extra flour at a time. Poke your dough with a finger, if it bounces back slowly, your dough is ready to rise.

Light grease a large bowl, and transfer the dough to it. Roll it around with your hands, so the dough is covered with oil all around. Cover and place into the preheated oven (but turned off now) and leave the oven door open a little bit. The dough will take about 60-90 minutes to rise.

Once the dough has doubled in size, punch out the air and divide into two equal dough balls. If using both, roll out into 12 inch discs. If you want to use them for later you can place them covered in the fridge for up to 1 day or freeze for later use. The dough can be frozen up to 2 months.

Let the shaped dough rise for a few minutes before adding the toppings.
For the Tandoori Chicken
Mix all the ingredients (except for oil) together and marinate for at least 30 minutes or overnight in the fridge.

Add oil, and cook on medium high heat until the chicken is cooked through and the excess water has dried up.

Let cool slightly before adding to the pizza crust.
For the Tandoori Chicken Pizza
Preheat oven to 475 F (246 C) and lightly grease a baking sheet or a pizza pan.

Spread sauce on the pizza crust.

Now add a little bit of cheese.

Add the tandoori chicken and other toppings.

Add more cheese and finish with a little more of the toppings.

Place into the preheated oven and bake for about 12-15 minutes until the crust is golden brown and the cheesy has melted and is bubbly. Remove from oven, cut into slices and serve immediately.
Nutrition
Calories:
311
kcal
|
Carbohydrates:
31
g
|
Protein:
18
g
|
Fat:
13
g
|
Saturated Fat:
5
g
|
Cholesterol:
44
mg
|
Sodium:
217
mg
|
Potassium:
257
mg
|
Fiber:
2
g
|
Sugar:
2
g
|
Vitamin A:
244
IU
|
Vitamin C:
1
mg
|
Calcium:
148
mg
|
Iron:
2
mg
More Yummy Recipes to Try: