Aloo Pakoras are deep-fried potato fritters, often served with green chutney. Pakora is a popular vegetarian street food snack (along with chana chaat and aloo chaat) in India and Pakistan. They're also a very popular snack made for Iftar in Ramadan. Follow my recipe and tips to make the best pakoras ever. Also gluten-free!
Also try these wildly popular Mixed Vegetable Pakora and yummy Chicken Pakora.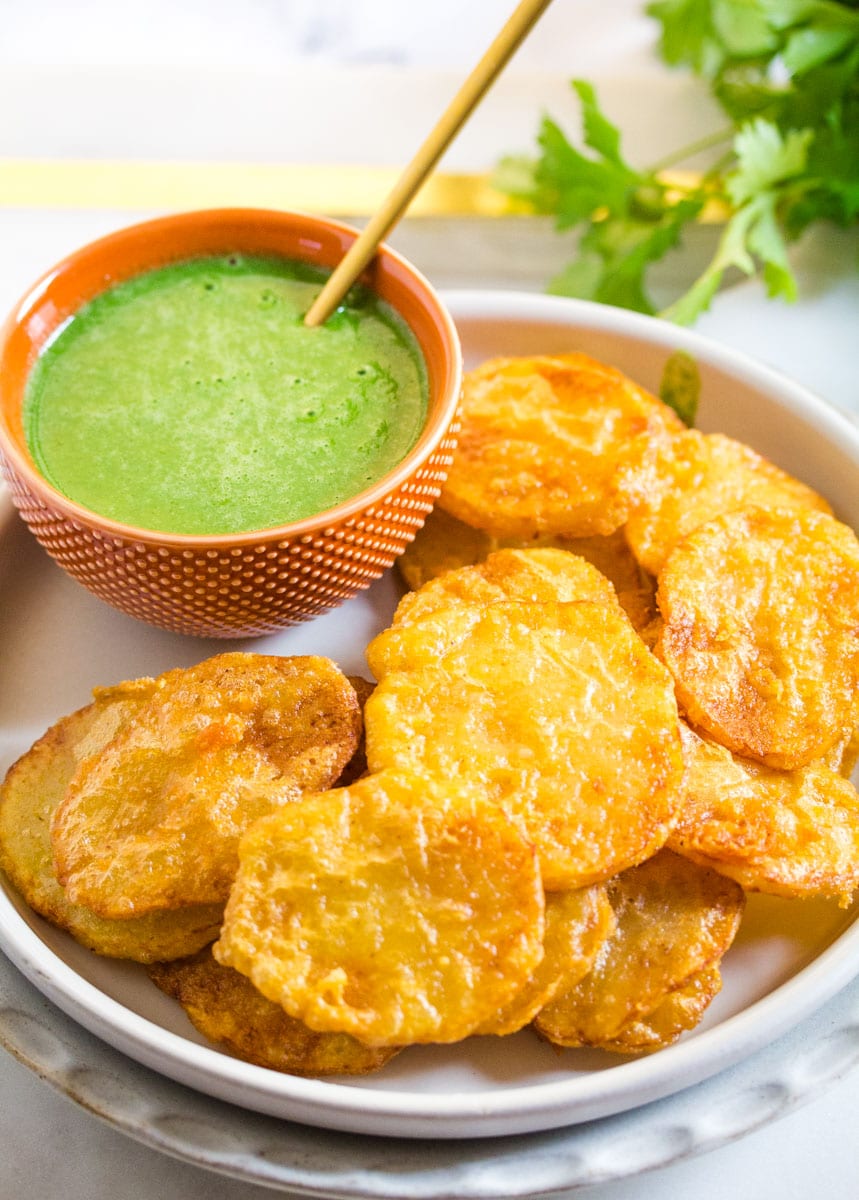 About this Recipe
I've grown up eating a lot of aloo pakora, and I think I know what a perfect pakora should be like. After spending all my life having pakoras as a monsoon or Iftar time snack, I think I've done quite a bit of 'research' on what they should be like. Haha.
I've also made many batches of these delicious fritters over the years, and with time I've learned quite a few tricks to make the best pakora!
Let's talk about the perfect aloo pakora:
First of all, they need to be CRISPY. It's no fun eating thickly coated potato slices that are soggy and sad. If we talk about aloo pakora in specific, the potato slices should be thinly sliced and fluffy once cooked. The combination of a crispy coated fluffy aloo pakora is pretty awesome!
Aloo pakora is also a popular snack for the monsoon weather! They're perfect with a hot cup of Karak Chai or Pakistani Chai.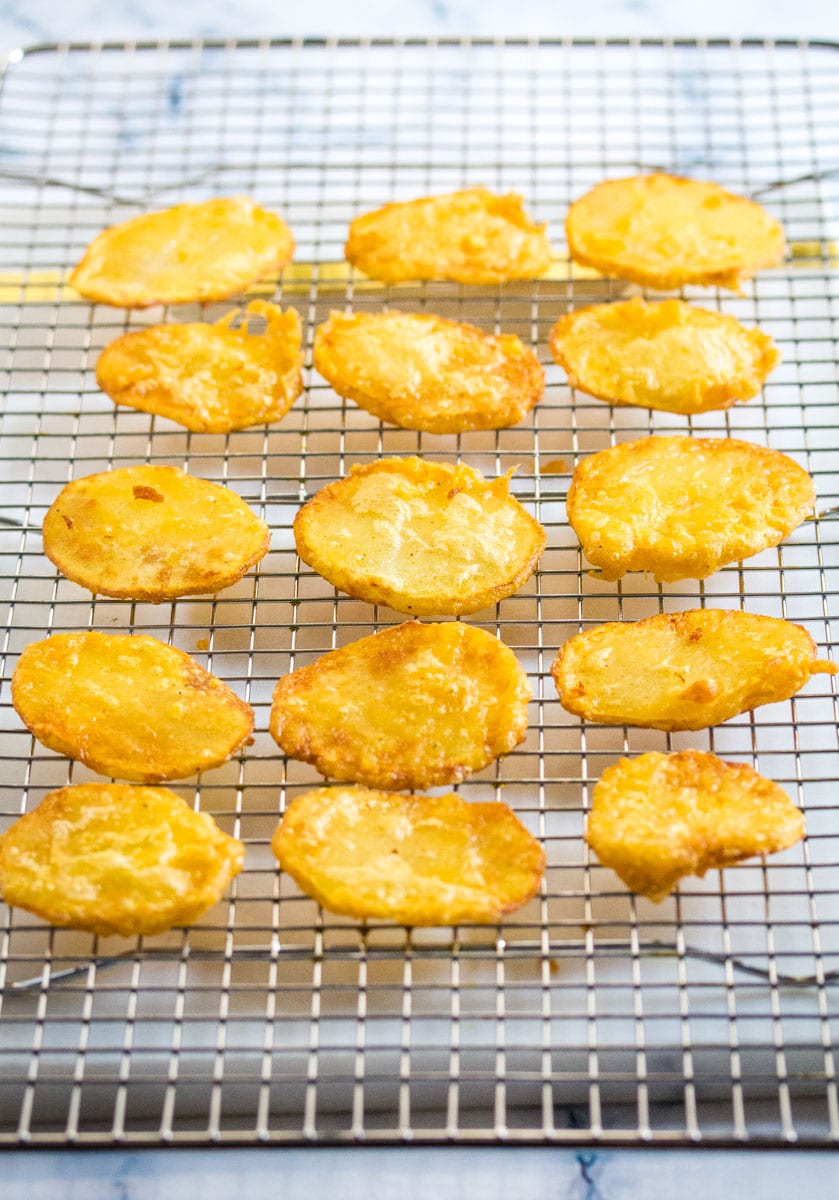 Why this Recipe Works
Ingredients for Aloo Pakora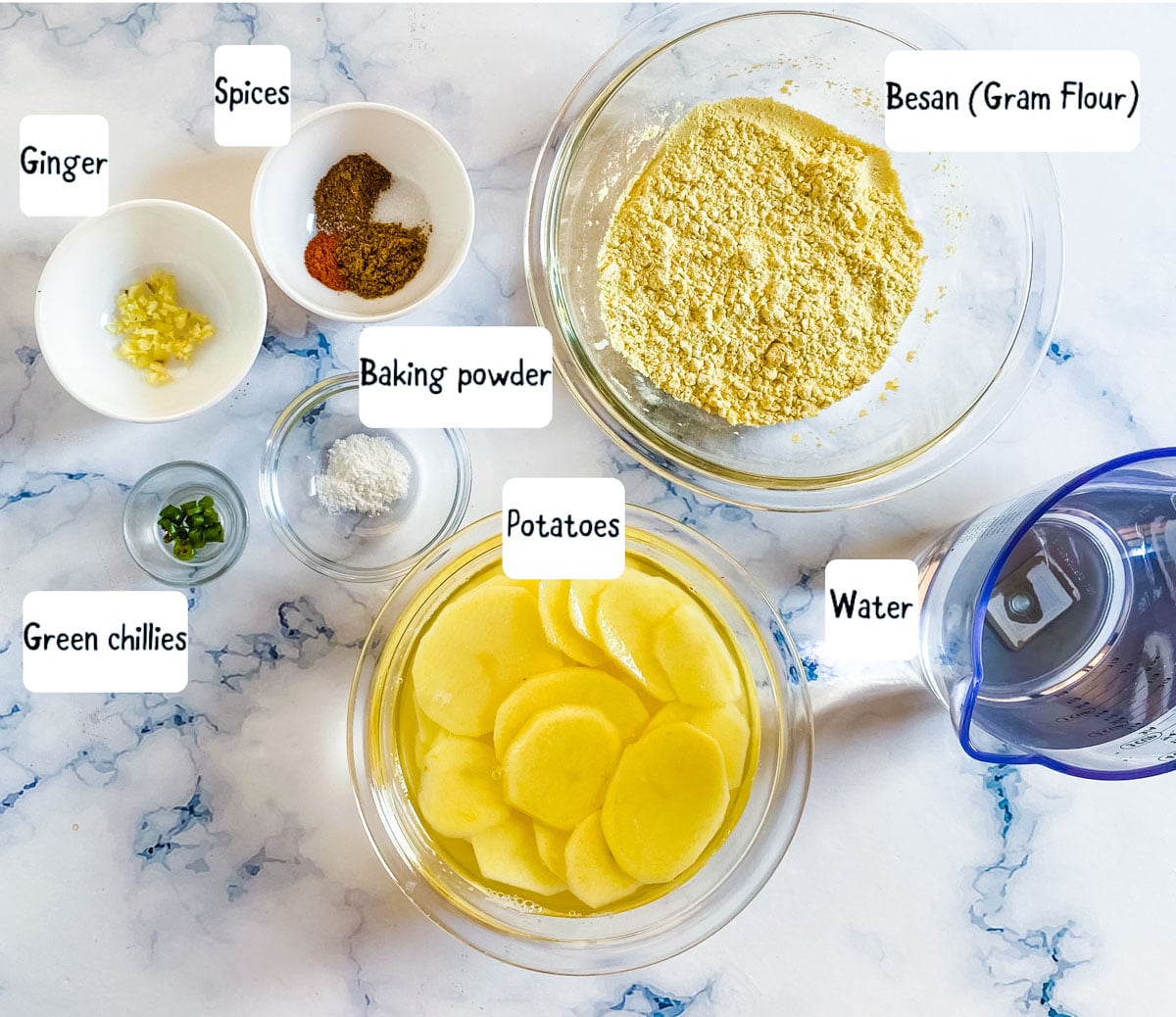 Gram flour: Also known as besan or chickpea flour, gram flour is made from dried ground chickpeas. It's easily available in most big grocery stores these days. It's also naturally gluten free.
Potatoes: Use potatoes with high starch content such as Idaho or Russet.
Spices: You'll need coriander powder, chaat masala, red chili powder and salt. It's easy enough to switch around spices in this recipe, so if you don't have one of these that's okay. I've added substitution notes in the recipe card below.
Fresh ginger: it adds a delicious flavor to the pakoras.
Green chillies: You can skip these if you want to keep the heat lower in these potato fritters.
Baking powder: Not a traditional ingredient use to make aloo pakora, but it helps to make them very crispy!
Water: Unlike for the mixed vegetable pakora where we use very little water, for aloo pakora we need to keep the batter on the thin side, so that the coating is super crispy after frying. If the batter is thick, we'll end up with a thick and soft coating which is no fun!
Oil: for deep frying. Use any neutral flavored oil with a high smoking point.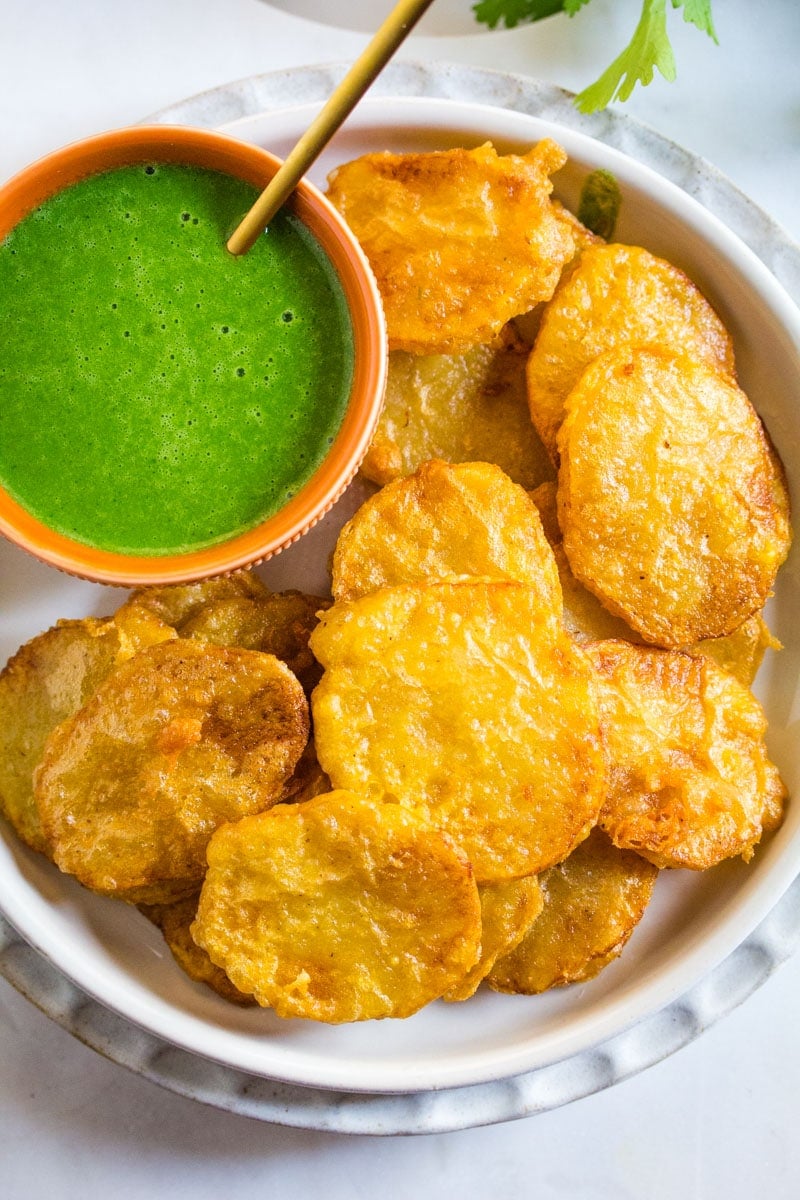 How to Make It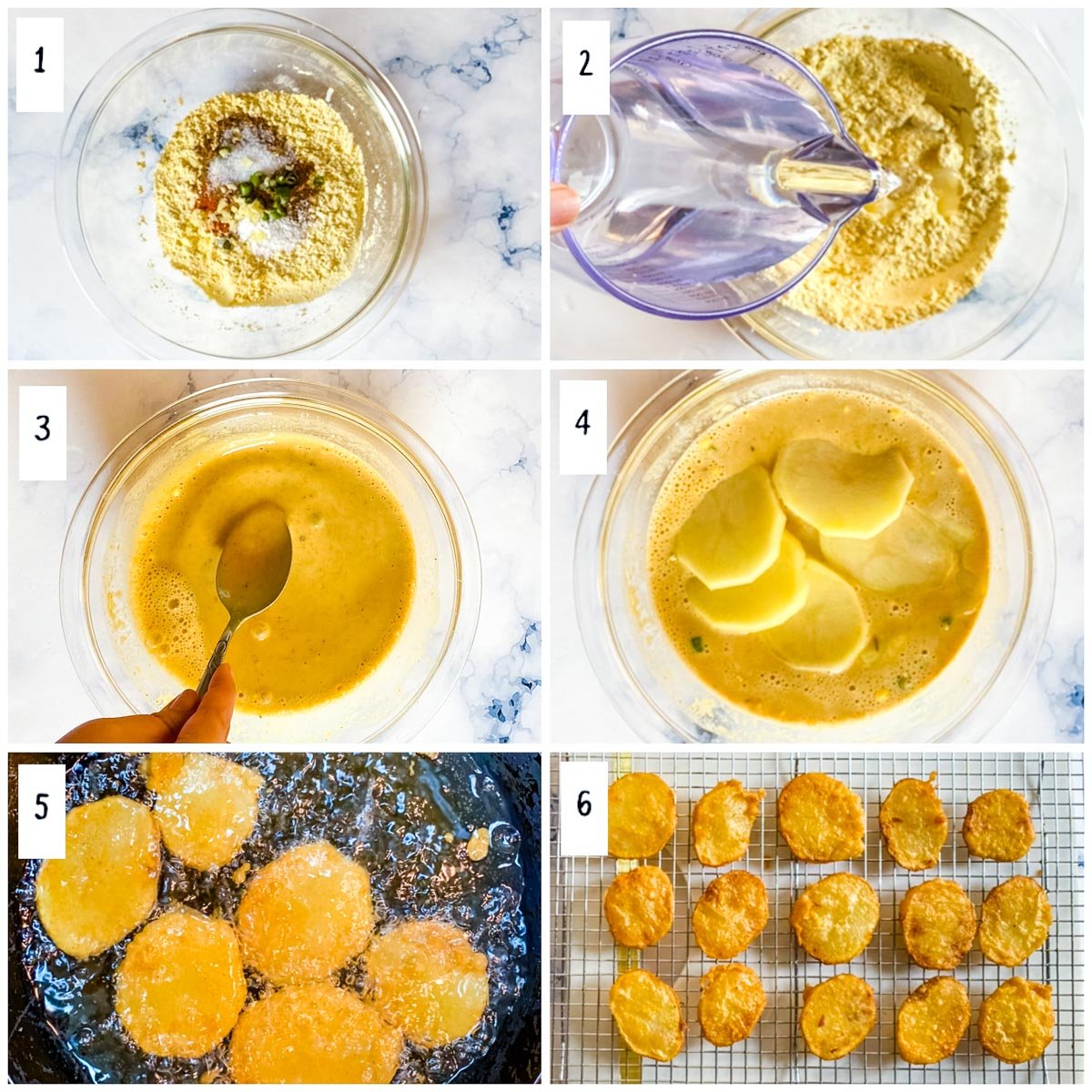 Combine the dry ingredients: In a mixing bowl, add the besan (gram flour), the spices, and the green chillies.
Add water: Gradually add cold water while mixing with a spoon. The batter should be quite thin and lump free. The amount of water varies according to the brand and quality of your besan. I use about 1:1 to ratio to make the batter.
Potatoes: Add the sliced potatoes and mix well until they're fully submerged in the batter.
Fry on Medium Heat: Using your hands, place battered covered potato slices one by one into the oil. Make sure to let excess batter drip off in the mixing bowl. You can also use a spoon to do this step. Fry the pakoras for 2-3 minutes on each side, flipping once or twice to ensure even cooking.
Transfer to cooling rack: Using a slotted spoon, transfer the fried pakoras to a cooling rack.
TIP: If working in larger batches, you can keep the fried pakora warm in the oven at 80 C/ 175 F on the baking tray.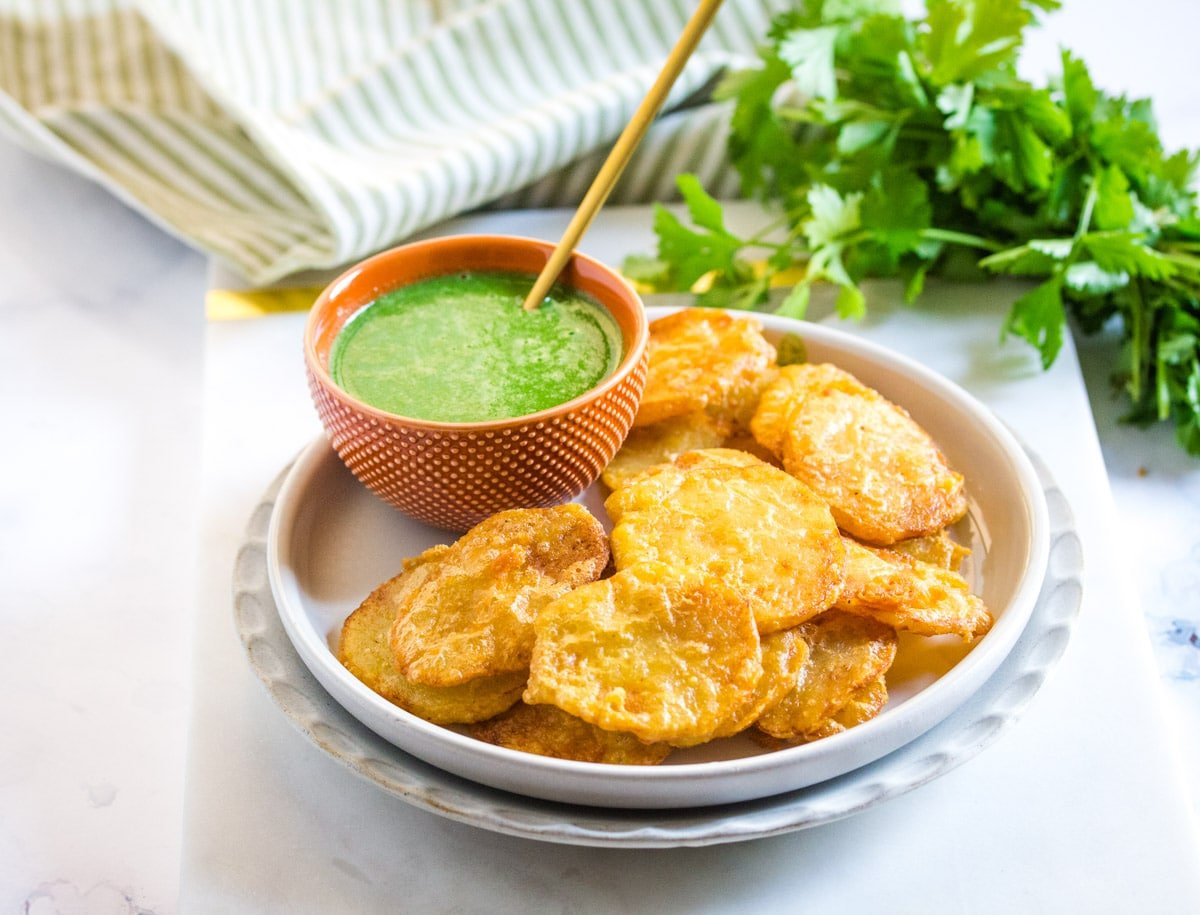 Expert Tips for Making Crispy Aloo Pakora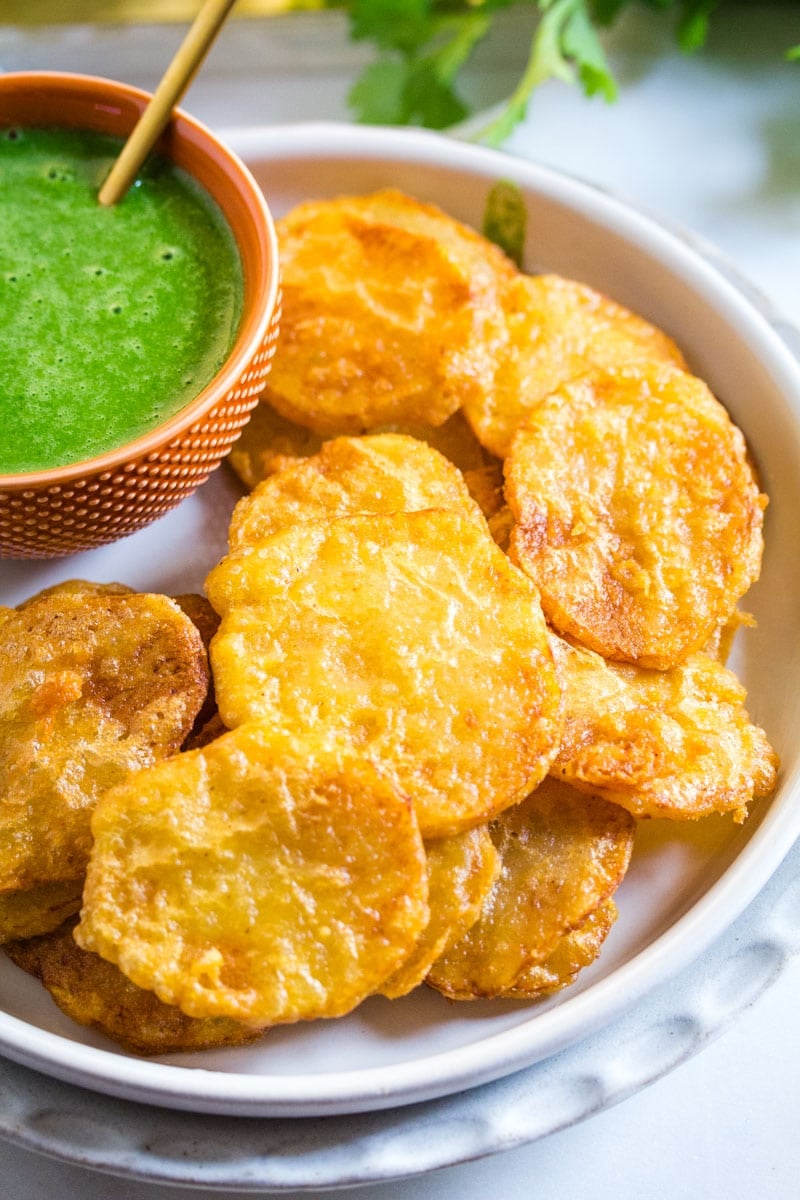 Three Dipping Sauces for Serving
Leftovers and Reheating
Aloo Pakoras are best enjoyed freshly fried. However, you can reheat them in the oven. Place the pakoras onto a single layer on a baking sheet, and warm-up for a few minutes at 180 c / 350 F. You can store leftovers in an airtight container for up to 1-2 days.
FAQs and Troubleshooting Common Problems
What is besan?
Besan or gram flour is made from dried, ground chickpeas and is a staple flour in many Indian and Pakistani households.
Why are my pakoras greasy?
It's likely that the oil wasn't hot enough, and the pakoras absorbed too much oil.
Why are my pakoras not crispy?
The batter may have been too thick, or the oil might not have been hot enough.
Can I bake or air fry aloo pakora?
I don't recommend baking or air frying aloo pakora, because the taste just isn't the same!
What to do with leftover batter?
You can add more slices potatoes, or other veggies of your choice and fry!
More Delicious Pakistani Snacks
Note: This post was originally published on Sep 16, 2019. It's now been updated with new pictures and step-by-step photos.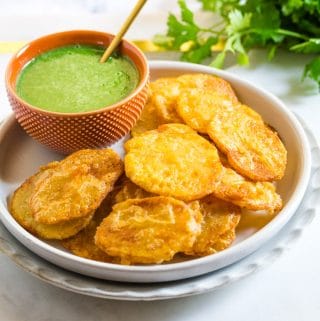 Aloo Pakora
Aloo Pakoras are deep-fried potato fritters, often served with green chutney. Pakora is a popular vegetarian street food snack in India and Pakistan. They're also a very popular snack made for Iftar in Ramadan. Also gluten-free!
Print
Pin
Rate
Equipment
1 Measuring cup

1 Mixing bowl

1 Frying pan or wok

1 Cooling rack
Ingredients
For the Batter
1

cup (120 grams)

gram flour

besan

1/2

teaspoon

coriander powder

dhania powder

1/2

teaspoon

chaat masala

or to taste

1/4

teaspoon

kashmiri lal mirch

1

teaspoon

salt

1/2

teaspoon

ginger

finely grated

1/4

teaspoon

baking soda

1

cuo

water

or as needed
For the Aloo Pakora
2

(300 grams)

medium-sized potatoes

thinly sliced

1

cup

oil for deep frying
Garlic Yogurt Dipping Sauce (Optional)
1/2

cup

yogurt

2

garlic cloves

minced

1

green chili

thinly sliced

salt

to taste
Instructions
Make the Batter
Combine the besan (gram flour), spices, ginger, green chilies, and baking powder in a mixing bowl.

Gradually pour in cold water, while whisking constantly. The batter should have a runny, flowing consistency and should be lump-free.

Once the batter is ready, prepare the potatoes. Peel and slice the potatoes into thin slices about 1/8 inch thick. You can also use a mandolin for this step.
Frying the Aloo Pakora
In a frying pan or wok, bring the oil to medium-high heat. Place a cooling rack over a baking tray.

To check if the oil is ready for frying, drop a bit of pakora batter into the oil. If it floats up immediately, then the oil is too hot for frying. It should take about 2 seconds to float up, on medium high heat.

Coat each potato slice with the pakora batter one at a time. Make sure it is coated from all sides.

Gently drop each potato slice into the oil. Don't fry too many pakoras at a time, as that will cause the oil temperature to drop and the pakoras won't cook through. Work in batches.

Gently flip the pakoras so that they are evenly golden from all sides. It will take about 3-4 minutes per side to cook through.

Using a slotted spoon, remove the pakoras from the oil and place them on the cooling rack.
Garlic Yogurt Sauce for Dipping
In a small bowl combine all the ingredients and mix well. Serve with the pakora!
Notes
Besan: Also known as gram flour or chickpea flour, it's made from dried, ground chickpeas. It's a staple flour in most Indian and Pakistani households. 
Water: How much water will depend on the quality and brand of your besan. I usually use a 1:1 ratio for this recipe. We need the batter to be on the thinner side. 
Chaat masala: This is an Indian spice blend that is tangy and just addictive. However, it's optional and can be easily skipped.
Fresh ginger: This adds a unique and delicious flavor to the pakoras. It can be however skipped or substituted with 1/4 teaspoon of ginger powder.
Optional spices and herbs: You can also add 1/4 teaspoon of ajwain and finely chopped coriander.
Serving Suggestions: You can serve these pakoray with green chutney or imli chutney (tamarind sauce).
Storage Instructions: Pakoras are best enjoyed when freshly cooked. However, you can store leftovers in an airtight container in the fridge for 1-2 days. To reheat, preheat the oven to 180 C or 350 F and spread the pakora on a baking tray in a single layer. Bake for a few minutes until warmed through and crispy.
Success Tips:
Batter Consistency:

The pakora batter should neither be too thin or thick. 

Baking Soda: Acts as a leavening agent and helps to create gas bubbles in the batter. This leads to crispiness and lightness to the fried pakora.
Use a mandolin: it makes it so easy to slice the potatoes evenly!
Fry on medium-high heat: Too high or low will either end up in undercooked or burned pakoray.
Cool on a baking rack:

After frying the pakoras place them on a cooling rack placed over a baking sheet. This way the aloo pakoras won't lose their crispiness from the steam released when you place them on a plate

lined with kitchen towel.
Fry in Batches: Working in batches ensures that the heat of the oil is maintained and the fritters are cooked evenly.
Use potatoes with high starch content: The best potatoes to use for this recipe are russet or Idaho potatoes. You can also use sweet potatoes, for a sweeter note! I would not recommend using other varieties such as baby potatoes.
Nutrition
Calories:
232
kcal
|
Carbohydrates:
35
g
|
Protein:
13
g
|
Fat:
4
g
|
Saturated Fat:
1
g
|
Polyunsaturated Fat:
2
g
|
Monounsaturated Fat:
1
g
|
Sodium:
688
mg
|
Potassium:
508
mg
|
Fiber:
7
g
|
Sugar:
6
g
|
Vitamin A:
27
IU
|
Vitamin C:
1
mg
|
Calcium:
29
mg
|
Iron:
3
mg