What makes you happy? I'll tell you what makes me happy - my daughter's giggles (although she skipped her nap today, and that's not making me too happy *sad frown* lol), bright blue skies, and chocolate (obviously lol) and this colorful cheesy sea of Dorito BBQ Chicken Nachos. Those are a few of the things that make me happy, and now I'd like to know what makes you happy! So go on, list your happy inducing things in life! 🙂
Coming to these Dorito BBQ Chicken Nachos. I think I've outdone myself this time, even if say so myself. I should pat myself on the back; humbleness was never a strong suit of mine. Lol.
Okay, so these Dorito BBQ Chicken Nachos are everything. They are lyfe. They are everything you ever dreamed of when it comes to the perfect nachos. They are crunchy, they are cheesy, they are bursting with flavors of BBQ chicken and veggies. And they are easy peasy!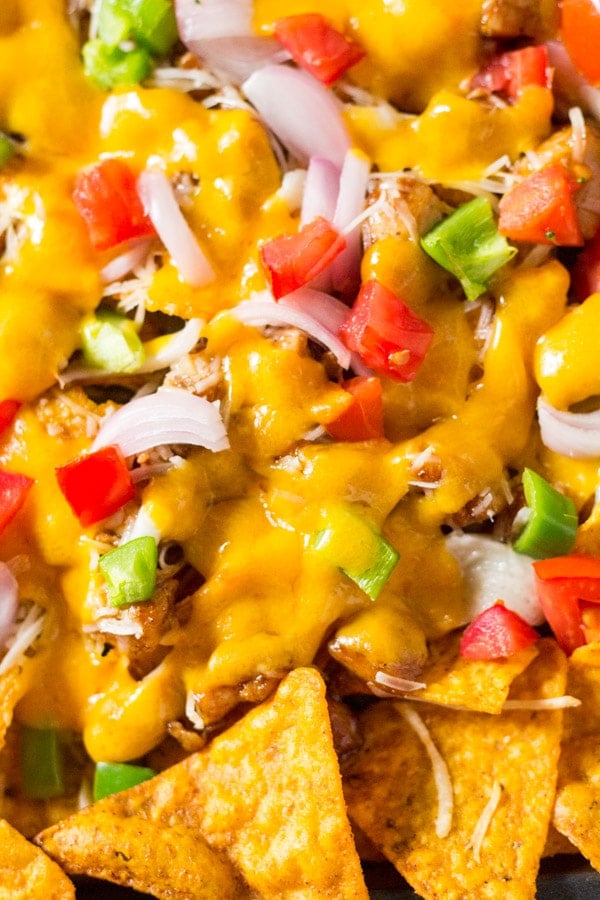 And they are totally customizable. Don't have chicken? Try minced meat. Don't have cheddar cheese? Use mozzarella cheese. Don't have Doritos? Then go get them cos they deserve to be on that baking tray! So maybe the Doritos are non-negotiable here. LOL. But other than that, the world is your oyster (ahem, Dorito) when it comes to these nachos.
I was talking to my friend the other day, and we concluded that snack food is the best kind of food on earth. We both would rather have snack food than proper meals. Proper meals are so yesterday. Umm, okay maybe not. Lol. But you know what I mean? I hope you do, especially if you are a snack lover like me and my friend!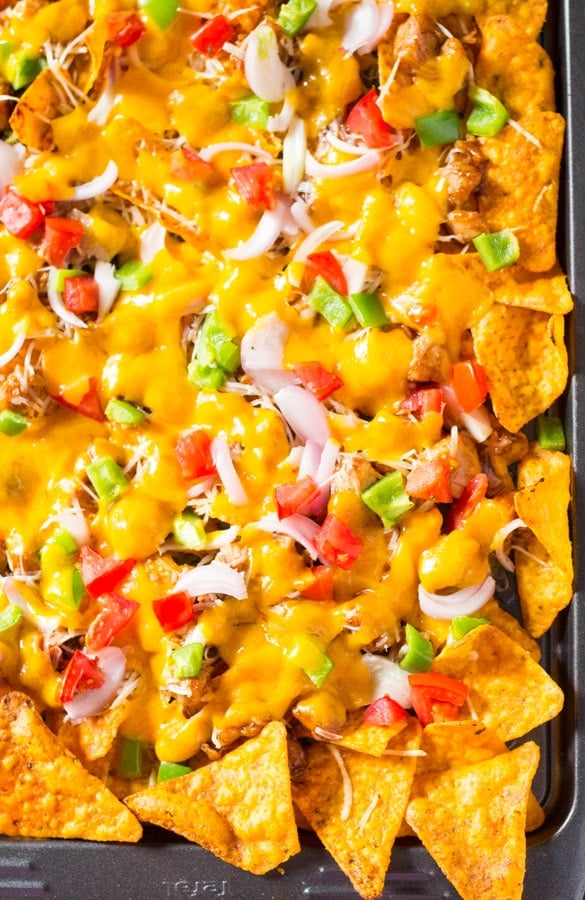 So here's the lowdown on these Dorito BBQ Chicken Nachos.
1.) Use any flavored Doritos as the base of these nachos.
2.) The BBQ chicken is so easy to make because I totally cheated and used BBQ sauce to drench cooked (and diced) chicken with. LOL. Aside from recipes, I also happen to specialize in the field of making life easy, so please feel free to contact me if you want to learn from me. I'm offering a course called Life Shortcuts in the Kitchen and may also be contemplating starting a course on How to Procrastinate Till the Last Minute soon. Okay, just kidding. 😛 I actually did cook the chicken breasts for this recipe, but if you want to be a real pro at basically not doing anything that requires a lot of effort then you can even use rotisserie chicken. Totally not judging you. 🙂
3.) Start by layering the baking sheet with Doritos, then the BBQ chicken, then the veggies and finally the best part of these nachos - THE CHEESE. The most important thing to remember (apart from the cheese) is to make sure you layer everything evenly so that every bite involves all the flavors.
4.) And here's the MOST important tip: Do not over bake these nachos, we just need to heat them through and get these cheese melted to perfection. If you over bake these, the poor Doritos around the edge of the baking sheet will start burning and that would be tragedy. Dramatic much? Lol.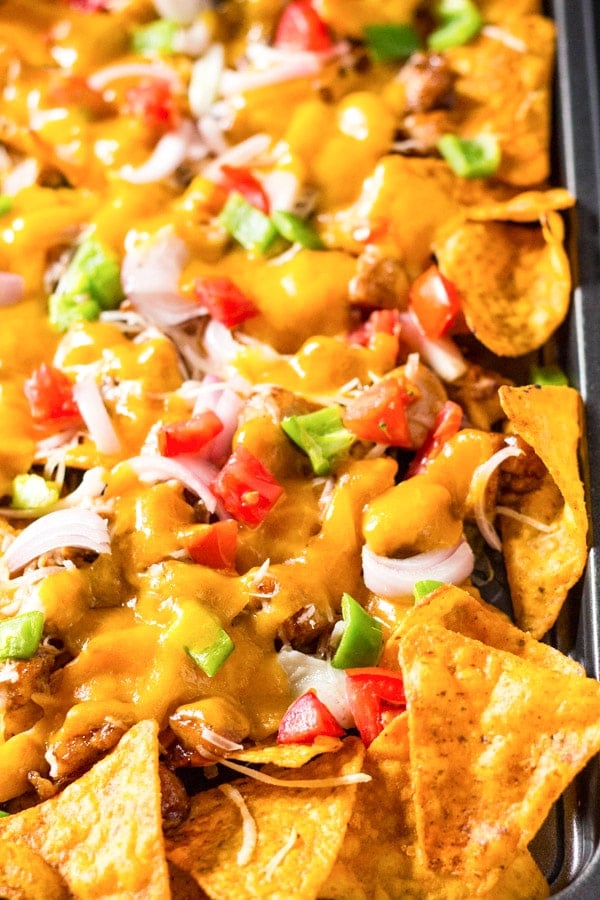 Okay, so that's about it. Enjoy! 🙂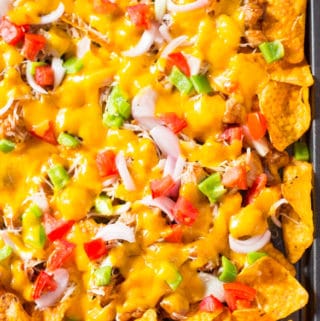 Dorito BBQ Chicken Nachos
These Doritos BBQ Chicken Nachos are a fun twist on the usual nachos, and super easy to make. Simply layer all the ingredients and bake, it doesn't get any easier than this. This is party food at its best!
Print
Pin
Rate
Ingredients
For the BBQ Chicken:

2

cooked chicken breasts

diced

1/2

cup

BBQ sauce

For the Nachos

1

large bag of Doritos

I used the Sweet Chilli flavor, you can use any flavor you want

1/2

cup

green bell pepper

diced

1/2

cup

onion

diced

1/2

cup

tomato

diced

1 1/2

cups

shredded cheddar cheese
Instructions
Preheat oven 400 F / 200 C and prepare a baking sheet by lightly spraying it with cooking oil.

For the BBQ Chicken:

In a medium sized bowl, combine the chicken and BBQ sauce and mix. Set aside.

For the Nachos:

Spread the Doritos onto the baking sheet evenly.

Spread the chicken, green bell pepper, onion and tomato evenly onto the Doritos.

Sprinkle over the cheddar cheese so that it evenly covers the Doritos.

Bake for about 5-6 minutes until heated through and the cheese has melted.

You may top the Doritos with additional diced bell pepper, onion and tomato if desired.

Serve immediately.