Chicken Malai Boti is succulent, creamy, and oh so very tender. This is an easy recipe that perfectly recreates this restaurant favorite at home, and you don't even need a grill to make it!
Love Pakistani recipes? Try this delicious Keema and Chicken Yakhni Pulao.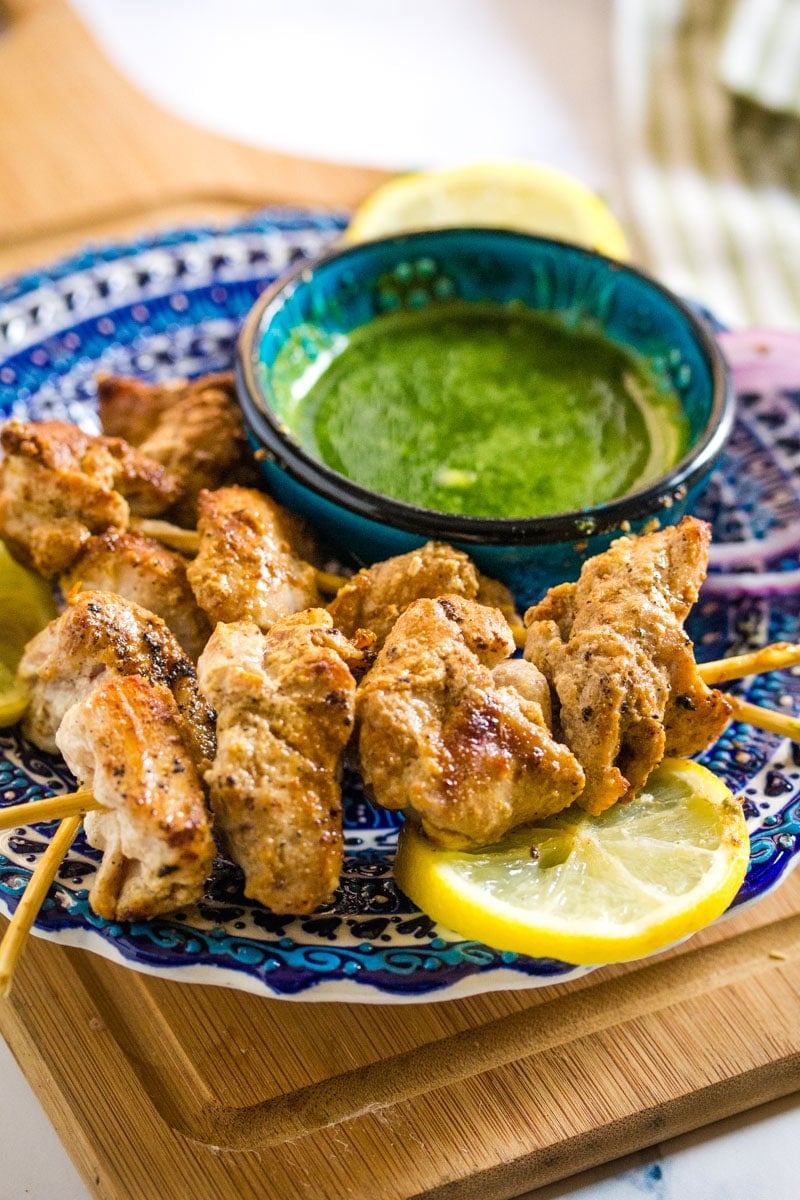 Pieces of chicken thighs are marinated in a mildly spiced yogurt and cream marinade, to give this malai tikka lots of flavors while remaining fork tender and melt in your mouth scrumptious.
This Chicken Malai Boti is so perfectly tender and succulent. It turns out just like restaurant-style, and you don't even need a grill for it! Your taste buds are in for a treat with this recipe, I promise.
Malai Tikka or Murgh Malai Boti, is a famous Indian restaurant recipe that's typically made on the grill or bbq but it can be easily recreated at home with an oven or just a simple skillet! I've even added tips on how to give it a smoky flavor in the recipe.
Why this Chicken Malai Boti Recipe is the Best
The Key is in the Marinade Ingredients: I use three main ingredients in the marinade to ensure the chicken remains juicy and soft even after cooking. Yogurt, heavy cream, and lemon juice all work to keep the chicken moist and full of flavor.
Chicken Cut: I use boneless chicken thighs for this recipe as they are more flavorful as compared to chicken breast and do not overcook as fast. You can also use boneless chicken cubes using chicken breasts but I recommend using thighs for the best results.
Marination time: It's best to let malai boit to marinate for at least 12 hours or overnight in the fridge. However, I actually marinated it for only 20 minutes when making the video, and it still turned out very creamy and tender. So if you're in a hurry to cook this malai boti, then you can marinate for just 30 minutes. It'll still turn out delicious.
You can make this at home without a grill: My recipe still turns out delicious without having to use a grill, which is how traditionally murgh malai tikka is made. You can either make it on the stove top or even in the oven, for equally delicious results.
Ingredient Notes
Chicken: I highly recommend using thighs for this recipe, because they have more flavor and they remai tender even after cooking. Chicken breast will not give the same results in this recipe.
Yogurt: I use full-fat plain yogurt for this recipe, and do not recommend low-fat yogurt as the chicken won't turn out as soft and creamy. Substitute with greek yogurt.
Heavy cream: I use a whopping 1/2 cup of heavy cream for this malai boti, and for good reason. The cream in the marinade is what makes the chicken so moist and succulent. Note: cooking cream, whipping cream, and fresh cream are all good to use in this recipe.
Lemon juice: Another tenderising ingredient that also adds a fresh, tangy flavor to the malai tikka.
Garlic and ginger paste: Using fresh is best but I've also tried this recipe with ready-made ginger garlic paste and it turns out just fine.
Green chilies: I use only 1 green chilli in this recipe as my kids don't have very high spice tolerance. You can increase the amount to 2-3 chillies depending on how much spice you like.
Spices: Salt, cumin powder, and coriander powder are the main spices used in this recipe. However, I also like to add white pepper powder, onion powder, and garlic powder for some extra flavor. If you do not have white pepper powder then you can also use black pepper powder.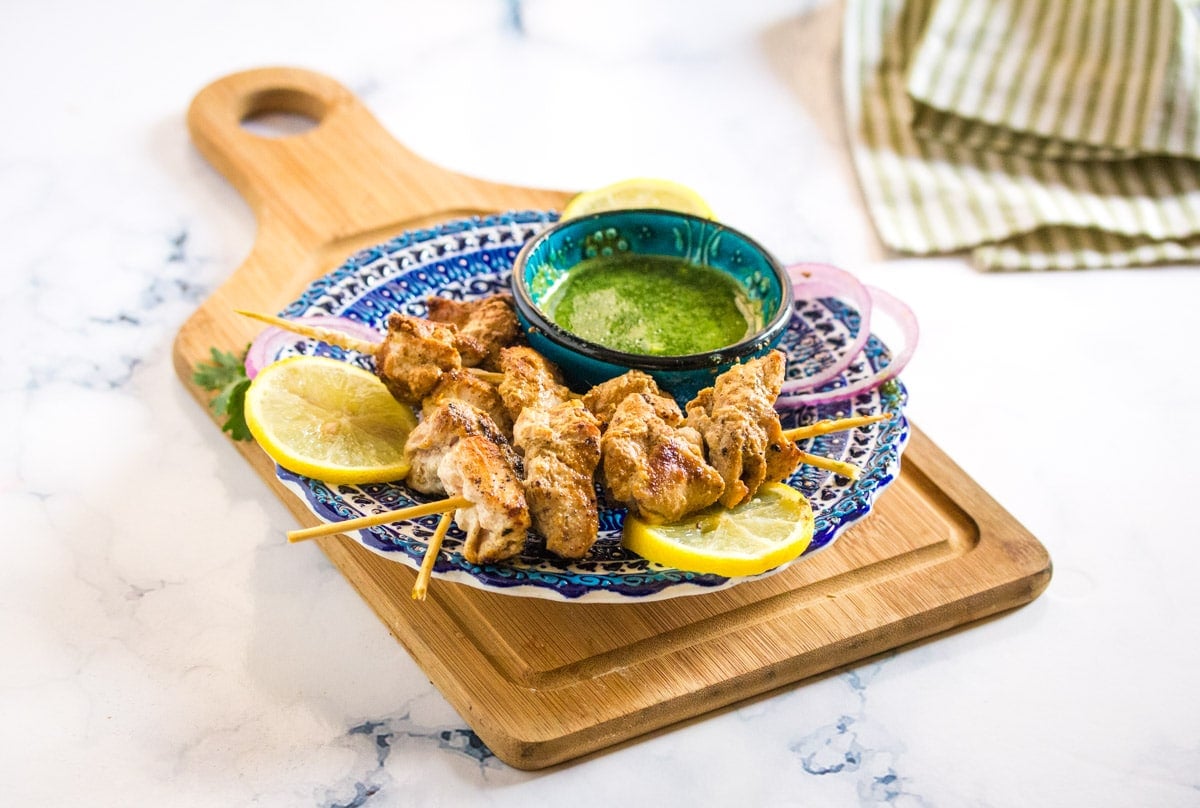 How to Make Creamy Chicken Malai Boti?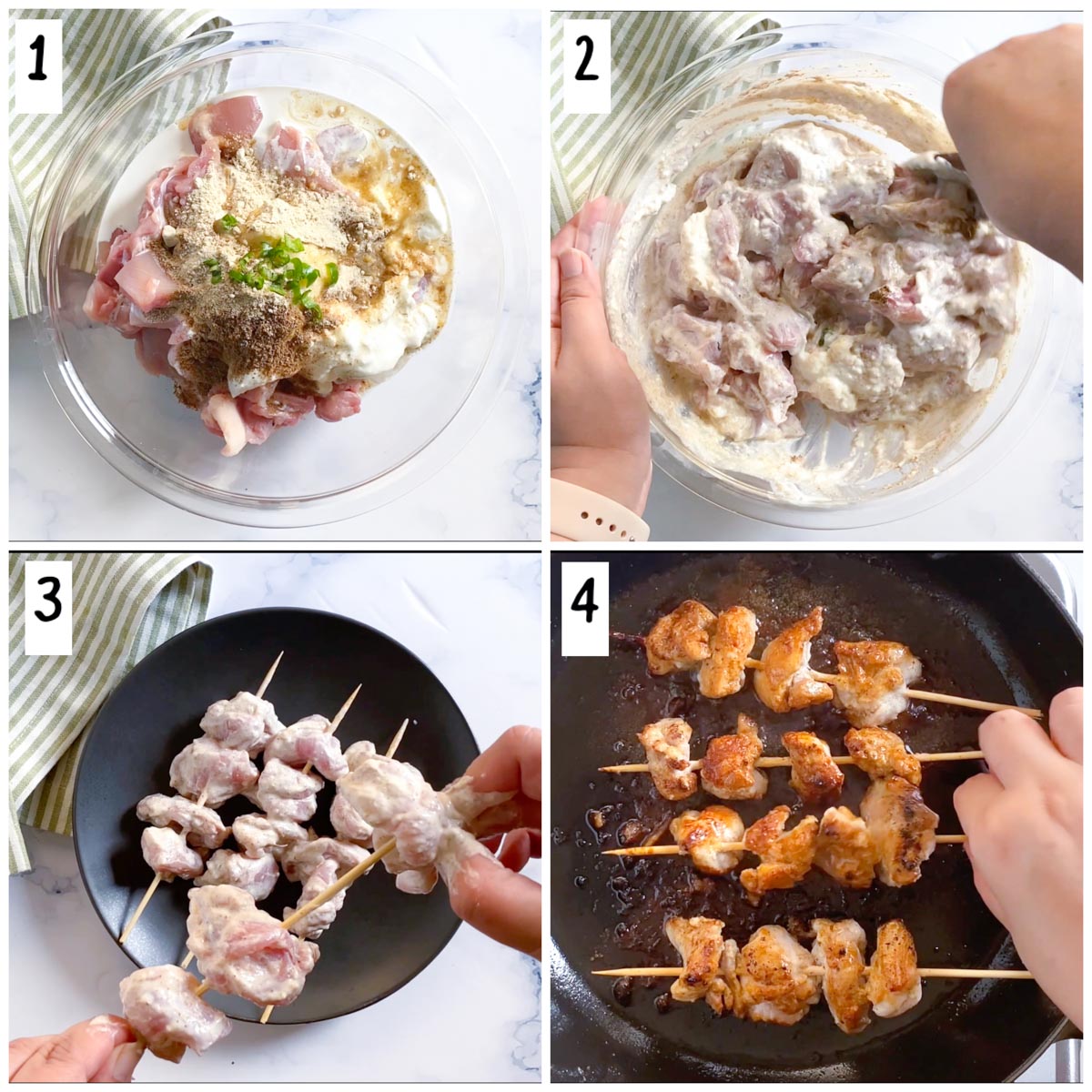 Marinate: Chop the thighs into 1-inch pieces. Place in a mixing bowl, and add all the marinade ingredients.
Mix: Stir all the ingredients together until the chicken is well coated with the marinade. Cover with cling film and marinate for up to 12 hours in the frigde. You could also marinate for only 30 minutes if you're in a hurry.
Prepare the Skewers: Thread the chicken pieces onto skewers. I placed about 4 pieaces on each skewer, but you can place as many as you can fit onto your skewers.
Cook: Heat oil in a skillet and place the skewers on it. Cook on both sides for about 6-7 minutes or until the chicken is golden from both sides, and cooked through. You can also cook it on a charcoal grill.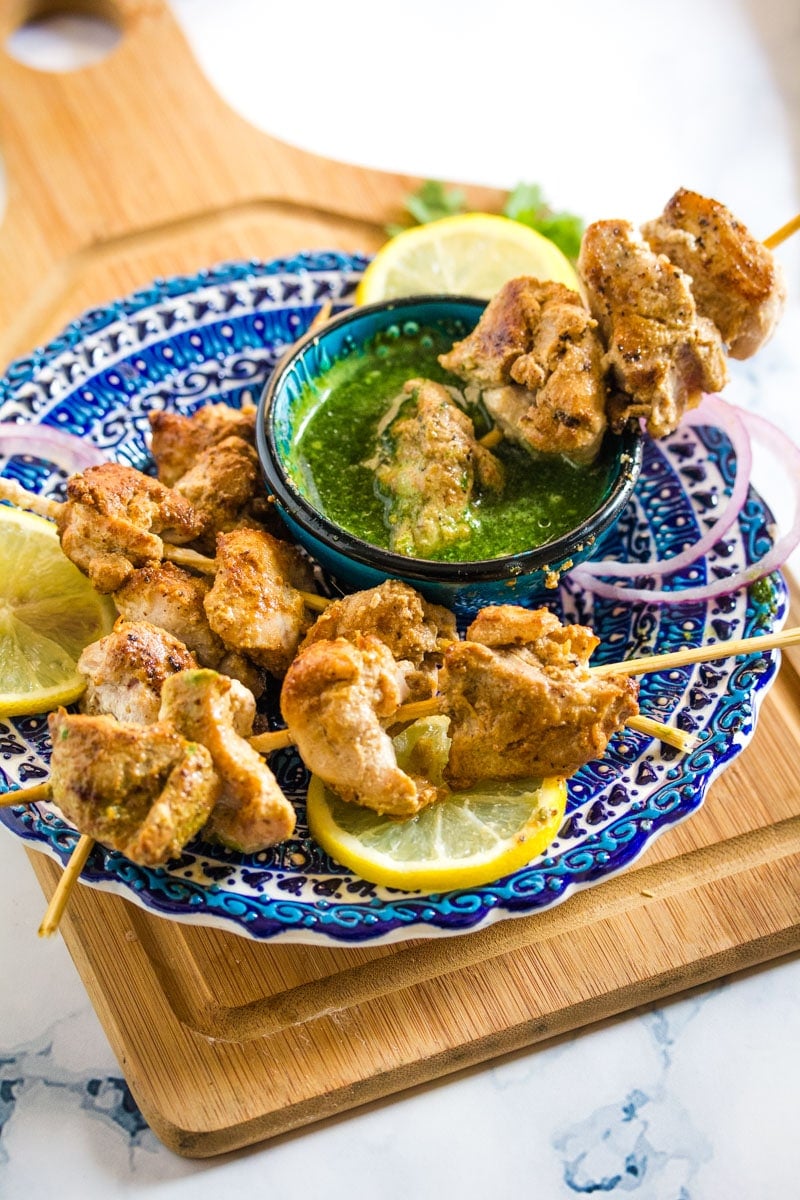 Variations
Chicken Malai Tikka is a very versatile dish and can be used for many things such as:
Wraps or sandwiches: Use it as a filling for tortilla or pita wraps. It would be even great as a sandwich filling!
As a pizza topping: Since it's mildly spiced this malai tikka is perfect as a topping for pizza!
Paratha rolls: My favorite way to enjoy this recipe is to place this malai tikka kebab in a paratha with green chutney and onion rings. It tastes absolutely divine!
Expert Recipe Tips
Soak the Skewers: Before cooking, place the skewers in a bowl of water for 15 minutes. This prevents the skewers from burning while cooking.
How to know if the chicken is cooked through: Chicken is cooked through at 165 degrees, and you can use a cooking thermometer for that. But you can also tell if it is cooked with some visual cues. The easiest way to know if it is fully cooked is by seeing if the juices run clear. If the juices are still pinkish it means the chicken isn't fully cooked yet. You can also cut one piece and if the meat inside is white, then it means the it is properly cooked. For more tips click here.
Give a smoky flavor: You can easily give this malai boti a smoky flavor without using the grill! Once it is done cooking, place a small piece of foil on top. Heat a piece of charcoal till red hot, and then using tongs place it on top of the foil, and drizzle over a few drops of oil. Immediately cover with a lid, and let it smoke for 2-3 minutes. Remove the coal and foil from the chicken, and serve.
Recipe FAQs
What is Murgh Malai Tikka?
Malai boti is basically creamy grilled pieces of chicken. While it's traditionally made on the grill, it's easy to prepare it on the stove or bake in the oven as well.
What to Serve with Malai Boti?
Malai boti pairs really well with parathas, green chutney, and sliced onion rings. I've also enjoyed it with white rice, or even stuffed in a pita with garlic mayo sauce.
How to Store
After cooking, it can be stored in the fridge for up to 2-3 days. You can also store the cooked tikka in a freezer for up to 1-2 months.
Can I double this recipe?
Yes, you can easily double all the ingredients in this recipe to make a big batch!
Can I use bone-in chicken for this recipe?
Yes, you can. Just make sure that the pieces are small, and if you can put them onto skewers, you can cook them as is on the skillet or in the oven.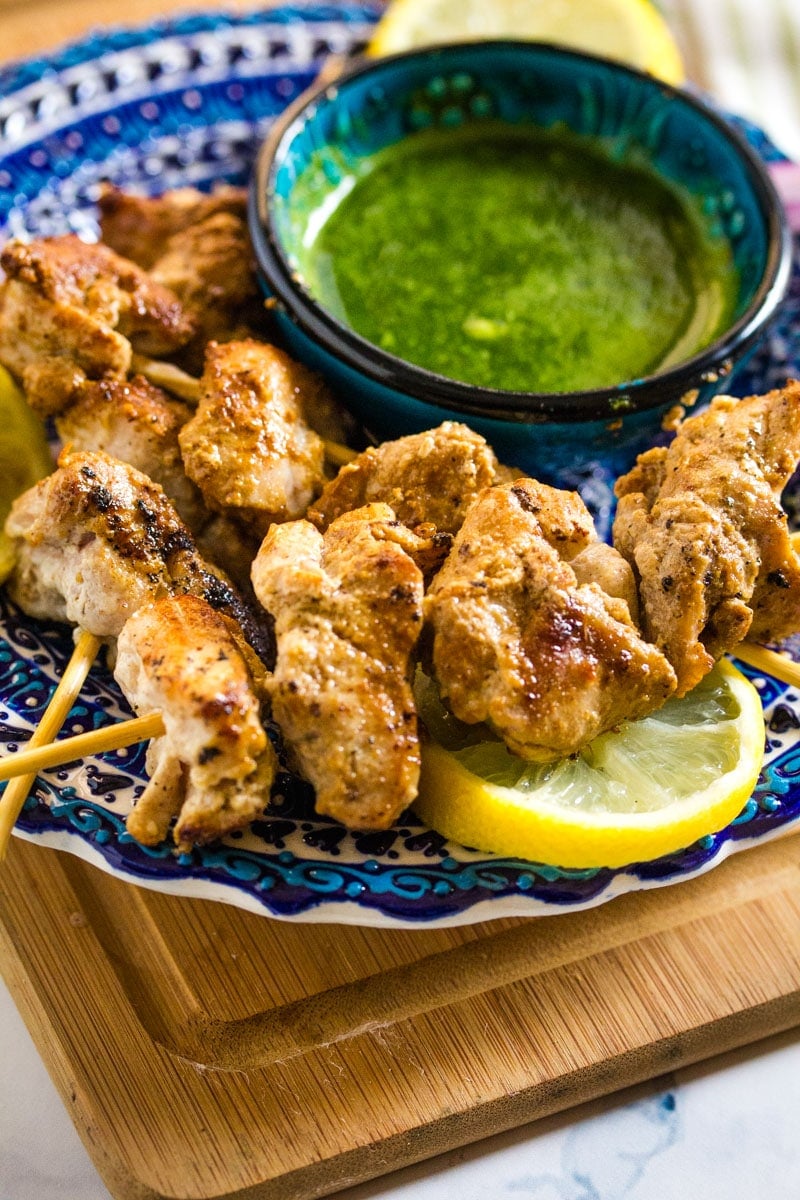 More Delicious Chicken Recipes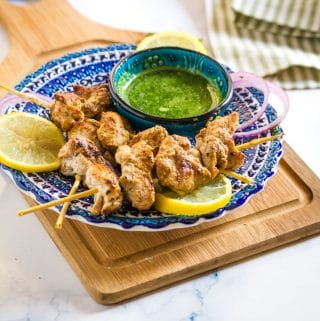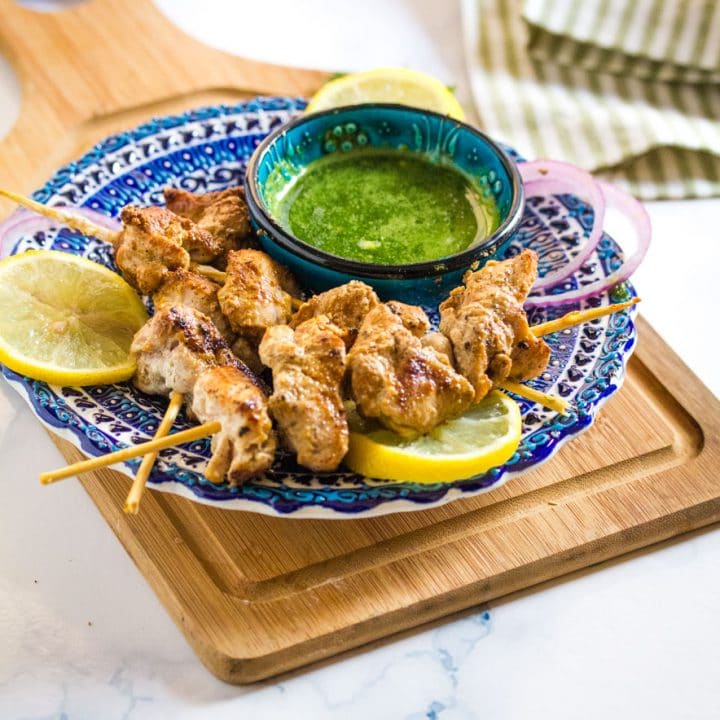 Malai Chicken Tikka
Malai Chicken Tikka Boti is soft, creamy and such a delicious recipe. Enjoy with green chutney and paratha.
Print
Pin
Rate
Ingredients
1

kg

chicken thighs

cut into 1 inch pieces

1

cup

yogurt

1/2

cup

heavy cream

2

tablespoons

lemon juice

2

tablespoons

ginger garlic paste

1

teaspoon

garlic powder

1

teaspoon

onion powder

1 1/2

teaspoons

coriander powder

1

teaspoon

cumin powder

1

teaspoon

white pepper powder

1

green chilli

finely chopped

1/4

cup

oil

to cook the chicken
Instructions
Marinate the Chicken
Place the chicken pieces in a mixing bowl.

Add all the marination ingredients.

Mix well until incorporated.

Marinate for at least 1 hour or up to 12 hours.
Cook the Chicken:
Thread the chicken onto wooden skewers. About four pieces on each skewer.
To Pan Fry
Heat oil in a skillet, and place the skewers on to it.

Cook on medium heat for 5-6 minutes on each side, or until the chicken is golden brown and cooked through.
To Bake in the Oven:
Preheat oven to 200 c. Line a baking tray with foil, and brush with oil.

Place the chicken skewers onto the baking tray.

Bake for about 15 minutes, flipping once half way through.
Notes
Cut of Chicken: Chicken thighs are ideal for this recipe as they are the most flavourful and remain juicy and soft. Chicken breast is not recommended for this recipe.
Yogurt: use full fat yogurt for the best results. Plain greek yogurt is okay too.
Heavy Cream: This is a key ingredient and what makes the chicken so soft and creamy in texture.
Garlic & Onion Powder: they add a delicious flavour to the recipe but are optional.
Ginger garlic paste: Use fresh or pre-made. Green chilli: This is the only spice that is used in this recipe, and you can increase the amount for a higher level of spice. If you want to use chilli for its flavour but don't like the spiciness, remove the seeds from the chilli before chopping.
Lemon juice: Highly recommended to use fresh lemon juice because it adds an amazing flavour to the chicken!
Marination Notes: For best results, marinate the chicken up to 12 hour or overnight. This allows the chicken to really soak up all those flavours and even after cooking the chicken is soft and juicy. If you can't marinate for long, I still recommend that you marinate for at least up to 1 hour.
How to Store/Freeze: Store cooked chicken in airtight container in fridge for up to 2-3 days. You can also freeze the cooked malai boti for up to 1 month.
Nutrition
Calories:
553
kcal
|
Carbohydrates:
5
g
|
Protein:
29
g
|
Fat:
46
g
|
Saturated Fat:
14
g
|
Polyunsaturated Fat:
9
g
|
Monounsaturated Fat:
20
g
|
Trans Fat:
1
g
|
Cholesterol:
196
mg
|
Sodium:
183
mg
|
Potassium:
447
mg
|
Fiber:
1
g
|
Sugar:
2
g
|
Vitamin A:
467
IU
|
Vitamin C:
3
mg
|
Calcium:
84
mg
|
Iron:
1
mg