If you're looking for a flavorful Indian/Pakistani dish that you can prepare at home, try this Chicken Pulao. It's full of flavor with chicken, basmati rice, and fragrant spices to make the perfect rice dish! It's the perfect one-pot comfort food. Serve it with this cucumber raita or a side of kachumber salad.
If you love Pakistani recipes try these as well: Easy Palak Chicken, Chicken Jalfrezi, Mutton Karahi, and Keema.
About this Recipe
Make the most impressive meal that will surely satisfy your craving for Indian-style food with this Chicken Pulao recipe. If you love rice dishes then you'll also love this Beef Yakhni Pulao recipe.
It's easy to follow, requires simple ingredients, and will leave you with something you can enjoy for lunch or dinner.
And, you can even save your leftovers, storing them and reheating them when you're in the mood for more delicious food!
While Chicken Biryani gets the most attention in the rice world, I feel chicken pulao should be put in the spotlight too for once.
Even though it is subtle in flavor when compared to biryani, it definitely is delicious and deserves recognition. So are you team pulao or biryani?
My mother makes the best chicken pulao and I thought it's about time I share it with you too. It's a one-pot recipe and so easy to make.
The best part is you can also leave out of some of the whole spices, and it will still turn out delicious!
Why this Recipe Works
One-Pot: This pulao recipe is such an easy dish and is made in just one pot. I just love one-pot recipes such as this Chicken Karahi or Keema Matar. And it's so much easier than biryani!
Healthy and Wholesome: When you're looking for a quick healthy meal this recipe is perfect. Made with wholesome ingredients such as chicken, basmati rice and whole spices it's packed full of flavor and good for you ingredients.
Perfect rice: every time! If you have problems cooking rice properly, this recipe uses the perfect ratio of rice to water. No more mushy rice ever again! While lots of recipes call for a 1:1 ratio, we use a little less water here so that the rice always comes out perfectly cooked with separate grains. I use the same ratio in my Matar Pulao recipe as well.
Chicken Pilau Ingredients
Before you can make this delicious dish, you need to have a few specific ingredients ready to use:
Onion - Finely slice your onion into pieces before you add it to the dish.
Bay Leaves - The addition of bay leaves add an excellent taste to this rice to make it more enjoyable. However, don't worry if you don't have them on hand, you can simply omit them.
Cardamoms - Enhance the taste of your rice using green cardamom.
Cumin Seeds - The cumin seeds offer a slightly sweet, nutty flavor to this incredible rice.
Chicken - Be sure to use a curry cut of the chicken so that you have the perfect pieces to combine with your rice. You can also use boneless, but using bone-in chicken results in a more flavorful broth in which the rice is cooked.
Mint Leaves - The slight touch of mint pairs well with the other spices and herbs in this dish. Don't forget the chopped cilantro either!
Basmati Rice - Be sure to use good quality basmati rice so that this dish turns out perfectly with the chicken and added ingredients.
While these are some of the most important ingredients, there are a few others that you'll need to complete the Chicken Pulao, such as salt, cumin powder, yogurt, coriander leaves, tomato, green chillies, and a bit of lemon juice. When cutting your tomatoes, be sure to chop them into chunks.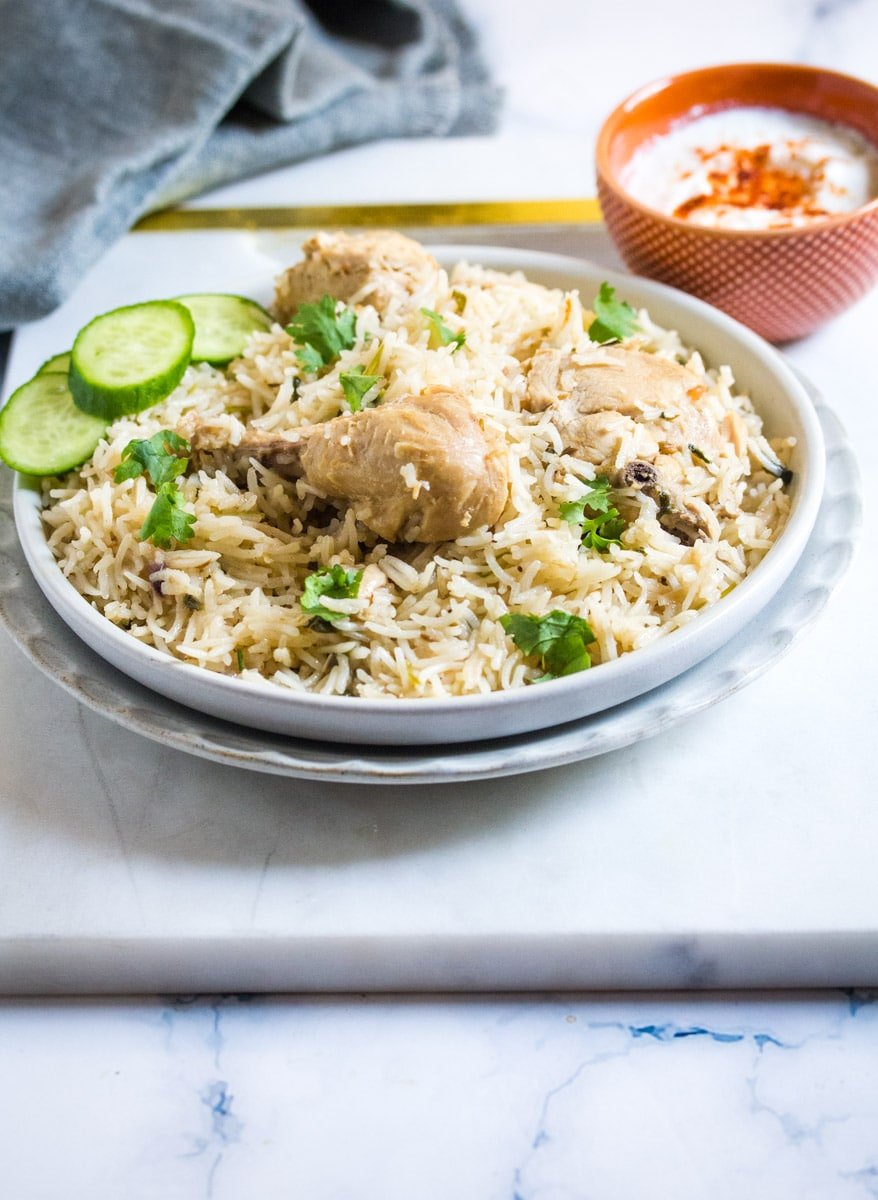 How to Make Chicken Pulao
Rinse and Soak the Rice: Start by rinsing the rice in cold water about 2-3 times. Add plenty of water and let the rice soak while you prepare the rest of the recipe.
Saute the onion: Heat oil in a dutch oven pot, and saute the onion on medium flame for 3-4 minutes or until golden brown.
Add a splash of water to avoid burning the onion, and then add the whole spices: bay leaves, whole cumin, and green cardamom. Saute for another minute.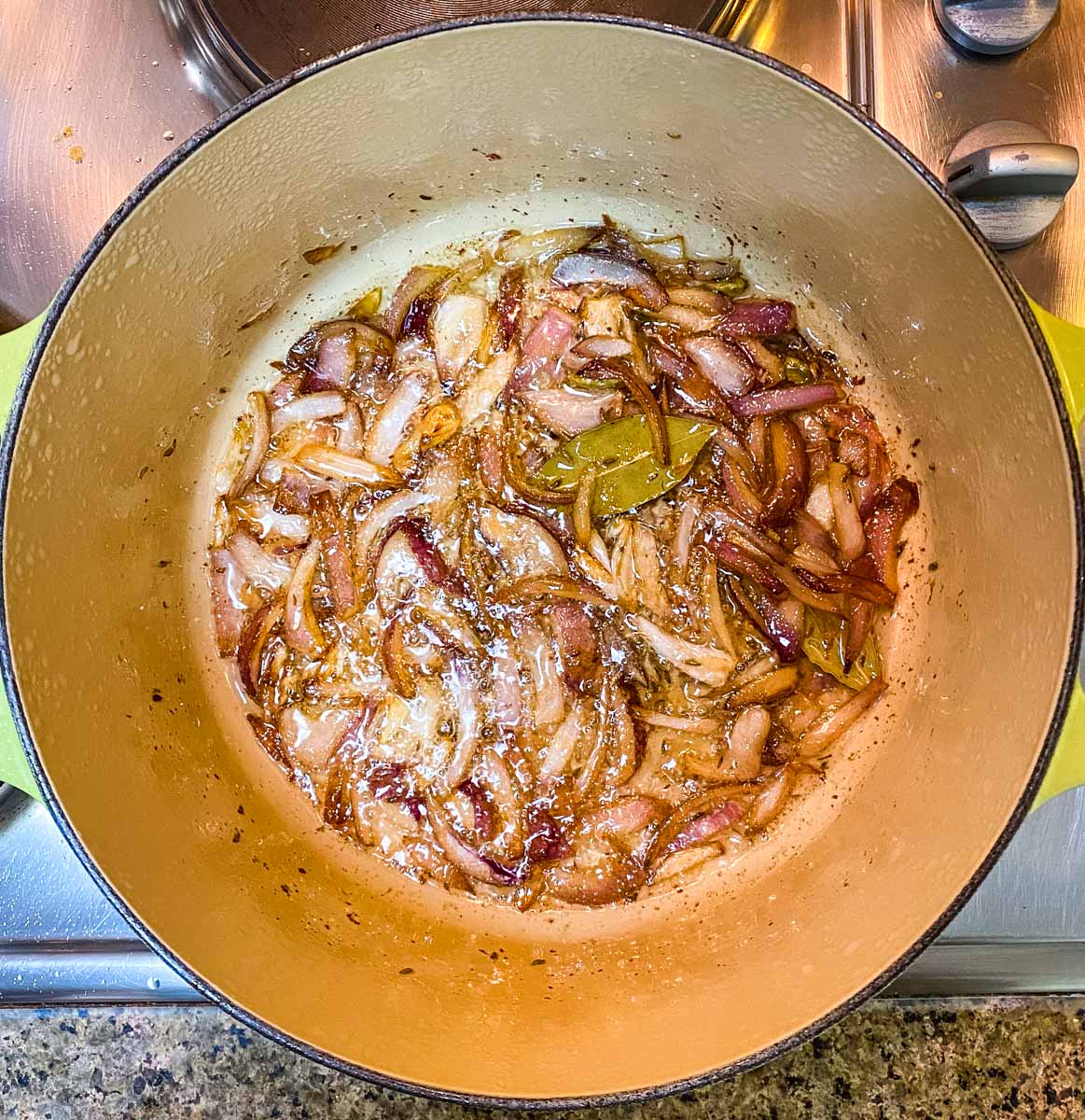 Chicken: Add the chicken and cook on high flame for 3-4 minutes or until the color changes.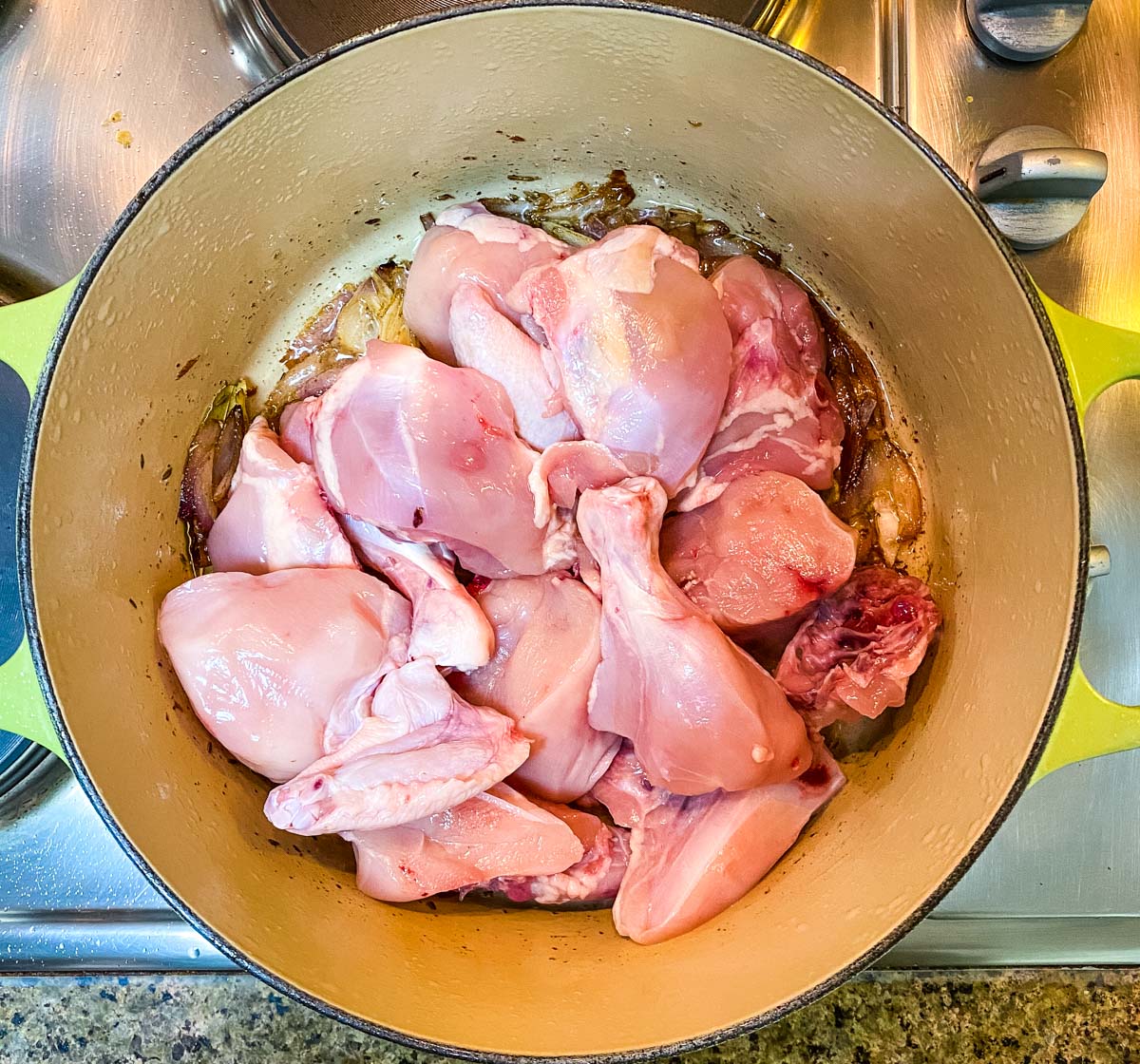 Ginger Garlic Paste: After the chicken changes color, add the ginger garlic paste and saute for an additional 2-3 minutes until the raw smell is gone.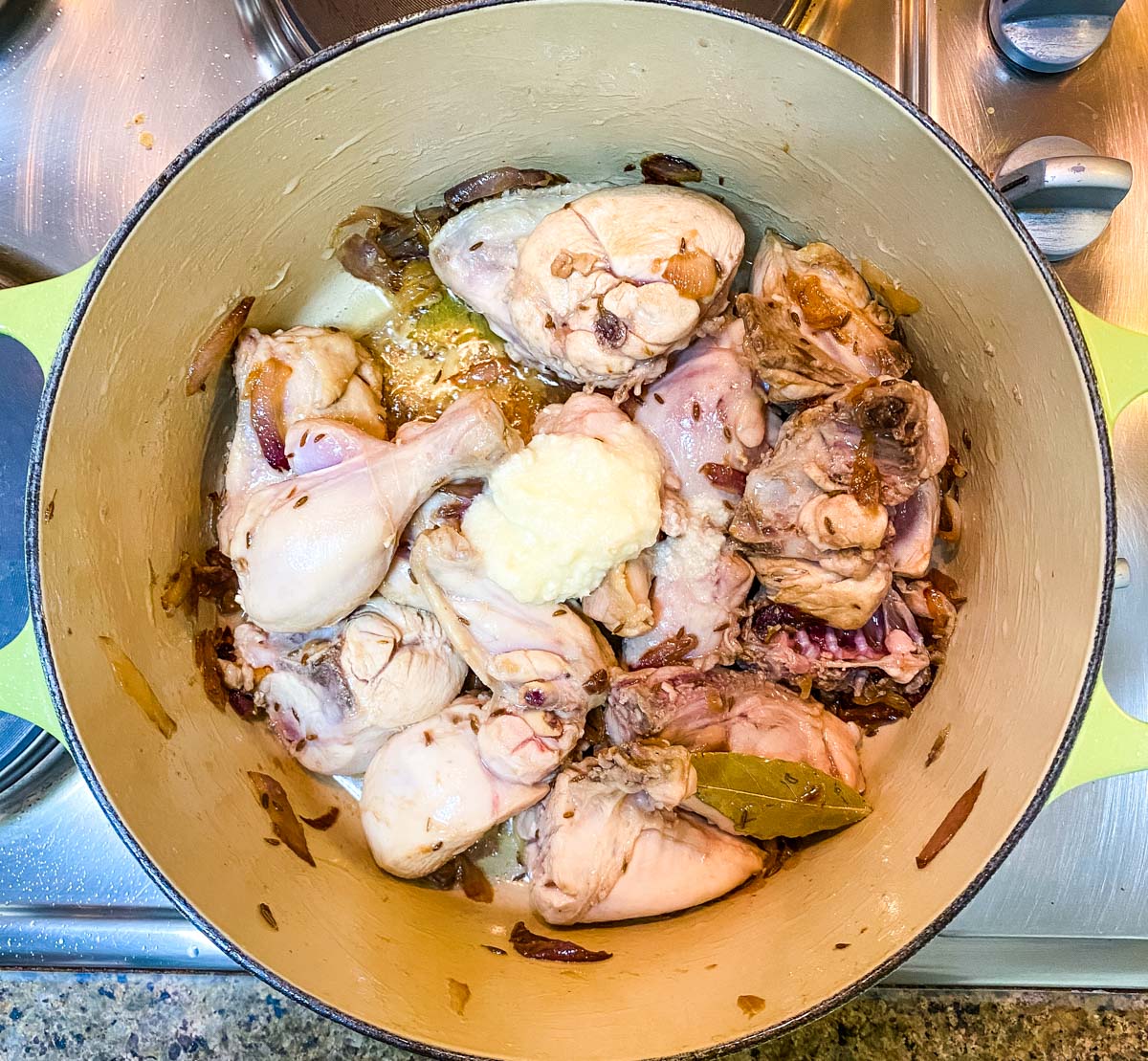 Yogurt: Add the yogurt, mix well and cook for a few more minutes.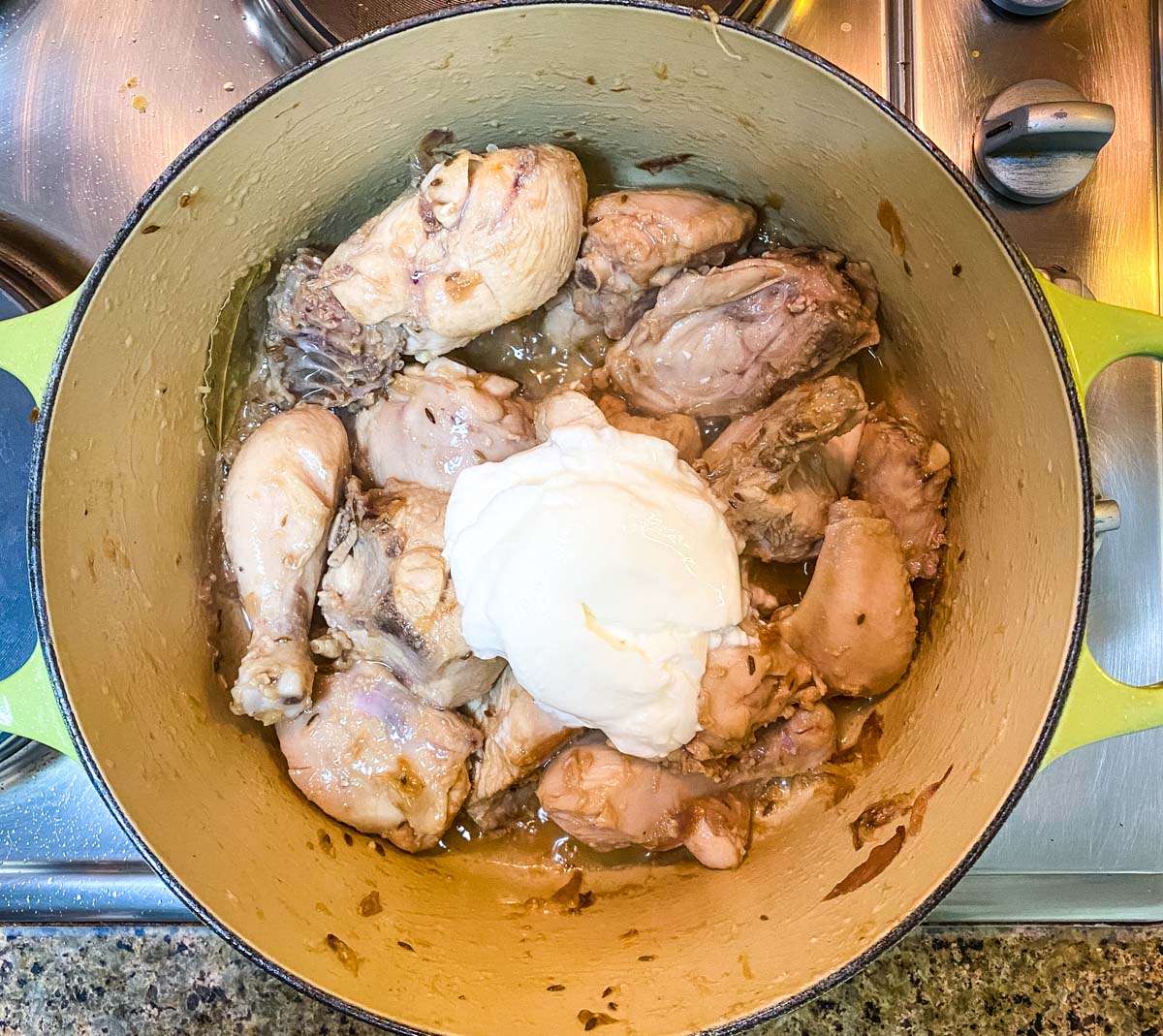 Powdered spices: Now add the spices and mix well.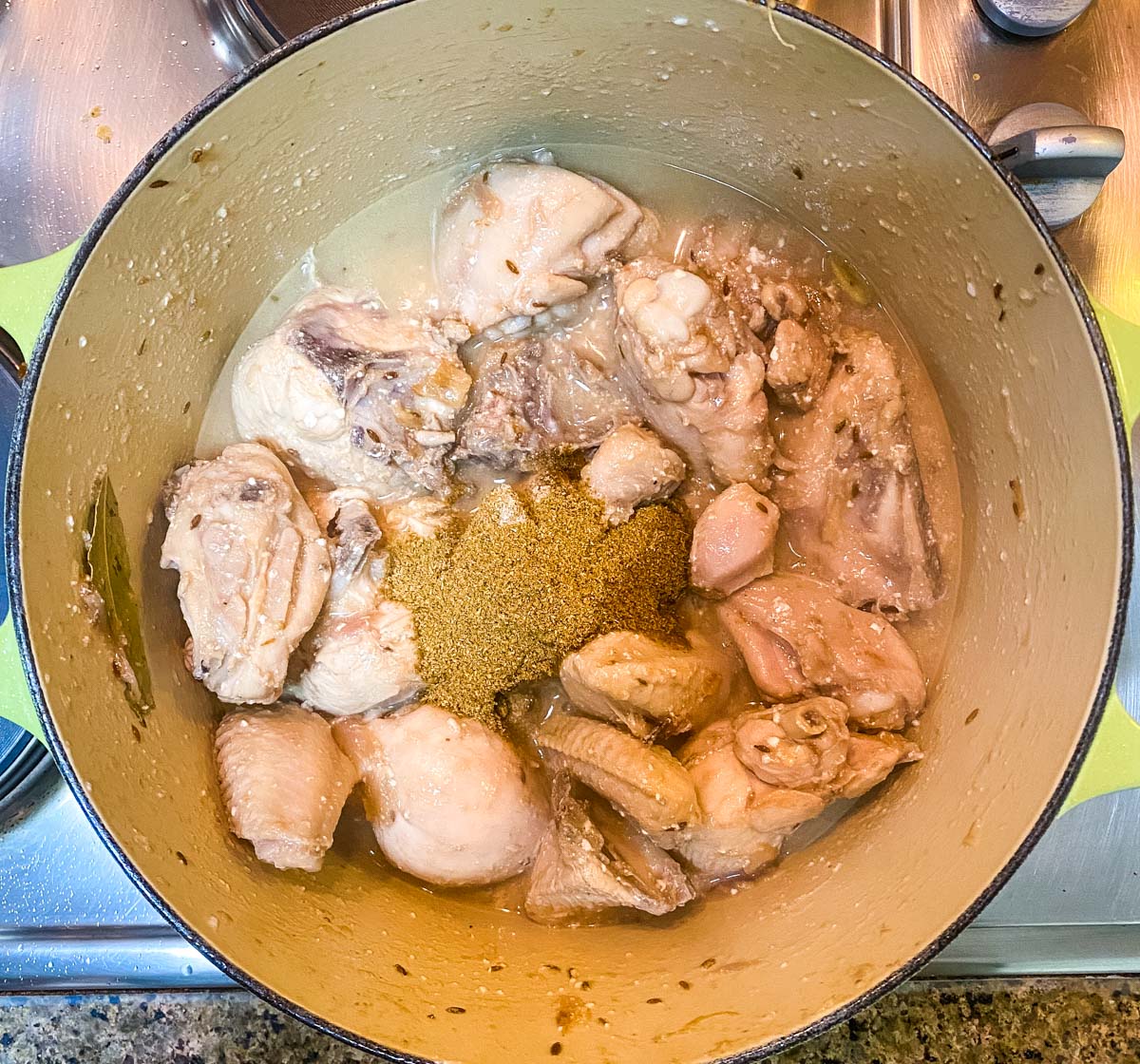 Now add the tomatoes and fresh herbs, and cook for 1-2 minutes. Add the water, and bring to a boil.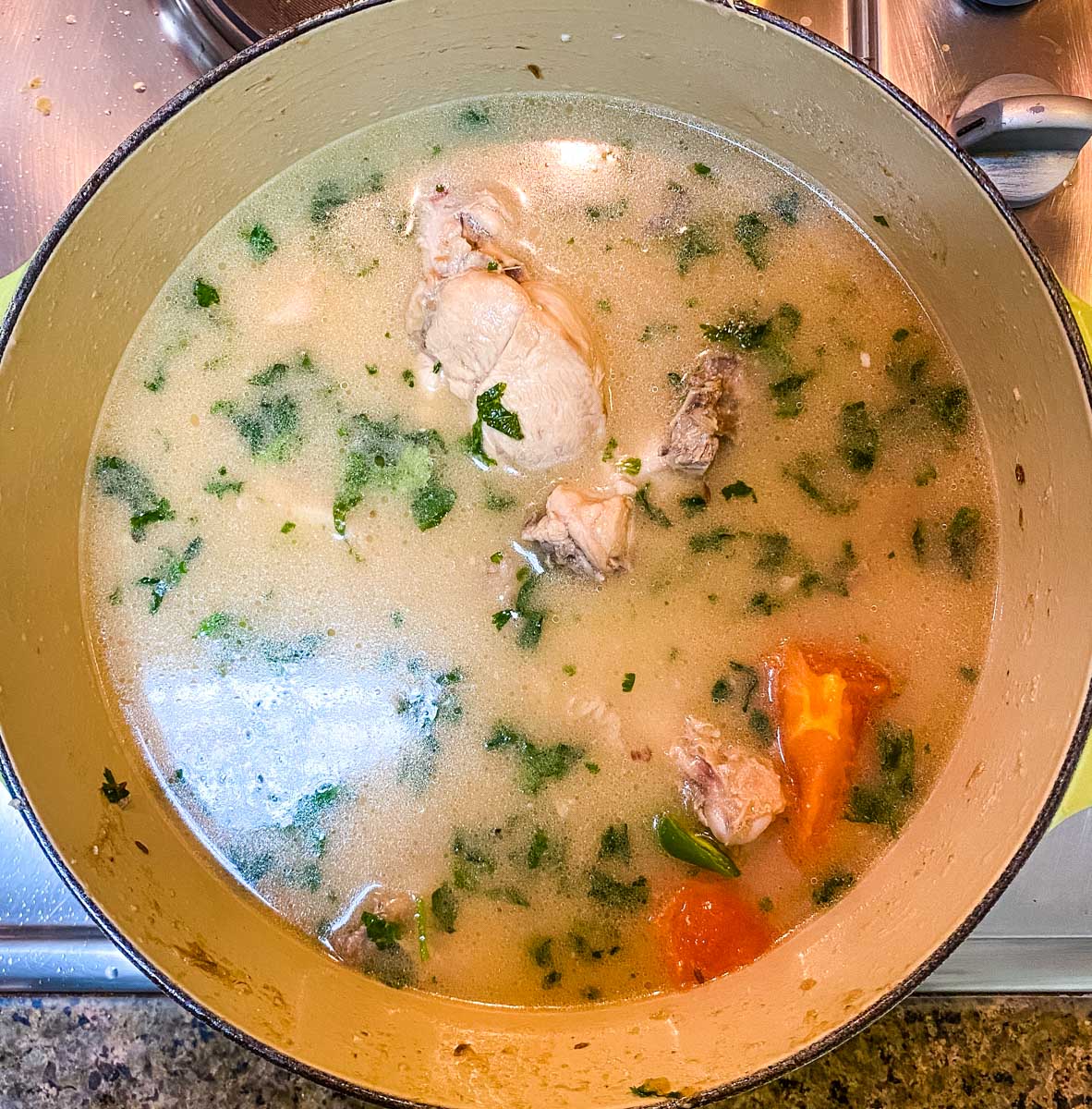 Once the water is boiling, add rice (after discarding the soaking water), and cook on high heat for 5-7 minutes until most of the water has evaporated.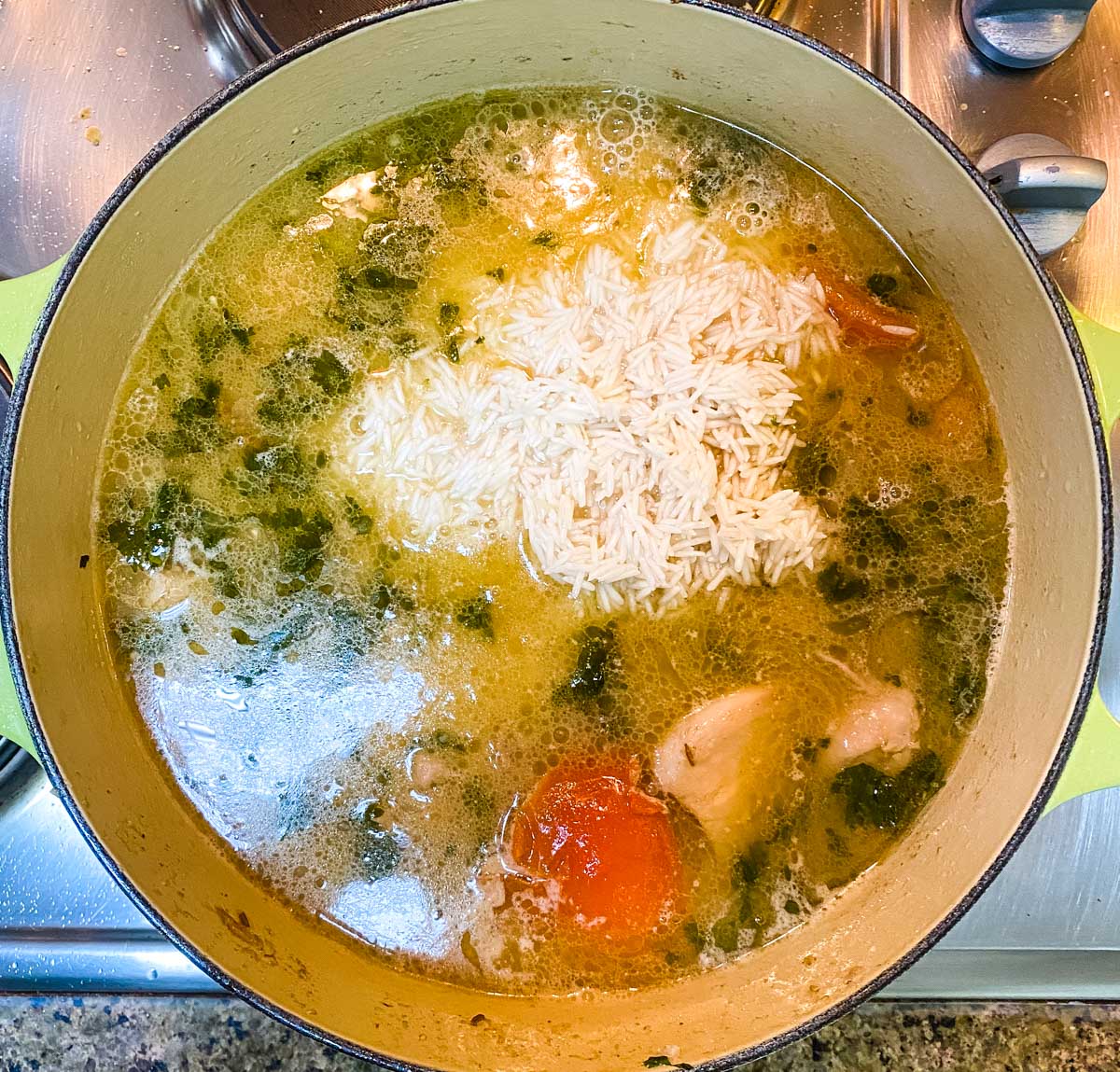 Steam the rice: After most of the water has evaporated, cover the pot with a tight-fitting lid and steam on low flame for 10 minutes.
Final Touches: Remove the lid after 10 minutes, fluff the rice gently and serve with your favorite salad and yogurt raita.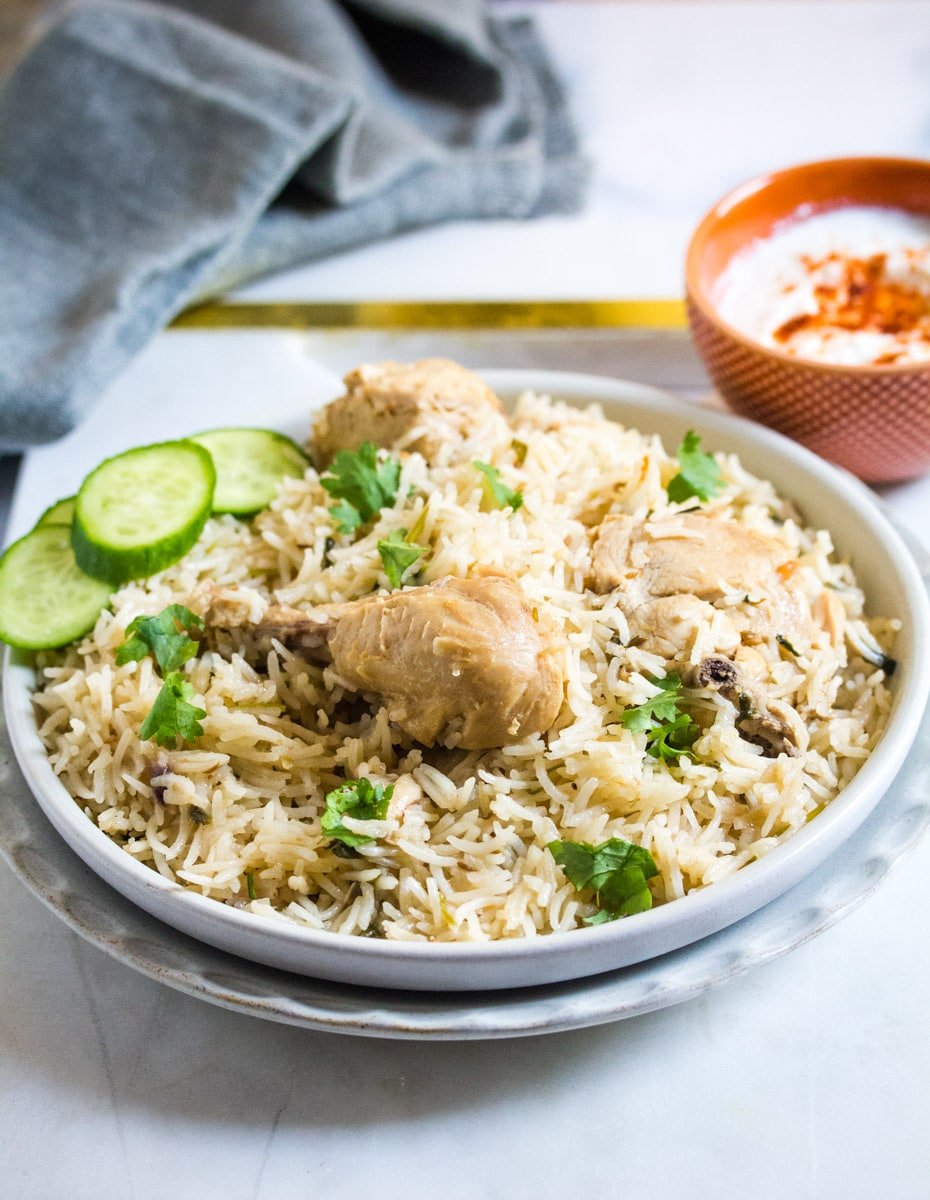 Chicken Pulao FAQs
Do I have to use vegetable oil in this recipe?
Yes. The pulao will taste best when you're using plenty of oil, so make sure that you have enough before getting started with this recipe. I suggest using neutral-flavored oil so I don't suggest using olive oil.
Can I chop the onion instead of slicing it?
Absolutely. It's a matter of preference. While I prefer to slice the onion into thin pieces, others enjoy chopping the onion into small pieces. You can do this with a knife or use a food processor to make it even easier for you.
What type of chicken do I need to use for this recipe?
It's best to use bone-in chicken for this recipe because it gives the pulao such an incredible taste and won't make the chicken dry. However, if you don't have bone-in chicken or prefer not to use it, that's fine. You have the option of using boneless chicken breasts or boneless chicken thighs, whichever you like better.
Can I use Jasmine rice?
No. You'll need to use high-quality basmati rice. It's not the kind of recipe that works well with Jasmine rice or brown rice. Be sure to have your rice in advance so that you can make this incredible dish with no problem.
Recipe Notes
Most traditional recipes will include additional whole spices also known as garam masala. If you'd like to add them to this dish, you're more than welcome to do so! Some good whole spices to add in this recipe would be black peppercorns, cinnamon stick, and cloves. Just add them along with the bay leaves and other spices in the recipe.
If you decide to use boneless chicken in this dish, the cooking time will decrease. Be sure to keep that in mind while preparing the meal because if you overcook it, the rice may be crunchy and the chicken will have a dry texture.
You can use any kind of onion you'd like, such as white, yellow, or red onion. Using different types of onions will allow you to add more flavor to the dish.
Chicken Pulao is a naturally comforting dish commonly served throughout India and Pakistan.
You can serve it by itself or prepare additional meat to eat with it. You can also add frozen peas to this rice if you'd like.
Hope you enjoy this delicious rice dish!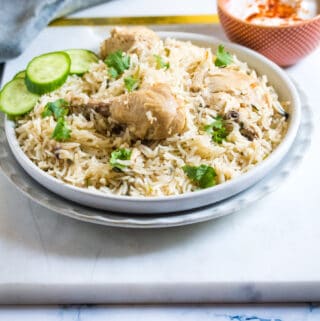 Chicken Pulao Recipe
This Chicken Pulao is an easy comfort food that's perfect to make on busy weeknights. All you need is chicken, basmati and a few spices for this flavor rice dish.
Print
Pin
Rate
Equipment
Heavy bottomed pot

Knife

Cutting board
Ingredients
1/2

cup

oil

1

medium onion

finely sliced

2

bay leaves

2

green cardamoms

1/2

teaspoon

cumin seeds

1

kg

chicken

curry cut

1

tablespoon

ginger garlic paste

1/2

cup

yogurt

1

teaspoon

salt

1

teaspoon

cumin powder

2

teaspoon

coriander powder

1/4

cup

mint leaves

finely chopped

1/2

cup

coriander leaves

finely chopped

1/2

tomato

sliced into big chunks

1-2

green chilies

slit lengthwise

2

cups

basmati rice

1

tablespoon

lemon juice

Chopped coriander and mint for garnish
Instructions
Start by rinsing the rice 2-3 times, or until the water is clean. Soak in water for 45 minutes, while you prepare the rest of the recipe.

In a large pot, heat the oil and add the onion.

Saute until the onion is light golden brown, about 3-4 minutes. Add a splash of water and let the onion cook until softened, about 1-2 minutes.

Add the whole spices; bay leaves, green cardamoms, and cumin seeds. Saute for another 1 minute while stirring.

Now add the chicken, and cook for 3-4 minutes, until the color has changed.

Add the ginger garlic paste, and cook while stirring for 3-4 minutes.

Now add the yogurt, mix well, and cook for 2-3 minutes.

After this add the powdered spices; salt, cumin powder, and coriander powder. Cook on medium high heat while stirring for 3-4 minutes.

Add the mint leaves and coriander leaves along with the tomato, and green chilies.

Cover and cook 2-3 minutes on medium heat.

Now add about 2.5 cups of water and stir well. Cover and cook on medium heat for 10 minutes.

Remove the lid, and add the rice, and increase the heat to medium high.

Cook for 5-7 minutes or until most of the water has evaporated.

Lower the heat to the lowest point, cover and let the rice steam for another 10 minutes.

Remove from heat, gently fluff the rice, and your chicken pulao is ready to be served.
Notes
Oil: Pulao tastes best when there's ample oil, so don't skimp on the quantity.
Onion: I used sliced onion but you can also chop it in a food chopper or food processor for convenience.
Whole Spices: Most recipes call for more whole spices such as cinnamon and black
peppercorn. You can add these if you wish along with the other whole spices listed.
Chicken: Bone-in chicken is best for this recipe as it gives the most flavour and doesn't easily dry out. However, you can also use boneless chicken thighs or chicken breasts. The cooking time will decrease.
Basmati rice: Use high-quality long grain basmati rice. This recipe is not suitable for brown rice or short-grain rice such as jasmine.
Nutrition
Calories:
596
kcal
|
Carbohydrates:
54
g
|
Protein:
21
g
|
Fat:
32
g
|
Saturated Fat:
5
g
|
Polyunsaturated Fat:
8
g
|
Monounsaturated Fat:
17
g
|
Trans Fat:
1
g
|
Cholesterol:
63
mg
|
Sodium:
486
mg
|
Potassium:
350
mg
|
Fiber:
2
g
|
Sugar:
2
g
|
Vitamin A:
396
IU
|
Vitamin C:
7
mg
|
Calcium:
74
mg
|
Iron:
2
mg