Prepare a unique, hot-fry-style meal with this simple Chicken Jalfrezi recipe. It's an easy-to-follow recipe that will leave you with a delicious, hearty meal to enjoy. And I can guarantee that it tastes just like your favorite British Indian take-out!
If you love Indian & Pakistani recipes do try these as well: Chicken Karahi, Chicken Korma, Chicken Manchurian, Keema Matar and Dragon Chicken.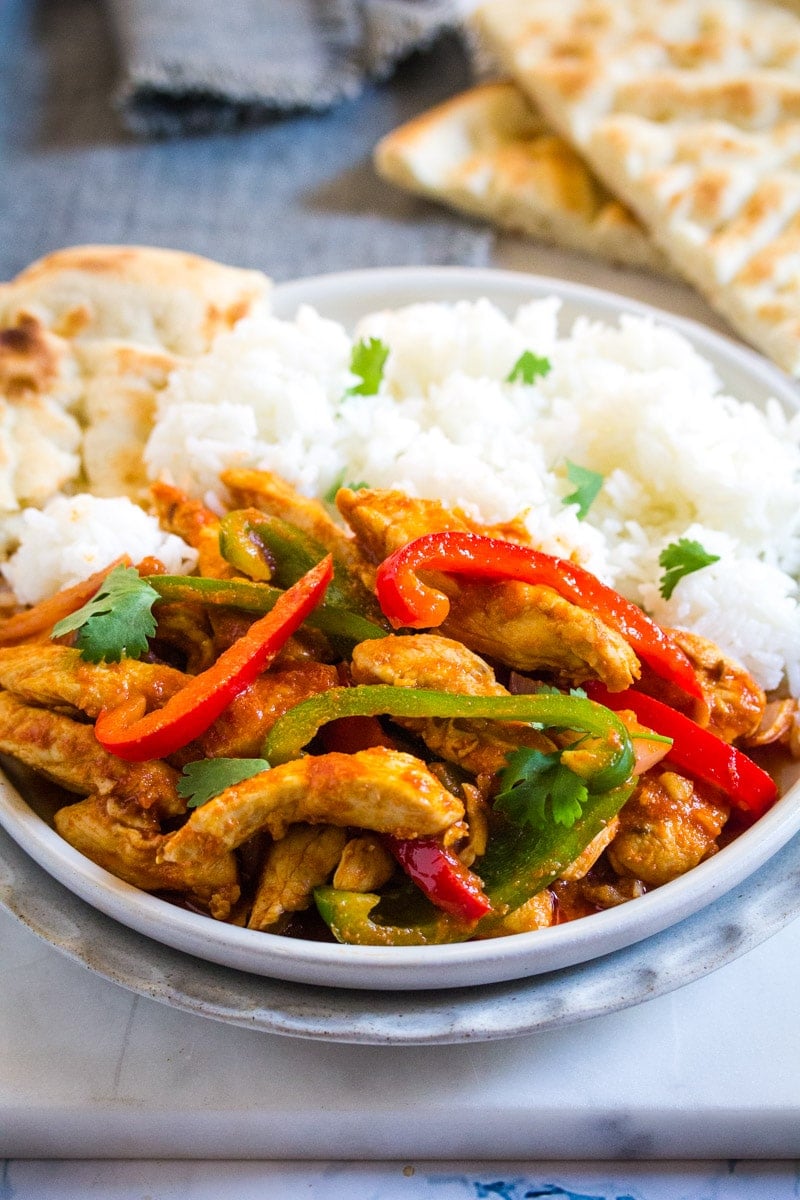 Jalfrezi Curry
Have you ever tried Chicken Jalfrezi? If not, this hearty, comforting Anglo-Indian meal is sure to leave your tastebuds impressed.
It's a chicken curry full of flavor and consists of chicken with onion, garlic, coriander powder, turmeric, canned tomatoes, and several other essential ingredients that tie into it to give it such an incredible taste. It's also got a spicy kick, but you can easily adjust the spice level according to your tastebuds.
If you'd like to make something different yet enjoyable for the family to eat, try this recipe because it won't disappoint!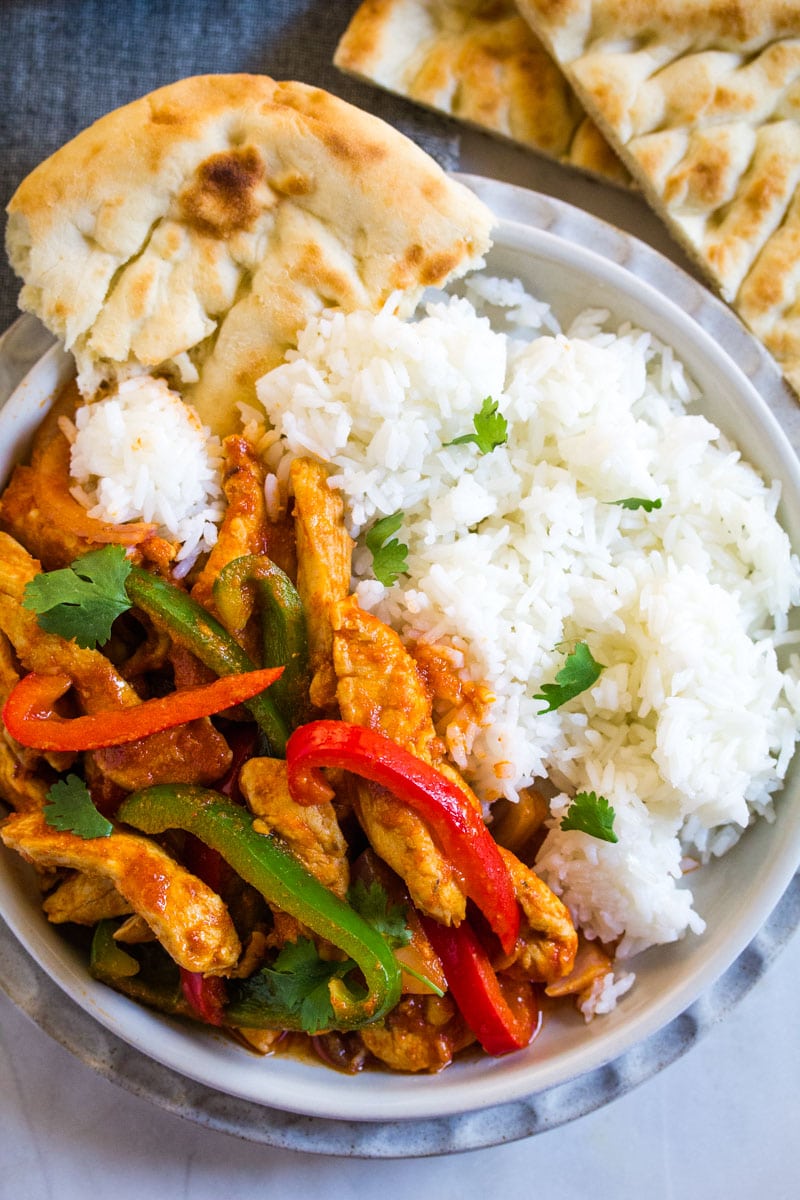 3 Reasons to Try the Recipe for Chicken Jalfrezi
Quick & Easy: It's super simple. When tasting a meal like this, it may seem complicated to prepare. However, you can use this recipe to make the Chicken Jalfrezi with ease. Some recipes call for marination, but we don't need to do it for this recipe, making it simpler.
It's Wholesome: It's such a comforting meal. If you want to make something that will leave you feeling fulfilled, this is the recipe to try. It's also a different recipe than your usual takeout favorites such as Chicken Tikka Masala and Palak Paneer.
Make it a Complete Meal: You can serve it with different sides. I enjoy eating it with naan, but you can also serve it with a side of white basmati rice and naan bread!
One Skillet Meal: One of the best parts of this curry, aside from its incredible taste, is that it's made in only one skillet. You won't have to worry about cleaning up or washing a lot of dishes!
Ingredients You'll Need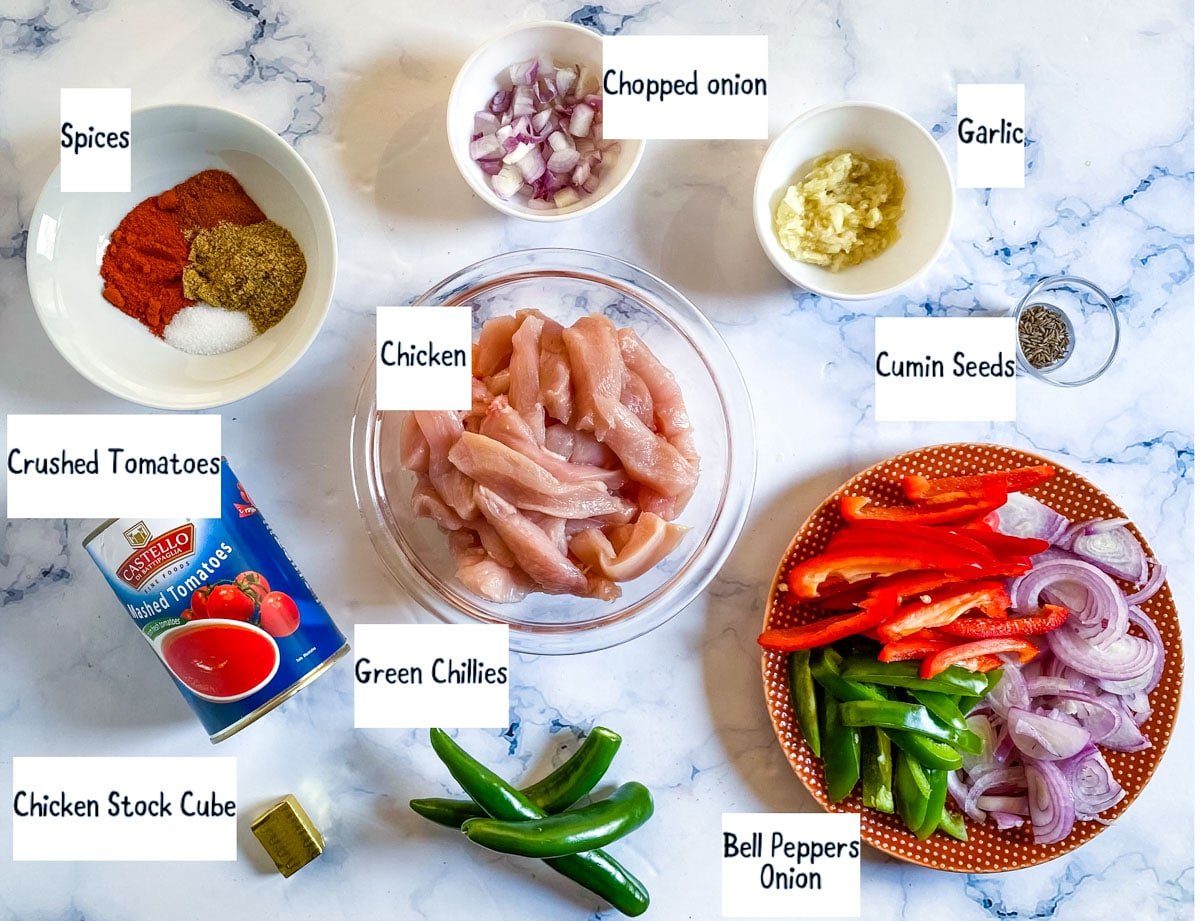 Aromatics: We will need cumin seeds, finely chopped onion and minced garlic to start the recipe. These are our aromatics and add a delicious flavor base to our curry.
Chicken: Jalfrezi is typically made with chicken breast cut into strips. You can also substitute with boneless chicken thighs, but for me Chicken Jalfraizi is always made with boneless chicken breast.
Chicken stock: This adds a ton of flavor, and I find using a chicken stock cube is the best as it is packed full of flavor.
Spices: you'll need coriander powder, red chilli powder, Kashmiri lal mirch, salt and a little bit of garam masala.
Green chillies: I like to add the chillies whole as to control the spice level of the recipe, but you can slit them in half and add it to the recipe if you would like a spicier jalfraizi.
A can of crushed tomatoes: I find this the most convenient for jalfrezi, but you can also use fresh tomatoes in place of it. Just blend them before adding to the curry for a nice smooth sauce.
Bell Peppers & Onion: To finish the jalfrezi recipe we will use a combination of red and green bell peppers and onion, all sliced into strips for even cooking and great presentation of the recipe.
How to Make It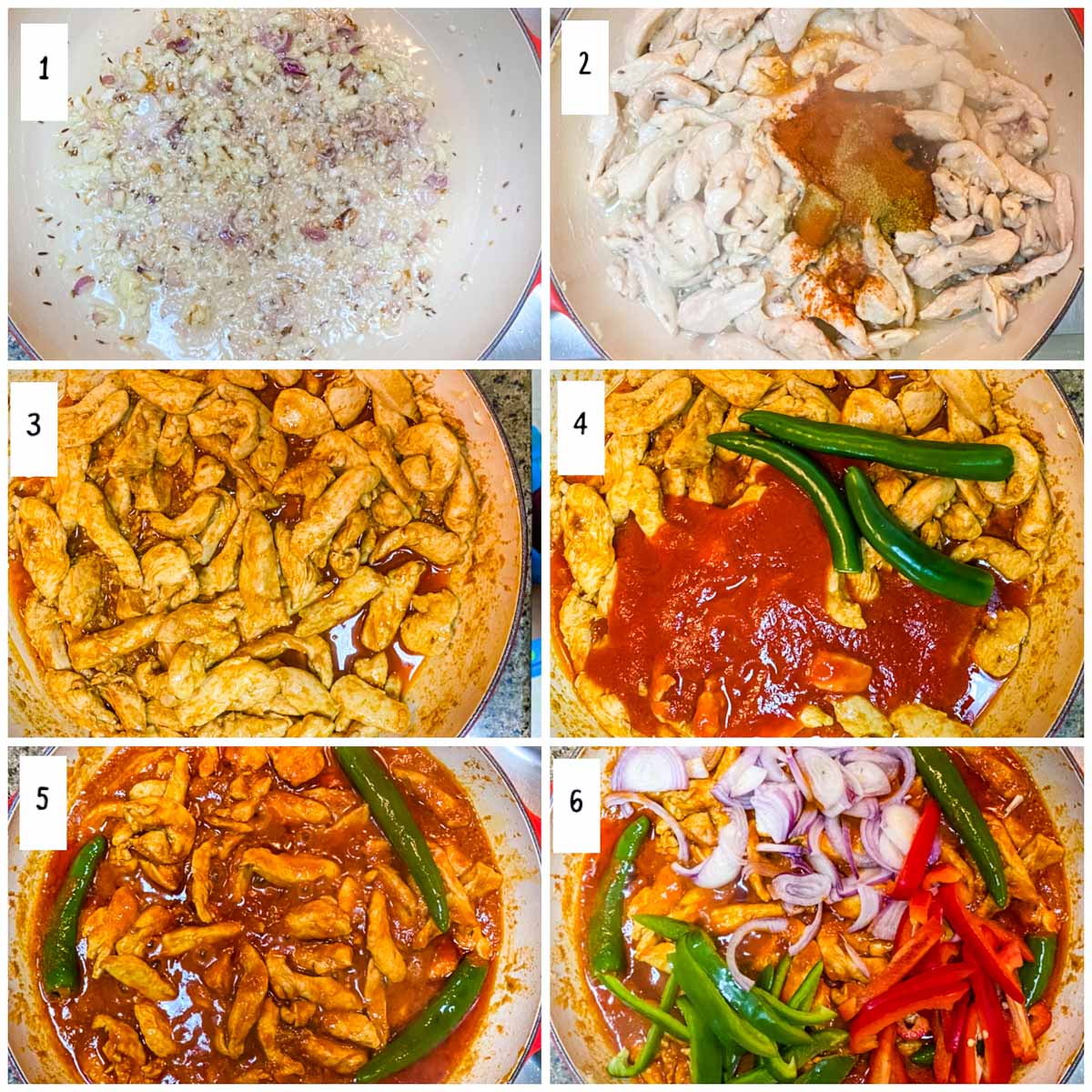 Saute the Aromatics: In a skillet add oil and bring the heat to medium-high. Add the onion and saute until just translucent. We don't need any color on the onion. Now add the cumin seeds and cook for only a few seconds. Add the garlic and saute for 15 to 30 seconds.
Cook the Chicken: Now add the chicken, mix well and cook until it changes color from pink to white.
Spices: Add the spices and chicken stock cube, and cook on high heat for 5-7 minutes, while stirring. You should see the oil separating after cooking for this long.
Cook on low: Add the crushed tomatoes and green chillies. Mix well, cover with a lid, and simmer on low heat for 10 minutes.
Final touches: Remove the lid, add the sliced bell peppers and onion, and mix. Cover with a lid again, and cook for 2 more minutes to allow the vegetables to slightly soften. Remove from heat, top with fresh cilantro, and serve with rice or naan.
Recipe Notes & Tips
Chicken: I prefer to use chicken breasts cut into strips for this recipe as it's the most reminiscent for me when it comes to eating chicken jalfrezi at a restaurant. And I can assure you, the chicken won't dry it out if you follow my recipe timings. Having said that, you can also use boneless chicken thighs for this recipe cut into bite-sized pieces.
Spice level: Jalfrezi is a little high on the spice level, but when you're making it at home you can adjust it according to your liking. Skip the green chilies and red chili powder to make it mild.
Cubes or Strips: If you're cutting the chicken into cubes, then it's best to also cube the onion and bell peppers. This makes for a nice presentation and even cooking. Or you can go with strips as I did.
Frequently Asked Questions
Where do I find some of these spices such as cumin and kashimiri lal mirch?
You can check your local grocery store for these items. If they don't carry some of the herbs and spices, such as the green capsicum or cumin seeds, you can check an Indian grocery store or buy the ingredients needed for this meal online to save yourself the frustration of trying to find them elsewhere.
Is this dish spicy?
Yes, the Chicken Jalfrezi will have a kick to it. It's known as a spicy type of curry that people often eat with rice or naan. The chili powder and whole chilies are what make it a bit spicy. If you can't handle the heat, you can minimize the use of these ingredients to ensure that you're still enjoying the incredible flavor of the other ingredients in this dish.
Can I make a mild version of Jalfrezi?
Absolutely. You can add a touch of peanut butter to this meal or some Greek yogurt and eliminate the chilies to make a lighter, more mild version of this dish. You may want to do that if you're planning to make this meal for the family and want your children to be able to eat it with no problem
What is Chicken Jalfrezi?
It is a tomato-based spicy British Indian curry typically made with boneless chicken, bell peppers, and onion.
Where did Chicken Jalfrezi originate from?
Jalfrezi recipes showed up in British India and the word quite literally means hot-fry. It was typically made with leftovers stir-fried with bell peppers and onions.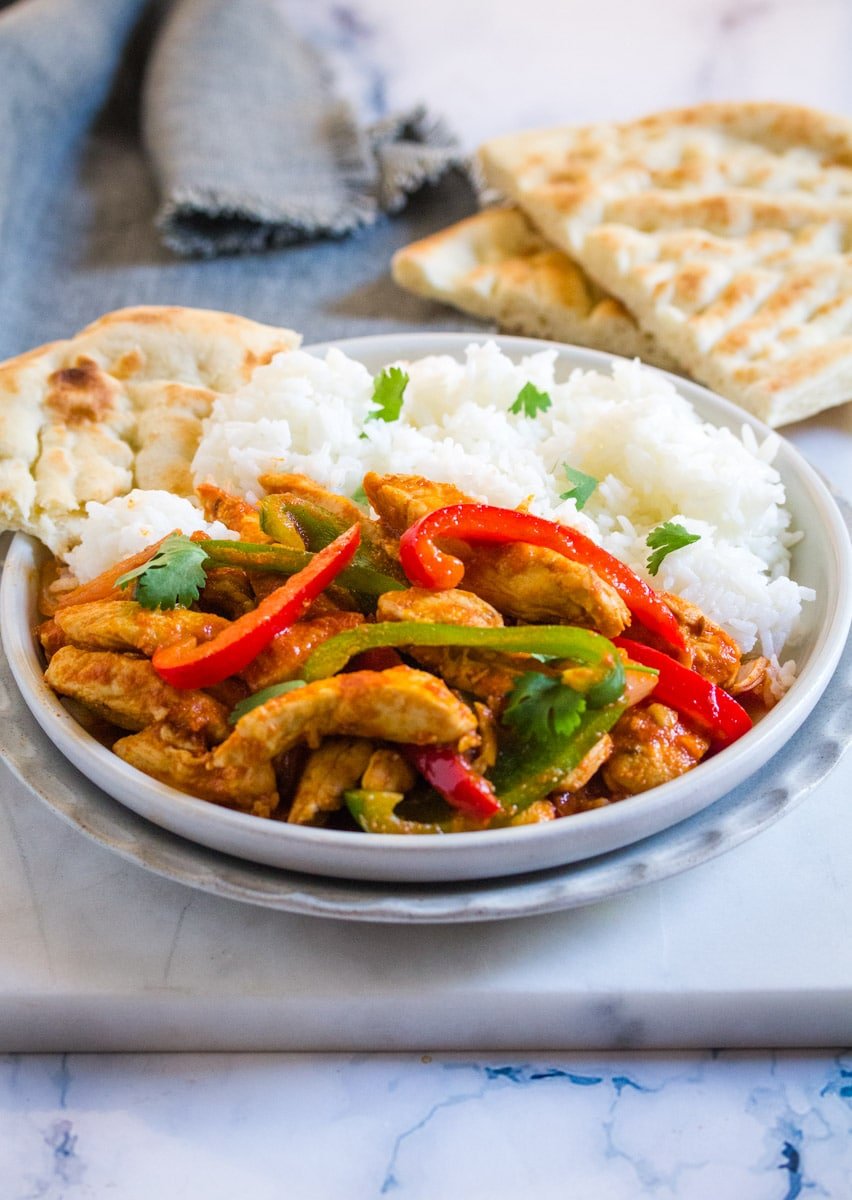 Serving Suggestions:
When you'd like to try an Indian-inspired recipe sure to comfort you and keep you feeling full, try this recipe for Chicken Jalfrezi. It has a kick to it, but it's loaded with wholesome ingredients that are naturally good for you. Best of all, you can make this dish with ease while using a single skillet to get the job done!
More Delicious Curries To Try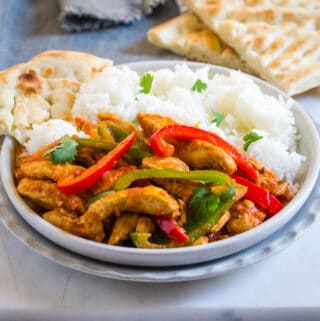 Chicken Jalfrezi
Chicken Jalfrezi is a quick and spicy Anglo-Indian inspired recipe. It's made with chicken in a tomato-based curry with bell peppers and onions.
Print
Pin
Rate
Ingredients
5

tablespoons

oil

1/2

teaspoon

cumin seeds

1

small onion

finely chopped

1

tablespoon

garlic

finely chopped

900

grams

chicken breasts

sliced into strips

1/2

teaspoon

salt

1

chicken stock cube

1

tablespoon

kashmiri lal mirch powder

2

tablespoons

coriander powder

1

teaspoon

lal mirch powder

red chilli powder

1/2

teaspoon

garam masala

optional

4

green whole chillies

trimmed and washed

1

can of crushed tomatoes

400 grams / 14 oz

1

red capsicum

sliced into strips

1

green capsicum

sliced into strips

1

onion

sliced
Instructions
In a large skillet, heat the oil and saute the onion until translucent.

Add the cumin seeds and saute for 30 seconds.

Add the garlic and fry for 15 seconds until fragrant.

Now add the chicken, and cook on medium high heat for 3-4 minutes or until the chicken has changed color.

Now add the salt, chicken cube, and the other spices.

Cook for 5-7 minutes on medium high heat, while stirring, or until you can see the oil separating from the curry.

Add the green chillies and the crushed tomatoes, stir, and cover the skillet. Lower the heat to low, and cook for 10 minutes.

Remove the lid, and add the sliced bell capsicum and onion.

Cook for 2 minutes to let the flavours blend. Serve with rice or naan.
Notes
Chicken: You can substitute the chicken breasts with chicken thighs cut into cubes.
Adjust the spice level: Skip the green chilies and red chili powder to reduce the heat level in this curry. You can also add a bit of greek yogurt or peanut butter to make this curry mild.
Canned Tomatoes: I like to use a can of crushed tomatoes for this recipe, but you can easily use 2-3 fresh tomatoes for this recipe. Just blend them in a small chopper or blender before using.
Storage: You can store this curry in fridge for up to 2-3 days.
Nutrition
Calories:
308
kcal
|
Carbohydrates:
7
g
|
Protein:
33
g
|
Fat:
16
g
|
Saturated Fat:
2
g
|
Polyunsaturated Fat:
4
g
|
Monounsaturated Fat:
9
g
|
Trans Fat:
1
g
|
Cholesterol:
96
mg
|
Sodium:
531
mg
|
Potassium:
717
mg
|
Fiber:
2
g
|
Sugar:
3
g
|
Vitamin A:
743
IU
|
Vitamin C:
47
mg
|
Calcium:
37
mg
|
Iron:
1
mg