This Pakistani Keema recipe is a quick one pot and easy minced beef recipe that is perfect for busy weeknights. It's cooked on high flame and is made with onions, tomatoes and delicious spices. It goes perfectly with other Pakistani recipes such as daal, jeera rice and kachumber salad. Don't forget to add this green chutney to make a complete meal…yum!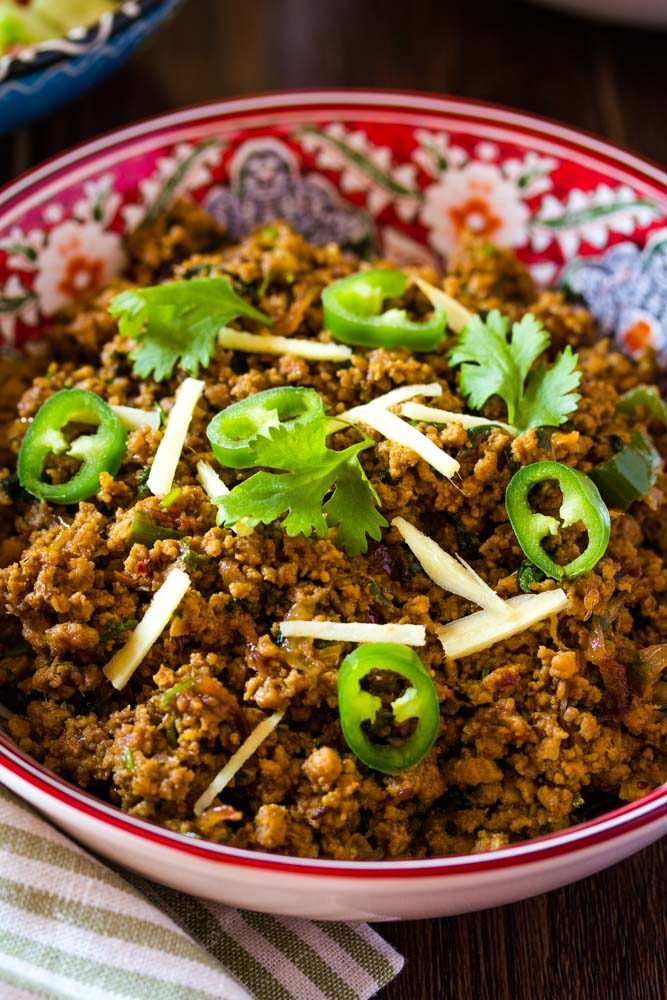 Today, I'm sharing one of my favourite recipes, Pakistani Keema. I've mentioned rice as a side for this keema above, but it goes really well with roti too or even poori. If you're looking for a more gravy based keema recipe, then check out this Keema Aloo recipe on the blog.
Why this Recipe Works
One pot recipe: This recipe is fast, made in one pot, and doesn't need a whole lot of spices.
Using herbs: The trick to making this recipe taste amazing is what I call the green trio of South Asian cooking: coriander, mint and green chillies!
Secret Ingredients: I also like to add a little bit of butter and dried fenugreek (sukhi methi) as the finishing touches to this recipe.
Versatility: While it is very much a spicy Pakistani keema, I've used it in tortilla wraps, on pizzas, and even in pastas!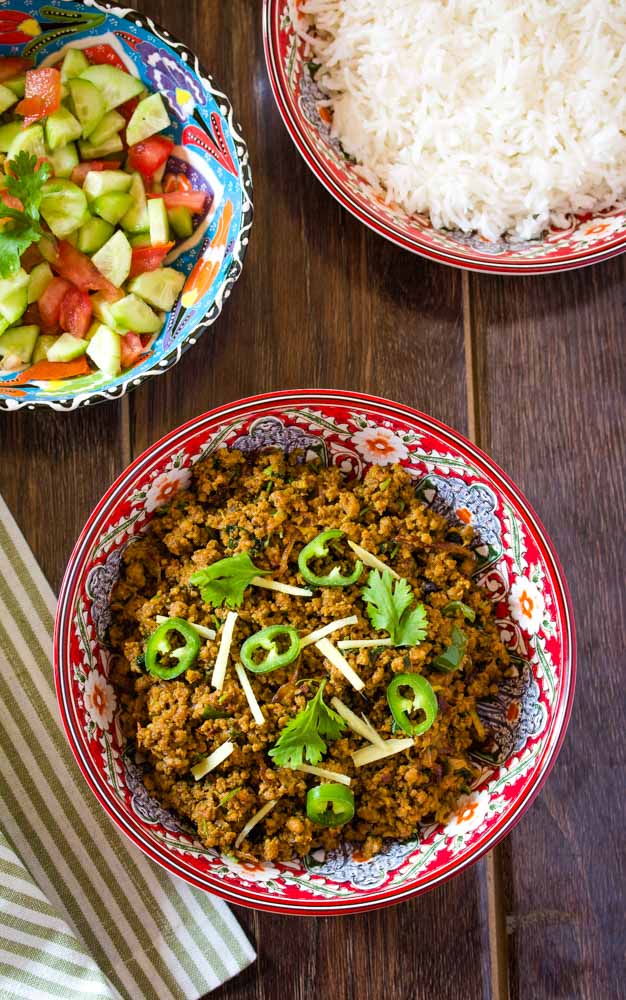 What You'll Need
To make this easy keema recipe, you'll need:
Minced/ground beef: you can substitute with minced mutton, chicken or even turkey mince.
Tomatoes: Use fresh tomatoes, or if in a pinch you can even use canned crushed tomatoes.
Onions: Most South Asian recipes use red onions, but you can easily substitute with white onions too.
Oil or ghee: I prefer oil, but ghee is always welcome!
Ginger garlic paste: Use the kind that comes in jars or make your own at home using my easy ginger garlic recipe.
Spices: red chilli powder, turmeric powder, coriander powder, and salt.
Freshly chopped coriander and mint: these two herbs add an amazing fresh touch to the recipe.
Green chillies: you may use birds eye chilli, thai chilli or serrano pepper. If you don't want your keema to be very spicy, you can skip the green chillies altogether.
Butter: this is an optional ingredient and not commonly used for desi dishes, but it does add a really good flavor.
Dried fenugreek (sukhi methi): adds that delicious umami flavor, but can be skipped if not easily available. The recipe will still be delicious!
How to Make It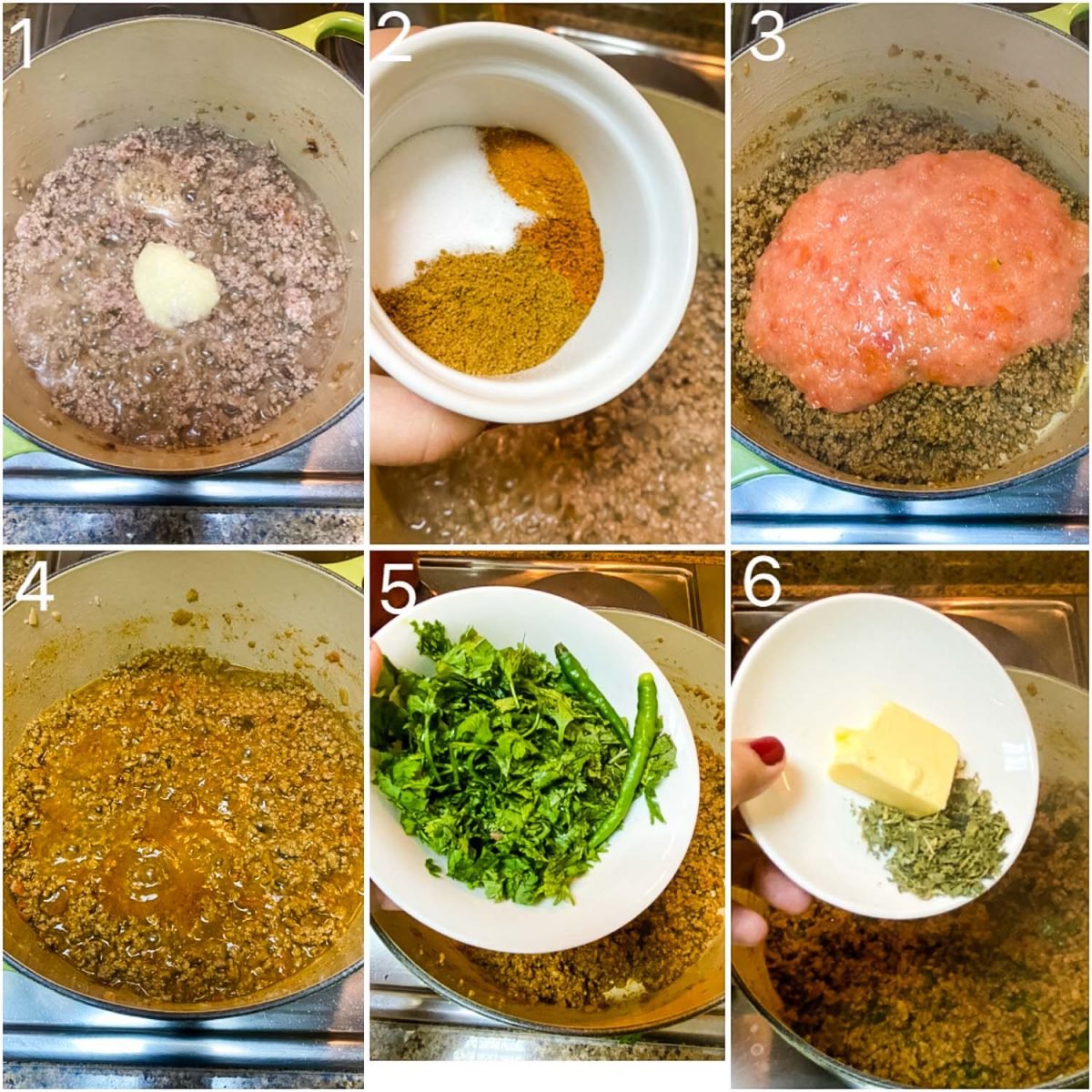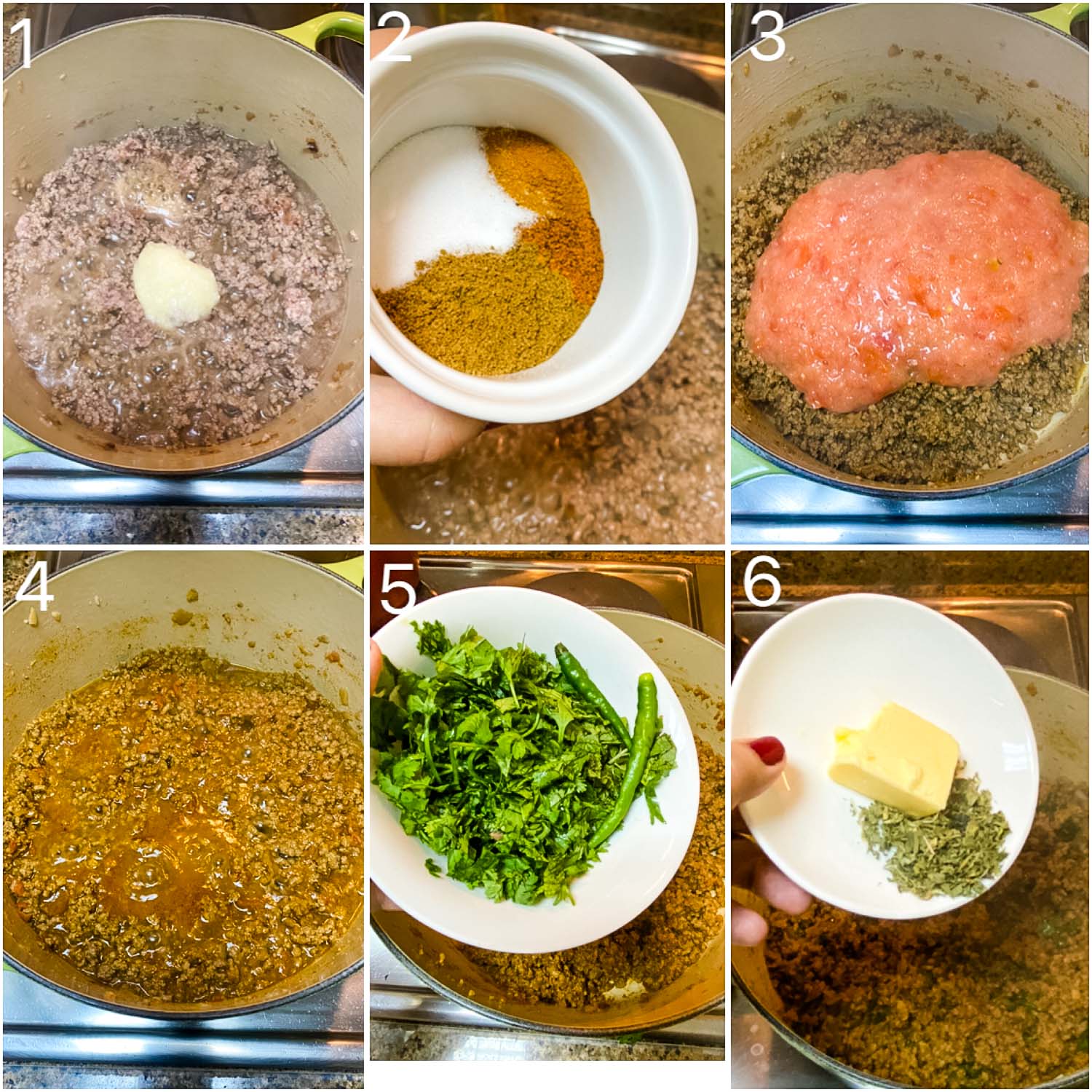 Start by browning chopped onions in the pot with a little bit of oil. The onions need to be light golden brown. Then add the minced beef (keema), cook for a minute, and then add the ginger garlic paste.
Then add the spices, and cook for about 5-7 minutes until the spices are cooked.
Now add the crushed tomatoes and mix. Lower the flame to medium low, cover the pot, and cook for 15 minutes, stirring once or twice between cooking.
Once the tomatoes are cooked and the oil has come to surface, we remove the lid and increase the flame to high. Cook on high heat for 10-15 minutes until all excess moisture is gone and keema is cooked well.
Add the chopped coriander, chopped mint and green chillies. Mix and cook for another 1-2 minutes until the herbs and chillies are well incorporated.
Finally add the butter and dried fenugreek leaves if using. This step is optional. Serve with rice or roti.
Top Tips & Recipe FAQs
Can I substitute the minced beef with any other meat?
Yes, you may use mutton, chicken or even turkey mince.
How long can you store the keema in the fridge?
The keema can be stored in the fridge for 3-4 days in an airtight container.
What does keema mean?
Keema quite literally means mince in Urdu. It can refer to different minced or ground meat such as beef, mutton or even turkey.
How to wash keema?
To wash the keema, place it in a sieve/strainer and run it under water a couple of times or until the water is clear.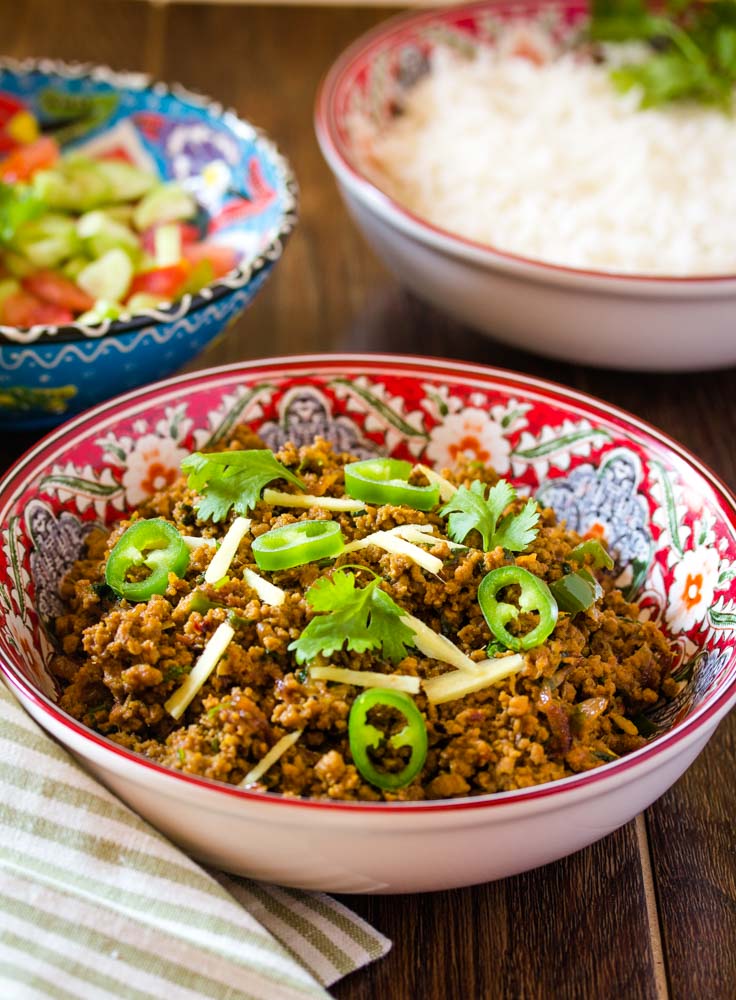 What to Do with Leftovers
This recipe is so versatile and you can do so many things with:
Sandwiches: I love to use this keema for sandwiches in the sandwich maker: add some keema, cheese, green chutney, slice onions and tomatoes to the sandwich and put it in the sandwich maker or a panini maker if that's what you have…so yum!
Burgers: Stuff into burgers with cheese, and all of your favourite toppings
Pasta: just add some pasta sauce, cheese and keema to the pasta for a lovely Pakistani twist to pasta.
Pizza: would go so well as a topping with some pizza sauce and cheese, for a perfect desi pizza!
Serving Suggestions
Keema goes really well with both rice and roti. It also serves a great side to have in combination with other main dishes such as daal. I've listed a few recipes below that I think go really well with keema: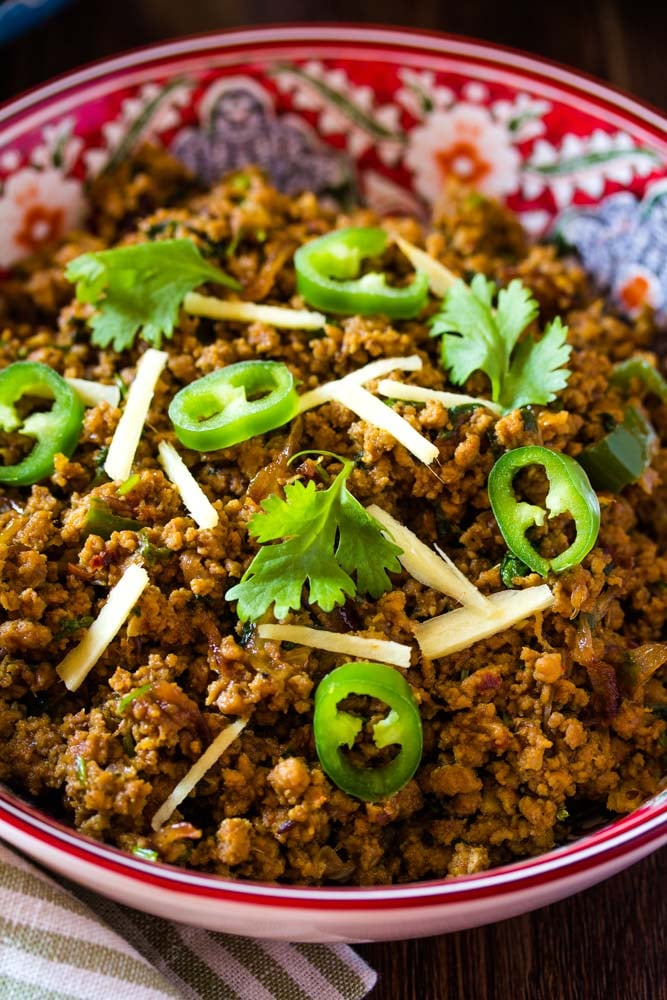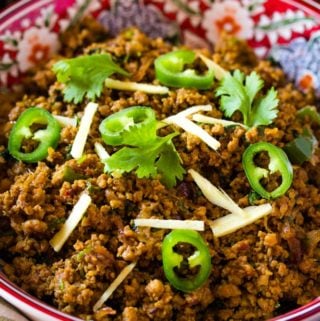 Easy Pakistani Keema Recipe
This Easy Pakistani Keema recipe is an excellent one pot meal that's perfect for weeknights. Made with easily available ingredients it is the perfect versatile keema that can be used in many other recipes such as sandwiches and even pasta!
Print
Pin
Rate
Equipment
Food chopper / food processor

Cutting board

Dutch oven or heavy bottomed pot

Knife

Wooden spoon
Ingredients
4

tablespoons

oil

2

medium onions

chopped

500

gram

minced beef

2

tbsp

ginger garlic paste

1

tsp

red chilli powder

1

tsp

turmeric powder

2

tsp

coriander powder

1

tsp

salt

or to taste

4

medium tomatoes

crushed or roughly chopped

1/2

cup

freshly chopped coriander leaves

1/4

cup

freshly chopped mint leaves

2

birds eye green chillies

washed but left whole

1

tablespoon

butter

optional

1

teaspoon

dried fenugreek leaves / sukhi methi

optional
Instructions
In a heavy bottomed pot, heat the oil.

Add the chopped onion, and saute on medium high heat for 3-4 minutes until it is light golden brown.

Add the minced beef, stir and cook for 1-2 minutes.

Now add the ginger garlic paste and the spices. Cook on medium high heat for 5-7 minutes.

Add the crushed tomatoes, stir and cook for 1-2 minutes.

Lower the flame to medium low, cover the pot with a lid, and cook for 15 minutes. Stir the keema a couple of times during this time.

After 15 minutes, remove the lid and increase the flame to high. Cook for 10-15 minutes while stirring every few minutes.

The keema is ready when excess moisture has evaporated and you can see the oil on the surface of the keema.

Add chopped coriander, chopped mint and green chillies. Stir, cover the pot with the lid and let steam for 2 minutes.

Remove the lid, add the butter and dried fenugreek leaves if using, and stir to combine.

Remove the pot from the heat, and let rest for 5 minutes before serving.
Notes
Oil: You may substitute with ghee.
Minced beef: You can replace with mutton mince, chicken mince or even turkey mince. However, cooking times will vary according to the meat.
Tomatoes: Use good, juicy and ripe fresh tomatoes. If you do not have fresh tomatoes on hand you can also use 400 grams of canned crushed tomatoes instead.
Fresh mint leaves: I've used dried mint instead of fresh mint leaves several times and it's an excellent substitution. Use 1 teaspoon of dried mint in place of fresh mint leaves.
Green chillies: You can use birds eye chillies, thai chillies or in a pinch you can even use serrano peppers.
Dried fenugreek leaves: This is an optional ingredient, but it adds an excellent finishing touch to the recipe. Can skip if not available, the recipe will still turn out delicious! 
Storing the keema: store in an airtight container in the fridge for up to 3-4 days. Keema can also be frozen for up to 1 month.
Nutrition
Calories:
406
kcal
|
Carbohydrates:
11
g
|
Protein:
19
g
|
Fat:
32
g
|
Saturated Fat:
9
g
|
Polyunsaturated Fat:
4
g
|
Monounsaturated Fat:
16
g
|
Trans Fat:
1
g
|
Cholesterol:
71
mg
|
Sodium:
612
mg
|
Potassium:
621
mg
|
Fiber:
3
g
|
Sugar:
5
g
|
Vitamin A:
1148
IU
|
Vitamin C:
20
mg
|
Calcium:
56
mg
|
Iron:
3
mg