Enjoy the taste of a refreshing homemade beverage with this Orange Peel Tea recipe. It's easy to prepare using simple ingredients that you may already have in your kitchen.
Also try our other favorite beverages such as Lemon Tea, Karak Chai, Ginger Green Tea, and Homemade Chai!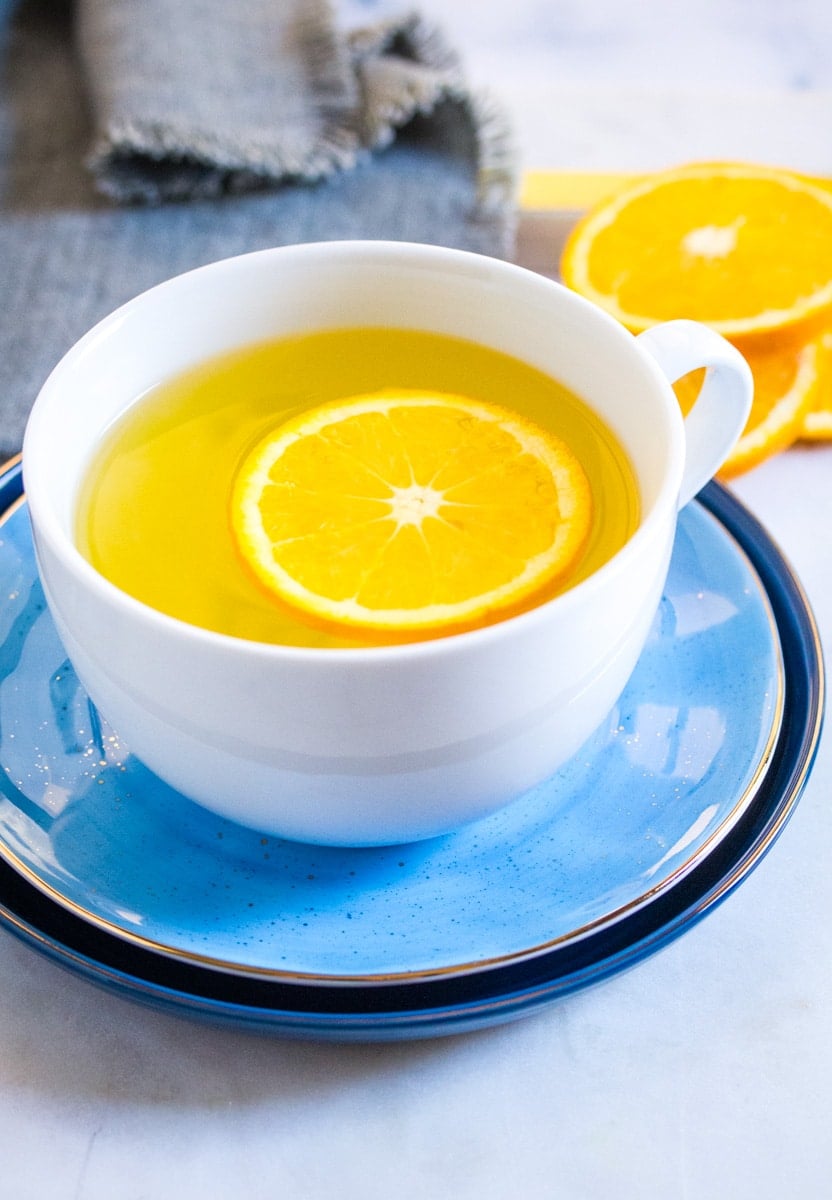 Jump to:
About this Recipe
Prepare a homemade beverage using boiled orange peels. Not only does the Orange Peel Tea taste amazing, but it's also naturally good for you because of the ingredients used to make it, such as honey, fresh-squeezed orange juice, saffron, and more.
In addition to drinking this beverage while it's warm, you can place it in the fridge, let it get cold, and enjoy it in a glass with some ice cubes.
It's great to have at home when you're in the mood for something hydrating to consume besides water.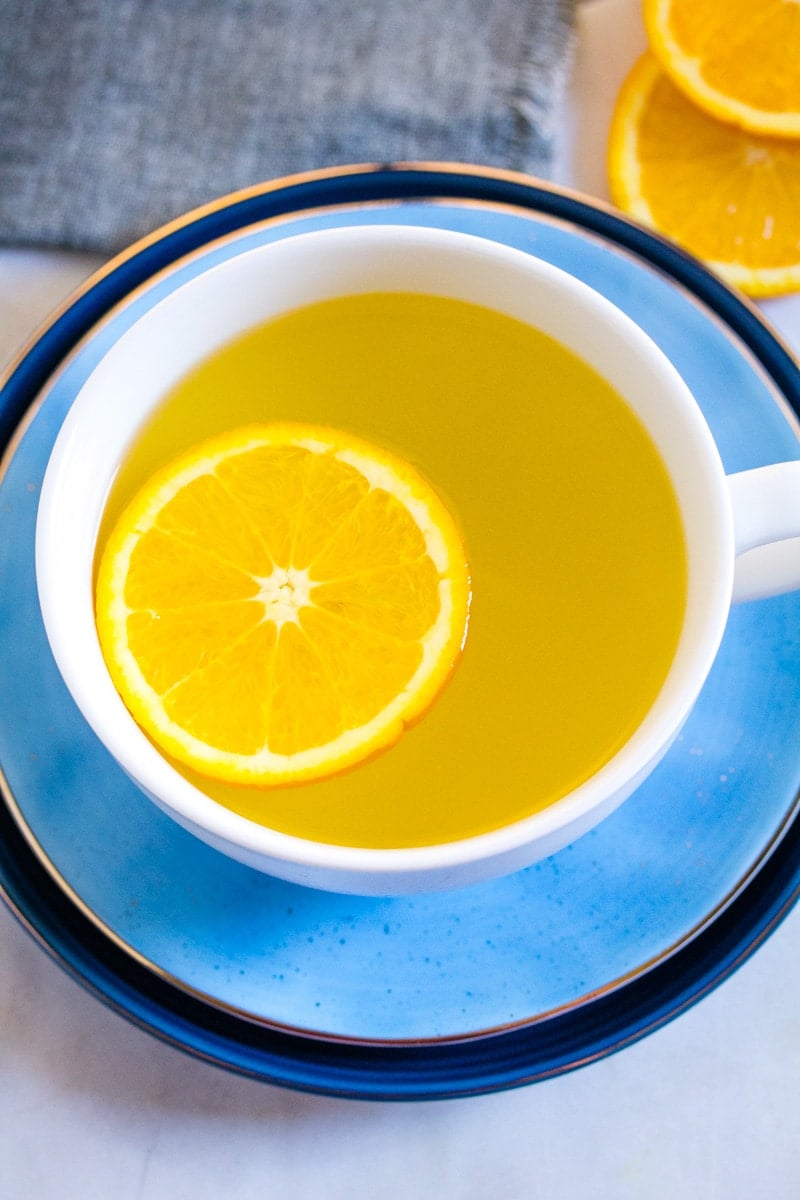 Benefits of Orange Peel
Orange peel is a beneficial ingredient to add to this beverage for several reasons. Along with that tasty citrus flavor that it adds to the beverage, it's also an excellent source of vitamins and nutrients.
It even contains polyphenols, which are believed to help reduce the risk of developing different health conditions, such as type 2 diabetes and obesity.
If you want to add natural flavor to your beverage while reaping numerous health benefits, be sure to try the Orange Peel Tea. It's easy to make and delicious to drink.
Learn more about the benefits in this informative article.
Ingredients You'll Need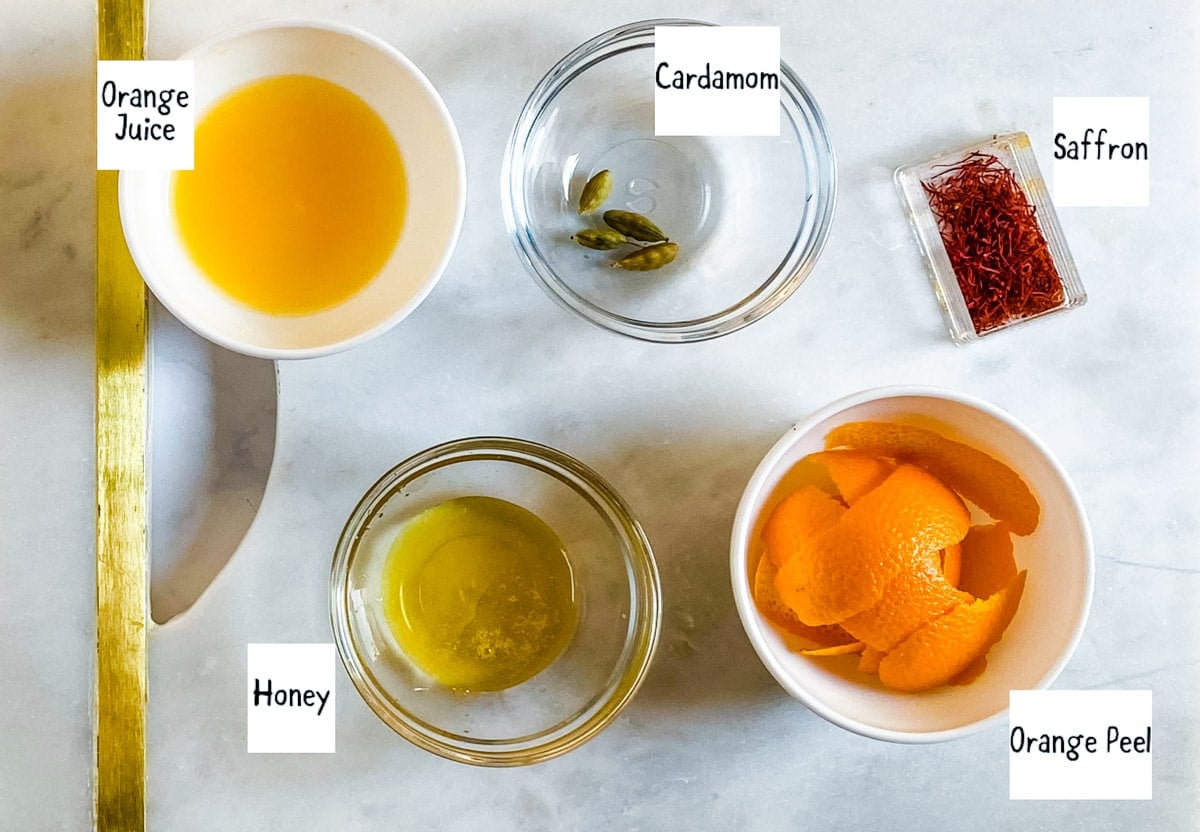 You're only going to need a handful of ingredients to prepare this beverage, such as:
Water - Start with water for the boiling process. It will quickly turn into tea when adding your other ingredients.
Orange Peel - Remove the peel from one large orange and then add it to your saucepan.
Cardamom Pods - Add flavor to the beverage with cardamom pods.
Saffron Strands - The saffron enhances the taste of this beverage, making it even more enjoyable.
Honey - You can use a teaspoon or two of honey or any other sweetener that you enjoy.
Fresh Orange Juice - While most of the flavor comes from the peel, freshly squeezed juice amps up the flavor of the drink.
How to Make It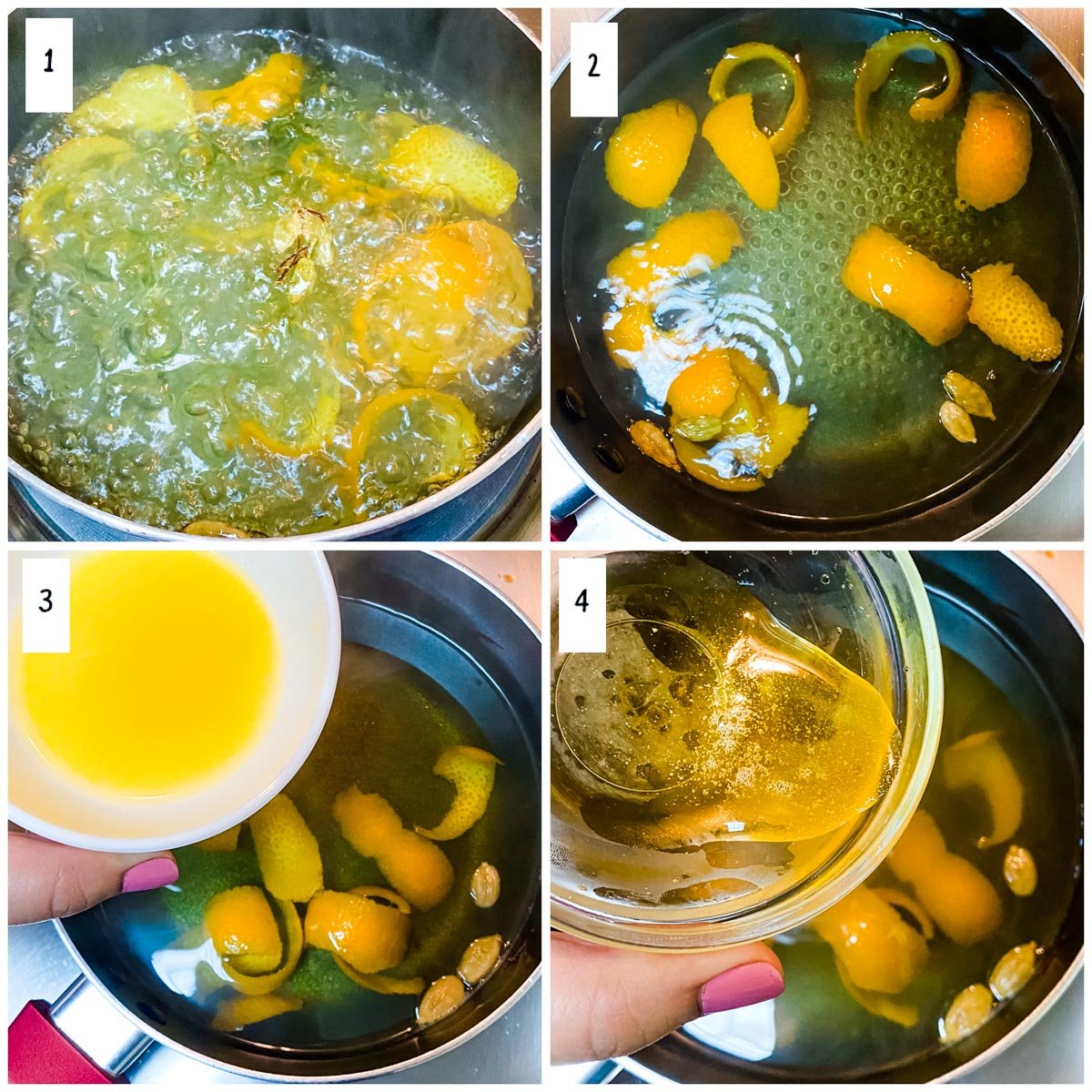 Boil: Bring the water to a boil.
Flavor: Add the peel, cardamom pods, and saffron to the boiling water. Boil for 1-2 minutes until the color changes.
Steep: Remove from heat, and steep for 15-20 minutes, to allow the flavors to infuse.
Sweeten: Add the fresh orange juice and honey, mix well, and enjoy hot or cold.
Recipe Notes
Feel free to customize your tea with different extras, such as cinnamon powder, which will also pair well with the bright citrus flavor. You can also add assorted fruits to the tea if you'd like.
If you don't want to squeeze the orange juice by hand, use a press to extract the juice with ease, making the process a lot easier for you to complete while you're preparing this tea.
When serving cold, consider pouring some of the tea into ice cube trays. You can add the cubes to the poured beverage to avoid watering it down when the cubes begin melting.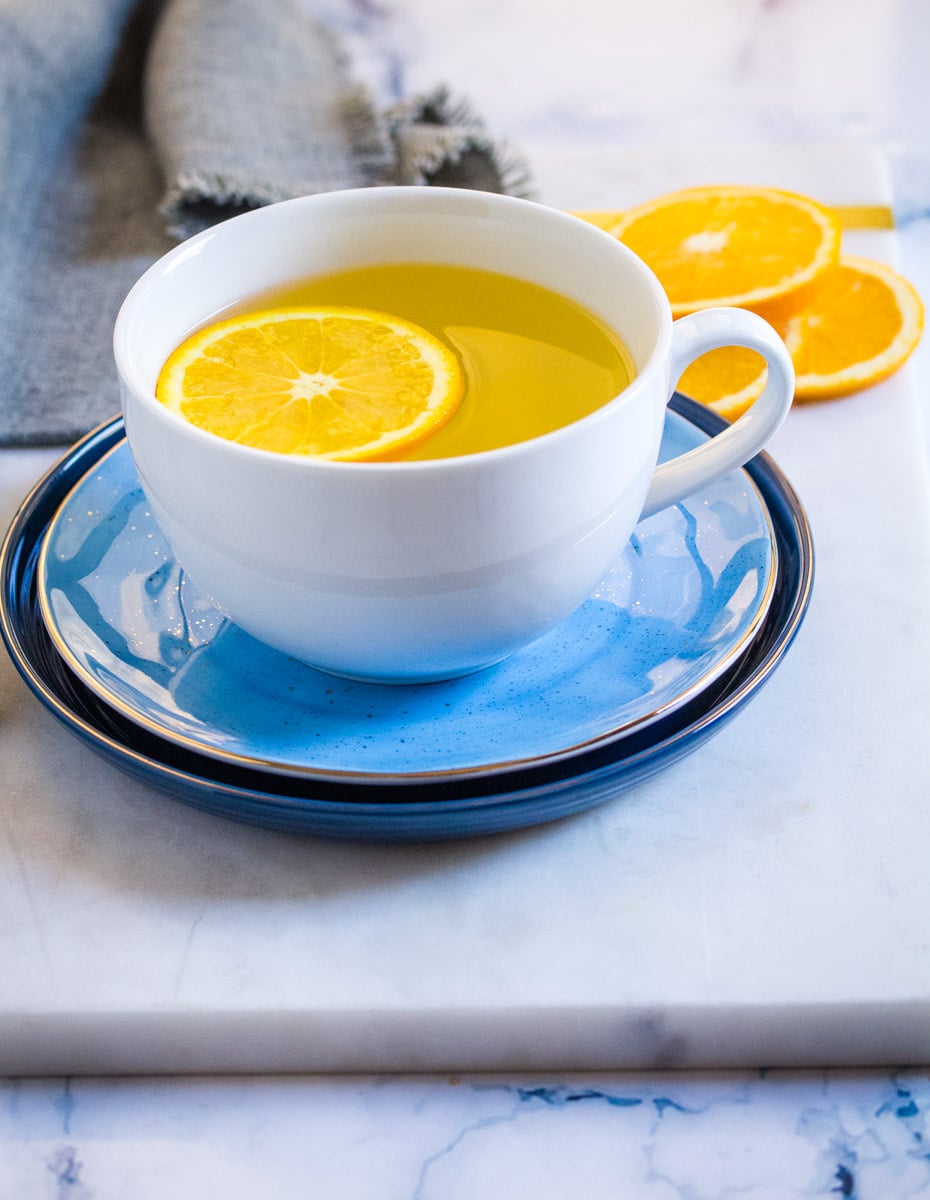 Frequently Asked Questions
Can I use bottled orange juice?
It's best to use freshly squeezed orange juice for this homemade tea. There is nothing quite like the fresh version.
What are some other sweetener options?
If you don't have honey, you can use other types of sweeteners for this recipe, such as agave nectar, traditional granulated white sugar, or even stevia. Use what you like and prefer to make your drink taste even better.
Can I add lemon to this tea?
Absolutely. While the tea will have heavy notes of orange, citrus-like flavor, you can also add a few lemon peels and lemon slices to the tea for a zesty touch. Feel free to use what you enjoy best, whether it's lemon or other fruits, such as fresh raspberries and blueberries, which can also add a hint of flavor to this beverage.
How long will the tea need to steep?
Once you've removed the saucepan from the heat, cover with a lid and let the tea steep for a minimum of 15 minutes and up to 20 minutes. Use a timer to keep track to avoid steeping for too long.
Once you've prepared this healthy homemade beverage, you'll look forward to creating different variations of it, where you can enjoy it as often as you'd like and add your special touch to it.
Serving Suggestions
Pair this soothing beverage with these delicious snacks:
More Hot Beverages to Enjoy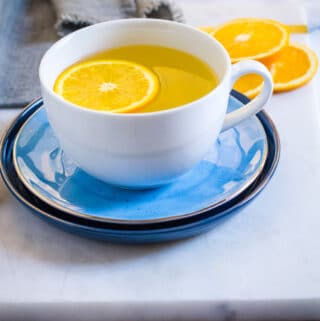 Orange Peel Tea
Orange Peel Tea is a delicious and soothing beverage made with just a few ingredients such as orange peel tea, cardamom and saffron.
Print
Pin
Rate
Ingredients
2

cups

water

Orange peel

from 1 large orange

2-3

cardamom pods

2-3

saffron strands

4

tablespoons

fresh squeezed orange juice

1-2

teaspoons

honey or sweetener of your choice
Instructions
In a saucepan, bring the water to a boil.

Add the orange peel, cardamom pods, and saffron strands. Boil for 1-2 minutes until the color changes.

Remove from heat, cover with a lid and let the tea steep for 15-20 minutes.

Add the fresh orange juice and honey, stir and enjoy hot or cold.
Notes
Storage: You can store the prepared tea for 1-2 days in the fridge.
Variations:
Black Tea - You can also add 1 teaspoon of black tea leaves (or a teabag) to the boiling water with the other ingredients.
Green Tea - Add a green teabag to the boiling water to make this into an Orange Green Tea recipe.
Nutrition
Calories:
32
kcal
|
Carbohydrates:
8
g
|
Protein:
1
g
|
Fat:
1
g
|
Saturated Fat:
1
g
|
Polyunsaturated Fat:
1
g
|
Monounsaturated Fat:
1
g
|
Sodium:
13
mg
|
Potassium:
93
mg
|
Fiber:
1
g
|
Sugar:
6
g
|
Vitamin A:
68
IU
|
Vitamin C:
17
mg
|
Calcium:
19
mg
|
Iron:
1
mg