This Hot Chocolate Coffee is the perfect hot beverage for chocolate and coffee lovers. It's thick, luscious and indulgent, and perfect for winter nights and the holidays!
My hot chocolate recipe collection is growing fast and furiously thanks to the awesome Hot Chocolate Extravaganza that I'm running on my blog these days. Whether it's this Three-Ingredient Creamy Homemade White Hot Chocolate, or this citrusy Orange Hot Chocolate that you first choose to make, I can guarantee you won't be disappointed!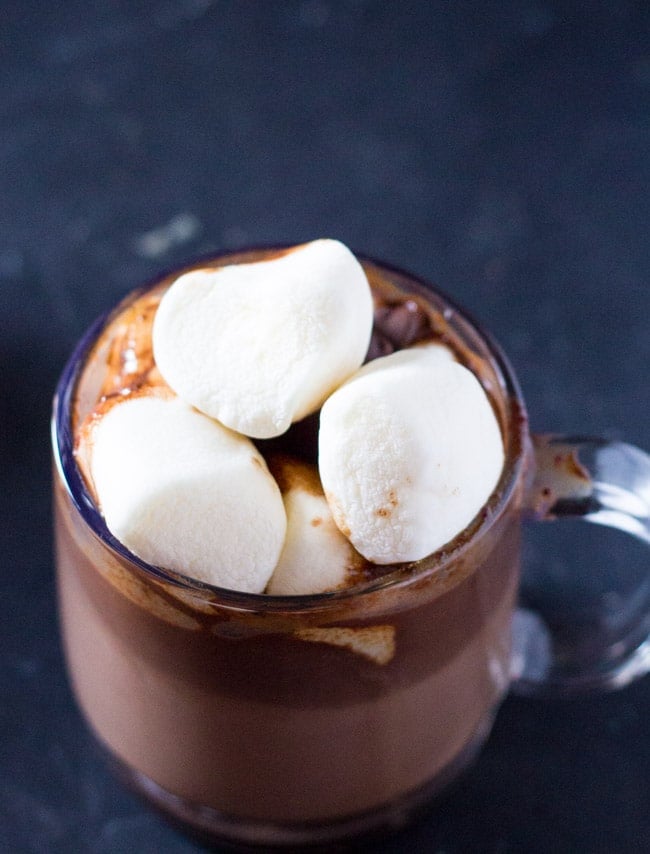 Picture this: It's a cold and windy evening. Grey clouds are forming a thick blanket in the sky and the weather forecasts have been predicting a snow storm. And all you want to do is huddle in bed under your warm blankets, and spend the whole day there with a good book. That sounds like my idea of a perfect evening, but may I suggest adding this Hot Chocolate Coffee to the agenda? It has coffee AND chocolate, I bet no one can resist that! 🙂
If spending a cozy evening, wearing thick fuzzy socks and reading a good book is your plan, I promise you, this Hot Chocolate Coffee is the perfect beverage to accompany you while you spend the evening reading away.
WHAT IS THE I KNEAD TO EAT'S HOT CHOCOLATE EXTRAVAGANZA?
This year, I decided to finally give in to my chocolate obsession, and not make one, not two but TEN HOT CHOCOLATE RECIPES for you guys. Winter is my favorite time of the year, and that's mainly because of hot chocolate. So take out your cocoa powder and heavy cream, because for the next 10 days I'm going to be posting hot chocolate recipes everyday! And it's going to be lots of fun. 🙂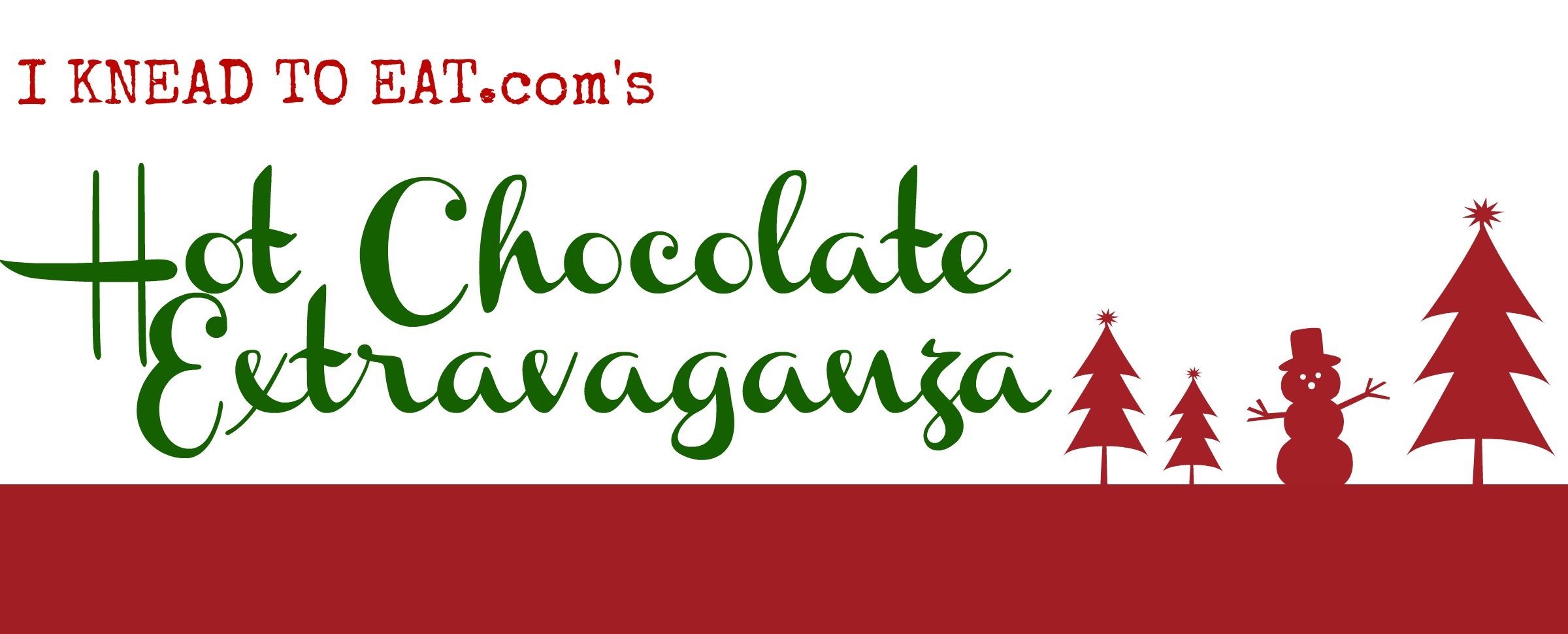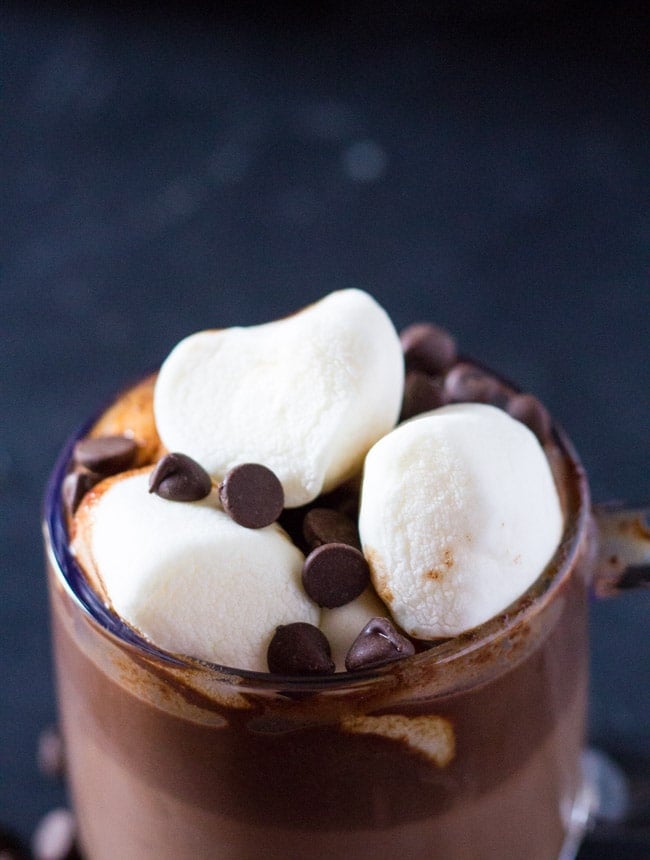 Or maybe it's the holidays, and before you start cooking for a big family dinner, you could do with a strong cup of coffee in the morning before all the work begins? But wait, you need something stronger than coffee, something that really warms you through, and what could be better than adding hot chocolate to the whole equation? Coffee chocolate should become a thing by now if it hasn't already!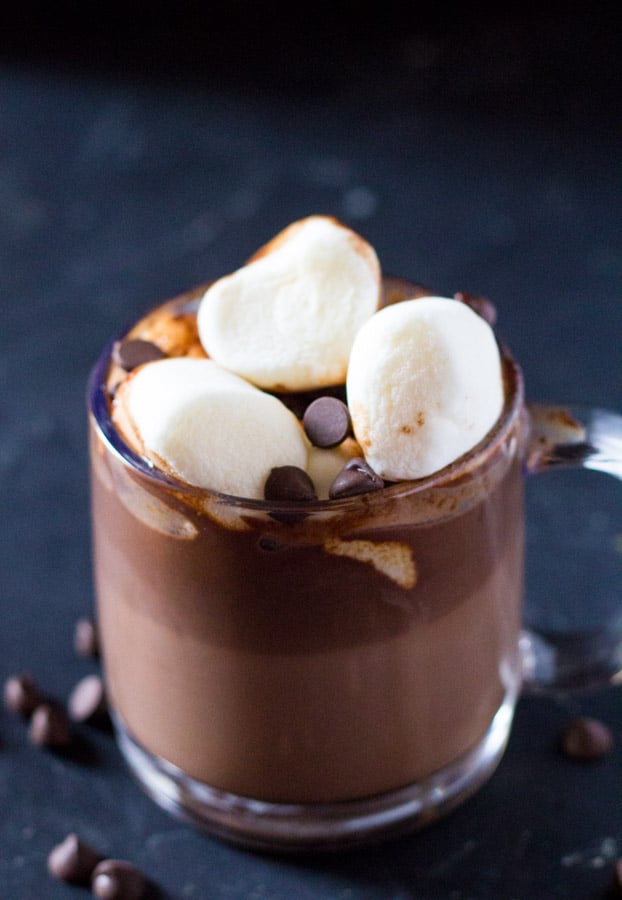 This Hot Chocolate Coffee is perfect for this winter weather and the holiday season. Andddd wait for it...it's completely easy to make and is ready in like 5 minutes!
Top with marshmallows, and I can guarantee you this beverage will be put a huge smile on your face, and you will be fa la la la ling your way through whatever you have to get through whether that's making a dinner for a large gathering, shopping for presents or just getting through a particularly cold evening!
Even though this hot chocolate coffee is super easy to make, I've jotted down a few tips to ensure that you have the perfect hot chocolate coffee experience.
How to Make the Perfect Hot Chocolate Coffee
1.) To get this hot chocolate coffee lusciously thick and chocolatey, I use two kinds of chocolates: unsweetened cocoa powder and semi sweet chocolate. You can use any kind of chocolate you want: milk, semi sweet or dark. It just depends on your personal preference. Just make sure it's a good quality chocolate.
2.) Make the hot chocolate on medium low heat, since we just want to gently melt the chocolate. So simmering the liquid is good, but do not let it come to a boil.
3.) You can use any good quality coffee.
4.) Don't forget to top with marshmallows, because let's face it, marshmallows make everything better! 😉
If you're a hot chocolate lover like me here are a couple of other hot chocolate recipes you may like.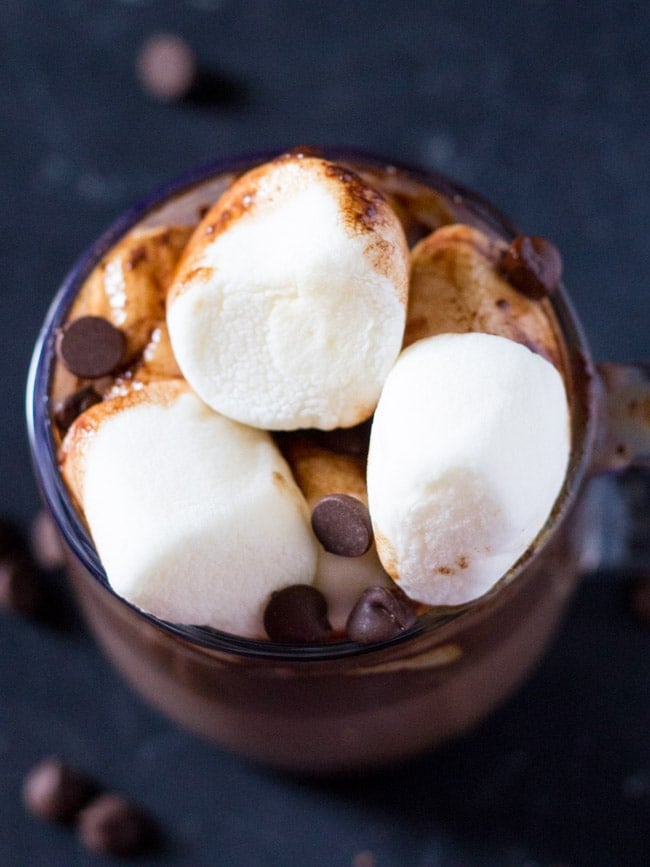 Enjoy!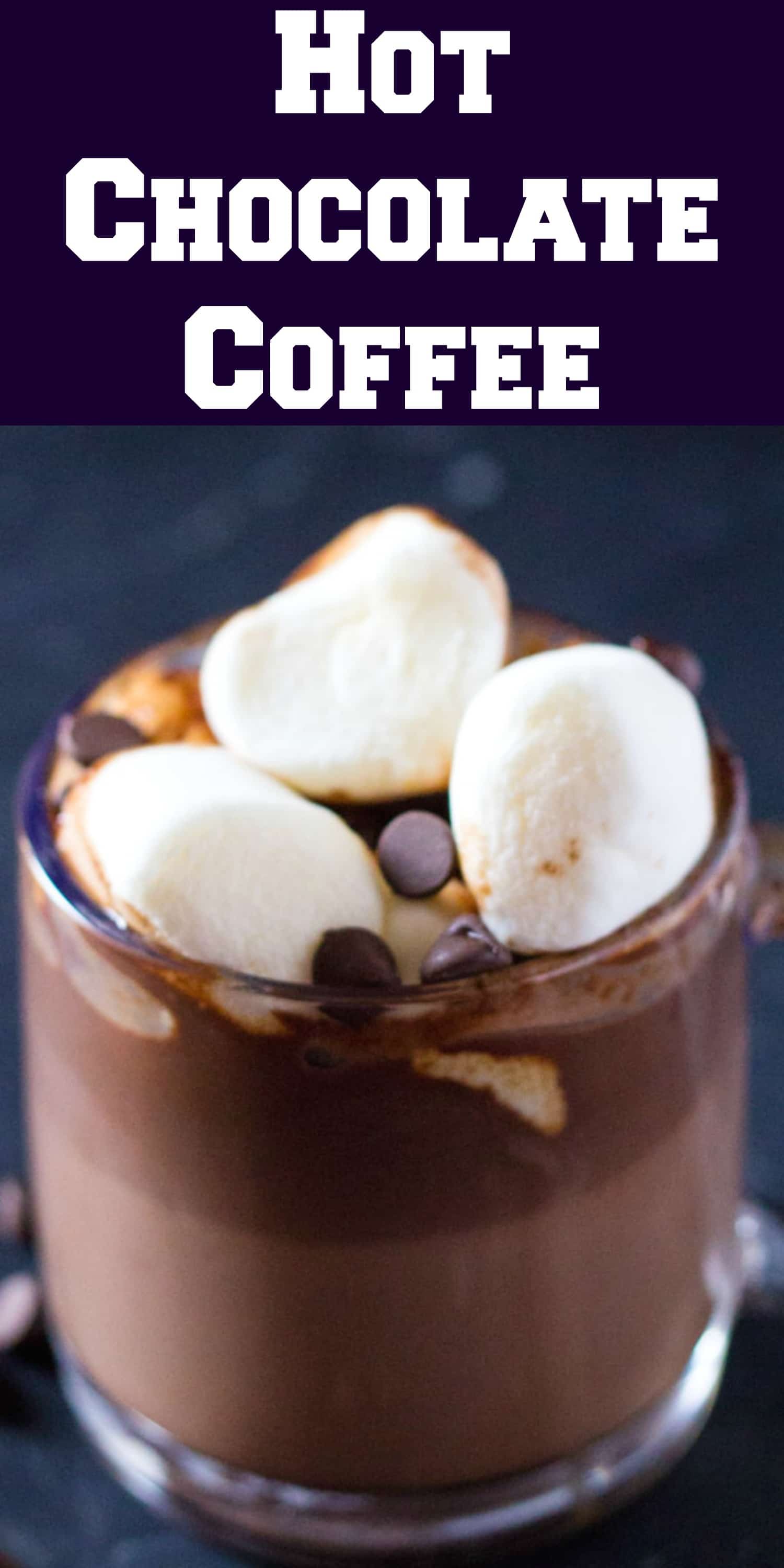 Enjoy! 🙂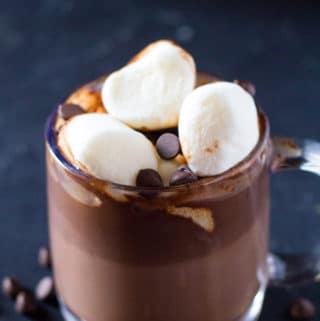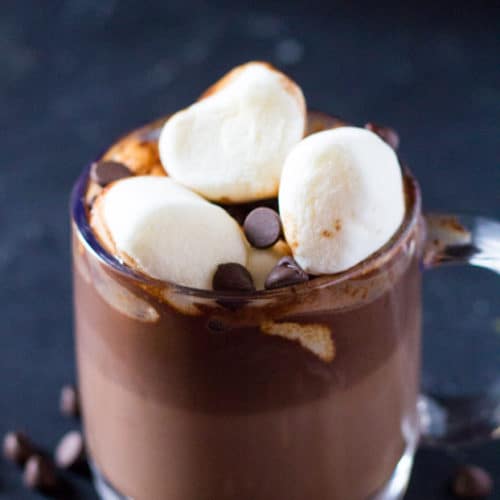 Hot Chocolate Coffee
This Hot Chocolate Coffee is the perfect hot beverage for chocolate and coffee lovers. It's thick, luscious and indulgent, and perfect for winter nights and the holidays!
Print
Pin
Rate
Ingredients
1 1/2

cups

milk

2

tablespoons

unsweetened cocoa powder

8

oz

semi sweet chocolate

1

cup

freshly brewed coffee

Marshmallows for topping
Instructions
In a medium sized saucepan, combine the milk, cocoa powder, and semi sweet chocolate, and bring to a simmer. Lightly whisk until the chocolate has completely melted. Do not let hot chocolate come to a boil.

Add coffee, and whisk until combined.

Pour into servings mugs and top with marshmallows.
Nutrition