This fluffy and airy Mango Mousse is a light dessert when served in small portions. Topped with fresh mango slices, it makes a delicious end to a meal. Made with only a few ingredients it's an easy and impressive sweet treat!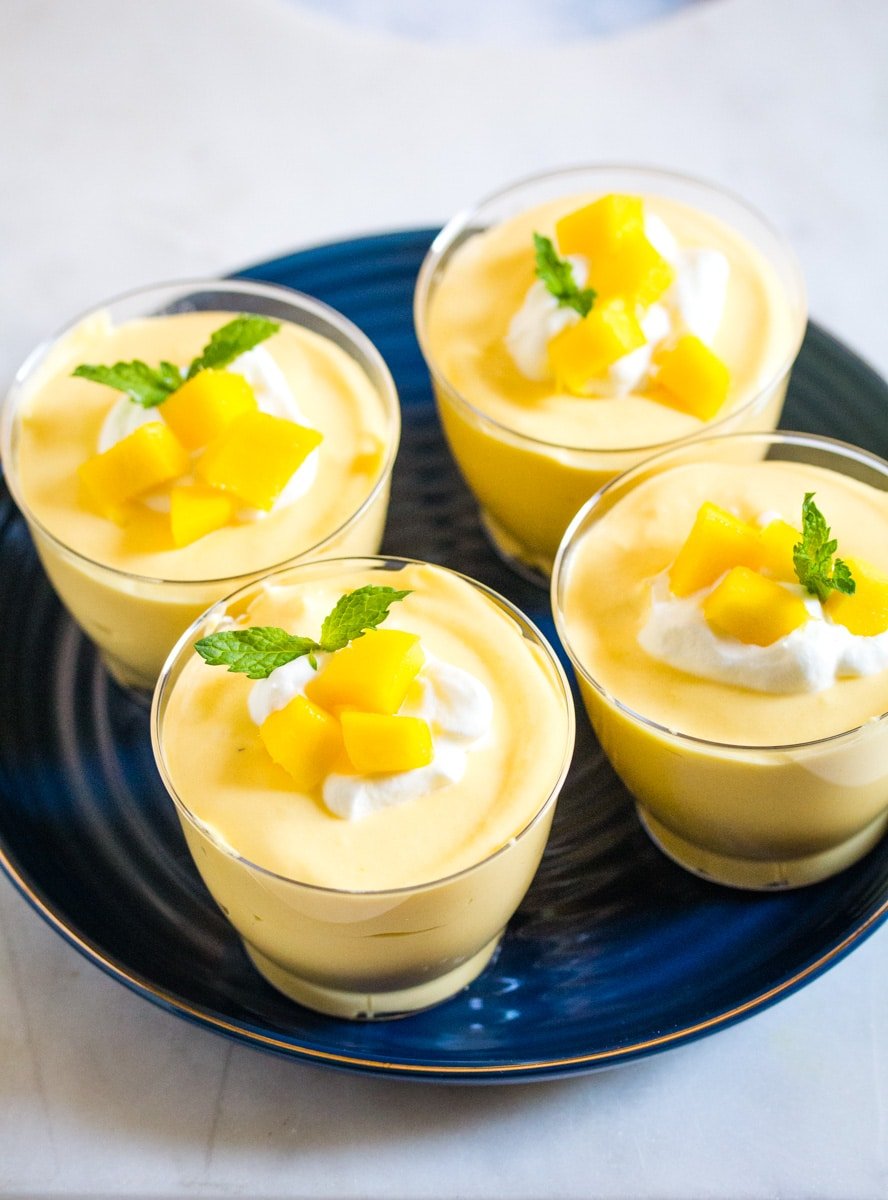 Love desserts? Try these easy Eggless Chocolate Mousse and Quick Strawberry Mousse.
Why this Recipe Works
This eggless Mango Mousse recipe is a phenomenal dessert that's perfect for the summer and is perfect for serving at parties.
You only need five ingredients to make this recipe, and it only takes 15-20 minutes to make (not counting the chilling time though). And unlike traditional French mousse, you don't even have to use eggs.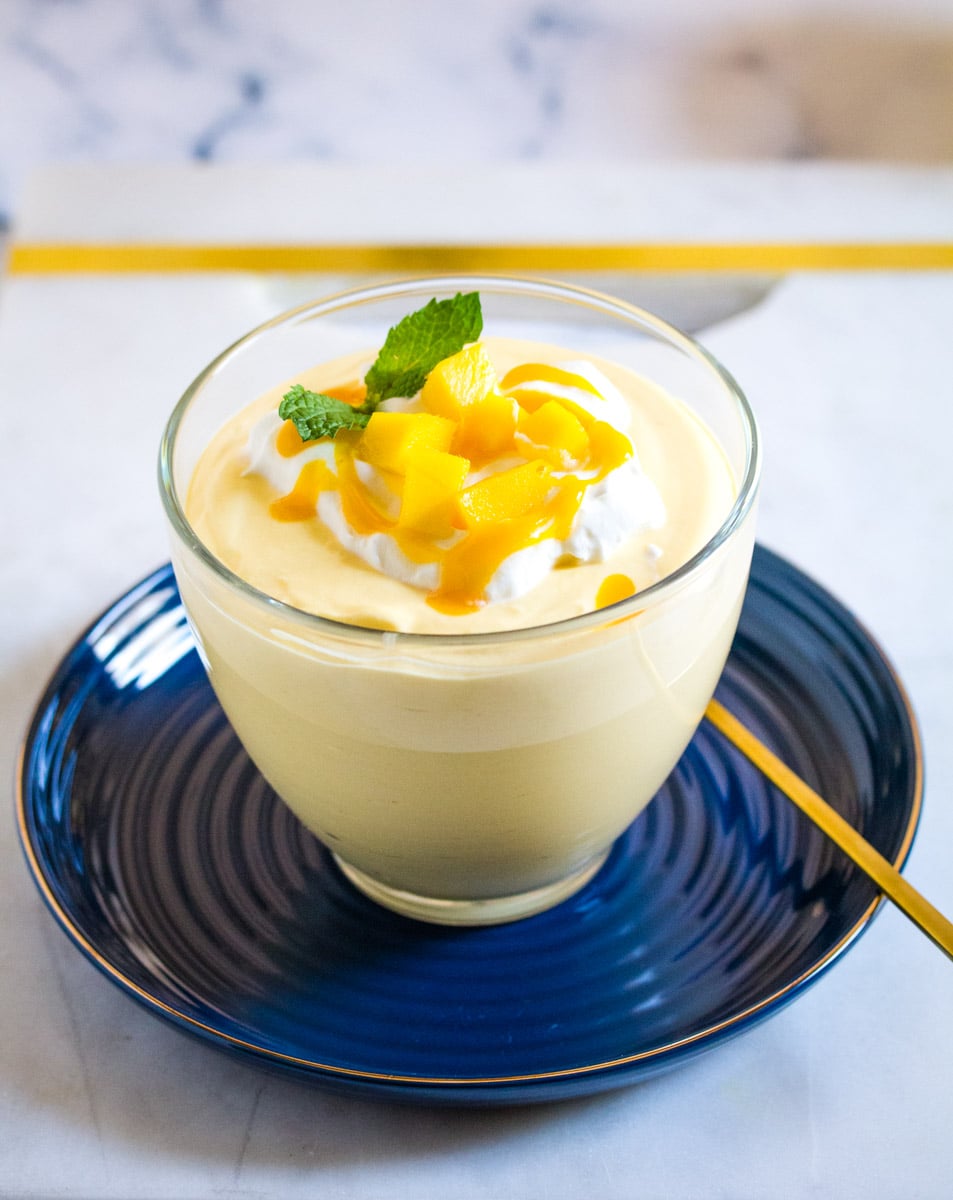 It's also a great make-ahead dessert as it needs chilling time in the fridge. Also try this Fruit Salad with Condensed Milk.
So you can make it a day or two before you need to serve it.
What You'll Need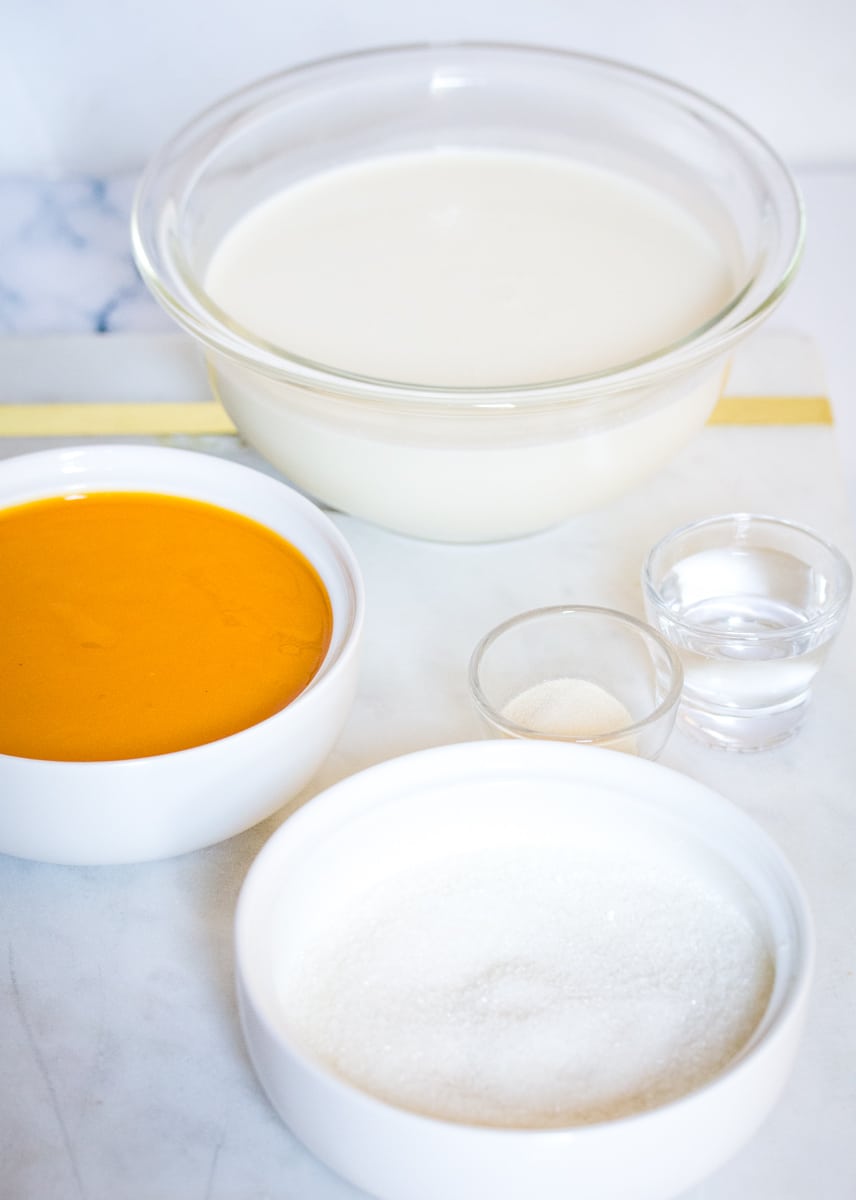 Gelatin Powder + Water: You will need to dissolve the gelatin into the water before adding it to the mousse.
Whipping cream (heavy cream): Since we will be whipping the cream to medium stiff peaks, it's important to use the right kind of heavy cream that has enough fat content.
Sugar: I use granulated sugar, but icing sugar can be used as well.
Mango Pulp: I use canned Kesar Mango Pulp but you can also use Alphonso Mango Pulp. Additionally, you can use fresh mangoes for this recipe as well, and I've added a note on how to make homemade mango pulp.
Yellow Food Color: If you want a brighter color, you can also use a few drops of yellow food coloring, as I did.
How to Make Mango Mousse (Step by Step Photos)
Make the Gelatin Mixture: Combine the gelatine and water, and mix well. Place in the microwave and heat for 15-20 seconds. Mix well to ensure the gelatine is completely dissolved. Set aside.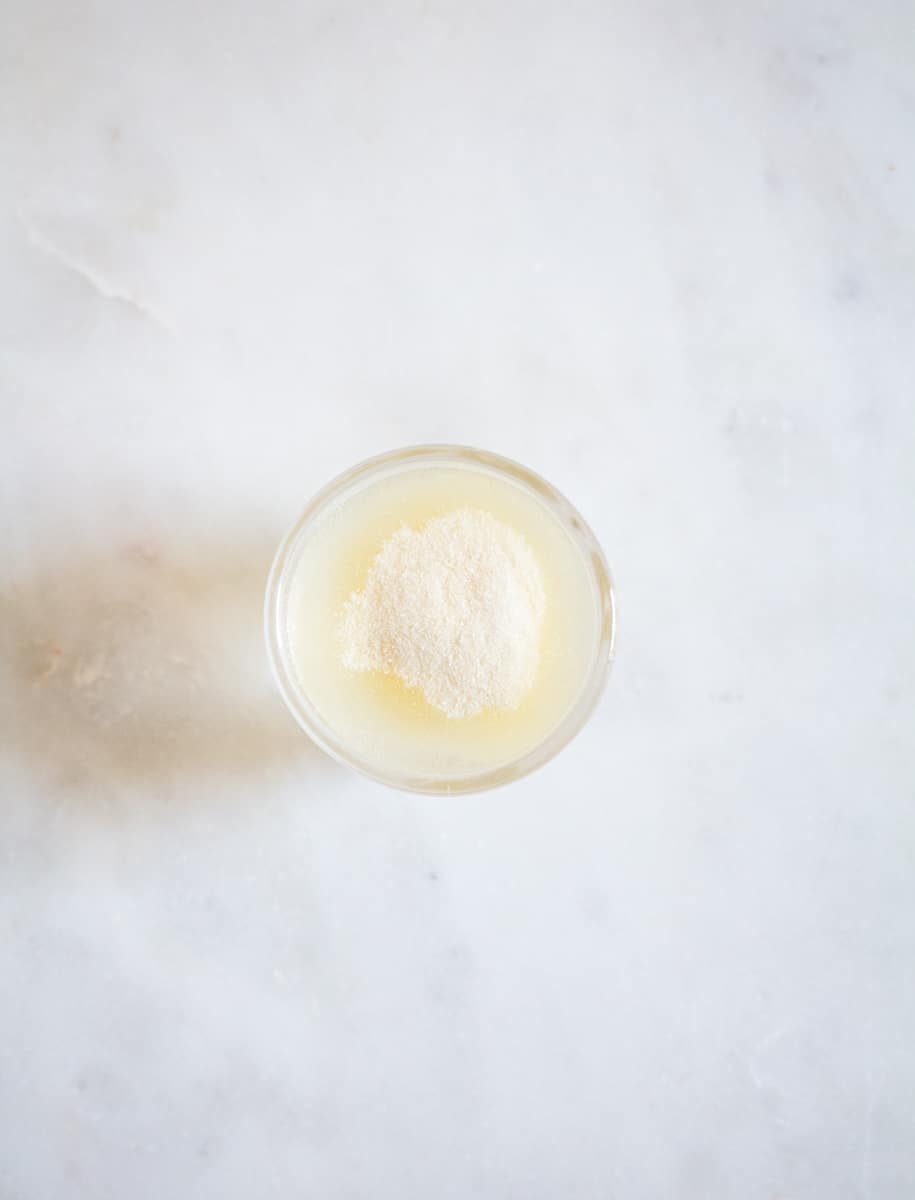 Prepare the Cream: Transfer the whipping cream to the bowl of a stand mixer (or a bowl if using a hand mixer) and whip on high for 4-6 minutes or until soft peaks form.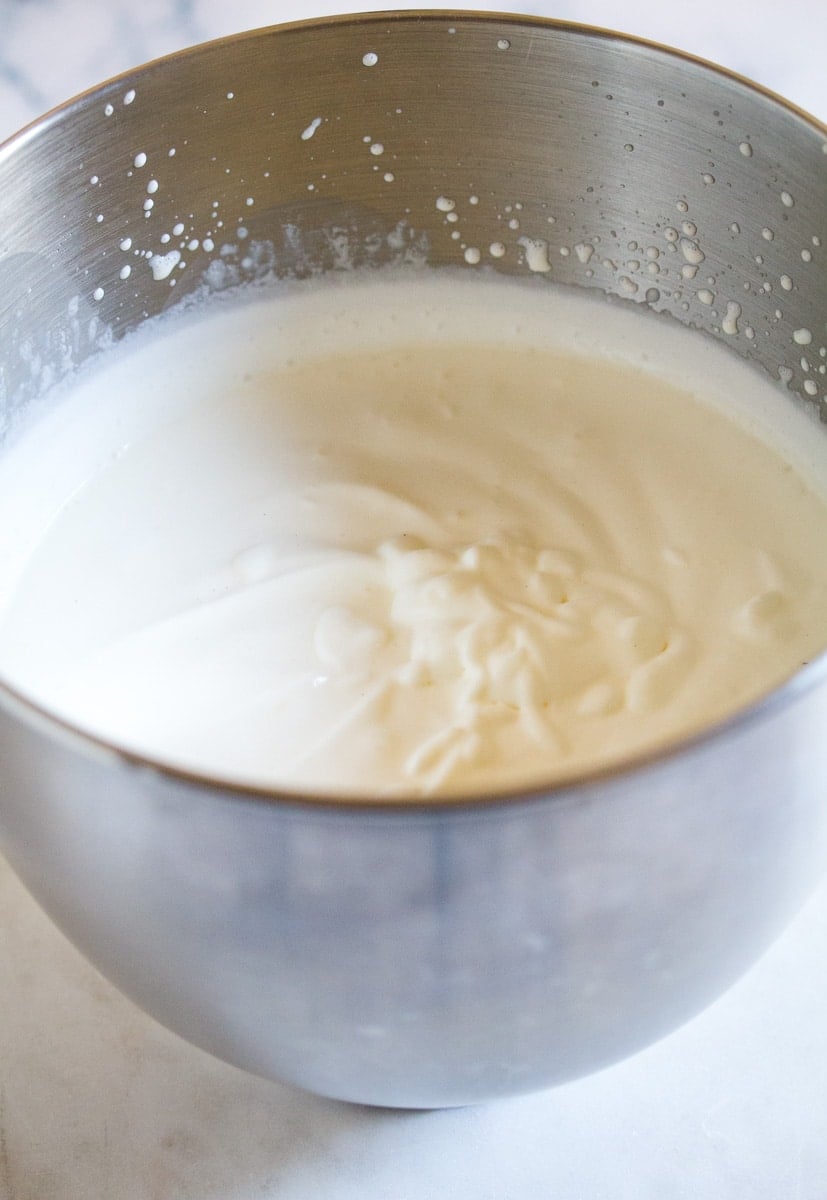 Add Sugar: After adding the sugar, whisk for an additional 3 minutes or until stiff peaks have formed.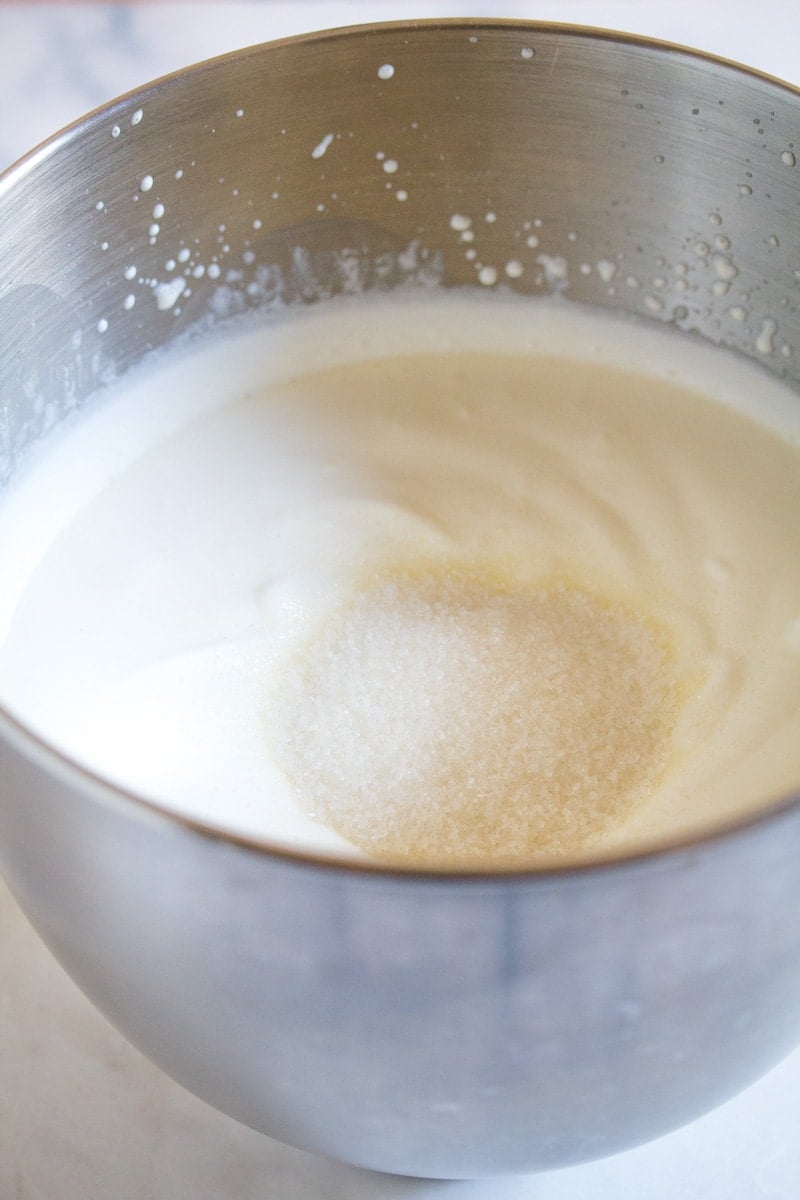 Mango Puree: Pour in the mango puree and using a spatula or wooden spoon, gently fold until combined.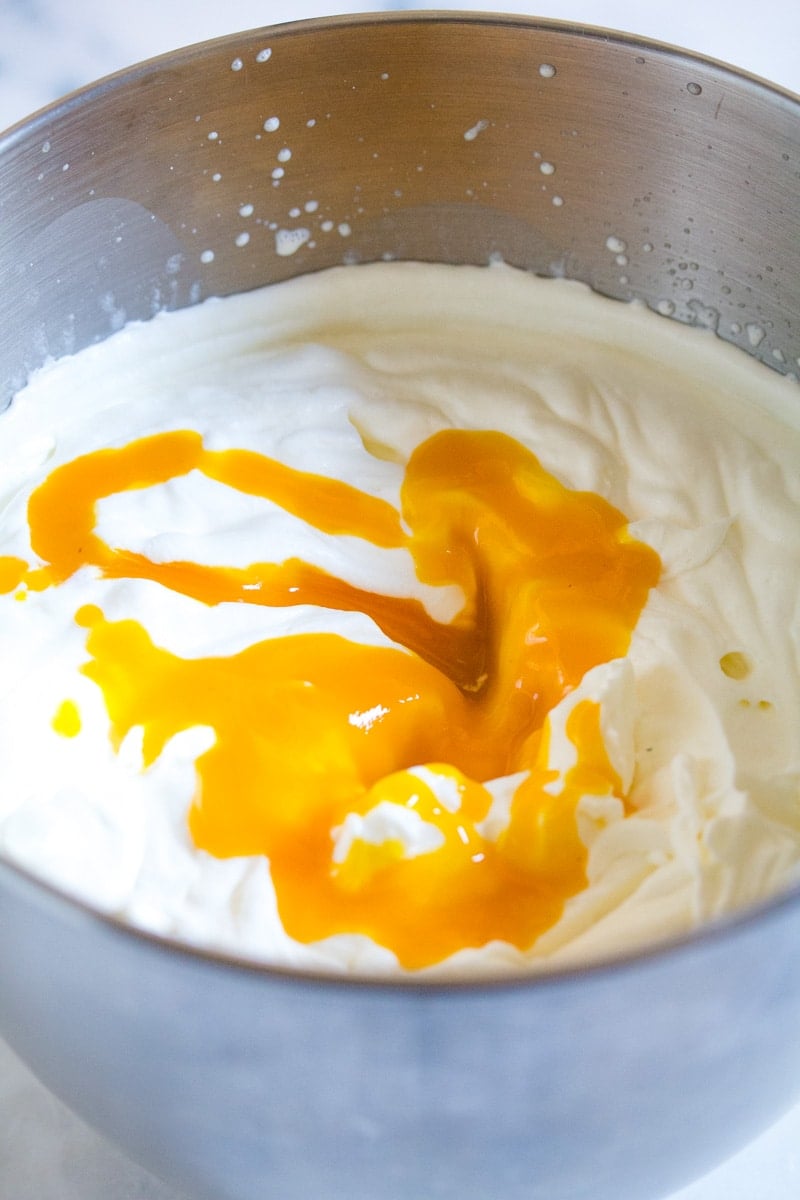 Food Color: If you want a brighter yellow, then at this point you can add a few drops of it and mix well.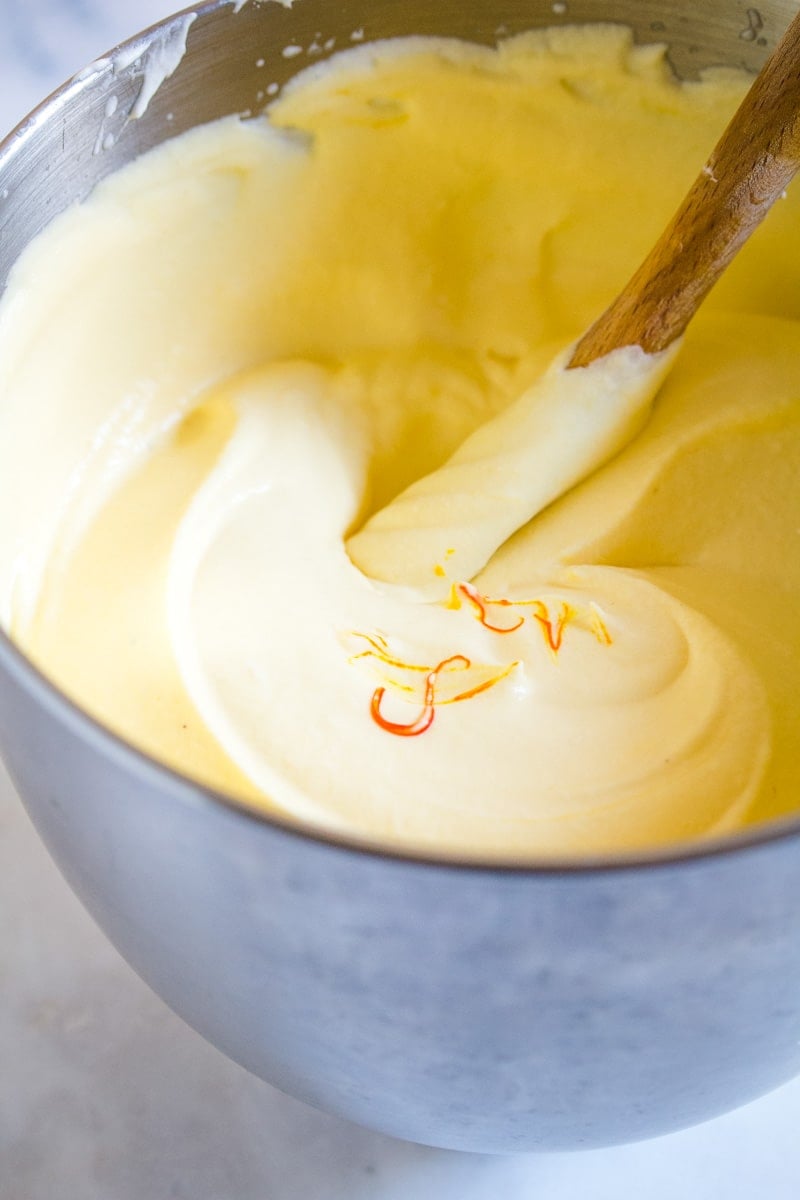 Gelatin: Finally add the gelatine mixture and combine.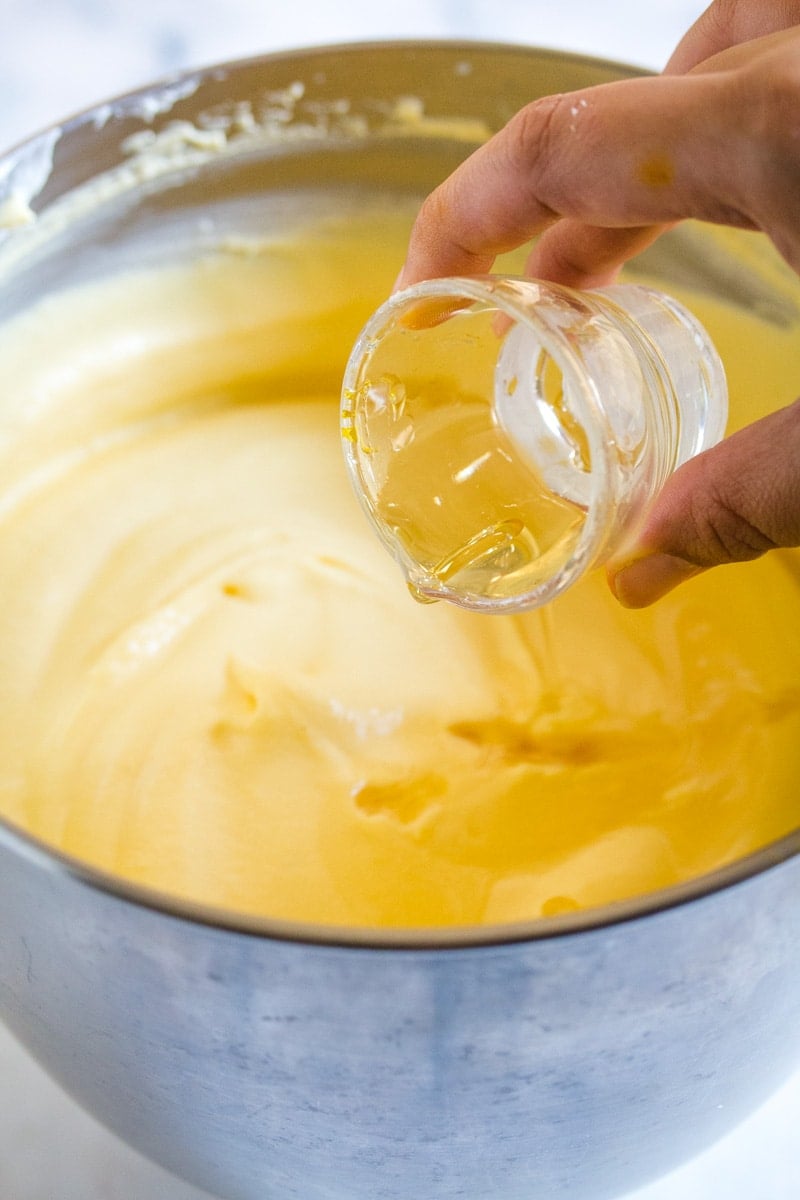 Chill: Transfer to the fridge for at least two hours or up to overnight.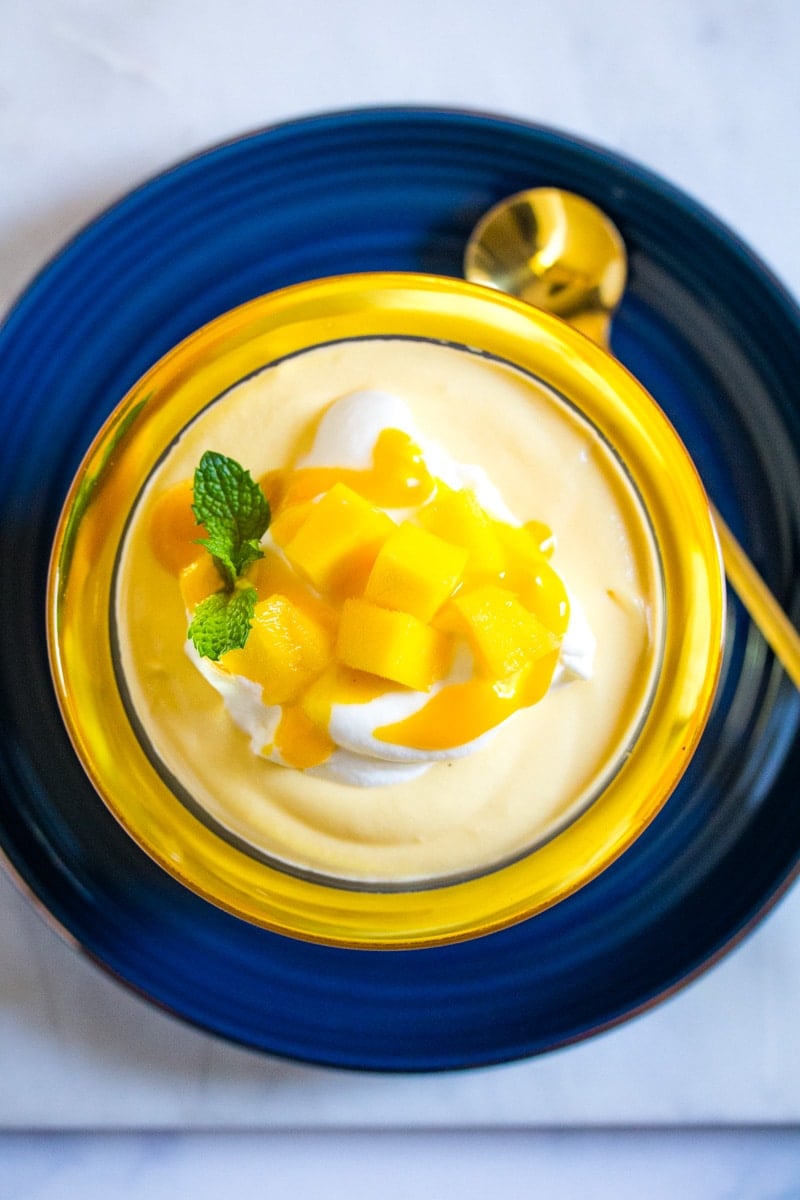 How to Serve
There are so many ways to serve this beautiful dessert. Since this is such a rich dessert, small servings of it can go a long way.
Here are some ways to serve this delicious mango mousse:
Shot Glasses: You can serve this mango mouse in shot glasses or small disposable plastic cups like I have used in the pictures. See in picture below for reference.
Family-Style: You can also serve it family-style in a bigger bowl, topped with whipped cream and chopped mango.
Cake filling: This mango mousse works perfectly as a cake filling, and can add a tropical twist to your favorite vanilla cake.
Crumble: You can also serve it with a crumble of biscuits on top. Use your favorite biscuits, crush them and mix with a little bit of melted butter. It will add a lovely texture to the mango mousse.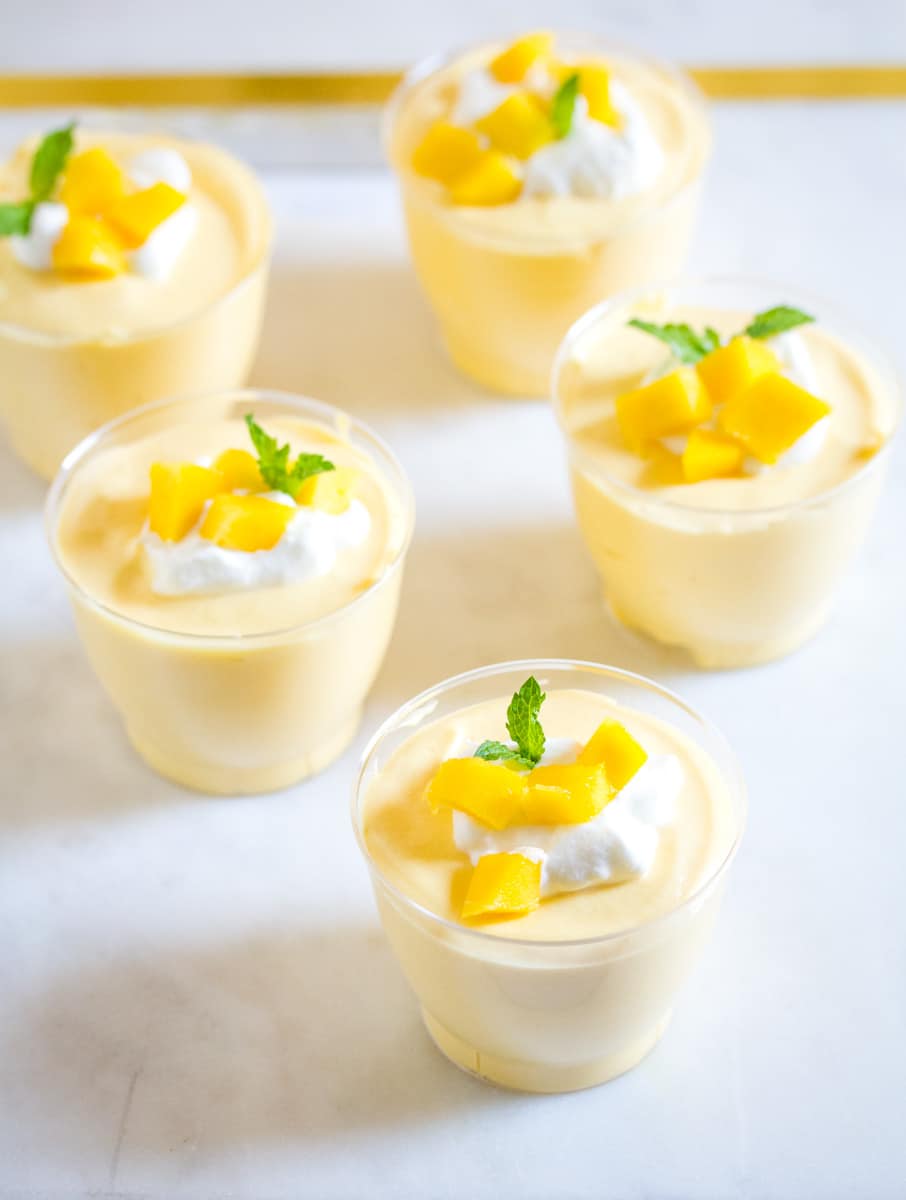 Flavor Variations
Cardamom Powder: For a traditional eastern flavor, add a bit of cardamom powder. It complements the sweetness of mango puree very well.
Vanilla Extract: Always welcome in desserts!
Saffron: For a Middle Eastern flavor use a little bit of saffron for its flavor and beautiful color.
Nuts: Top the mousse with chopped nuts such as cashews, pistachios, and almonds for a delicious crunch.
Tips & Tricks
Whipping Cream and Milk Fat Content: Choosing the right whipping cream is important here.
You can use either heavy cream which has a higher milk fat content (36%) or whipping cream which is a bit lighter with 30% milk fat.
I recommend using heavy cream as it will hold its shape better after whipping which is what we need for this mousse.
Chill your bowl and whisk attachments: Place your utensils in the fridge for 15-20 minutes and then whip the cream. It will whip up faster. Make sure your cream is cold too!
Overwhipping: Be careful to avoid over whipping as the cream will become curdled and have a grainy texture. We need to stop whisking when medium-stiff peaks have formed. The peak will form but droop slightly.
Gelatin: You can also use agar agar in place of gelatin.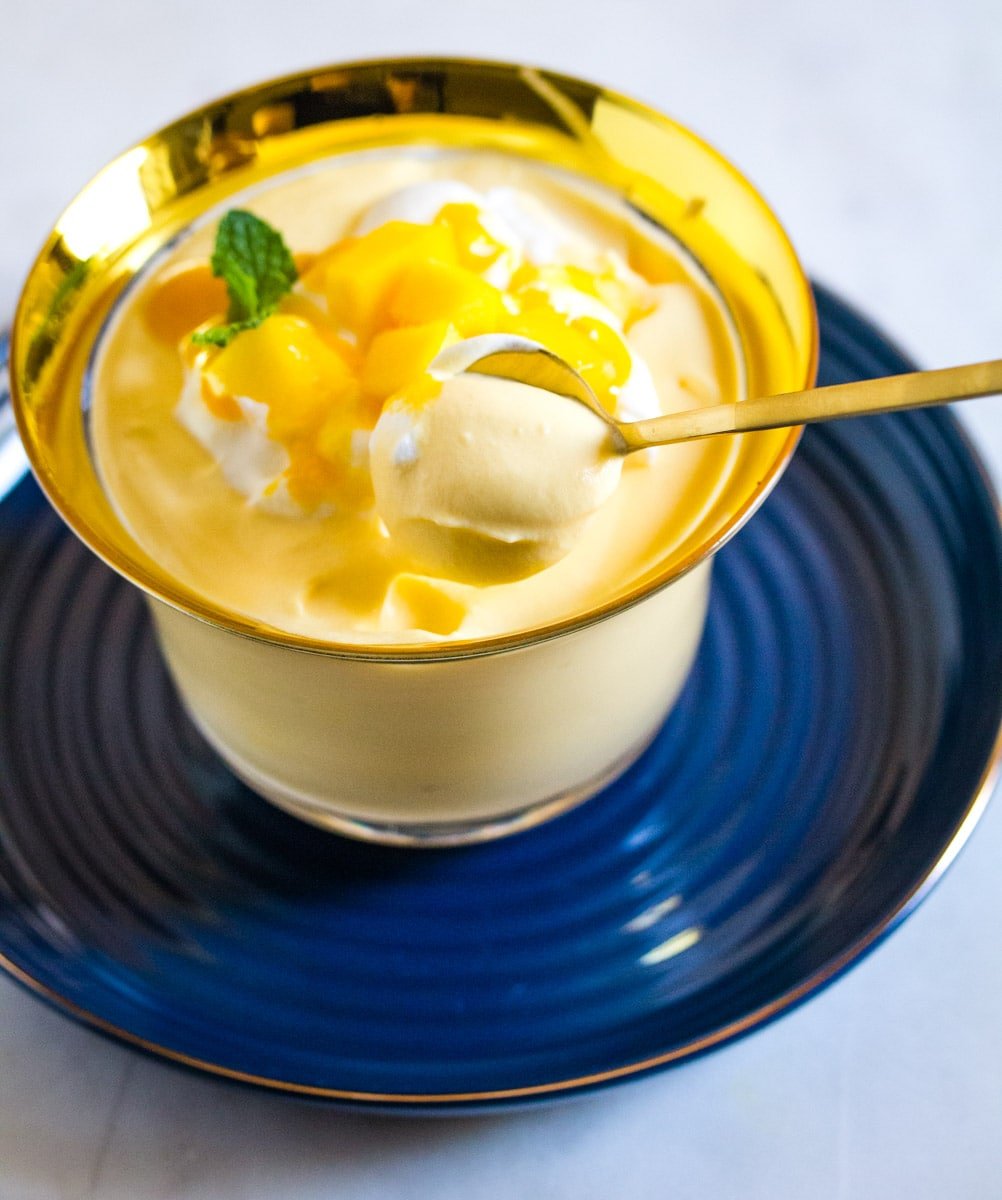 FAQs
How do you use gelatine powder?
Add the gelatine powder to water, mix well, and microwave for 15-20 seconds. Stir and use as directed in the recipe.
Do I have to use gelatine?
This mousse works great without gelatine as well. However it won't hold it's shape as well as it does with gelatine.
What is the consistency of mousse?
It has a light and fluffy texture and melts onto your tongue.
More Mango Recipes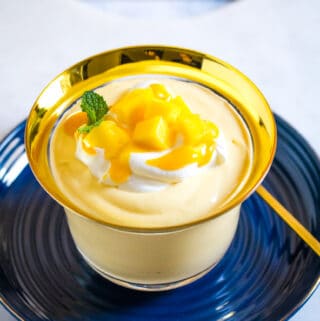 Equipment
Stand mixer or hand mixer

Mixing bowls
Ingredients
1.5

tsp

gelatin

4

tbsp

water

2

cups

heavy cream

⅓

cup

sugar

1 ½

cup

mango puree

A few drops of yellow food color

optional
Instructions
In a small bowl, combine the gelatine powder and water. Let it sit for a few minutes.

Place it in the microwave and heat for about 20 seconds. Mix well and set aside.

Whip two cups of cream till soft peaks form. This will take about 5-7 minutes.

Add the sugar, and whip on high speed for an additional 2-3 minutes until firm peaks have formed.

Now pour in the mango puree, and gently fold it in until fully combined.

Add a few drops of yellow food color if using and mix well.

Pour the prepared gelatine, and mix well until combined.

Transfer the mango mousse to a serving dish, top with extra whipped cream and chopped mango.

Refrigerate for at least 2 hours or up to overnight. Mango mousse will keep well in the fridge for up to 4-5 days.
Notes
Notes:
Gelatin: You can use agar agar or completely skip this ingredient. The texture will be slightly different but it will still be delicious. 
Heavy Cream: Use a brand with high milk fat content as it whips better and faster. 
Sugar: You can adjust the amount of sugar according to your preference. 
Mango Pulp: I used canned Kesar Mango pulp, but Alphonso is delicious too. 
Homemade Mango Pulp: Choose 3-4 ripe mangoes. Peel and chop into cubes. Blend until you have a smooth puree. Use as directed in the recipe, however you may have to adjust the amount of sugar according to the sweetness of the mangoes. 
Storage: Mango Mousse can be stored for 4-5 days in the fridge in airtight container. 
Nutrition
Calories:
228
kcal
|
Carbohydrates:
18
g
|
Protein:
2
g
|
Fat:
17
g
|
Saturated Fat:
11
g
|
Polyunsaturated Fat:
1
g
|
Monounsaturated Fat:
4
g
|
Cholesterol:
54
mg
|
Sodium:
15
mg
|
Potassium:
153
mg
|
Fiber:
1
g
|
Sugar:
17
g
|
Vitamin A:
1389
IU
|
Vitamin C:
23
mg
|
Calcium:
39
mg
|
Iron:
1
mg