Somedays you just don't want to wake up and do the day. You know, kitchen chores, cleaning up the house, deal with toddler tantrums, tasks related to work (in my case, promoting my blog and all the backend chores that come with blogging). It may be bright outside, the sky may be a bright blue, and the birds may be chirping cheerfully, but inside you there's a dark, cloudy storm brewing. You rather just stay in bed and sleep until the stormy feelings go away.
Today was one of those days for me. The moment I woke up, I wanted to go back to sleep. But being a mother, and a food blogger, I just had no choice but to do today. I had to wake up, be a mother, cook, take gorgeous pictures of food so that you come over to my blog 😉 and fold the laundry, and make the bed, and, sigh so many other mundane chores. You know the drill.
Such a dreary start to the day called for a bright cheery smoothie like this Peach Mango Sunshine Smoothie. This is such an easy, and perfect way to start the day. One sip of this and it brightens you up from in the inside. The dark, stormy feelings fly away, and you feel a glow from within yourself. Okay, that's a bit dramatic no? Okay, okay, it's not that dramatic but it really does cheer you up!
So go ahead, make this Peach Mango Sunshine Smoothie if you need a bit of sunshine in your life.
Mango Peach Sunshine Smoothie
This refreshing Mango Peach Sunshine Smoothie is the perfect healthy way to start your summer days!
Print
Pin
Rate
Ingredients
1

mango

peeled and chopped

4-5

small peaches

chopped

Juice of one medium orange

1/2

cup

yogurt

1/2

milk

Sugar to taste
Instructions
Place all the ingredients in a blender and blend until smooth.

Add sugar if you want more sweetness.

Serve immediately.
Need more refreshing drinks in your life? Here you go: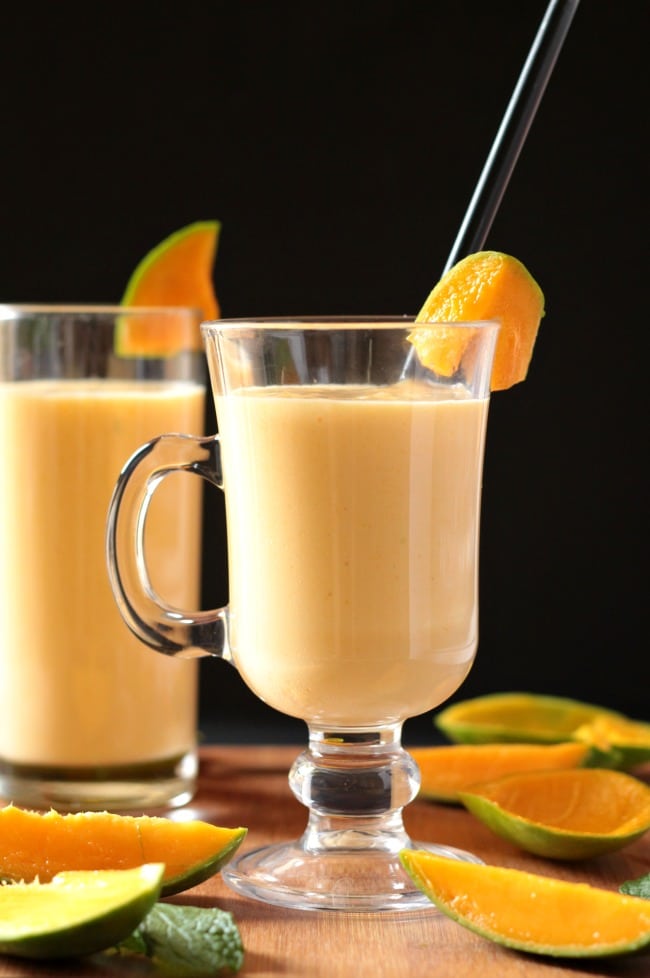 Easy & Creamy Cold Coffee with Ice Cream