Hi everyone! Today I have a rainbow in edible form for you aka Honey Pineapple Rainbow Fruit Salad. And just how pretty is this salad? 😀
My 3 year old daughter loves everything rainbow these days. Examples of rainbow things she likes these days below:
A rainbow striped frock.
Rainbow stickers.
Rainbow lollipops.
And this Honey Pineapple Rainbow Fruit Salad.
And the list of rainbow stuff goes on.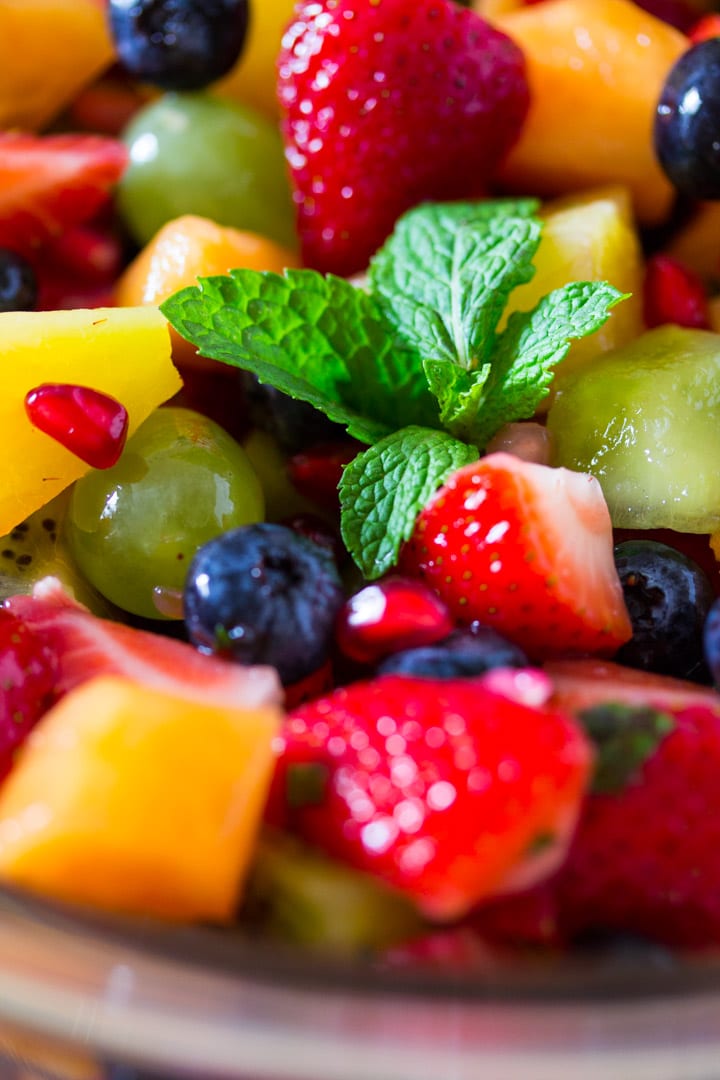 She also sings Let It Go all day long. But that's neither here, or there.
This honey pineapple rainbow fruit salad is perfect to welcome in the spring, and also refreshingly delicious and cool for the long summer days ahead. And it's so simple too! And versatile, as you can change up the fruit per your choice.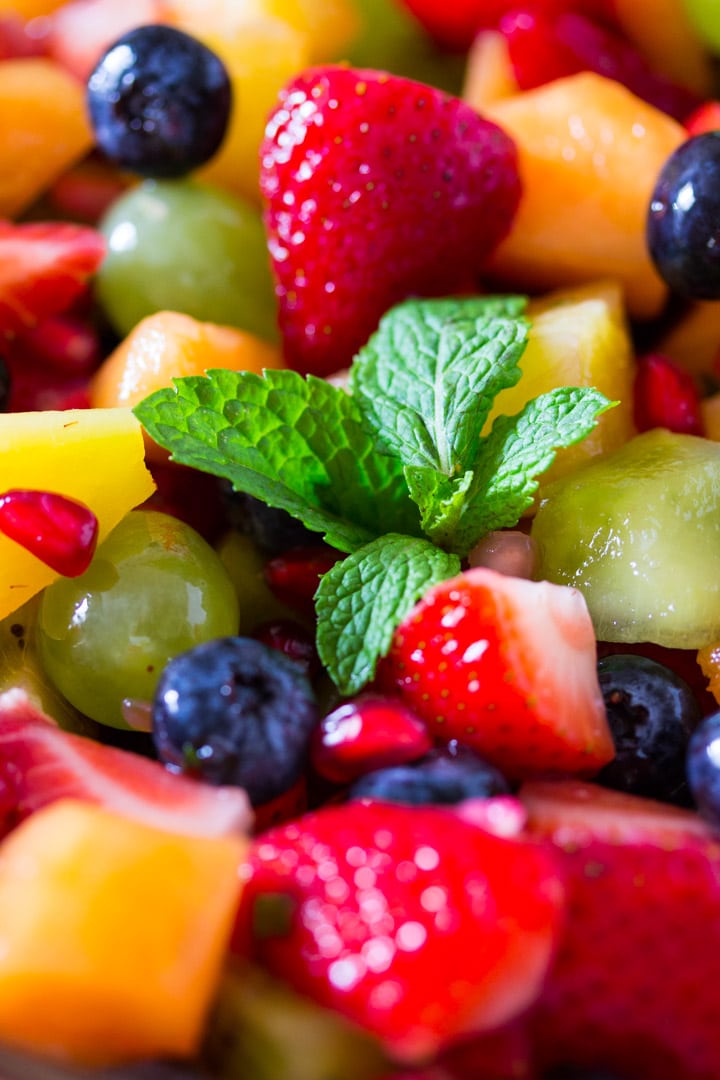 So…I have a confession to make. I'm not really a fruit person. Like, if you offer me chocolate or a piece of fruit, I will always, always go for the chocolate. Because chocolate is love.
But lately, I've been trying to add more fruit to my diet. And this honey pineapple rainbow fruit salad has quickly become my favorite way to eat lots of fresh and delicious fruit all together. And it's so pretty too!
While my love for chocolate will never die, with this salad, I'm happy enough to add more fruit to my diet. Speaking of fruit and chocolate, can I make another confession? I really do not like combining fruit and chocolate together. So like chocolate orange or strawberry chocolate desserts simply do not work for me. Please, let's keep the two apart, okay? Thank you. Lol. :p
Okay so let's talk about the recipe itself. Which isn't really a recipe. Because this is the kind of fruit salad, where you can do whatever you want. It's your life, after all.
I've seen a lot of fruit salad recipes that call for an orange honey dressing, and while I'm sure that's equally delicious, I wanted to do something differently.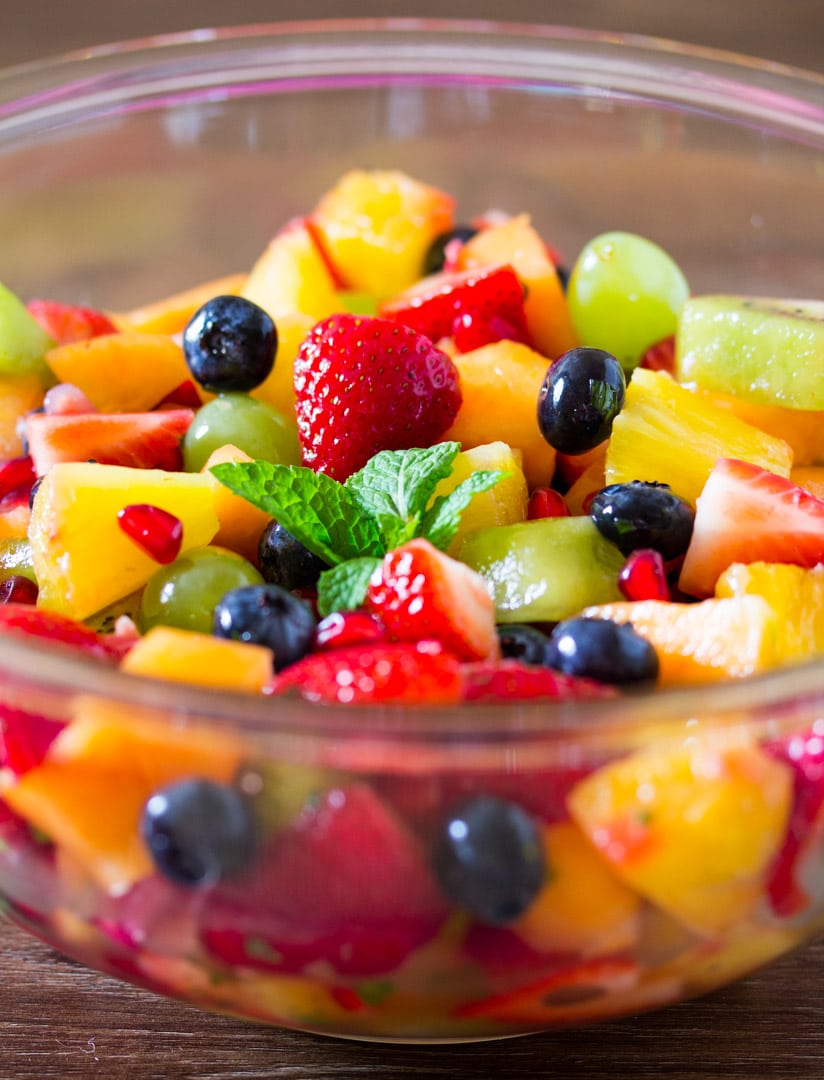 And so I added pineapple juice instead of orange juice, and let me tell you – the pineapple juice makes a huge difference to the salad.
In the video above, it may seem like I've added too much pineapple juice for a fruit salad, but seriously it makes the fruit salad so juicy you won't be able to stop eating it. The honey adds a little sweetness, the lime adds a fresh kick of brightness and the chopped mint adds a subtle but fresh flavor to the salad.
Now, I've always found adding mint to desserts / sweet stuff, a bit weird. But it really works here. So if you like mint, don't skip it!
The measurements below in the recipe card are just approximate, and it really doesn't make a difference if you don't follow the recipe to a T. It will still turn out delicious.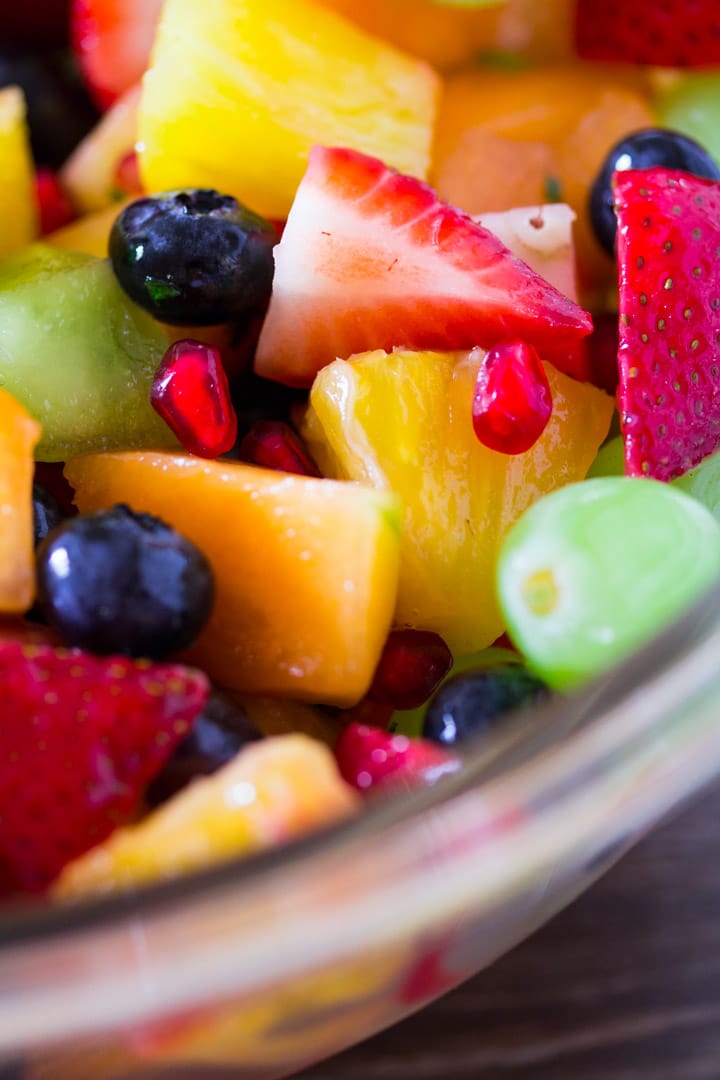 I know how I'm going to be eating fruit all summer long, what about you?

Enjoy! 🙂
Honey Pineapple Rainbow Fruit Salad
Honey Pineapple Rainbow Fruit Salad is the perfect refreshing and delicious way to enjoy fruit. Perfect for breakfast, a mid afternoon snack or even a light dessert!
Ingredients
1/2

cup

pineapple juice

1

tablespoon

honey

1

tablespoon

freshly squeezed lime juice

A handful of freshly chopped mint

500

grams

strawberries

hulled and quartered

2

kiwis

peeled and cut into chunks

1/2

fresh pineapple

sliced and cut into chunks

1/2

honeydew melon

sliced and cut into chunks

1/2

cup

grapes

1/2

cup

blueberries

1/2

cup

pomegranate seeds
Instructions
In a mixing bowl, whisk together the pineapple juice, honey, lime juice and freshly chopped mint.

Add all of the fruit to the mixing bowl, and gently toss together until the the dressing coats all of the fruit nicely.

Serve immediately.