Okay so the chocolate addict in me is back. If you've been reading my blog for awhile, you must know that I love chocolate a little too much. Also that I love to stuff my desserts with Nutella such as these Nutella sutffed cookies and Lindt chocolate (click here to read about when I stuffed a chocolate mug cake with Lindt chocolate and was a very happy chocolate addict) because there's no such thing as too much chocolate in my opinion. The more, the merrier. These Chewy Coconut Stuffed Brownies are also an example of my obsession with chocolate stuffed desserts.
And boy, are these good or what? I almost want to pat myself on the back for such a brilliant yet easy idea, but I'm very humble as you all know. Lol. But I know you'll want to pat me on the back for these brownies because they're so very delicious.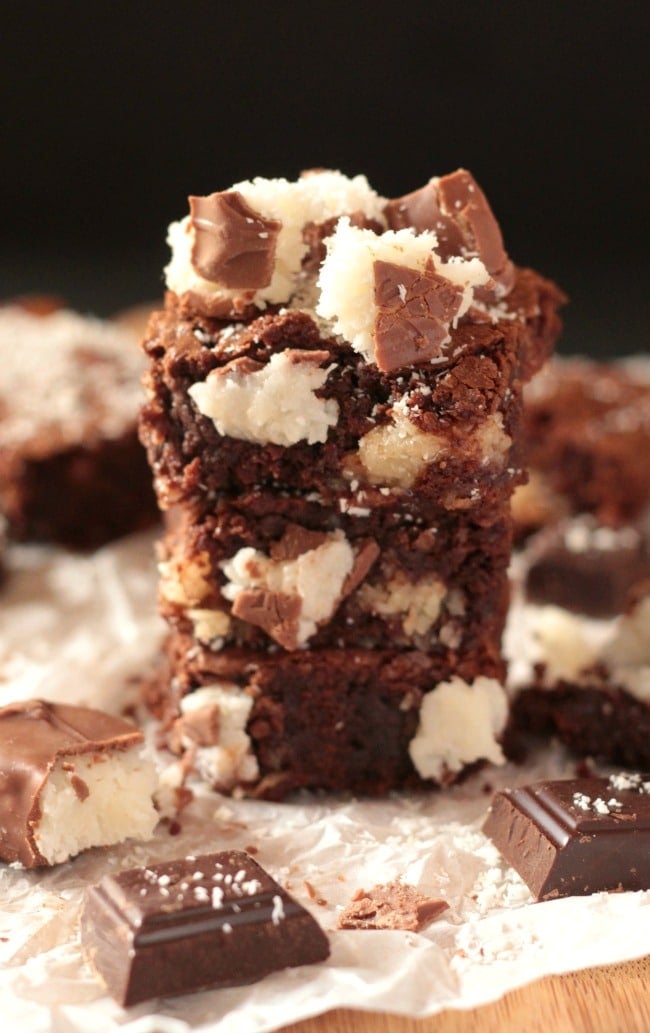 Just in case you're worried that this seems like a difficult/too much effort recipe for just a piece of chocolatey heaven, here's a breakdown for exactly easy this recipe is:
1.) Since these are brownies, there's no mixer needed required because basically there's no creaming of sugar and butter required for brownies. Yay!
2.) All you need to do is get very good quality chocolate (I used 52% cocoa content) and melt it with butter in a saucepan. You can even do this in the microwave in 5 second bursts, stirring the chocolatey butter mixture between each 5 seconds of heating. And when you'll see the luscious, glossy melted chocolate you'll know that something good is about to happen.
3.) Then go in two kinds of sugar: Granulated sugar for it's sweetness, and brown sugar to provide depth of flavor and moistness. Then come in the eggs to add even more moistness to the brownies, and we end by adding some vanilla extract, flour and salt.
4.) Chop the Bounty chocolate bars. Yes, that's what we're using for the coconut factor in the recipe. It's okay to pop in a few pieces, I know they're hard to resist. Then it's time to pour half the batter into a parchment lined pan, and scatter pieces of the chopped Bounty chocolate bars. Cover with remaining batter, and bake.
5.) Take a bite of the brownies and thank God for the beautiful thing chocolate is.
Honestly, these are one of the best brownies I've ever had. And I don't joke about chocolate, never ever. Because chocolate is serious business for me. Seriously.
I hope you do try these brownies because they're so easy and so delicious. And they'll be gone before you even know!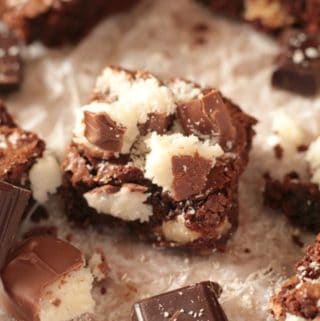 Coconut Stuffed Fudge Brownies
These fudgy, decadent brownies are stuffed with Bounty coconut candy bars, and are so very delicious. Perfect for when you want to indulge in a full on chocolate treat.
Print
Pin
Rate
Ingredients
1/2

cup

unsalted butter

8

ounces

228 g, roughly chopped semi-sweet chocolate (I used 52% cocoa chocolate)

3/4

cup

granulated sugar

1/4

cup

packed light brown sugar

3

large eggs

1

teaspoon

vanilla extract

1/2

cup

+ 2 tablespoons all-purpose flour

1/4

teaspoon

salt

8

Bounty chocolate bars

chopped roughly

Extra Bounty chocolate bars for garnish

optional
Instructions
Preheat the oven to 350 F (176 C) and line a 9X9 inch baking pan with parchment paper, letting some overhang so that the brownies are easy to lift out of the pan after baked. Set aside.

In a medium sauce pan melt the butter and chocolate on medium low heat. Keep stirring until the chocolate has fully melted. Take off heat, and let cool for about 5-10 minutes. Alternatively you can melt the chocolate and butter together in a microwave safe bowl in 5 second bursts of heating, stirring between each 5 seconds of heating.

Stir in the granulated sugar and brown sugar until combine. Add one egg at a time, whisking in each before adding the next egg. Whisk in the vanilla extract.

Fold in the flour and salt. Gently stir until just combined. Do not over mix.

Pour half of the batter into the parchment lined baking pan, and then scatter the roughly chopped pieces of Bounty chocolate bars onto the batter. Pour over the remaining batter, making sure it is evenly spread.

Bake in oven for 35-36 minutes until a toothpick inserted comes out clean. Let cool completely, and then lift the brownies out of the pan. To get clean cuts, use a sharp knife and wipe it clean after each cut.
Looking for more delicious desserts?
Ooey Gooey Nutella Stuffed Cookies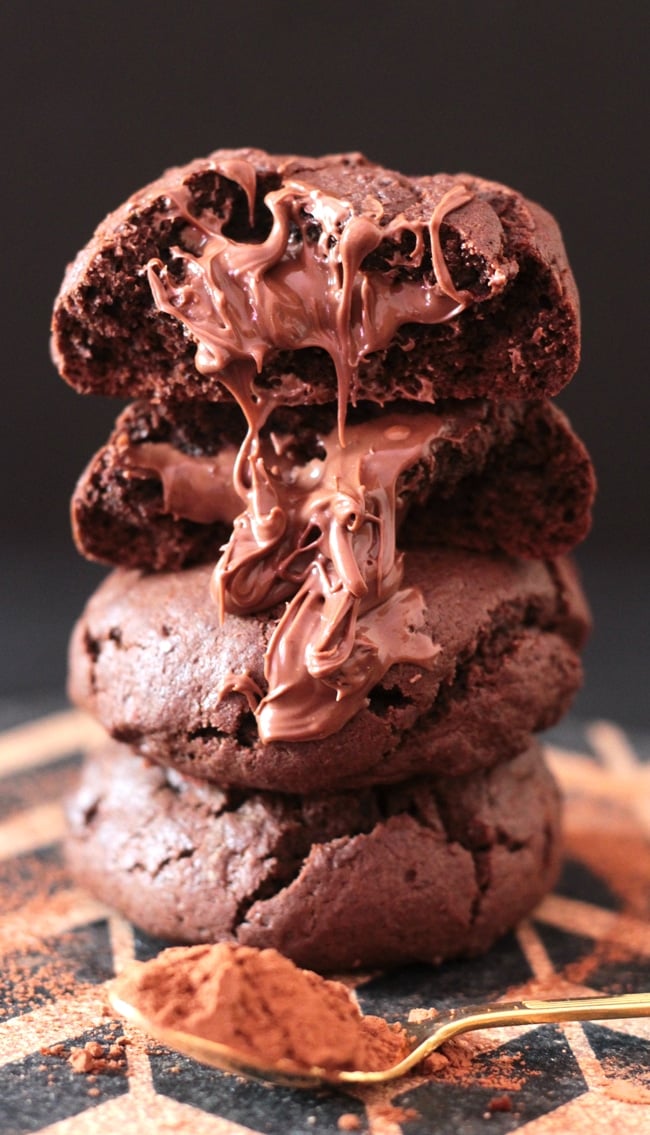 Hershey's Kisses Chocolate Stuffed Pancakes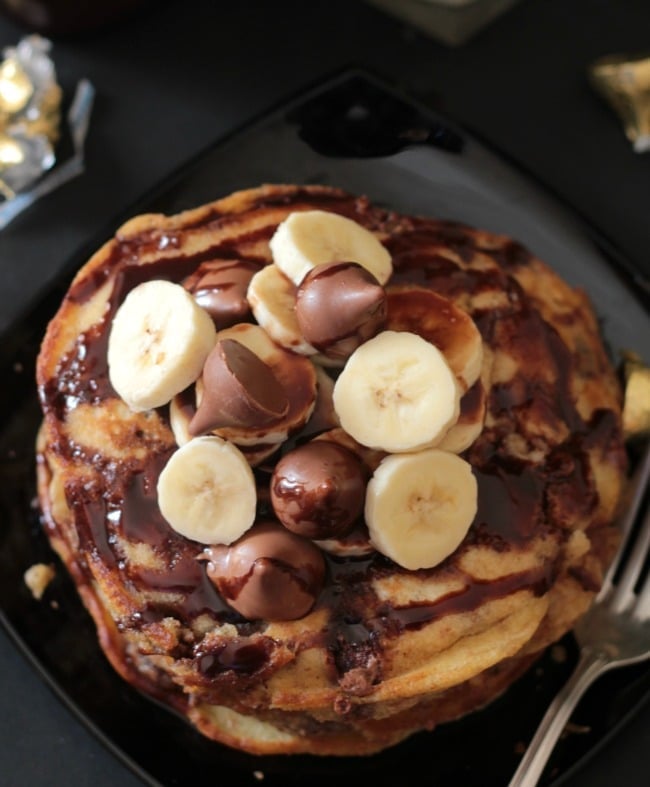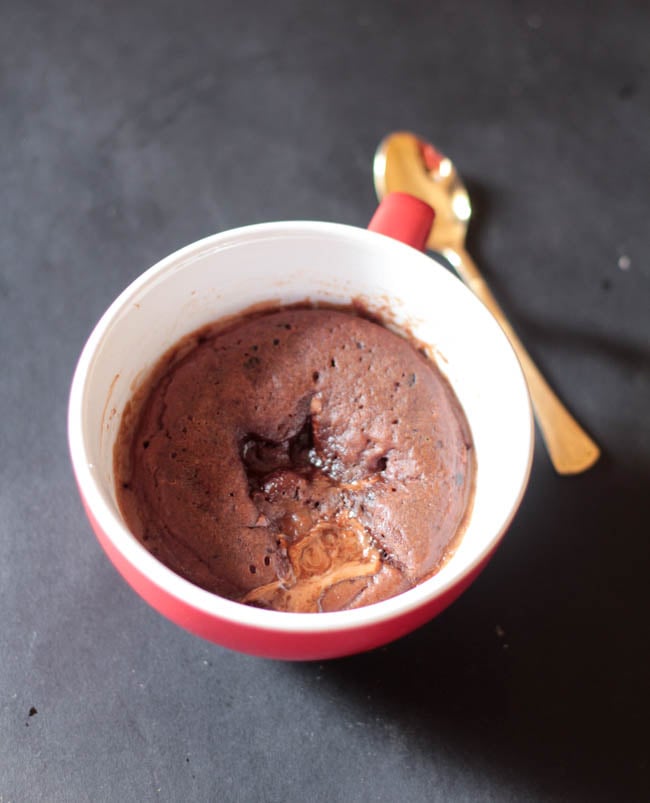 Ferrero Rocher Stuffed Chocolate Cupcakes with Chocolate Ganache Frosting