Say hello to the ultimate, cheesiest and yummiest way to eat potatoes - the best friend to your juicy roast leg of lamb or a golden, crispy skin chicken roast. I proudly present to you, this Rosemary & Cheddar Cheese Potato Gratin.
This rosemary and cheddar cheese potato gratin is the perfect side dish, and it's extremely easy and fast to make.
It's lusciously creamy, flavored with dried rosemary and a subtle hint of garlic, and lots of ooey gooey meltingly golden cheddar cheese.
It might not be the prettiest dish on earth, and might slightly look messy with the bubbling hot cheese and cream, but it sure is one of the best tasting dishes I've tried in a long time.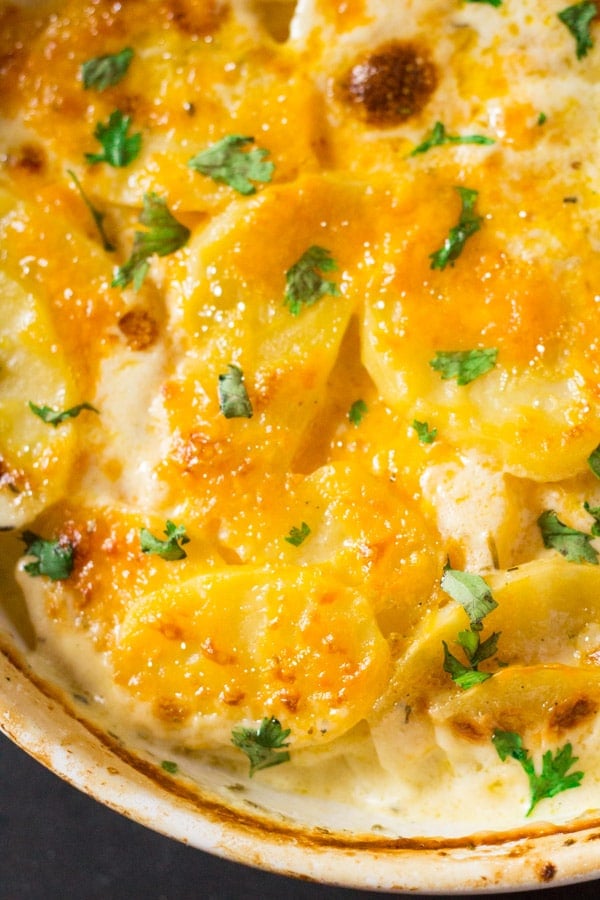 I've wanted to post a potato gratin recipe for awhile on the blog now, but I was waiting for fall to come. When I think of cooler days, the first thing that comes to mind is comfort food, and this potato gratin is the epitome of comfort food.
Now this is quite an indulgent dish, with lots of cream and potatoes and cheese, so I would suggest making this for when you're having friends and family over for dinner.
The good thing about this rosemary & cheddar cheese potato gratin is that it can be made ahead of time, and reheated easily in the oven.
So if you're cooking for a big gathering, you can make this a day ahead and then reheat it right before serving.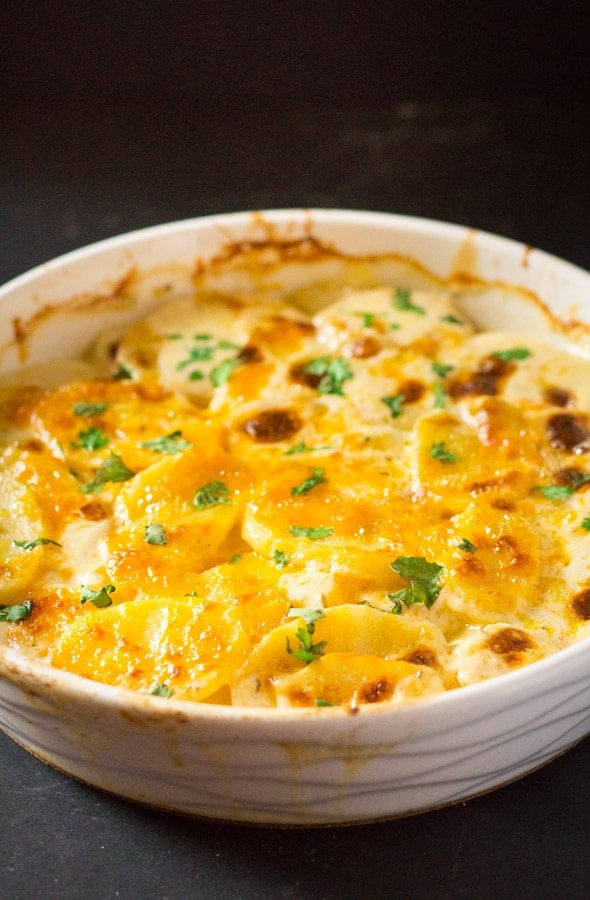 This Rosemary & Cheddar Cheese Potato Gratin is crazy delicious, and one of those recipes that you'll want to make again and again, because:
A.) It's so easy to make, only takes 15 minutes to prepare!
B.) It's mind blowingly delicious! It's potatoes after all. 😉
Fair warning though, before I leave with you recipe: Don't blame me if you become addicted to this potato gratin and crave the creamy carbiliciousness that it is ALL.THE.TIME. during winter this year.
Just thought I'd leave you with this disclaimer. Lol. 😛
Looking for more delicious sides?
Mozzarella Cheese Stuffed Mashed Potato Balls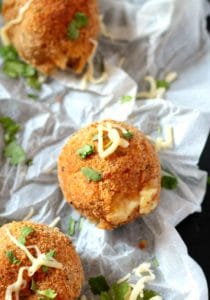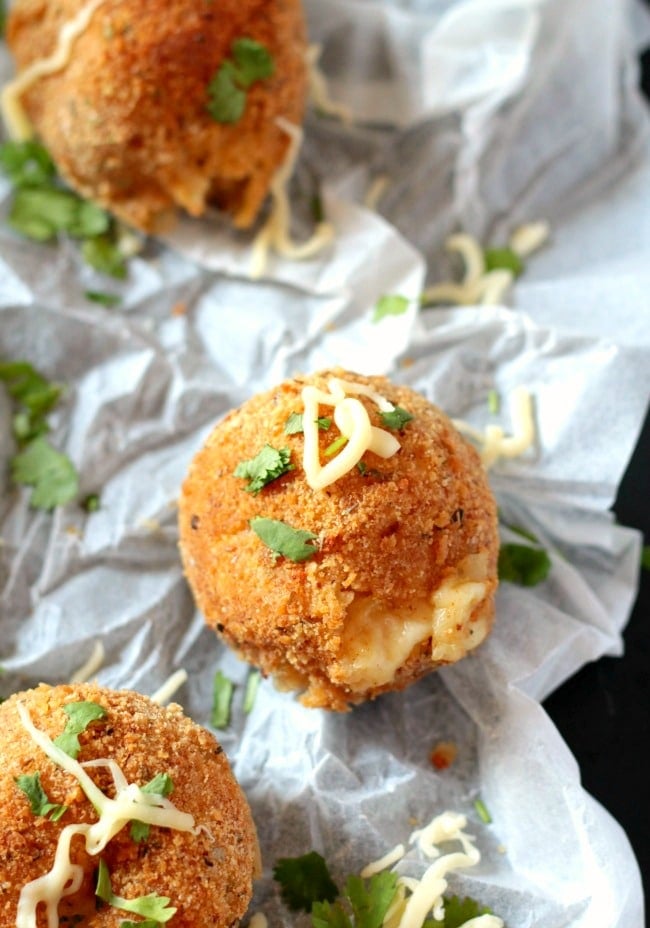 Smashed Potatoes with Garlic Mayo Sauce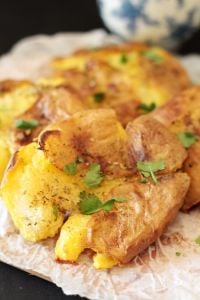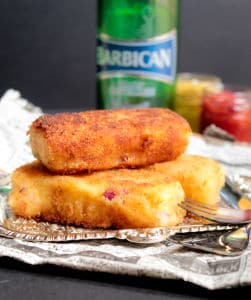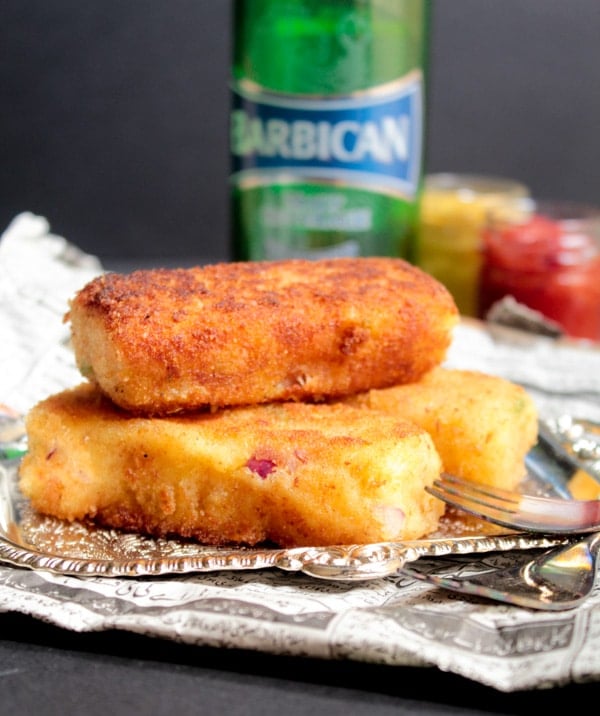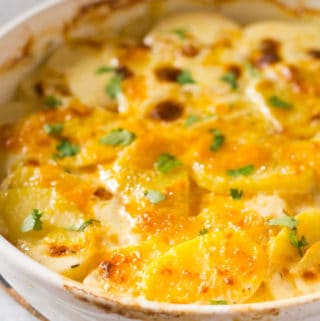 Ingredients
2

lb

/1 kg starchy potatoes

1/2

clove

unpeeled garlic

4

tablespoons

butter

1

teaspoon

salt

1/8

teaspoon

pepper

1 1/2

cups

grated cheddar cheese

1 1/2

cups

cream

1/2

teaspoon

dried rosemary
Instructions
Preheat oven to 350 F/180 C.

Rub a baking 9 inch/23 cm dish with the garlic clove, and then smear with 1 tablespoon of butter.

Peel the potatoes and slice them thinly about 1/8 inch or 3 mm thick. Using a potato slicer will make this job easier, but this can be done by hand as well. Just make sure the potatoes are sliced thinly and about the same thickness. Set aside the sliced potatoes.

Mix the salt, pepper, rosemary and cream together.

Now spread a layer of the potatoes on the baking dish, and pour 1/3 of this cream mixture on top of the potatoes. Add 1 tablespoon of butter and then scatter with 1/3 of the cheese. Repeat this for the 2nd and 3rd layer, and finally top with cheese.

Cover with foil, and bake for 40 to 45 minutes. Remove the foil and bake for another 10-15 minutes until the potatoes are cooked through and are fork tender and the cheese is golden and bubbly.

Rest for 10 minutes before serving.