Happy Friday everyone! I have an easy peasy treat for you today...whether you want to have these Easy Oatmeal Blackberry Jam Bars for breakfast (I highly suggest as breakfast with a steaming hot mug of coffee) or as a snack...that's totally up to you.
While a bowl of warm oatmeal sprinkled with maybe some cinnamon in the morning sounds like the perfect breakfast on a cold winter's morning, sometimes it can get bit boring.
So here's a nice recipe to switch up things, and still have your oatmeal for breakfast.
I love all the recipes on this blog, but this recipe for Easy Oatmeal Blackberry Jam Bars is a special one for me today...because...*drum roll* please... it's also the first post with a recipe video!
Now I would like to make a disclaimer here, before you scroll down to watch the video...and the disclaimer is that since this is my first video it's not perfect and not all Hollywood...but the recipe is perfect, so no worries there!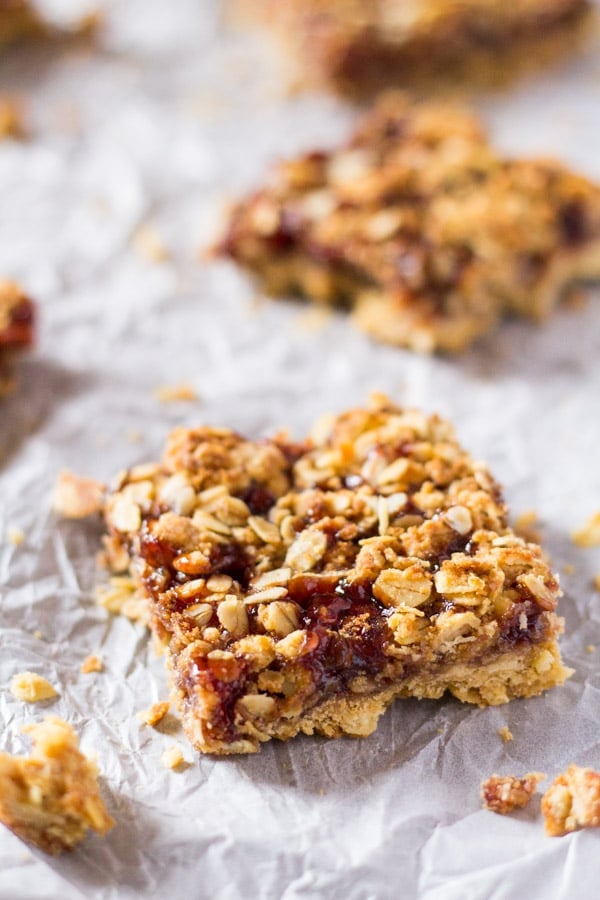 It's safe to say that making the recipe video with a toddler at your heels is an interesting experience. Let's just say there were a few stolen berries, and some oats spillage. But all in all it was fun! 🙂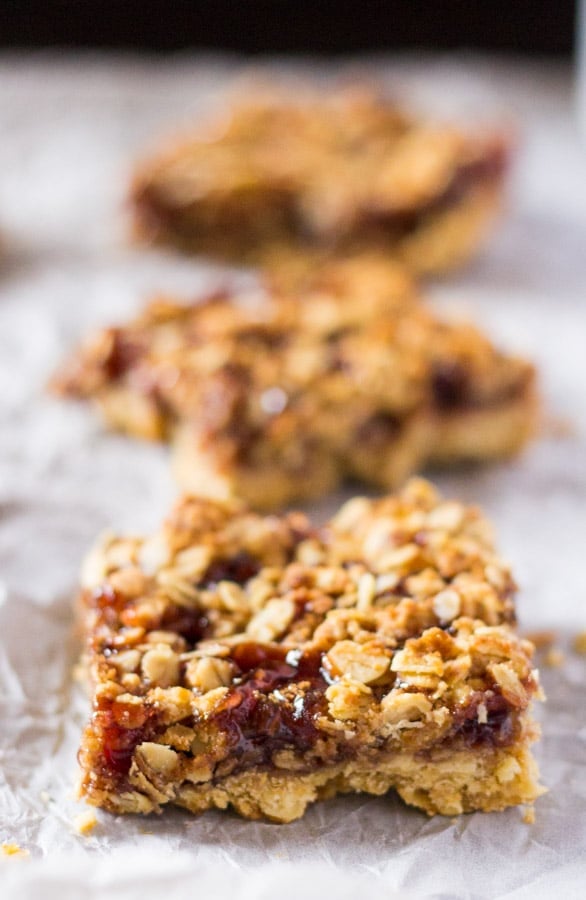 Okay now let's come to some basics of these Easy Oatmeal Blackberry Jam Bars...not that there are many because these are just so simple to whip up!
There's just one oat mixture used for the base of the bars and also as a crumbly topping for the bars. Don't you just love that?
I generally don't like recipes which have too many different layers because that usually means several dirty bowls which also means lots of dish washing to do and nobody really wants extra dishes to wash up right? Never, ever!
And what's better is that the oat mixture is made in just one bowl, and doesn't require a mixer. All you do is mix a handful of pantry ingredients and then press some of the oatmeal mixture into the baking pan as a base and then you just spread the jam and crumble over the remaining oatmeal mixture and bake.
The End.
That's the happiest ever recipe story, no? Oh wait that's not the end. The end is that first blissful bite you take of...there'll be the soft chewy oatmeal base, followed by sweet tangy jam and then the crumbly topping.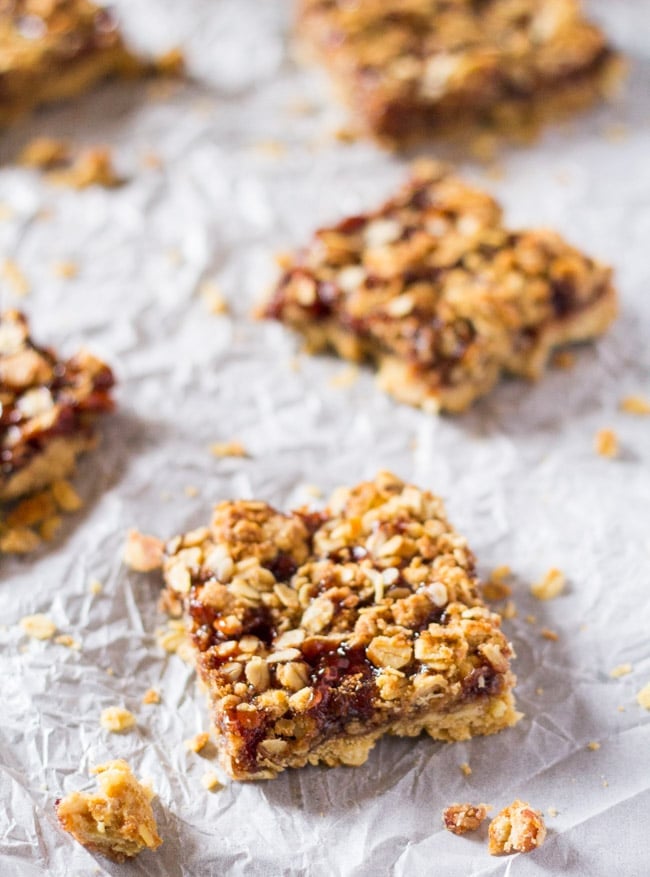 Mmmm, breakfast just got a whole lot better, right? Easy Oatmeal Blackberry Jam Bars for the win! 🙂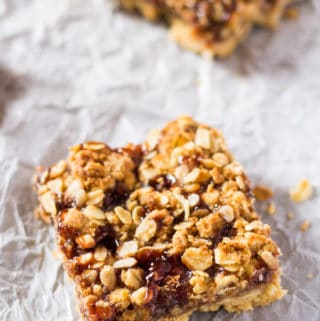 Easy Oatmeal Blackberry Jam Bars
These are the easiest oatmeal blackberry jam bars ever! No mixer required, only one bowl and a handful of simple pantry ingredients are combined to make the most delicious bars ever.
Print
Pin
Rate
Ingredients
125

grams

unsalted butter

melted

1 1/2

cups

all purpose flour

1 1/2

cups

traditional rolled oats

do not use instant or steel cut oats

1/2

cup

brown sugar

1/2

teaspoon

baking powder

Pinch

of salt

1

egg

1

cup

blackberry jam

or any other flavor of your choice
Instructions
Preheat oven to 180C/350 F

Prepare a 9 inch baking pan by spraying it with oil and then lining it with parchment paper with an overhang so that it's easy to lift out of the baking pan after baking.

Combine the butter, all purpose flour, oats, brown sugar, baking powder and baking powder and mix until you can no longer see the flour. Add the egg and mix until fully combined.

Place about 2 1/2 cups of the oat mixture and press it into the baking pan making sure it's evenly spread. Spread the jam in an even layer on top of the oat mixture base.

Crumble the remaining oat mixture with your hands and spread it evenly to cover the jam.

Place in oven and bake for about 40-45 minutes until the top is golden brown. Remove from the oven and allow to cool to room temperature before removing from the pan.

Cut into squares and serve at room temperature.

These oatmeal bars can be store in airtight container.