Saffron Tea is a soothing, soul-warming beverage made with saffron, honey, lemon, and ginger. It's an easy tea recipe that is ready in under 10 minutes.
Some more recipes: Saffron Milk Cake, Orange Peel Tea, and Shahi Tukda.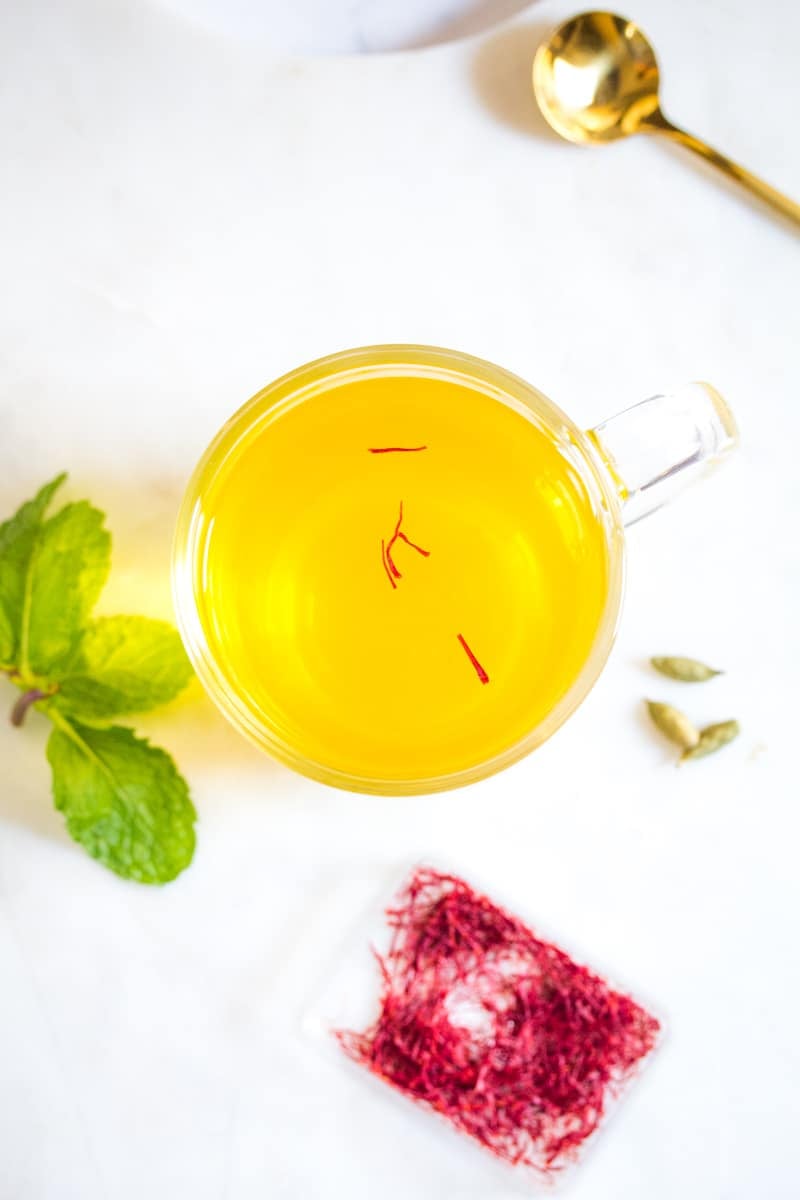 Jump to:
What is Saffron?
It is a spice extracted from the flower of Crocus sativus, commonly known as the saffron crocus. It is used to flavor and give color to different foods and drinks. (Source: Wikipedia).
This vibrant red spice has a heady and robust aroma, and a little goes a long way. It is mainly used in Middle Eastern recipes, such as Baklava and Persian Rice.
It is primarily cultivated in Iran, Spain, and France. (Source: Britannica).
Saffron is one of the most expensive spices in the world, due to it being a labor-intensive crop, as the stigmas are hand-picked from each flower, and then laid out on trays and dried. (Source: Britannica).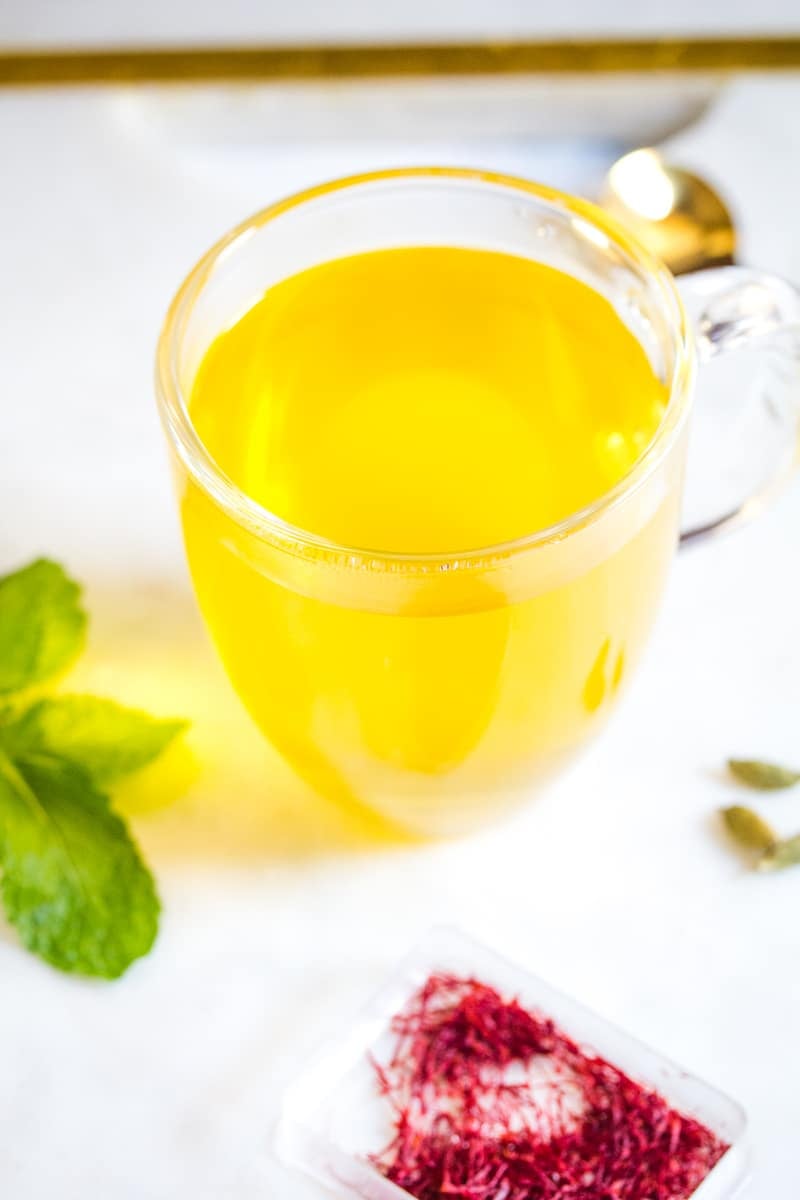 Why You'll Love this Recipe
Caffeine Free: This is a caffeine-free beverage, which is soothing and soul-warming, with many health benefits. I love having a warm cup of it on cold winter evenings.
Customizable: You can add your own flavorings to this recipe such as black pepper and dried rose petals. You can also use milk instead of water, to make it milk based.
Ready in just under 10 minutes: This is a straightforward drink to make, and takes only a few minutes of your time. Also, try this Lemon Tea recipe perfect for soothing a sore throat.
Ingredients for Saffron Tea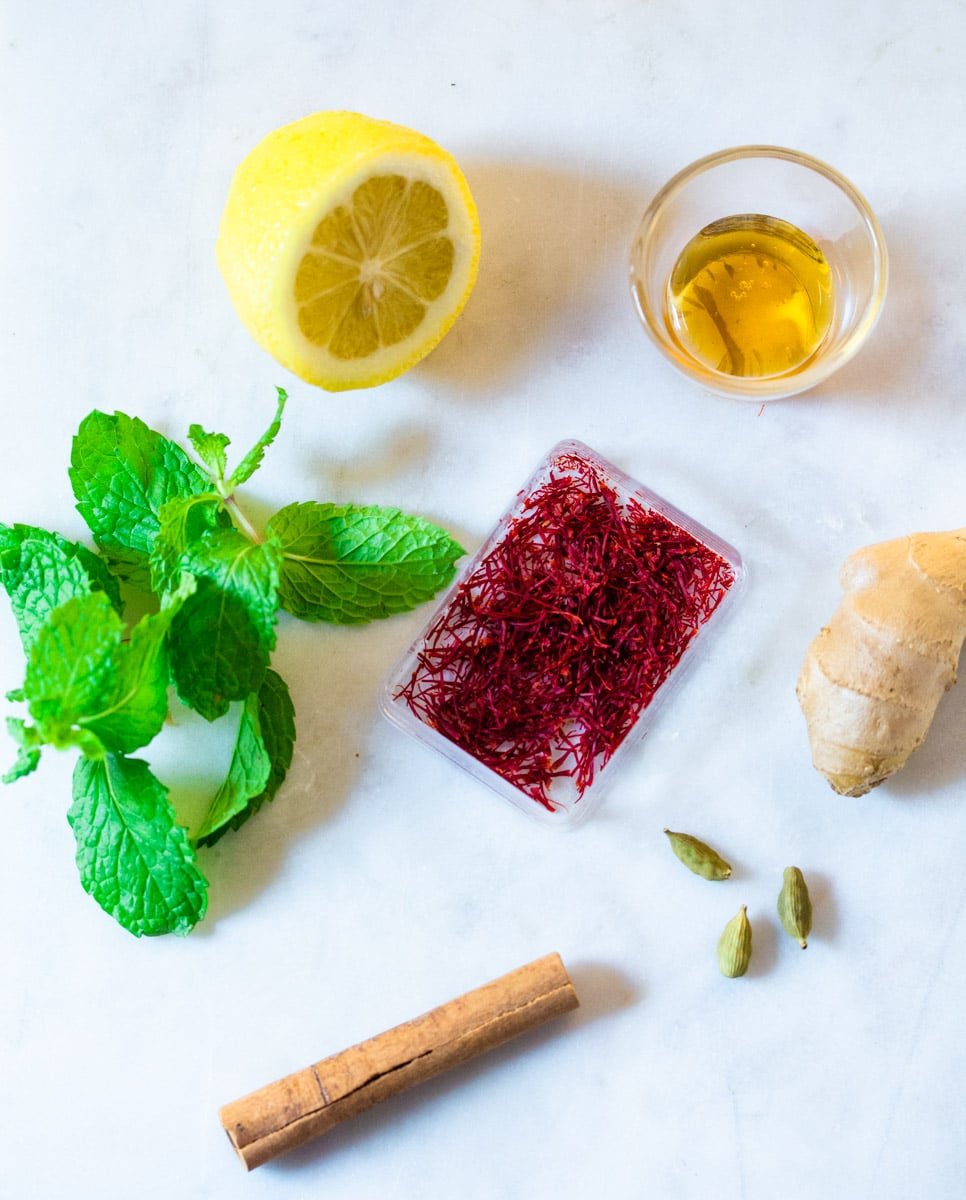 Saffron Threads: Try to find the best quality of saffron, if possible. This spice comes in many grades, but a sign of good quality is that the threads are a deep red, and do not have much yellow. For most recipes you only need 2-3 strands, so even a little box lasts long.
Cinnamon: One or two cinnamon sticks are ample for this recipe.
Green Cardamom: I love the earthy flavor of cardamom, so tend to use it in a lot of tea recipes. You only need 2-3 pods for this recipe.
Lemon: A squeeze of fresh lemon juice adds a delicious and bright citrus flavor to this recipe.
Fresh Mint Leaves: Mint has a cool, refreshing flavor which adds a lovely flavor to this recipe.
Honey: Just to add a bit of sweetness.
Ginger: This earthy root has many health benefits, and I love to use it in my tea recipes.
How to Make It
Bloom the Saffron: There are several ways to open up the flavors of this aromatic spice. The most common method is to use hot water to bloom it. But I like to use this method of slowly releasing the flavors of saffron, by placing a few strands on a piece of ice. I learned this method from Shadi at the Unicorns of Kitchen.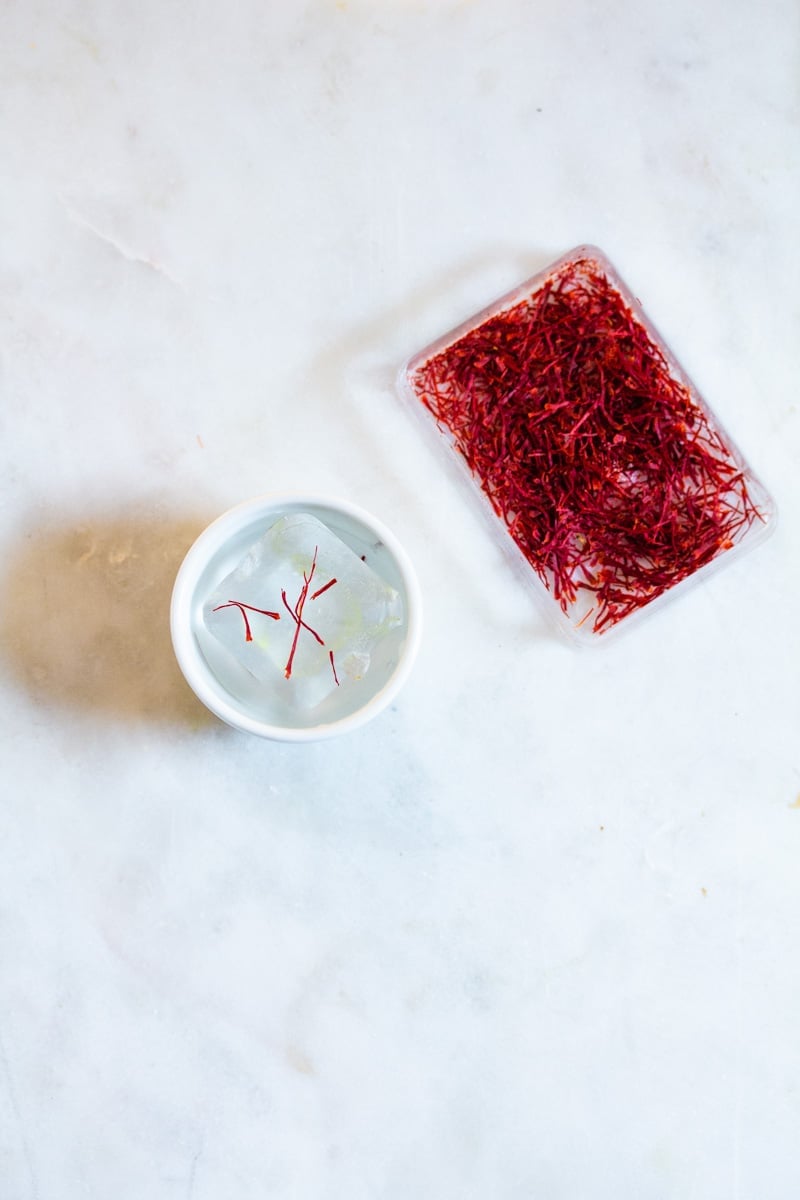 Boil water: While the strands are blooming, in a small saucepan, add the water and bring it to a boil.
Spices & Flavorings: Now add the bloomed saffron, cinnamon sticks, cardamom, honey, and sliced ginger.
Simmer: On medium heat, let the tea simmer for 5-7 minutes, to allow all the ingredients to infuse their flavors.
Finishing Touches: Finally add the lemon juice and mint leaves, and let the tea steep for 1-2 minutes.
Serve: Using a tea strainer, pour the tea into serving mugs, and enjoy!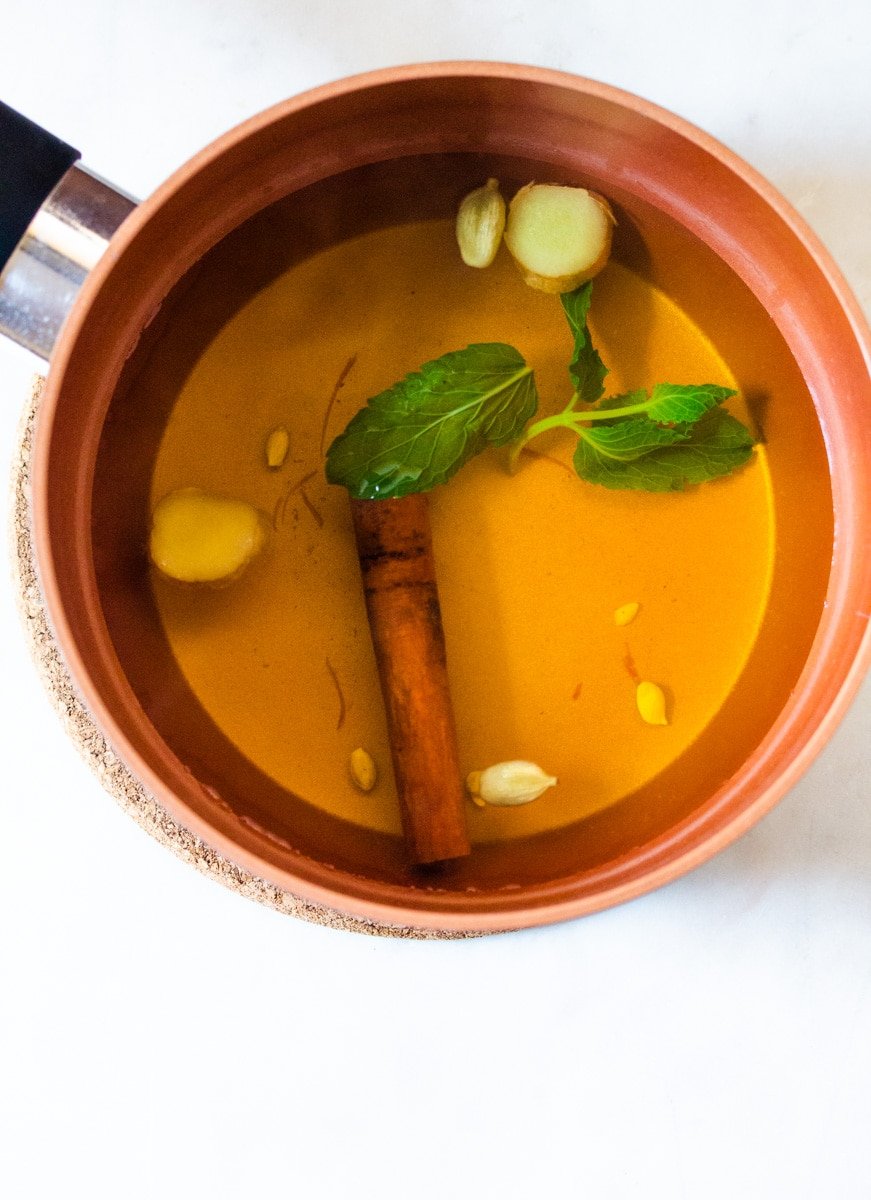 Variations & Add-Ins
Maple Syrup: Instead of using honey, you can also add maple syrup or actually any sweetener of your choice.
Milk: Instead of making this tea with water, you can use milk. To do this you will just need to substitute the water with milk and follow the rest of the recipe.
More flavorings: You can also use other flavorings such as dried rose petals and a pinch of turmeric.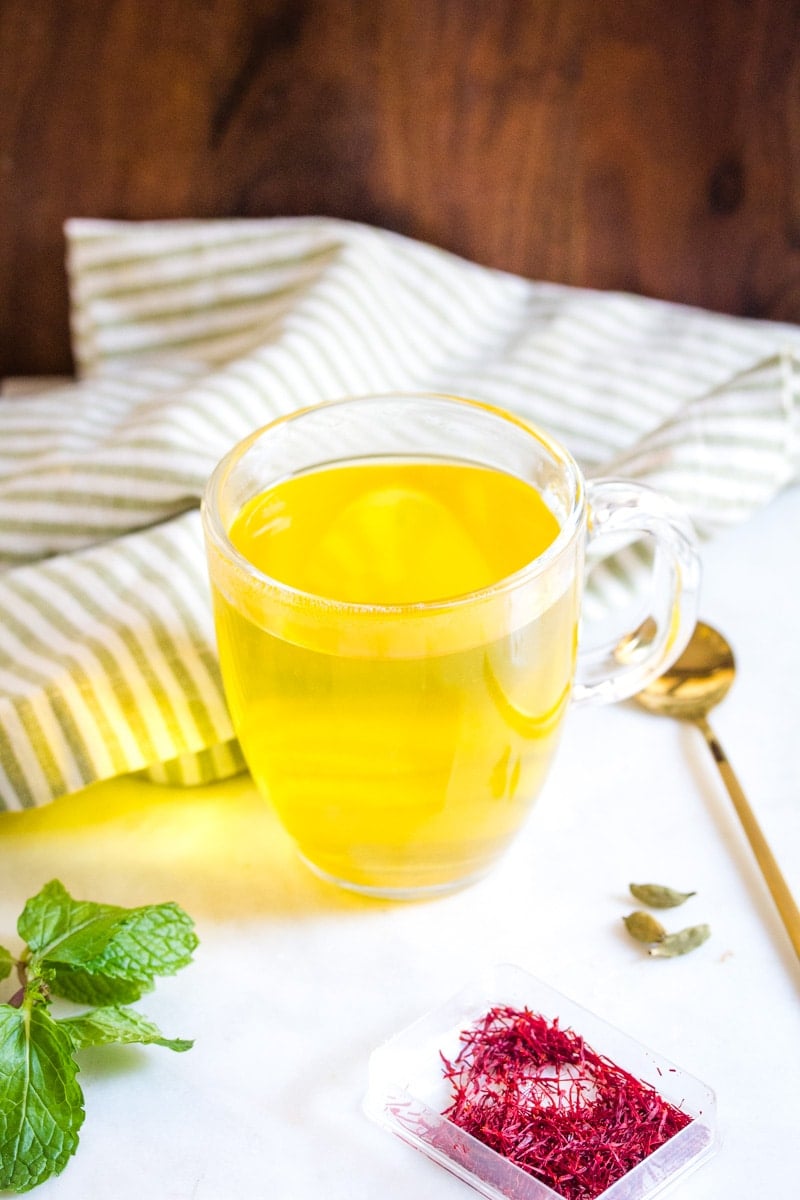 Potential Health Benefits
Antioxidant: Saffron is full of plant compounds such as crocin and crocetin, which act as powerful antioxidants.
Mood posting: Often called the sunshine spice, it has properties that may help in boosting the mood.
Helps with PMS: This powerful spice may also help with reducing PMS symptoms, such as headaches and irritability.
(Source: Healthline)
Helpful Tips
Tip #1: There is no need to peel the ginger for this recipe, as we are using a small quantity of it.
Tip #2: To switch up flavors, you can also add a little bit of orange juice, instead of lemon juice! If you love oranges, do try this Orange Peel Tea and Orange Bundt Cake.
Recipe FAQs
How much caffeine is in saffron tea?
There is no caffeine in this beverage.
More Tea Recipes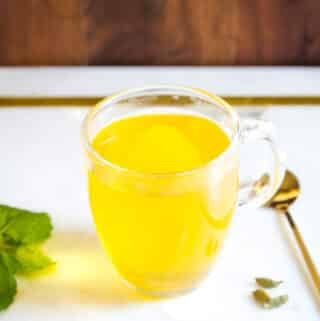 Saffron Tea Recipe
Saffron Tea is a soothing, mood boosting tea made with just a few ingredients. It's ready in under 10 minutes!
Print
Pin
Rate
Ingredients
For Blooming the Saffron:
Ice cube

3-4

strands of saffron
For the Tea:
2

cups

water

1

slice

of ginger

3-4

strands saffron

bloomed

2

cardamom pods

4-5

mint leaves

1

small stick of cinnamon

1

teaspoon

honey

A squeeze of lemon juice
Instructions
Bloom the Saffron:
In a small bowl, place the ice cube and top it with the saffron threads. Let it melt completely. Your saffron is ready to be used.
Make the Tea:
Bring the water to a boil.

Add the ginger, bloomed saffron, cardamom, mint leaves, cinnamon sticks.

Simmer for 5-7minutes on low heat.

Add the lemon juice and honey.

Using a tea strainer, pour the saffron tea into mugs.
Nutrition
Calories:
24
kcal
|
Carbohydrates:
6
g
|
Protein:
0.4
g
|
Fat:
0.2
g
|
Saturated Fat:
0.03
g
|
Polyunsaturated Fat:
0.02
g
|
Monounsaturated Fat:
0.02
g
|
Sodium:
13
mg
|
Potassium:
49
mg
|
Fiber:
2
g
|
Sugar:
3
g
|
Vitamin A:
91
IU
|
Vitamin C:
1
mg
|
Calcium:
38
mg
|
Iron:
1
mg