This Coffee Milkshake is made with only 4 ingredients and is ready in just 5 minutes. My trick is to use cold brew, to give an intense coffee flavor to this drink. This is not a drink for the weak-hearted!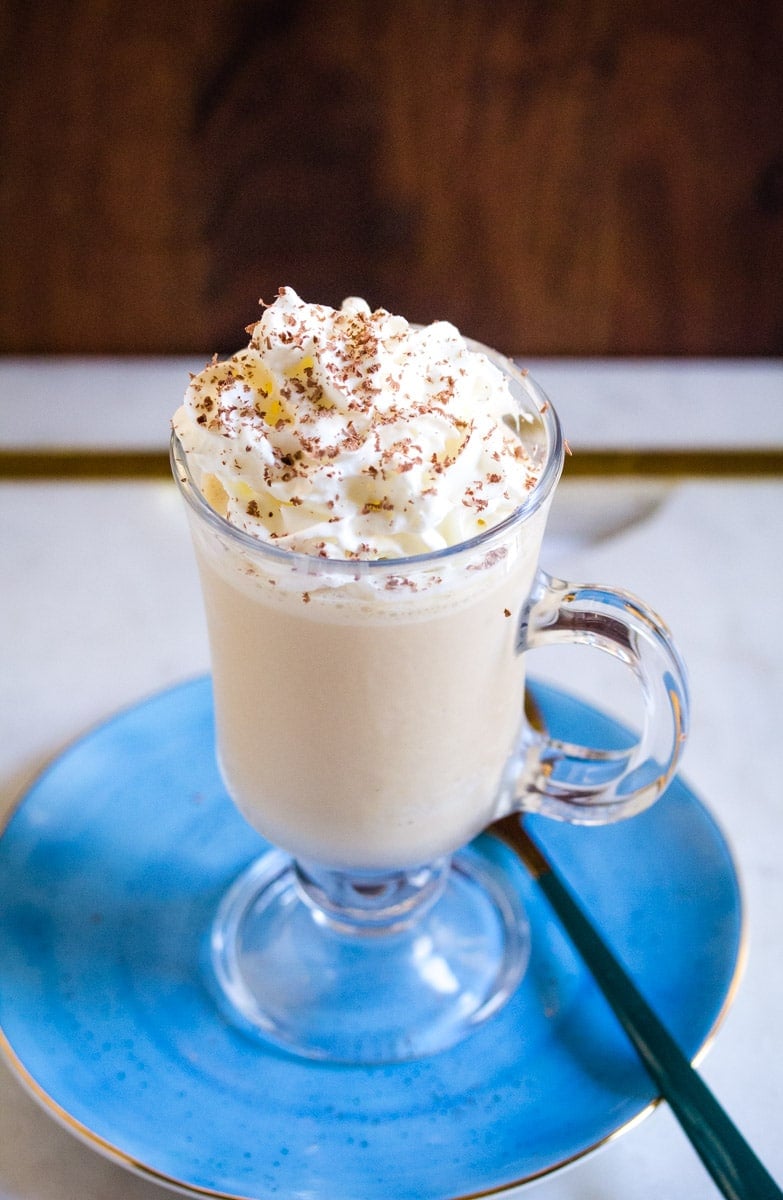 Jump to:
If you know me well, you'll know I absolutely love my dessert-like drinks. Whether it's a Hot Chocolate Coffee or a Cold Coffee, I'm always up for it. Now let me introduce you to my latest favorite: Coffee Milkshake. It's thick, luscious, and full of caffeine. And it's so very easy to make!
You'll Love this Recipe
Cold Brew: My not-so-secret ingredient here is to use cold brew, which has been frozen into ice cubes. This gives an intense flavor to this coffee shake, and the flavor shines through even the creamy vanilla ice cream. I use the same for my Coffee Slushie recipe.
Make Ahead: You can freeze a big batch of cold brew, and then it's only a matter of putting all the ingredients in a blender, and you'll have your milkshake ready in just 5 minutes.
No Flavor Dilution: Since we are using frozen cold brew, and not ice, this creamy shake is full of flavor! We don't want any water ice cubes diluting the flavor here.
Ingredient Notes & Substitutions: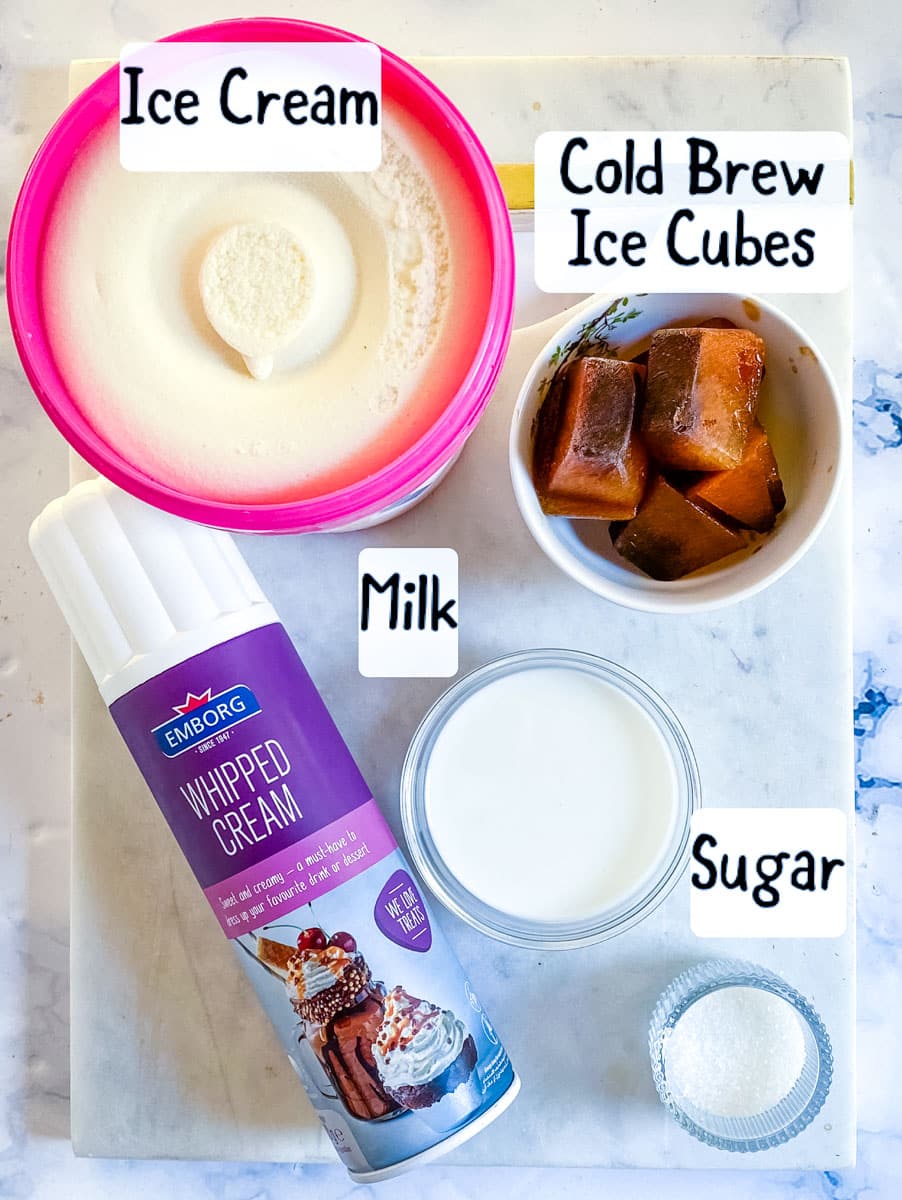 Cold Brew: This is my preference for this milk shake, as it is less bitter than hot brewed coffee. You can however use it if that is what you have on hand. It's also okay to use instant coffee, but the flavor won't be as intense. An espresso is also a good option here!
Ice Cream: Use the best quality ice cream you can find, as the key to a rich, thick creamy milkshake is the ice cream!
Milk: I use whole milk for the creamiest results. Now is not the time to think about calories. You can adjust the amount to change the consistency of the milkshake, but I like at least 1/2 cup of milk as it allows for easy blending.
Sugar: Just adds a little bit of sweetness, but you can adjust the amount to your preference.
How to Make Coffee Milkshake Recipe: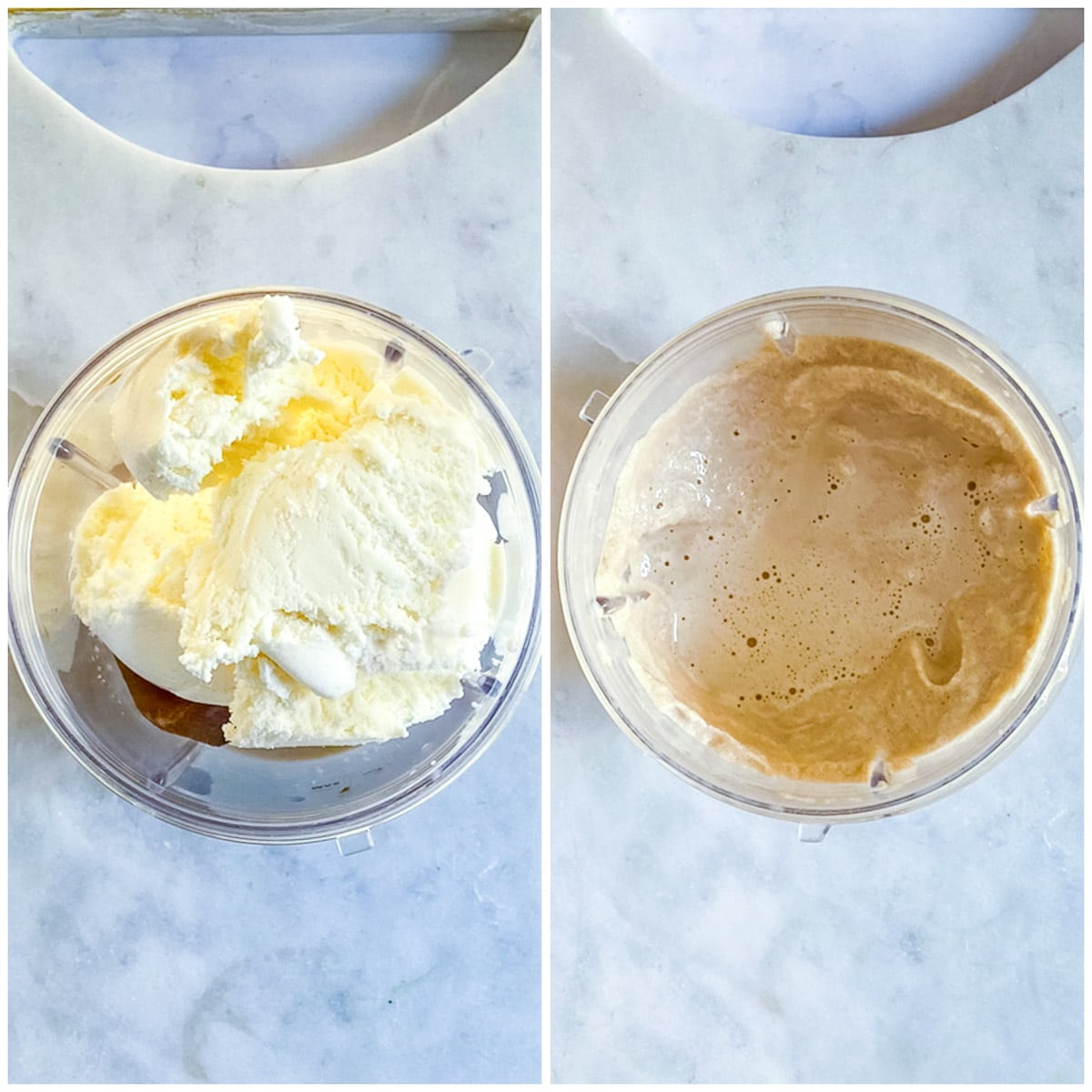 Pour the cold brew into an ice cube tray. Freeze until solid. I usually do this the night before I want to make the milkshake.
To make the milkshake, remove the frozen cold brew ice cubes from the tray. Place in the blender. Add the ice cream, milk and sugar into to the blender.
Blend for 30 seconds, or until smooth. You may need to add a splash or two of milk, to help with the blending.
Pour into glasses, and add your favorite milkshake toppings!
Toppings & Variations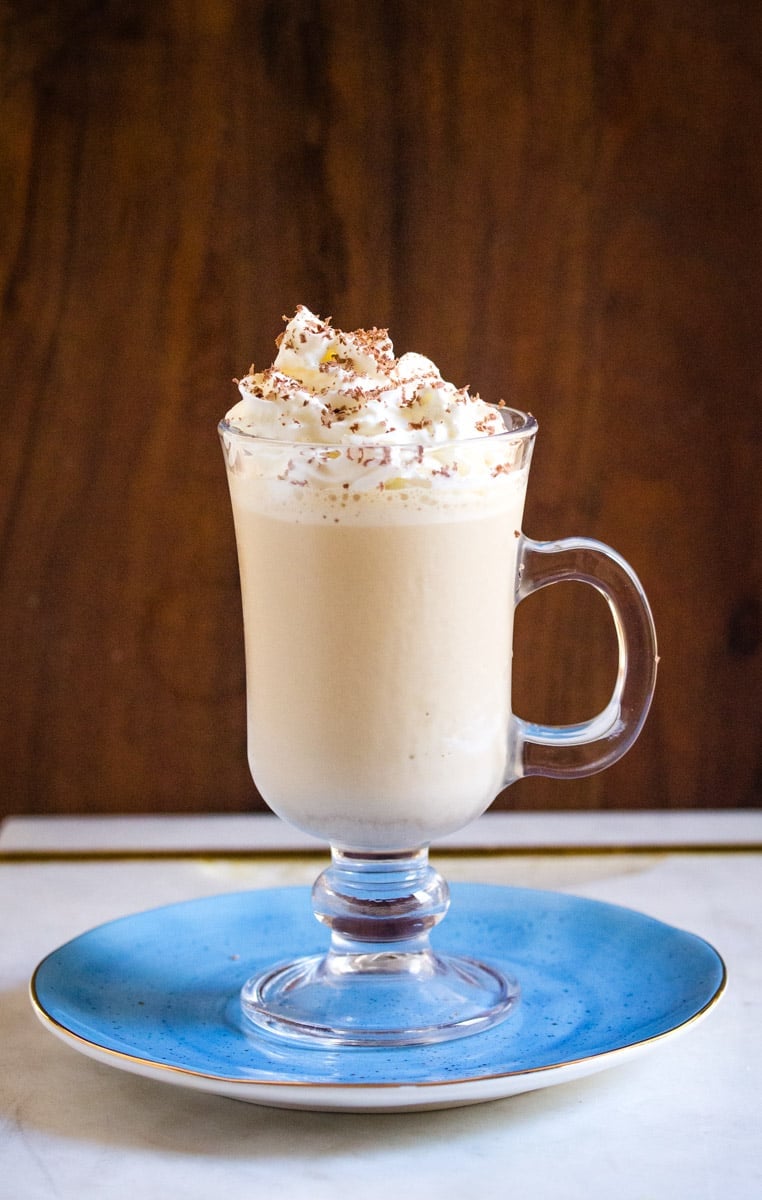 Ice Cream Flavors: You can switch up the ice cream flavors in this shake. For an extra intense, flavor uses coffee ice cream. Or if you love chocolate, you can use chocolate ice cream for a decadent mocha flavor.
Cocoa Powder: Similar to using chocolate ice cream, you can also add 1/2 tablespoon of cocoa powder. It will give a mocha flavor to the shake.
Syrups: I drizzled this thick shake with some chocolate syrup, but you can also add other syrups such as caramel or butterscotch.
Crushed Cookies: Crushed Oreos or chocolate chip cookies would be a delicious addition here.
Roasted Nuts: Add a sprinkle of almonds or peanuts to this shake for an extra crunch.
Whipped Cream: How can a milkshake be complete without whipped cream? It can't!
Chocolate: Add chocolate shavings or mini chocolate chips.
Dairy-Free Version: Use your favorite dairy-free ice cream and milk such as oat or coconut milk.
Helpful Tips
Tip #1: Use a high-powered blender to make this recipe. I use a Nutribullet for all my drink recipes, and it's quite handy here. Milkshakes are thick with the addition of ice and ice cream, so they can be hard to blend without a great blending appliance. If you don't have a blender, you can also use a food processor.
Tip #2: Before making the recipe, place your serving glasses into the freezer for 10-15 minutes. The chilled glasses help to keep shake nice and cold.
Tip #3: I've said this before, but I'll say it again. Use the best quality, real ice cream you can find. It's a key ingredient, and makes a big difference in the flavor!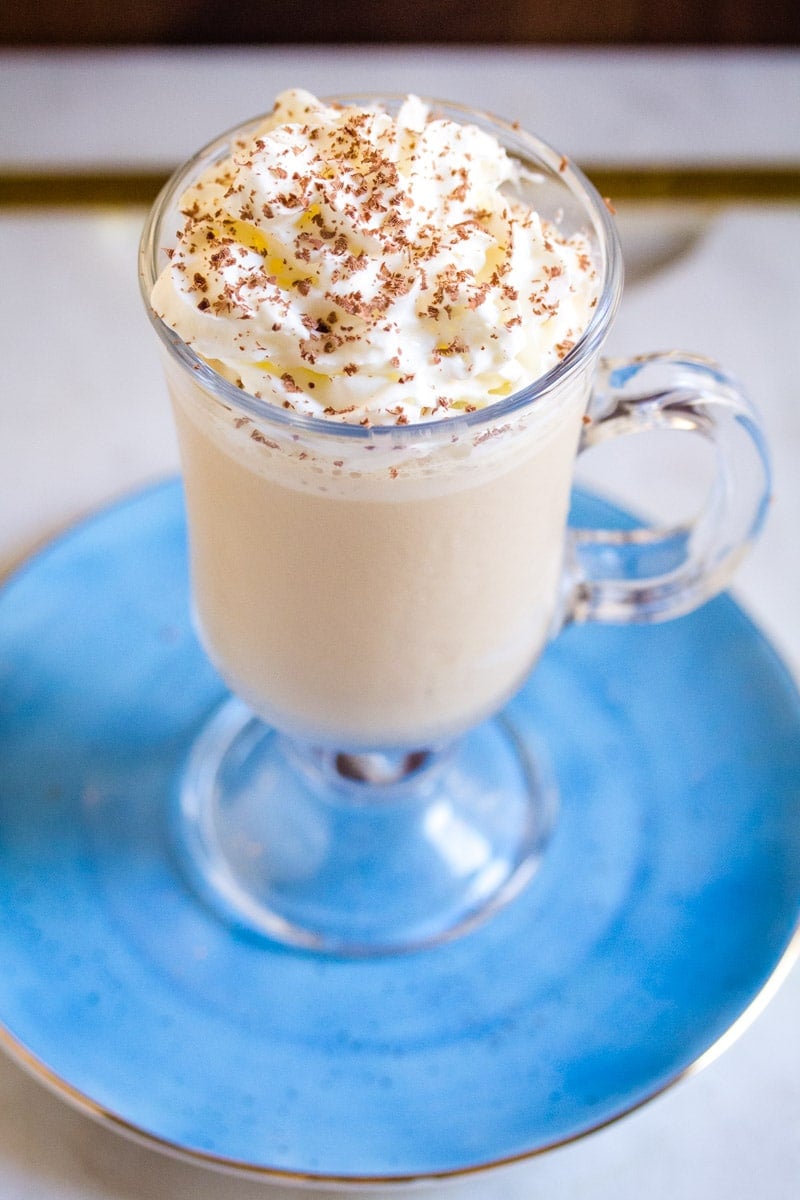 Recipe FAQs
Can you use coffee instead of milk in a milkshake?
Yes, you can. You can use it as is or freeze it into ice cubes before adding it to the milkshake.
Can I make this shake ahead of time?
I don't recommend making this milkshake ahead of time. The ice cream melts pretty quickly, and dilutes the flavor of this shake.
Does a coffee milkshake have caffeine?
Yes, it does. However, you can use decaf coffee to make a decaffeinated shake.
Can I make this with instant coffee?
Yes, you can! Just add two teaspoons of instant coffee instead of the cold brew coffee.
More Delicious Drink Recipes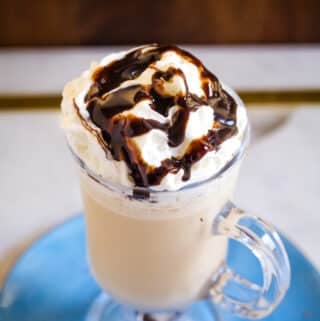 Coffee Milkshake (5 Minute Recipe)
This delicious coffee milkshake is the perfect summer drink. It's made with cold brewed coffee, milk, sugar, and ice cream.
Print
Pin
Rate
Ingredients
For the Milkshake
1/2

cup

cold brewed coffee

1 1/2

cups

of vanilla ice-cream

1/2

milk

1

tablespoon

sugar
For the Toppings
Whipped cream

Chocolate Sauce

Chocolate sprinkles or chocolate shavings
Instructions
Pour the cold brew coffee into an ice cube tray. Freeze until solid. I usually do this a night ahead.

Place the frozen coffee ice cubes, ice cream, milk and sugar into a blender.

Blend until smooth. You might need to add more milk if the shake is too thick.

Top with your favourite toppings such as whipped cream and chocolate sauce.
Notes
Cold Brew Coffee Ice Cubes: You can freeze a bigger batch of cold brew coffee, so that you can make this delicious milkshake or coffee slushy whenever you want.
Ice cream: You can also change up the flavors by using coffee ice cream or chocolate ice cream.
Milk: For the creamiest results, I like to use whole milk. But you can use any type of milk.
Storage: This milkshake is best enjoyed immediately.
Nutrition
Calories:
458
kcal
|
Carbohydrates:
59
g
|
Protein:
7
g
|
Fat:
22
g
|
Saturated Fat:
13
g
|
Polyunsaturated Fat:
1
g
|
Monounsaturated Fat:
6
g
|
Cholesterol:
87
mg
|
Sodium:
161
mg
|
Potassium:
453
mg
|
Fiber:
1
g
|
Sugar:
54
g
|
Vitamin A:
834
IU
|
Vitamin C:
1
mg
|
Calcium:
257
mg
|
Iron:
0.2
mg