Happy New Year! How were the holidays and new year's eve for you? Did you go out, or just stay in? I stayed in with my family, watched fireworks on tv, and had ooey gooey fudgy brownies! That's my idea of a good time. 🙂 As always, the new year brings in a bunch of resolutions which I always try my best to follow but fail pretty soon. Like by mid January or so. Lol. But one of my resolutions for this year is to add more variety to my breakfast because usually what I eat for breakfast is peanut butter on toast and a cup of coffee. I know, how boring for a food blogger. 😛 But it's also the quickest thing I can make when I'm rushing on school mornings to get my toddler to school on time. This Bananas Foster Oatmeal though is fast becoming my favorite breakfast.
It's fast, it's delicious and super easy to make! Look, I know oatmeal can be bland but this bananas foster oatmeal is Ah-Ma-Zing! It's like having dessert for breakfast. And what could be better than that? Perhaps kitchen fairy that magically cleans up my kitchen? I wish, lol.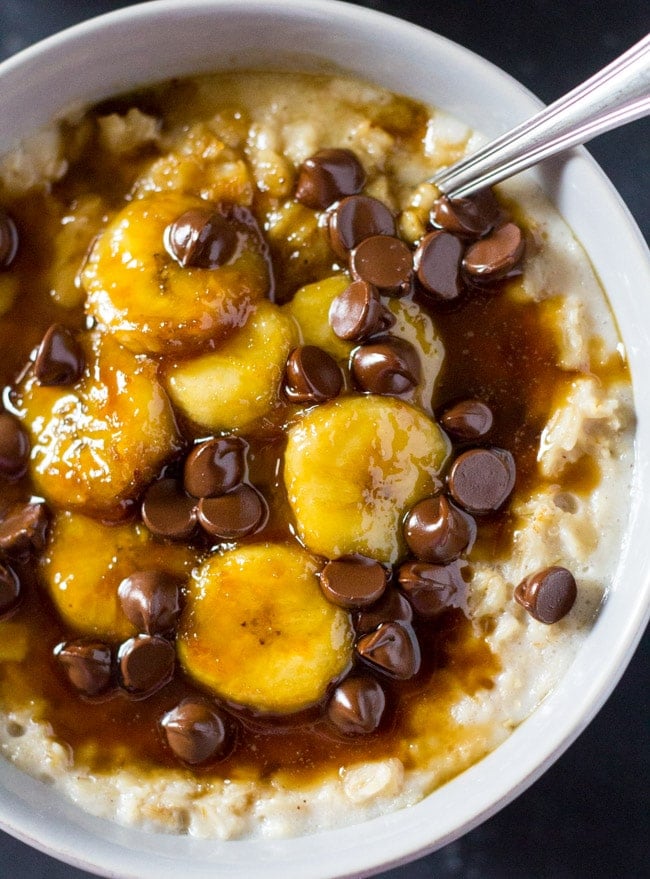 So there are only two elements to making this Bananas Foster Oatmeal. Make the oatmeal, and then make the bananas foster. And then top the oatmeal with said bananas foster, some chocolate chips (because chocolate is love) and then EAT! Yay!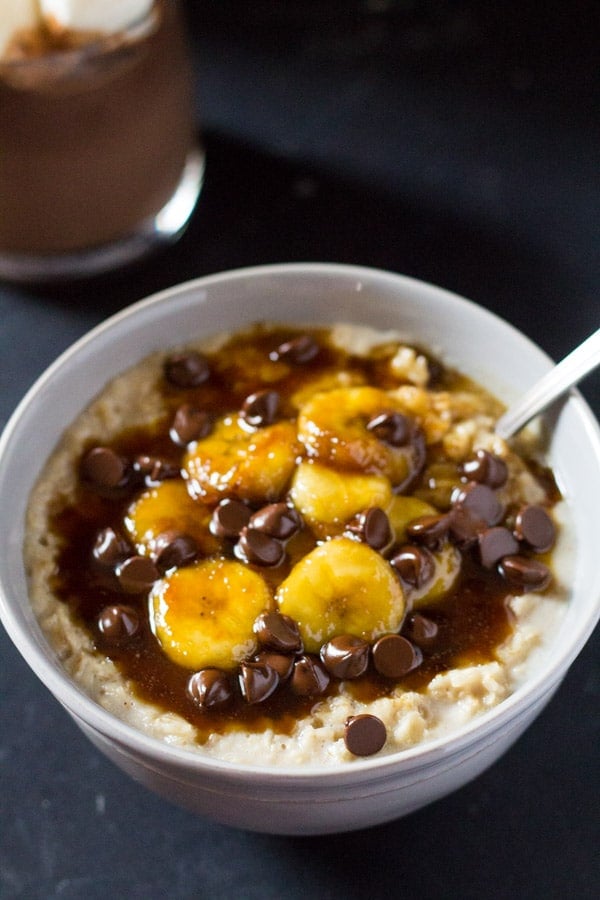 While this recipe is super easy to make here are a few tips to make sure you can make the perfect Bananas Foster Oatmeal.
How to Make the Perfect Bananas Foster Oatmeal
1.) The recipe card calls for old fashioned oats, and I've outlined the stove top method to cook the oats. But you can even use quick cooking oats, or whichever kind of oats you want to make. I cooked the oats in water, but you can also cook them in milk if you want them creamier. I also added a bit of cinnamon to flavor the oats. Oats are pretty easy to make, but if you feel like the consistency isn't right you can add a bit more water or milk to bring them to your desired consistency.
2.) The bananas foster sauce is so easy to make! Just slice up the bananas first. Melt some butter and brown sugar until a caramel saucy consistency forms, and then add the bananas and cook for a few minutes until they soften and become totally scrumptious.
3.) Divide the oatmeal into bowls, top with the bananas foster and chocolate chips (if using) and EAT! 😀 You can also customize these oatmeal bowls by adding your favorite nuts or you can even use apples and a sprinkle of cinnamon instead of adding bananas in the brown sugar & butter sauce to get an apple pie flavored oatmeal bowl! Doesn't that sound yum? 😀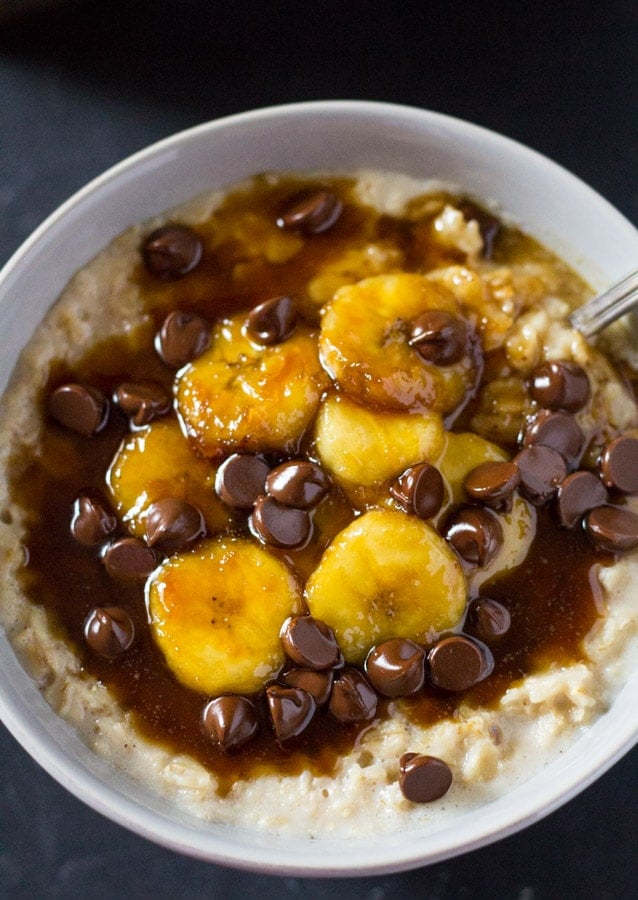 Enjoy!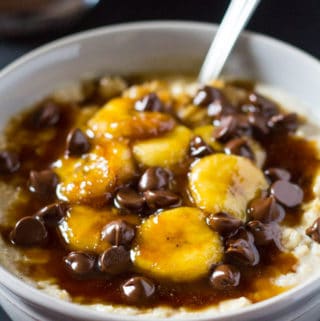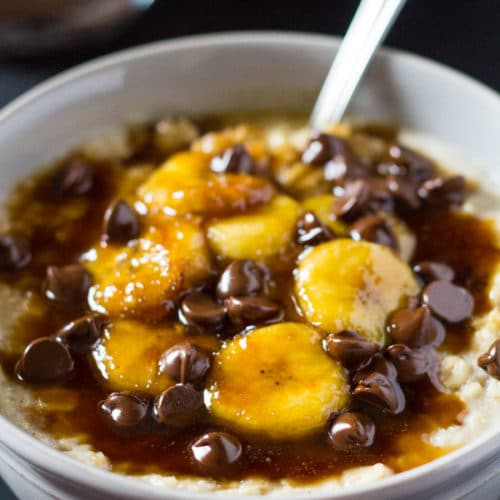 Bananas Foster Oatmeal
This easy recipe for Bananas Foster Oatmeal takes a classic dessert to another whole level of breakfast deliciousness. The caramelized bananas give a delicious flavor to the oatmeal and add the perfect sweetness to your breakfast!
Print
Pin
Rate
Ingredients
For the Oatmeal

3 1/4

cups

water

1/

teaspoon

salt

1/4

teaspoon

cinnamon powder

2

cups

old fashioned oats

For the Bananas Foster

4

ripe bananas

peeled and sliced

2

tablespoons

butter

4

tablespoons

brown sugar

Chocolate chips for topping

optional
Instructions
For the Oatmeal

In a medium saucepan add water and salt and old fashioned oats. Bring to a boil while stirring occasionally. The oats will be cooked in 5-7 minutes until the water is absorbed. Keep cooking until the oats come to your desired consistency. If you feel the oats haven't cooked properly, add a bit more of water (about 1/4 cup) and cook further until the oats reach the desired consistency. Add the cinnamon powder and mix. Set aside.

For the Bananas Foster

In a frying pan, melt the butter on medium high heat and then add the brown sugar. Stir for a few minutes until the brown sugar melts and combines into a saucy consistency with the butter (about 2-3 minutes). Add the bananas and cook for an addition 2-3 minutes until the bananas have softened.

Divide the oatmeal into bowls, and top with the bananas foster and chocolate chips (if using). Serve immediately.