Well. It's been awhile since I said hi around here, right? Can I offer you a slice of this insanely delicious Do Nothing Cake as a peace offering?
I hope you'll accept my offer, because this is one delicious cake! 😀
The thing is, I have a secret. But since it's a secret, I can't tell you what it is. Because then it would no longer be a secret. 😛
But this little secret of mine, has been keeping me away from my laptop and this beloved blog of mine a lot more than I would like.
A couple of days ago, I picked up my DSLR after ages of ignoring it, and took pictures of this amazingly EASY and DELICIOUS (duh) cake. I prayed to the photography gods that I hadn't lost much of my photography touch.
I almost decided not to post this recipe, because once again I wasn't too happy with the pictures. I had other clever excuses too, like:
1.) What will I write about anyway? I can't write about that secret of mine!
2.) I need to check Snapchat one more time, and see how I look with that new cat / unicorn filter, etc.
3.) I NEED to play just one more round of Temple Run, okay? Okay.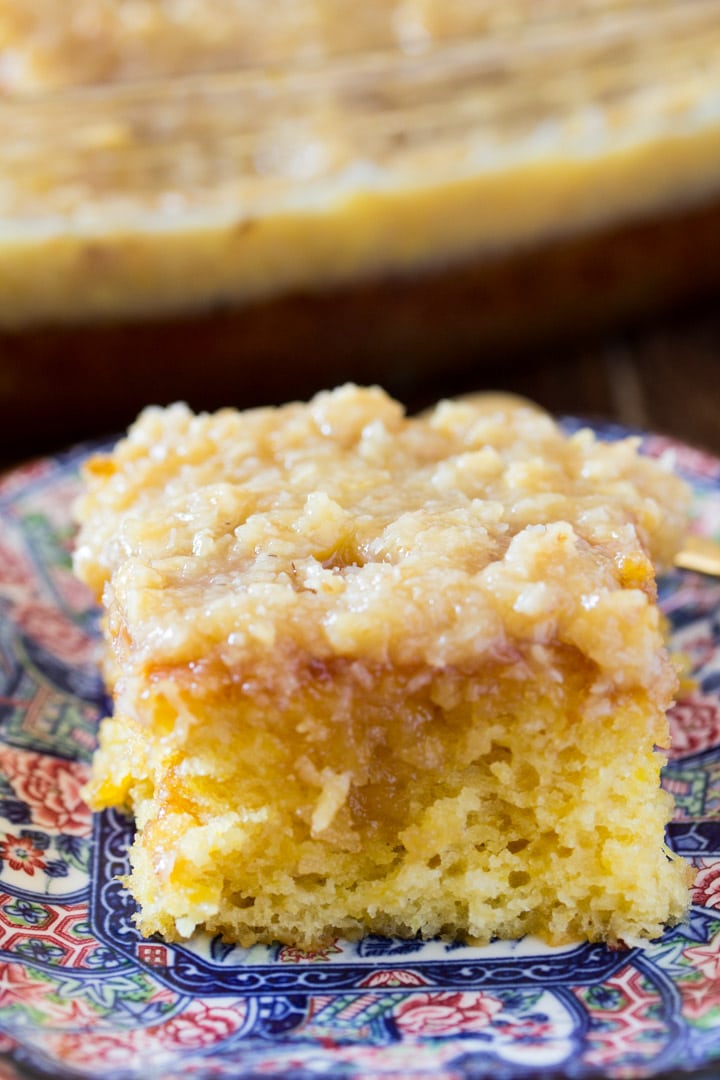 But then I said to my procrastinating, queen of excuses self: listen waj (yeah that's my nickname), no more procrastinating and putting off things. You gotta write this post, and you gotta publish it (I don't actually talk like that). Because you're wasting too much time doing nothing, and that's such a waste of time.
Lol, good thing I'm not a motivation speaker, wouldn't do a good job of it at all. 😛
So here I am, writing this awfully weird post, and I've put my phone in a locked safe (well, not really – it's just charging) so that I can stay away from the mindless scrolling of social media and playing addictive games like Temple Run.
Okay enough rambling.
We need to talk about this Do Nothing Cake, which is also known as Texas Tornado Cake. I've seen this recipe floating around Pinterest for ages, and finally got around to trying it. The original recipe calls for 2 cups of sugar (not counting the frosting) and I felt that with the added crushed pineapple in the cake batter, the cake would turn out too sweet, so I cut the sugar in half.
This Do Nothing Cake is basically a dump / poke cake, and is super easy to make. Just mix together all the cake ingredients, and bake it.
And the frosting is super easy too. It's cooked over the stove top and the combination of butter, evaporated milk, sugar, and walnuts and shredded coconut is just divine!
So just why is it called Do Nothing Cake?
It may be argued that this cake is technically not a do nothing kind of recipe, because it's from scratch and does involve a few ingredients. In today's world, compared to the boxed cake mixes we can easily buy, this is technically not a Do Nothing Cake. But this cake dates back from the 1940's and for that era it really was an easy cake!
I still think it's a very easy cake, since it requires no electric mixer, no softened butter to beat, no multiple bowls to make the batter etc. Even the frosting is super simple, since it's cooked on stove top.
Also, can we talk about just how scrumptious this Do Nothing Cake is? You're going to fall in love at the first bite of this cake, and maybe not ever forgive me, for the extra calories you ingest! :p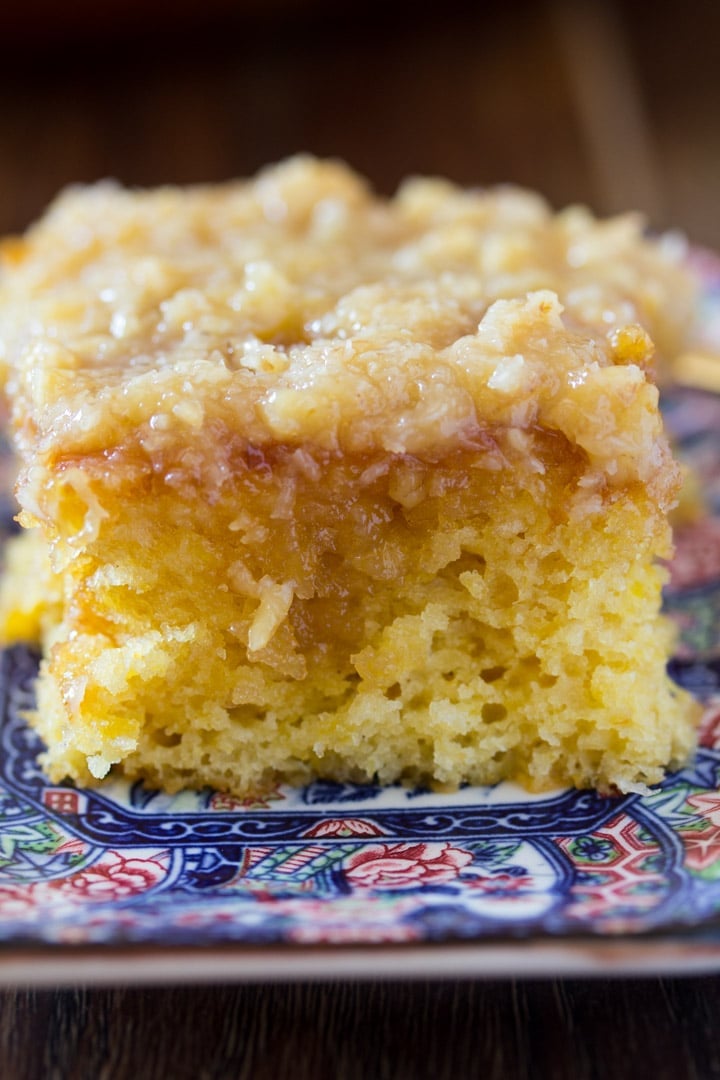 I kind of want to promise you that I'll be posting a lot more regularly now, but thanks to my itty bitty secret, life is a bit unpredictable. Also, let's not talk about the mindless abyss that social media is, and how easy it is to be sucked into that blackhole of time waste.
I promise though, I'm working on my addiction to my phone (there should be a rehab for phone addicts like me 🙁 ) and hopefully soon I'll be freed of it.
Okay, I gotta go now. It's been an hour since I used my phone, I deserve 5 minutes of playing Temple Run, don't I? LOL.

Enjoy!!! 🙂
Do Nothing Cake
Do Nothing Cake is also known as Texas Tornado Cake - it's a super easy pineapple poke cake topped with a delicious coconut and walnut frosting.
Ingredients
2

cups

all purpose flour

2

teaspoon

baking soda

1

cup

sugar

2

eggs

(at room temperature)

1/2

teaspoon

vanilla extract

2 1/2

cups

crushed pineapple

(undrained)

1

stick

butter

3/4

cup

evaporated milk

1

cup

sugar

1

cup

walnuts

(chopped)

1

cup

shredded coconut
Instructions
For the cake:

Preheat oven to 350 F (175 C) and prepare a 9 x 13 inch baking pan by lightly greasing it.

In a mixing bowl, combine the flour, baking soda, and sugar. Add in the sugar, eggs, vanilla extract and crushed pineapple. Mix until fully combined. Transfer the cake batter to the prepared baking pan and bake the cake for about 30 minutes, or until it's cooked in the middle.

For the frosting: In a saucepan, combine the butter, evaporated milk, and sugar. Cook until slightly thickened, about 5-7 minutes. Add in the walnuts and shredded coconut and mix until combined.

As soon as the cake is out of the oven, poke holes into the cake using a fork or the back of a wooden spoon. Immediately pour over the prepared frosting. Let cool, and serve.