Okay guys, I think I've created the ultimate death by chocolate dessert. And there are Oreos in it. Life couldn't be better. I mean I know there are lots of trifles out there, but this is the first time I made it so chocolatey and sinfully delicious. It's also very, very easy to make and can be made one day ahead. This Oreo Brownie Chocolate Trifle is out of this world.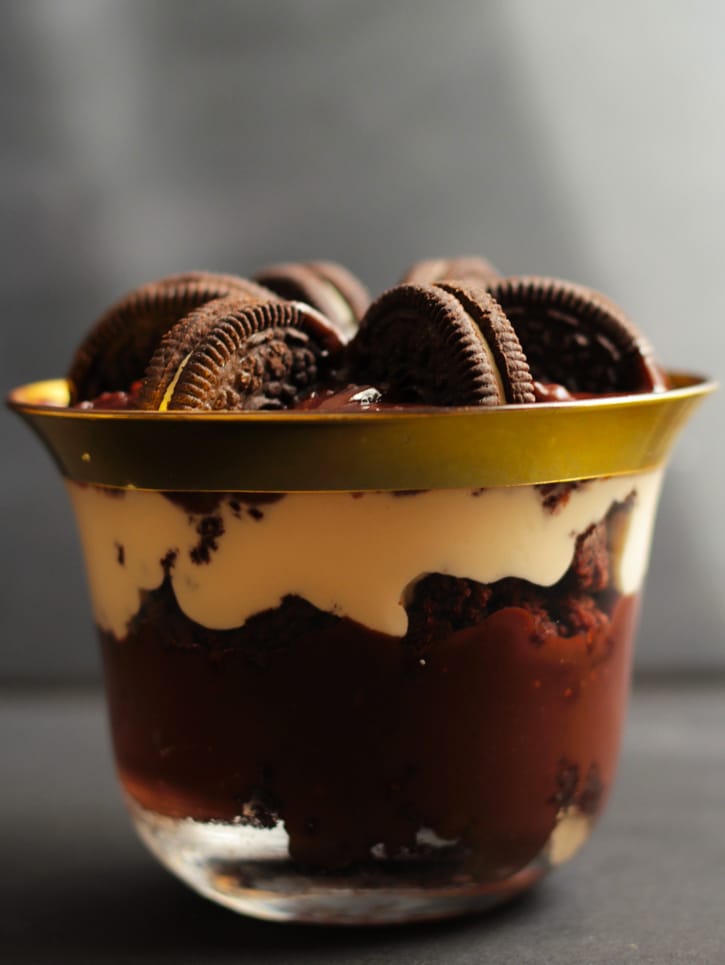 Before we go ahead, I have a huge announcement to make. I've joined a group of 26 bloggers to bring you my very first group giveaway. And the prize? One awesome $650 Amazon gift card. So how do I enter the giveaway, you ask? That's very simple! Just scroll down below, and add your information to the Rafflecopter giveaway box/form (it's right above the recipe card). Don't forget to leave a comment stating which is the best trifle you've ever had below in the comments section. Entering the giveaway is as simple as that! P.S. This giveaway is open only until 25th November, so enter before you miss the chance!
Now let's admire the Oreos all nestled in closely in the brownie mix. Isn't that the most delicious thing you've ever seen? Actually no, because obviously the trifle tops that, right? But this is also a pretty good sight. A pretty, pretty good sight. If you're a regular reader you must know that I have a thing for sweet things. Evidence: here, here and here.
Like, don't you just want to dig into that bowl of chocolate heaven below? Layers of Oreo brownies, homemade silky, luscious chocolate pudding topped with fluflly whipped cream and finished with a final layer of that addictive chocolate pudding and Oreos. Have I convinced you yet? Seriously, this trifle is so good you won't be able to stop yourself from eating it.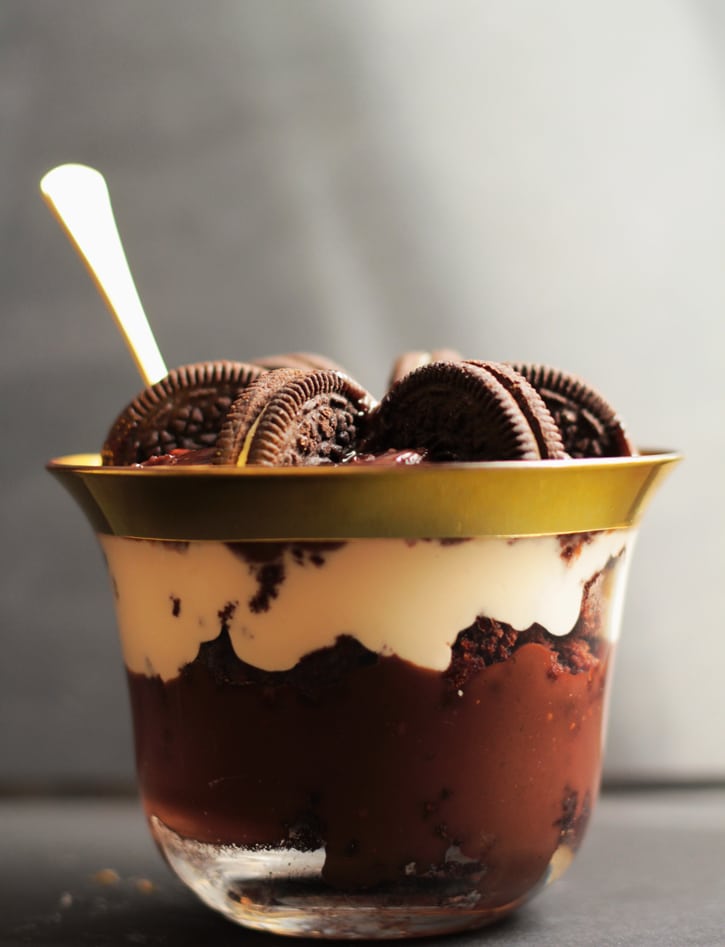 WARNING: Sharing may become an issue, and fights may ensue over who gets the last spoon of trifle. So it's best advised to serve this trifle in individual bowls. 🙂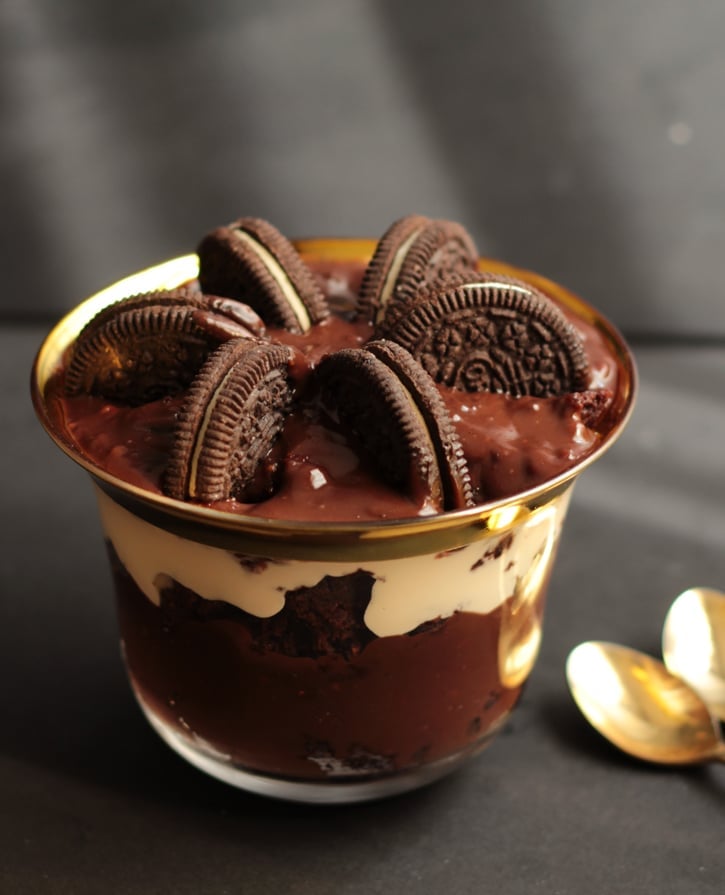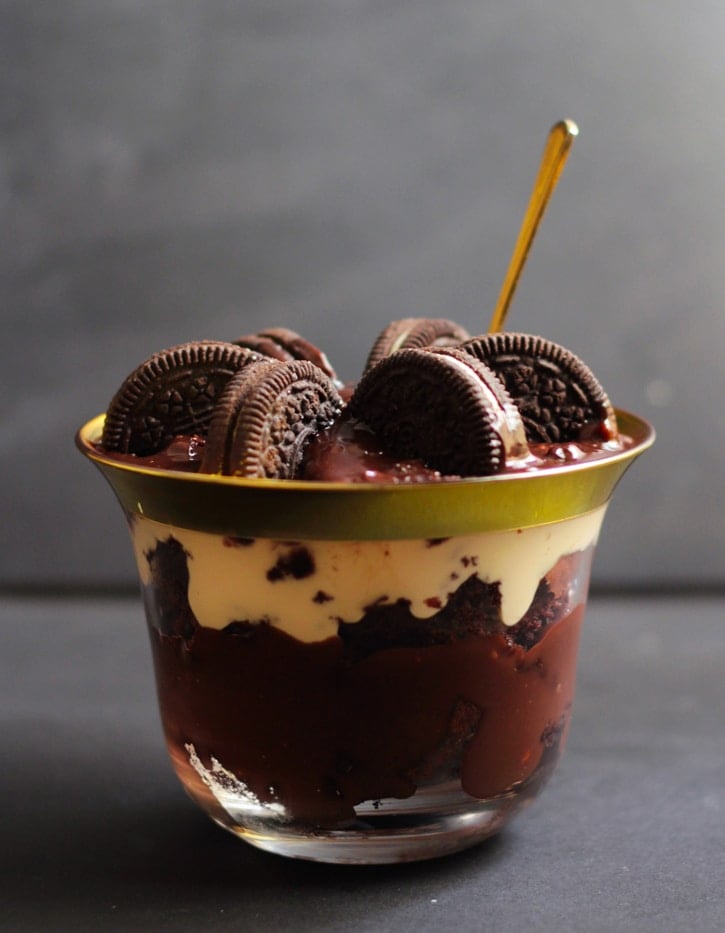 P.S. This trifle is really, really good. It's very addictive and sinfully chocolatey. Make it at your own risk. 😉
HOW TO ENTER THE GIVEAWAY
Simply log in to your email account or Facebook profile through the Rafflecopter below. Then make as many entries as you want (up to a total of 120 entries for each entrant). The more entries you make in this giveaway the MORE chances you have to win the Amazon $650 Gift Card and get all your holiday shopping done. So make as many entries as you can; you're allowed up to a total of 120 entries. More entries will give you more chances to be randomly chosen as the winner by Rafflecopter! And there are so many ways to enter, use your favorite ways to do so: whether it's to tweet about the giveaway, or to follow our social media profiles, or to comment on this post, or to join our mailing lists and then indicate below that you have done so to be counted as entries.
This giveaway is closed now!
a Rafflecopter giveaway
Terms & Conditions: This contest will run from November 11, 2015 – November 25, 2015. The winner will be chosen by random using Rafflecopter as the deciding force. Rafflecopter partners with Random.org to choose the winning entrant. No purchases are necessary to enter or win. A purchase does not improve your chance of winning. Void where prohibited by law. This giveaway is open to legal residents of the United States of America, Canada and the United Kingdom. The winner will be informed through email. **FYI, fake accounts & spammers will be disqualified and are not eligible to win.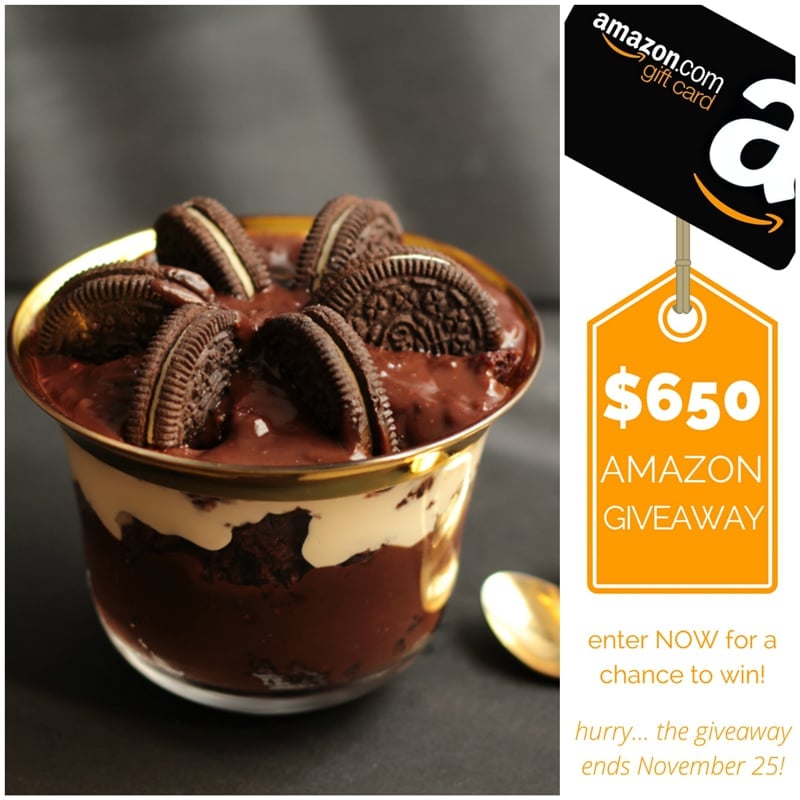 Oreo Brownie Chocolate Trifle + $650 Amazon Gift Card Group Giveaway
A sinfully delicious trifle with layers of oreo brownies, a thick and silky homemade chcocolate pudding and whipped cream. This easy dessert is the perfect make ahead dessert for the holiday seasons that is sure to impress your guests.
Print
Pin
Rate
Ingredients
FOR THE OREO BROWNIES:

1

box of Betty Crocker Fudge brownies

plus the ingredients required on the box

1

pack of Oreos

about 10

FOR THE CHOCOLATE PUDDING:

2

cups

whole milk

1

cup

heavy cream

1/3

cup

superfine sugar

2

tablespoon

cornstarch

1/3

cup

unsweetened cocoa

2

tablespoons

hot water

4

large egg yolks

2

teaspoons

vanilla extract

4

oz

chopped chocolate

your can use your favorite, dark or milk chocolate

FOR THE WHIPPED CREAM:

2

cups

whipping/heavy cream

1

teaspoon

sugar

FOR GARNISH:

4-5

whole oreos
Instructions
FOR THE OREO BROWNIES:

Prepare the brownie mix according to the instructions on the box or using your favorite recipe.

Pour half of the batter into an 8 inch square pan, and then place 9-10 whole Oreos in rows.

Pour the remaining brownie mix and spread it gently to cover the Oreos completely.

Bake according to the instructions on the box or your recipe.

Let cool completely before cutting into equal size pieces.

FOR THE CHOCOLATE PUDDING:

Combine the cream and milk in a medium sized bowl and warm it in the microwave for about a minute or two. Boil the water in an electric kettle.

Combine the sugar, cornstarch and cocoa powder in a medium sized saucepan. Add the 2 tablespoons of boiling water and mix to create a thick paste.

Slowly whisk in the eggs one by one, following with the warmed milk and cream, and the vanilla extract.

Put the saucepan on medium-low heat and continue whisking for about 4-5 minutes or until the mixture becomes thick and silky. The consistency should be like that of mayonnaise.

Take off the heat and add the chopped chocolate. Mix until completely melted and combined.

Pour the pudding into a bowl, and cover with clingfilm so that it's resting on the surface of the chocolate pudding. This helps in preventing a thick skin forming on the pudding as it cools.

Cool until room temperature and then place in the fridge.

FOR THE WHIPPED CREAM:

Pour the whipping/heavy cream in a cool bowl.

Add in the sugar.

Using a handheld mixer (you can also use a stand mixer) beat the whipping/heavy cream on medium speed for about 6-7 minutes until soft peaks form.

LAYERING THE TRIFLE:

Start by layering your bowl with the brownies. You can break the oreo brownies into pieces if desired.

Add a layer of chocolate pudding, followed by another layer of the oreo brownies.

Once the layers are completed top with the whipped cream, add another layer of chocolate pudding and finish by decorating with Oreos.
Recipe for Chocolate Pudding adapted from
Nigella Lawson
.