Strawberry Parfait is a delicious and quick no bake layer dessert that's perfect for summer! We are talking layers of whipped cream, fresh strawberries & mango and lady fingers...it's not too late to indulge in this delicious dessert.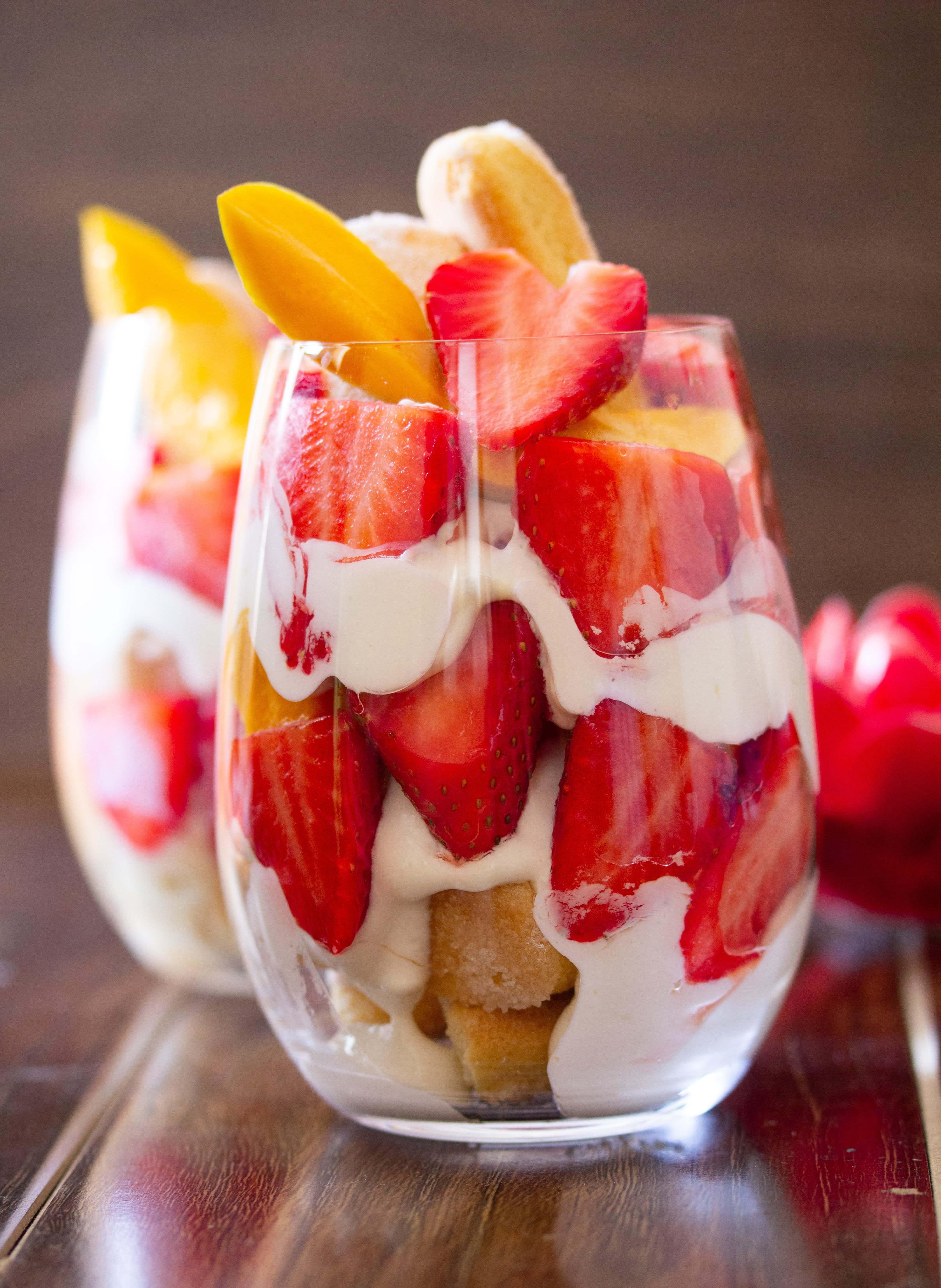 This Strawberry Parfait has summer deliciousness written all over it. What can be better than a delicious cool parfait with layers of decadent whipped cream, lady fingers, strawberries and mango?
And the best part? This Strawberry Parfait is a no bake dessert! I absolutely love no bake desserts, because really, who wants to turn on the oven on these hot summer days?
So what exactly is a Parfait?
A parfait is an American dessert that is a layered dessert which usually involves whipped cream or yogurt and fruits. There are so many variants of parfait, which means lots of deliciousness. For this strawberry parfait, I kept it simple but decided to add a twist to the dessert by using lady fingers.
What are Lady Fingers?
Lady fingers are an Italian biscuit (savoiardi in Italian) that are usually used in layering English trifle. In British English they are known as sponge fingers. Lady fingers are perfect for layered desserts because they absorb liquid really well, which makes their texture cake like. And we all know everything cake like is delicious.
What's the difference between an American and French Parfait dessert?
Did you know that there's also a French dessert called Parfait? I didn't! I found out while I was researching about parfait. French-style parfait is a frozen dessert made from a base of eggs, sugar syrup and cream. So while it sounds quite delicious, it's completely different from American parfait which is a layered no bake dessert.
Why do they call it a Parfait?
This is something I've always wondered, and I finally Googled it. Parfait quite literally in French means perfect. And I really do think this Strawberry Parfait is indeed perfect. Perfectly scrumptious. 🙂
I loved making this Strawberry Parfait for its simplicity, and fresh fruit always goes so well with whipped cream. The recipe below is a rough estimate as I served it in four short glasses, but that's the beauty of this recipe, you can make it as you like.
If you're looking for more fruity desserts, don't forget to check out my Summer Fruit Custard Tart. It's super pretty and of course delicious too! 🙂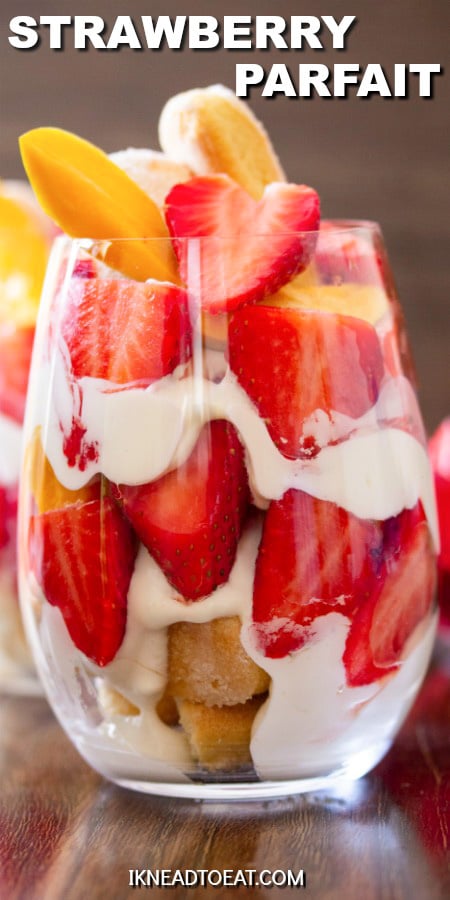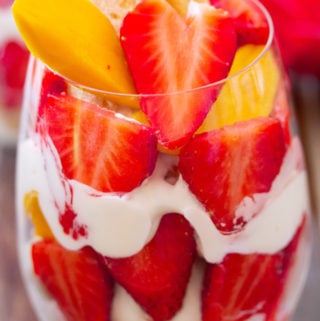 Strawberry Parfait
Strawberry Parfait is a delicious and quick no bake dessert that's perfect for summer!
Print
Pin
Rate
Ingredients
1/2

cup

milk

12

lady fingers

broken into half

1

cup

whipped cream

1

cup

sliced strawberries

1

cup

slice mango
Instructions
Dip each lady finger into milk for a few seconds, and then layer the bottom of your serving dish.

Then add a layer of whipped cream, followed by a layer of strawberries.

Add an additional layer of lady fingers dipped into milk.

Continue layering until you reach the top of the serving dish, and then garnish with sliced strawberries and mango.
Notes
Note: I used 4 individual serving glasses as scene in the picture, but you may use one single serving dish and just layer as desired.
Nutrition