This Triple Hershey's Chocolate Mug Cake saved my life not so long ago. I am not kidding. See, I was in dire need for some chocolate therapy. But this wasn't any normal chocolate craving that could be cured by a piece of chocolate. This was the kind of craving that could only be satisfied with a chocolate-cake-brownie type of a dessert.
So I decided to give into this chocolate craving and went to take out ingredients for chocolate brownies. And that's when my heart plummeted into a deep dark cavern where there were no chocolate-cake-brownie desserts. Why, you ask? Because I was almost out of flour and cocoa powder. I only had half a bar of Hershey's milk chocolate. No chocolate chips. Nothing to save the day. There just weren't enough ingredients to make a whole pan of life saving brownies. My heart sank like the top of a sunken cake.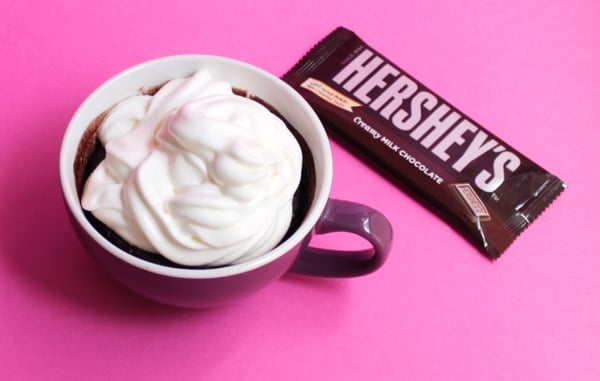 After moping around a bit and Googling, I decided I could try making a mug cake. And then this idea turned into a Triple Hershey's Chocolate Mug Cake. And Oh My God. It was so good. It was moist, chocolatey and cakey and brownie-ey at the same time. All the things which I needed at that moment of dire craving.*
So there are THREE chocolate players here in this mug cake:
Hershey's Unsweetened Cocoa Powder.
Hershey's Milk Chocolate.
Hershey's Chocolate Syrup.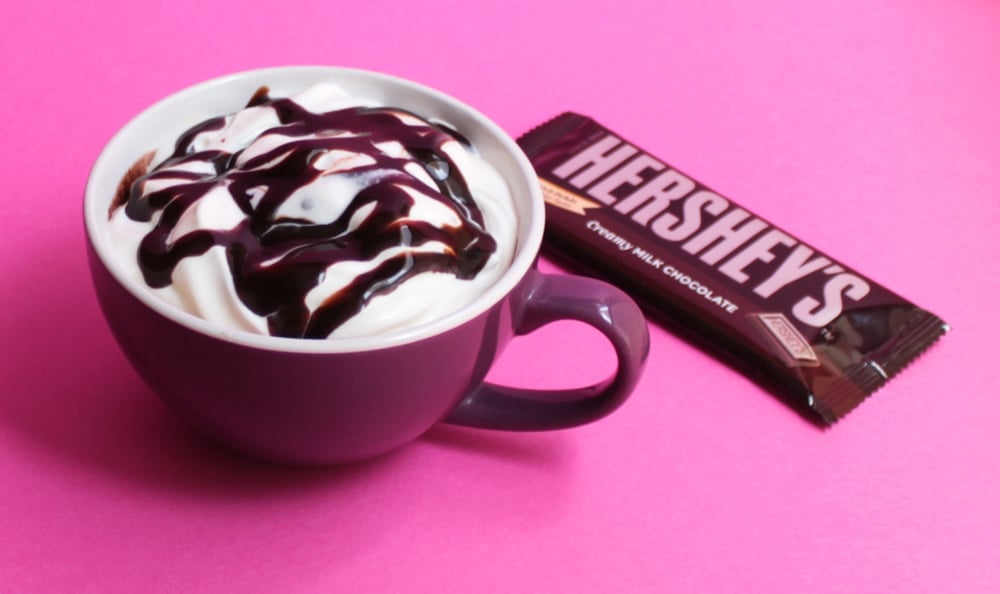 I also added light brown sugar and milk to make sure the texture was moist and brownie like.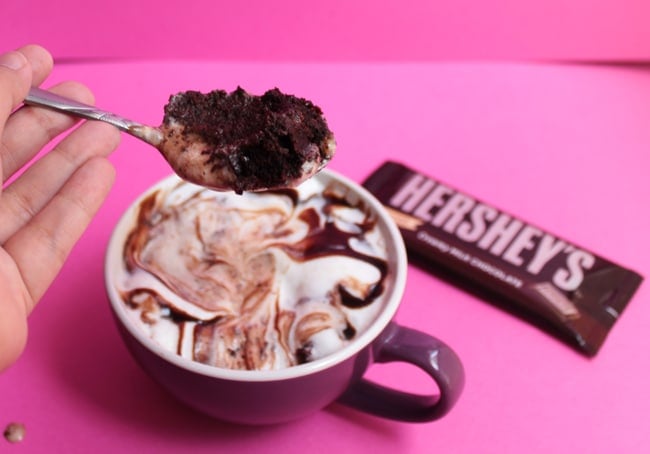 Isn't that triple chocolate heaven in a mug or not? And that too, ready in just 10 minutes. And that is how this mug cake saved my life.
Now before I leave you to go and make this mug cake, I need you to listen to me carefully. Please make sure that the milk and egg are at room temperature, otherwise they won't emulsify properly in the batter and the mug cake won't turn bake in a uniform texture. And we chocolate mug cake lovers are against such things.
Okay, now you can go and make this sinful deliciousness in a mug.
Happy mug caking!
*I'm not actually this addicted to chocolate. Well, I kind of am, but let's just pretend it's a reasonable (ahem) sort of chocoholicism.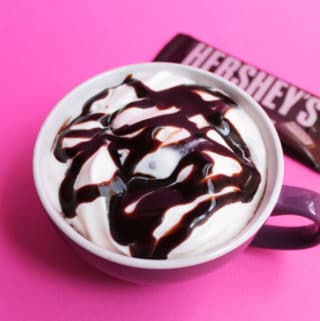 Ingredients
1/4

cup

all purpose flour

2

tablespoons

unsweetened cocoa powder

I used Hershey's

2

tablespoons

light brown sugar

1

tablespoon

granulated sugar

1/4

teaspoon

baking powder

2

tablespoons

melted butter

3

tablespoons

milk

room temperature

1/2

medium egg

lightly whisked, room temperature

1/2

teaspoon

vanilla extract

2-3

small pieces of Hershey's Milk Chocolate

1

tablespoon

hot water

Whipped cream for topping

Hershey's chocolate syrup for topping
Instructions
In an over sized mug whisk together the dry ingredients.

Add the wet ingredients to the mug and mix until you have a smooth but thick batter.

Place the chocolate pieces on top of the batter, pressing lightly. Add 1 tablespoon of hot water on top.

Microwave at high heat for 1-2 minutes. The exact time will depend on your microwave.

The cake is done when the edges are slightly set but the middle is still a bit wet. Do not over cook.

Let the cake cool for about 10 minutes. The cake will sink slightly.

Serve with whipped cream and top with Hershey's chocolate syrup.