This restaurant worthy one pan chicken recipe features juicy, golden brown chicken breasts smothered in a creamy mushroom parmesan sauce. My Creamy Mushroom Chicken Recipe is fancy enough for date night and simple enough to make during the week. This easy keto chicken recipe is comfort food at its finest!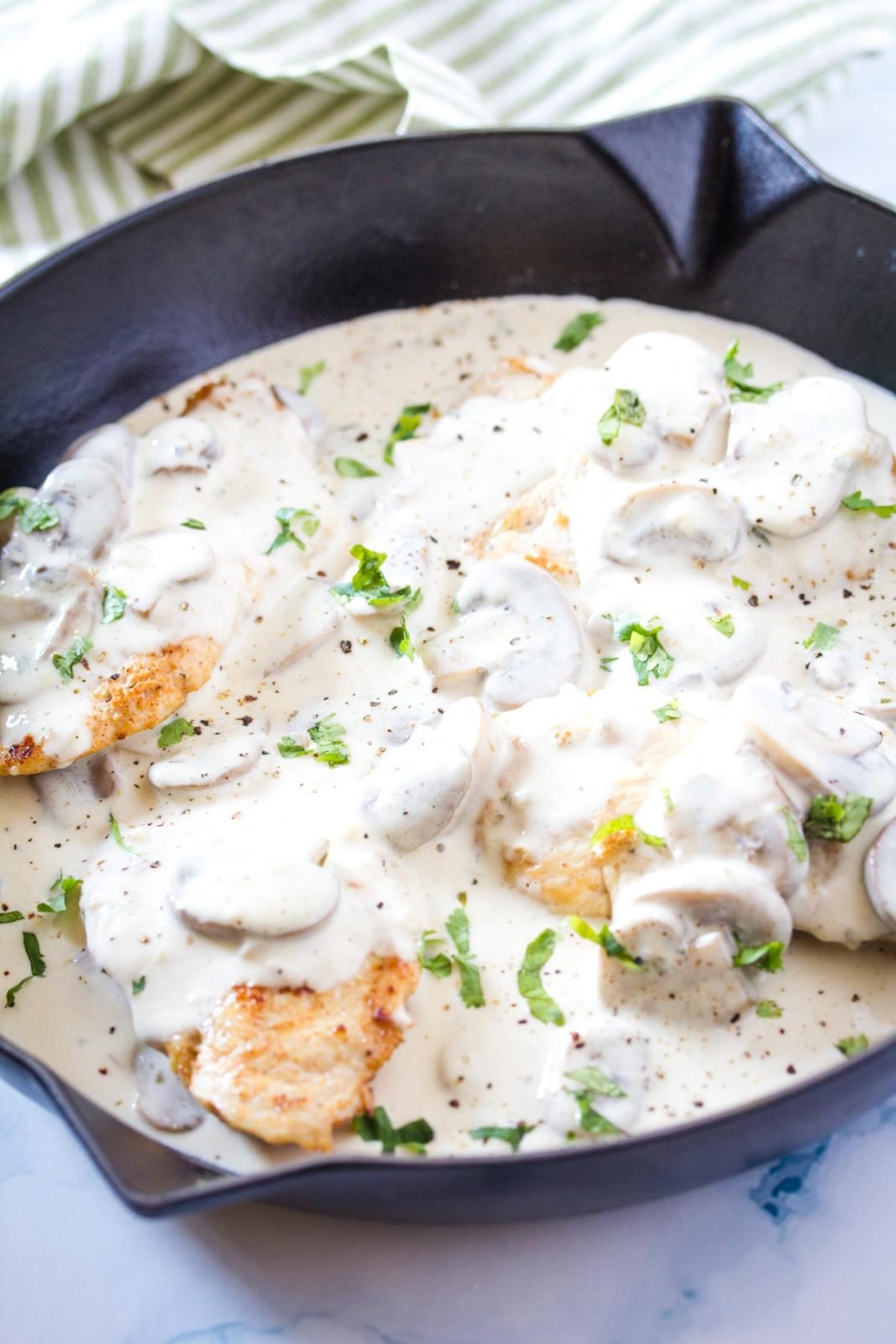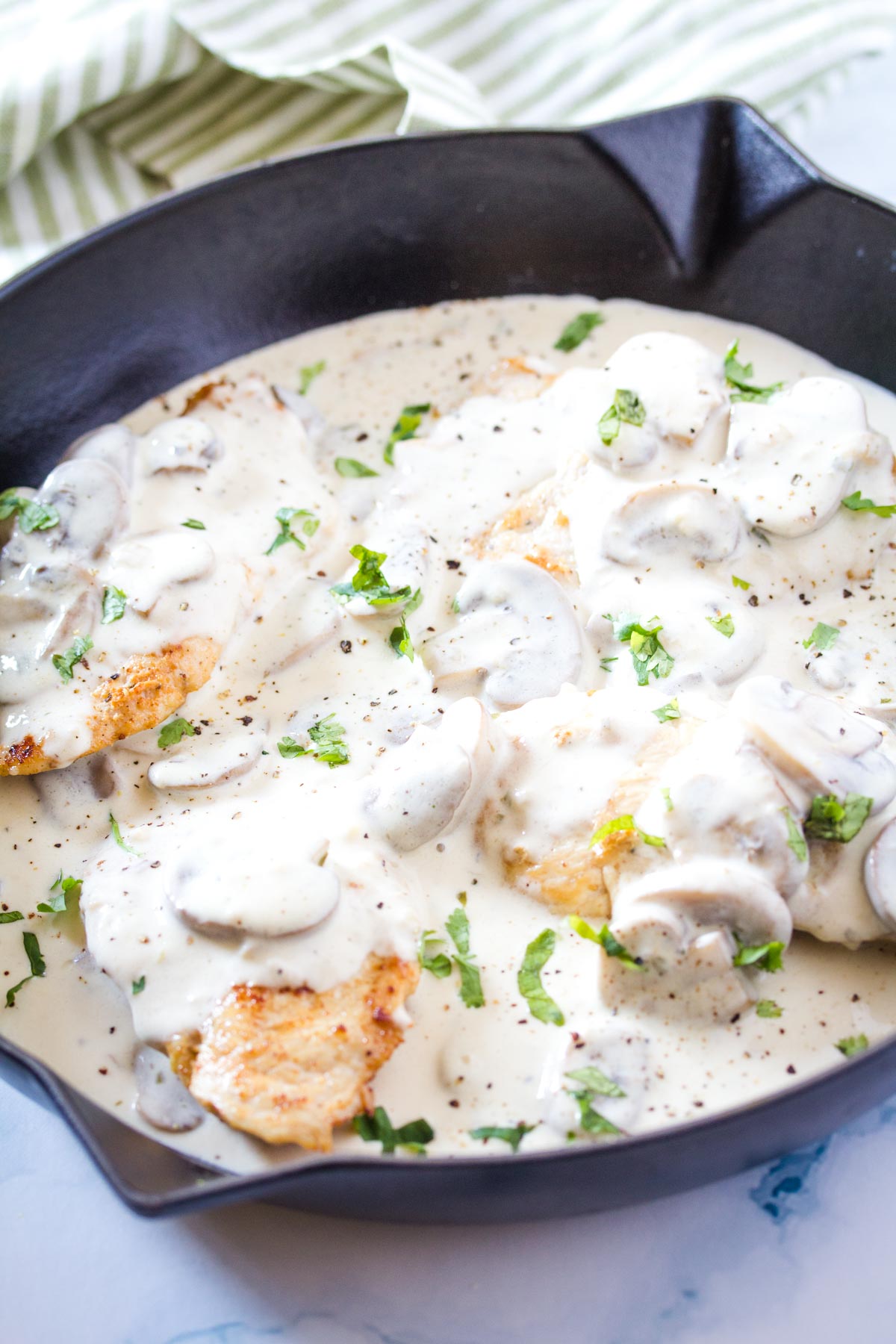 If you are looking for a deliciously easy keto chicken recipe for dinner tonight, look no further than this Creamy Mushroom Chicken. While you can absolutely serve it over a plate of pasta if carbs are not your enemy, it is equally delicious served atop a bed of cauliflower rice.
Why this Recipe Works
Now, let's talk about this Grilled Chicken in Creamy Mushroom Sauce and why you should make this as soon as possible... This scrumptious, creamy dish is calling your name!
If you have been missing out on your favorite restaurant dishes since the pandemic hit, this recipe is sure to transport you back to your happy place from the comfort and safety of home.
And you don't even have to dress up to enjoy this dish (but you totally could if you wanted to!). Awesome, right? Especially if you're a stay at home mom like me! 😉
Oh, and I should mention that this delicious chicken dinner is also made in just one skillet! That means that cleanup for this decadent date night dinner is minimal, meaning you can focus more on eating and spending time with your loved ones. One way ticket to dinner heaven, please!
Reasons to Make this Grilled Chicken in Creamy Mushroom Sauce Tonight
If you're not already sold on the idea of eating succulent, golden brown chicken in a luscious parmesan mushroom cream sauce, here are a few more reasons to consider:
1.) You need to eat, and you don't have a chef to cook for you. And last night's take out pizza was devoured for breakfast (whoops!) Lol. 😛
2.) There is no marination involved, and there aren't many steps between you and this golden chicken drenched in a flavorful creamy mushroom sauce. Dinner can be on the table in less than 30 minutes with this one pan chicken recipe!!
3.) You're on the keto diet but are still craving cozy comfort food to warm your body and soul. This Creamy Mushroom Chicken is 100% keto friendly!
4.) Finally, you need to make this easy keto chicken recipe, because it's a nice restaurant-y twist on regular plain old chicken and this mushroom cream sauce will make dinner time a bit more exciting!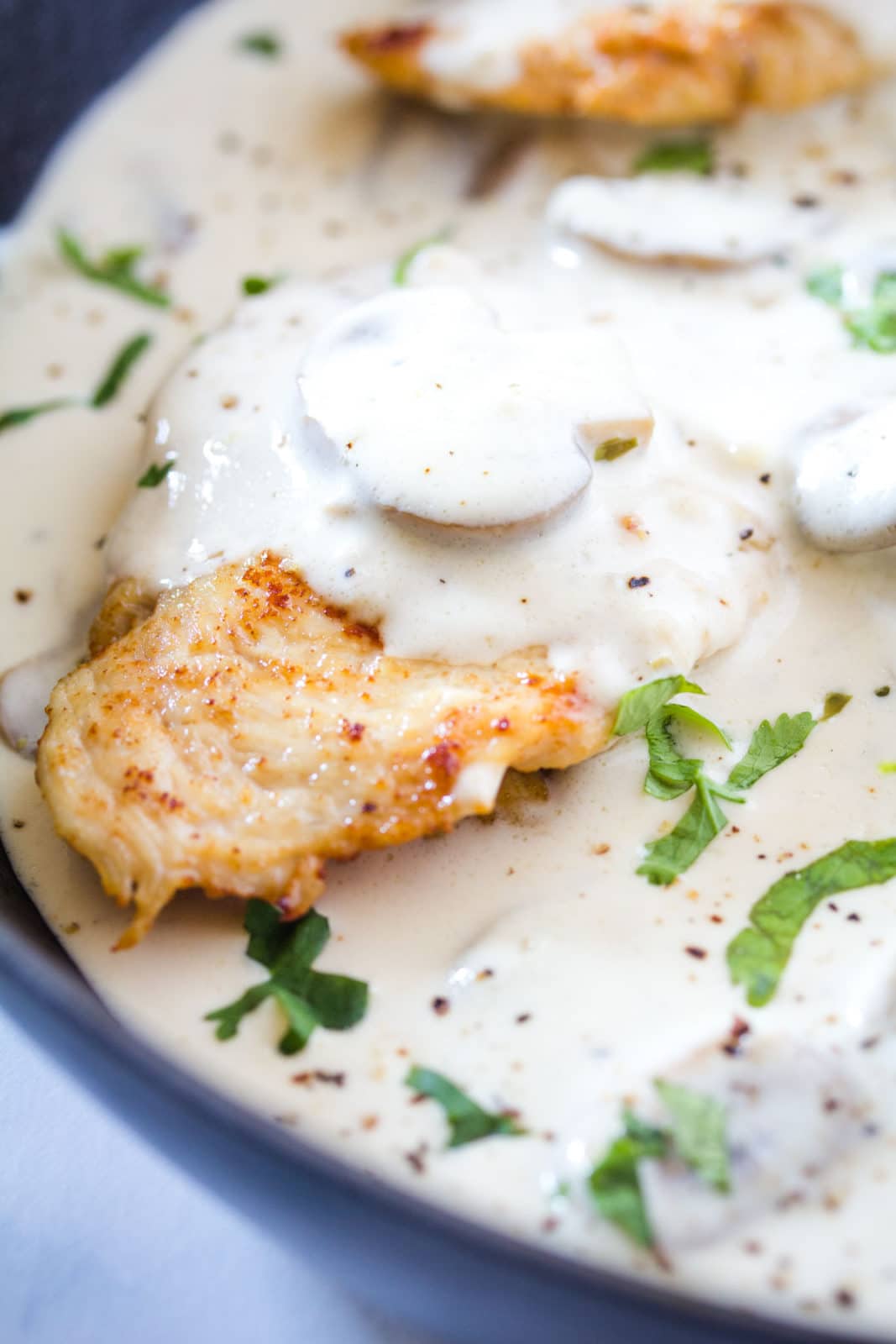 What You'll Need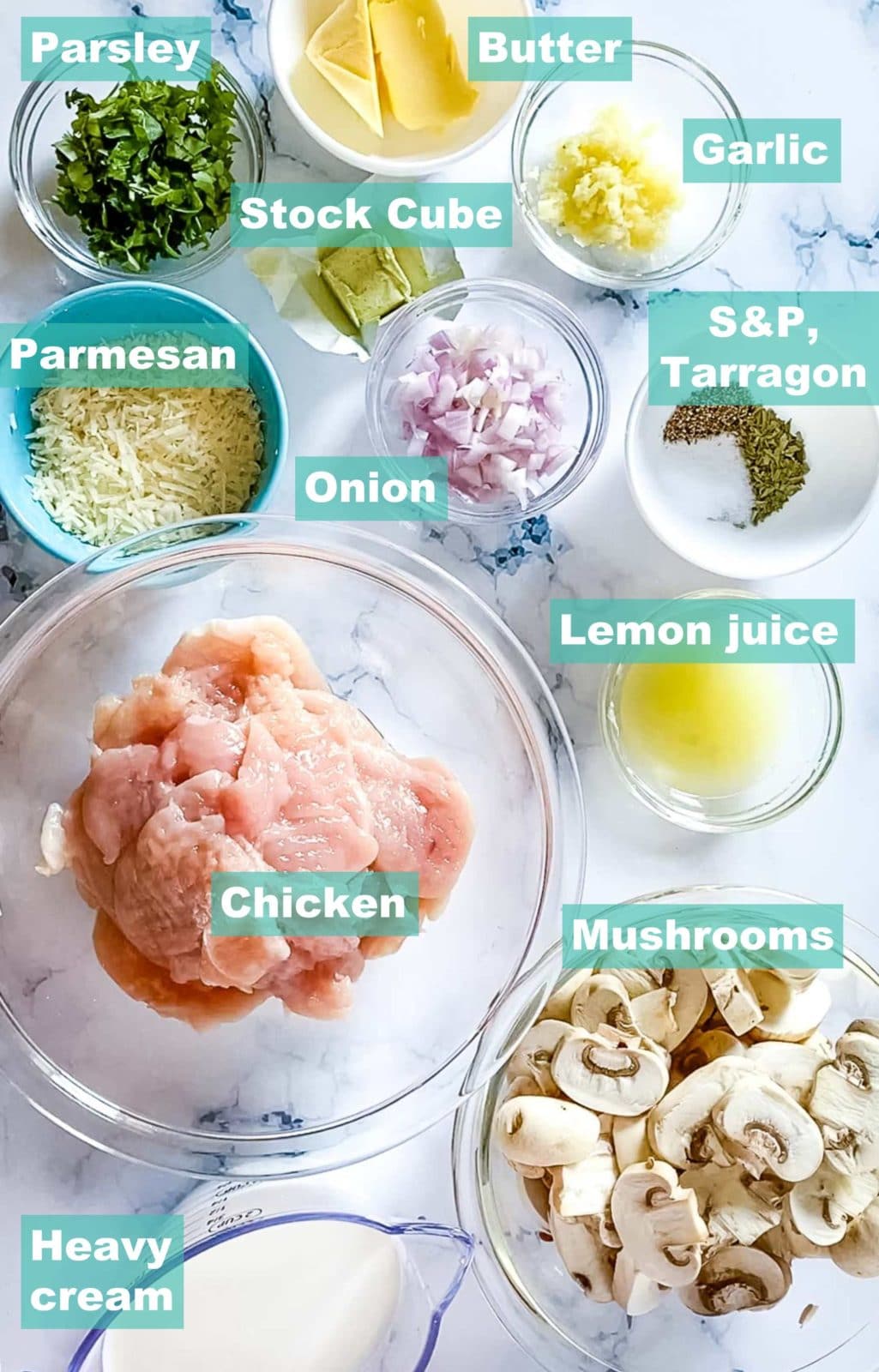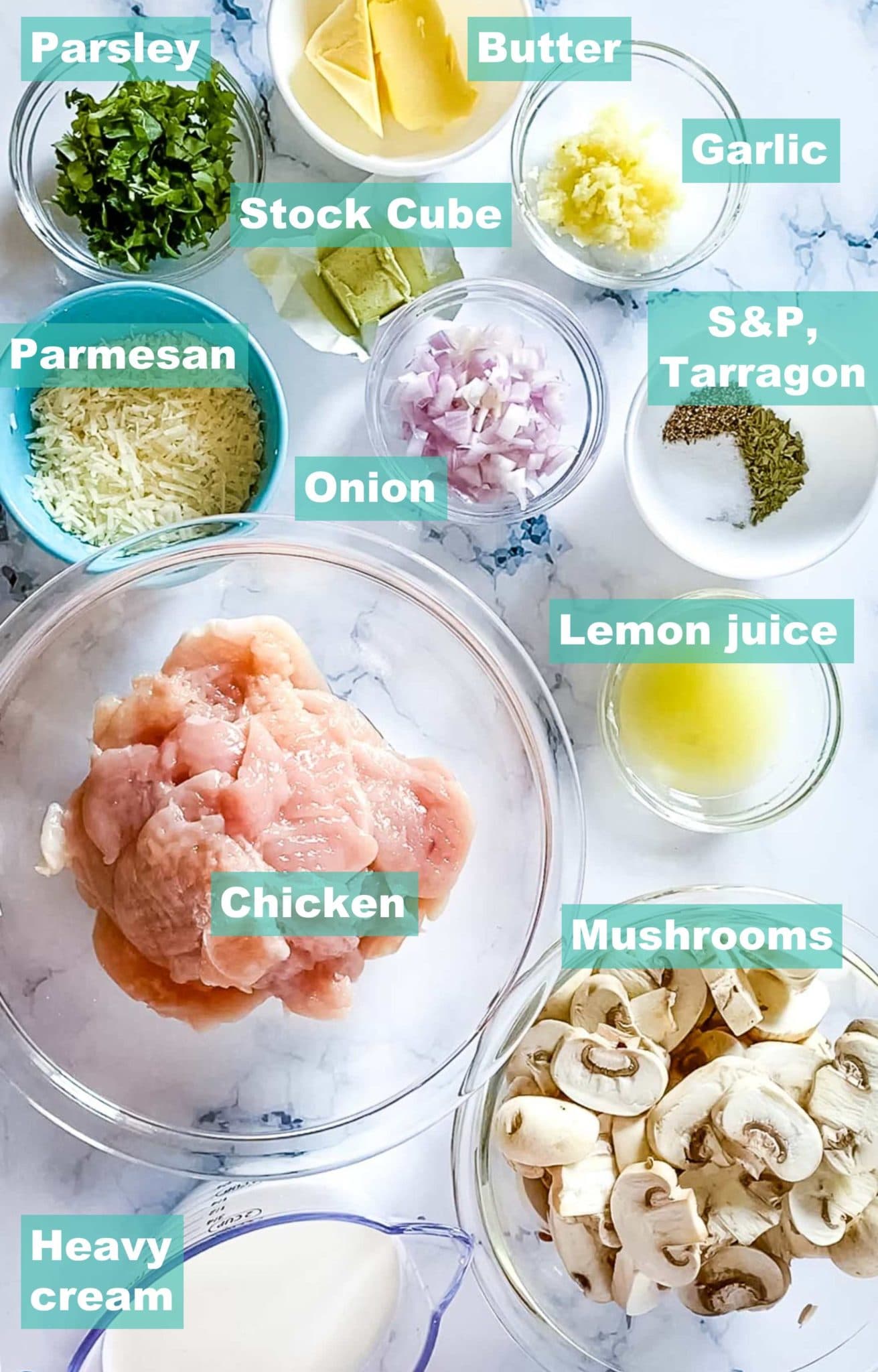 The ingredients for this easy keto chicken recipe are very straightforward and should be easily accessible at any grocery store. Boneless, skinless chicken breasts are sautéed in butter with salt and pepper for a super simple protein.
Mushrooms are sautéed in butter with garlic, onion, fresh tarragon, salt and pepper, then finished off with decadent cream, a flavorful stock cube and salty parmesan for a meal made in heaven.
If you want to round out the meal with a starch, this creamy mushroom chicken recipe is quite delicious over pasta, cauliflower rice, mashed potatoes or cauliflower purée, but it is also equally delicious on its own.
How to Cook Juicy Boneless, Skinless Chicken Breasts
Boneless, skinless chicken often gets a bad rap for being dry, tough and tasteless. It turns out that this poor reputation is often attributed to the cooking method! Use the instructions below to get a deliciously juicy, golden hued chicken breast every time.
First up, you'll need to prepare the chicken breasts so you are dealing with the most tender, evenly cut pieces possible. Using a sharp chef's knife, slice the chicken breasts in half like you are opening a book.
Next, use a meat mallet to tenderize the chicken and pound it out to an even thickness, about 1/2". This will help the chicken cook quickly and evenly without losing juices. Season both sides with kosher salt and pepper.
TIP: Don't have a meat tenderizer on hand? That's alright! Cover your chicken with a bit of saran wrap that has been lightly sprayed with water on the underside. Use one side of a rolling pin, or a cast iron skillet to pound out the chicken.
Get your butter melted in a skillet over medium heat. Once the butter is bubbling, add your chicken pieces and cook undisturbed for about 2-3 minutes. Flip the chicken and continue to cook for another 2-3 minutes, until both sides are golden and the internal temperature registers 165F.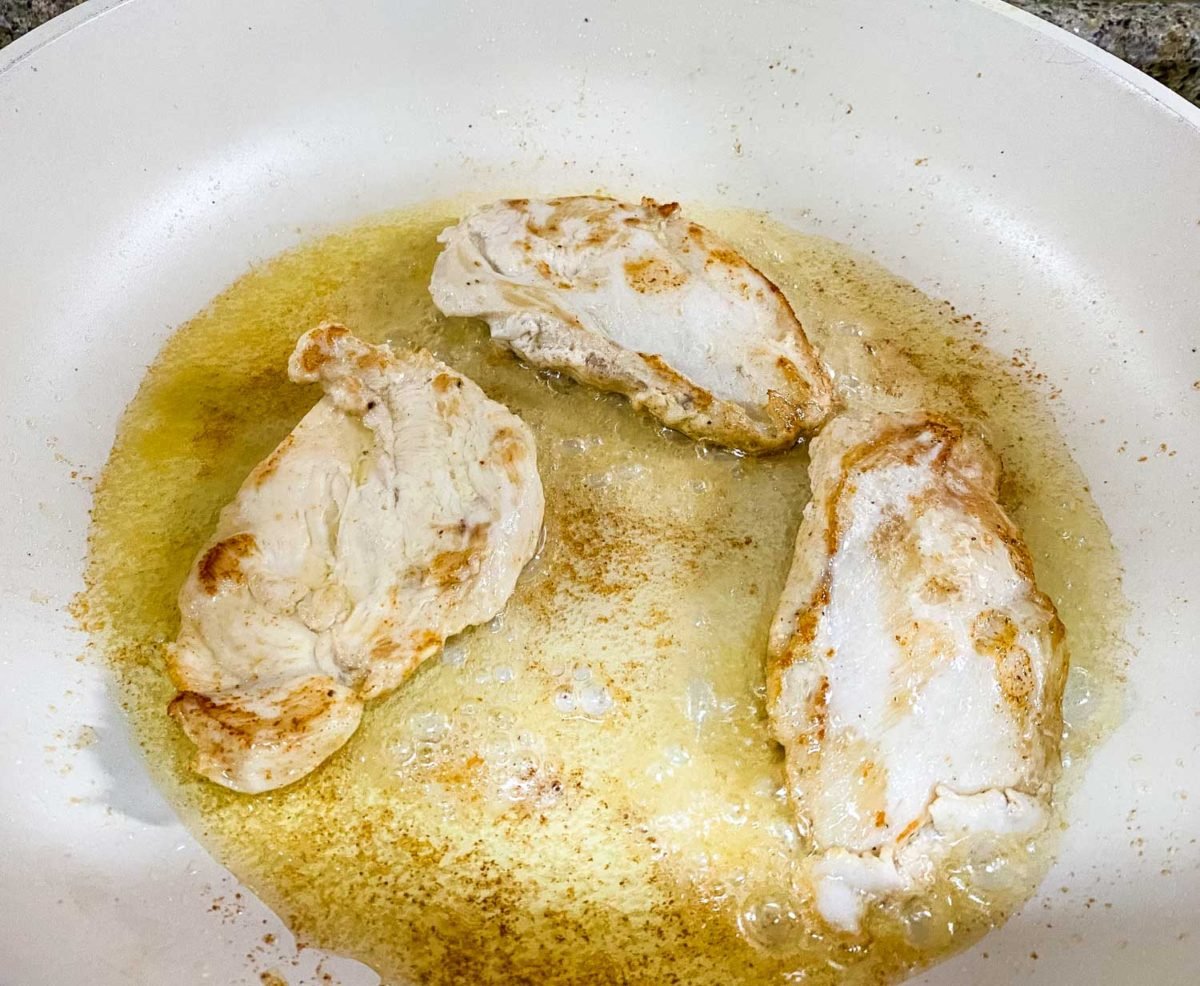 Remove the cooked chicken from the pan immediately and set on a plate to rest. Lightly tent with foil to maintain heat until the creamy mushroom sauce is ready. Don't worry about washing the pan before making your sauce; this is a one pan chicken recipe, remember?
How to Make Creamy Mushroom Parmesan Sauce
Usint the same pan as you cooked your chicken in, melt a bit more butter and oil. (No need to wash it! You want all that lovely fond leftover from the chicken.) Add your chopped onion and sauté until it begins to soften and turn translucent. Add the garlic and cook until just fragrant, about 30-45 seconds.
TIP: Burnt garlic is a very bitter and acrid flavor - to avoid your garlic burning, be sure to cook it in short bursts to allow the flavor to develop quickly! As soon as the garlic is aromatic, it is a good idea to add liquid to the mix to stop it from frying. In this case, mushrooms do the job. 🙂
Add sliced mushrooms to the pot with a pinch of salt to encourage sweating. Sauté for 4-5 minutes, until the mushrooms become golden brown.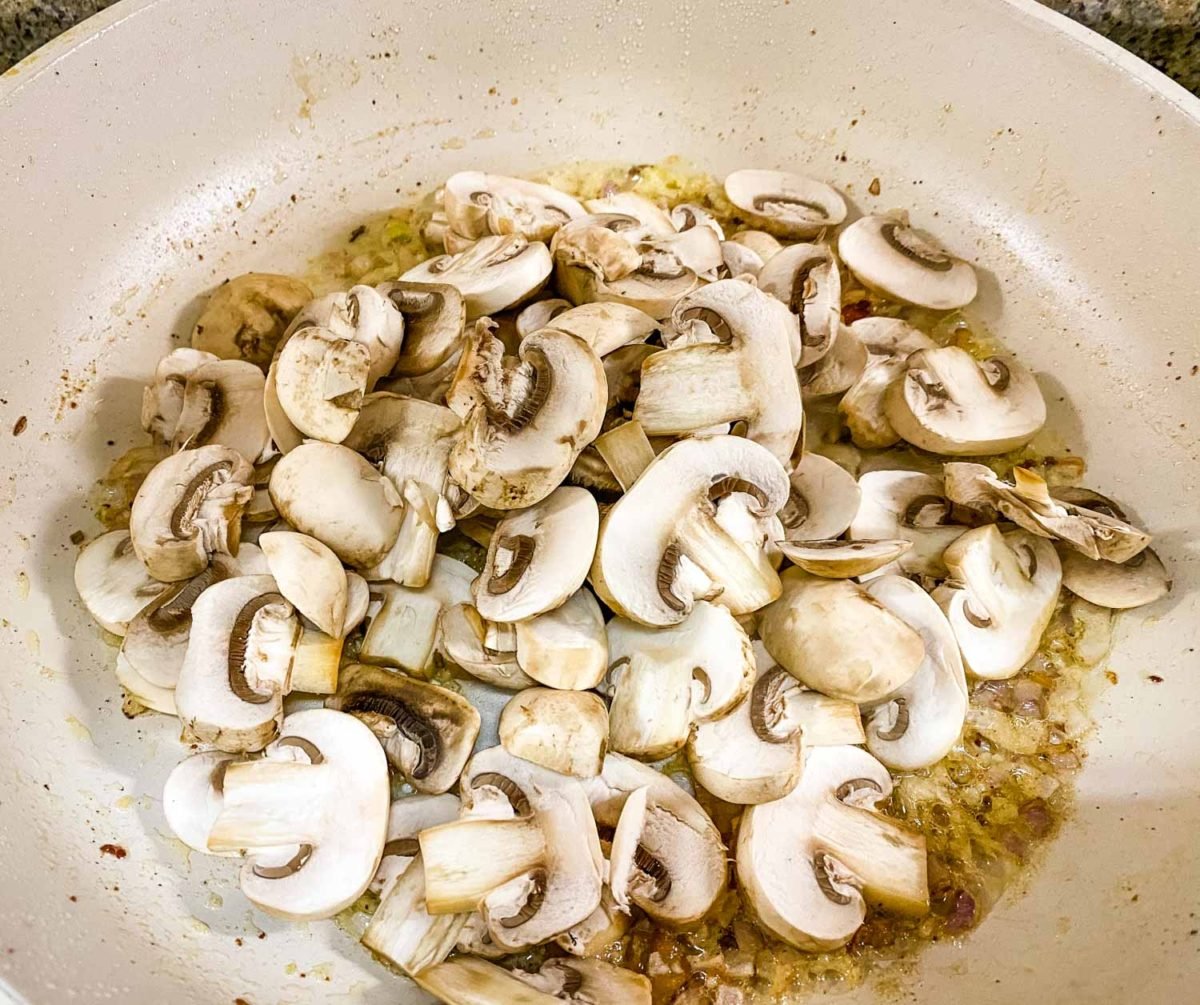 Once the mushrooms are golden and the majority of the liquid has evaporated, you're ready for the next step!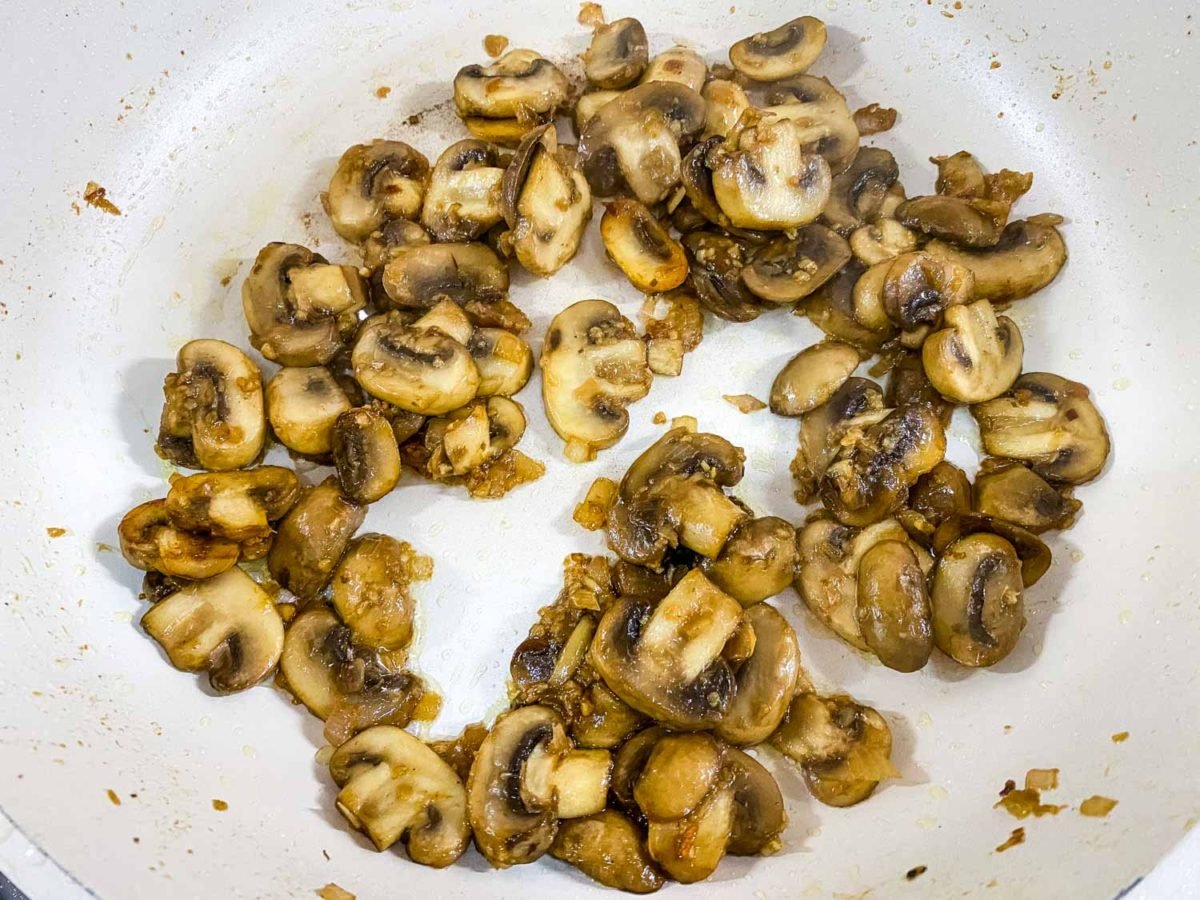 Next, add your cream, water and chicken bouillon cube and bring to a simmer. Cook until the cube dissolves.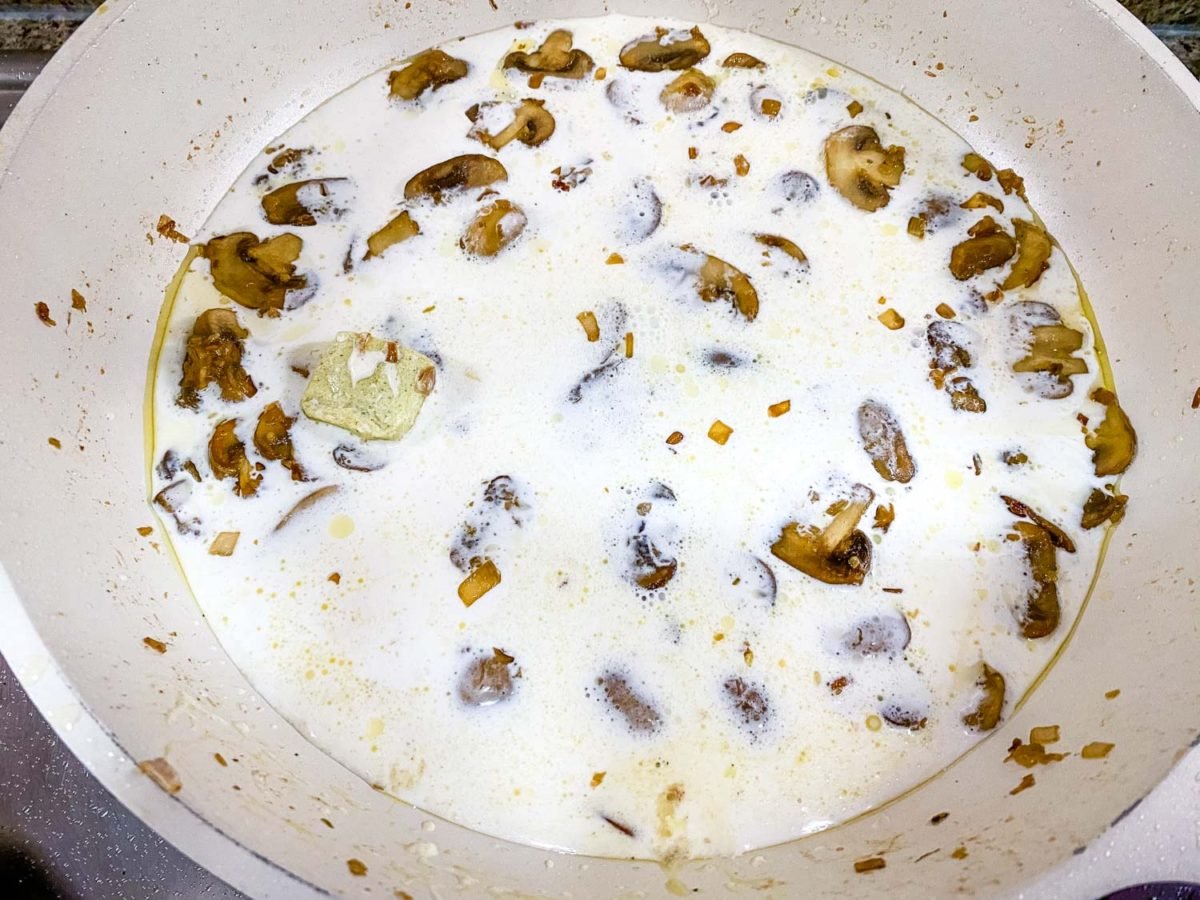 Next, add your tarragon, salt and pepper to the mix and stir to incorporate. Simmer for a few minutes, until the sauce has thickened slightly. It should coat the back of a wooden spoon, which looks like this (fast forward to 1 minute 11 seconds).
Finally, add your parmesan and stir to melt it.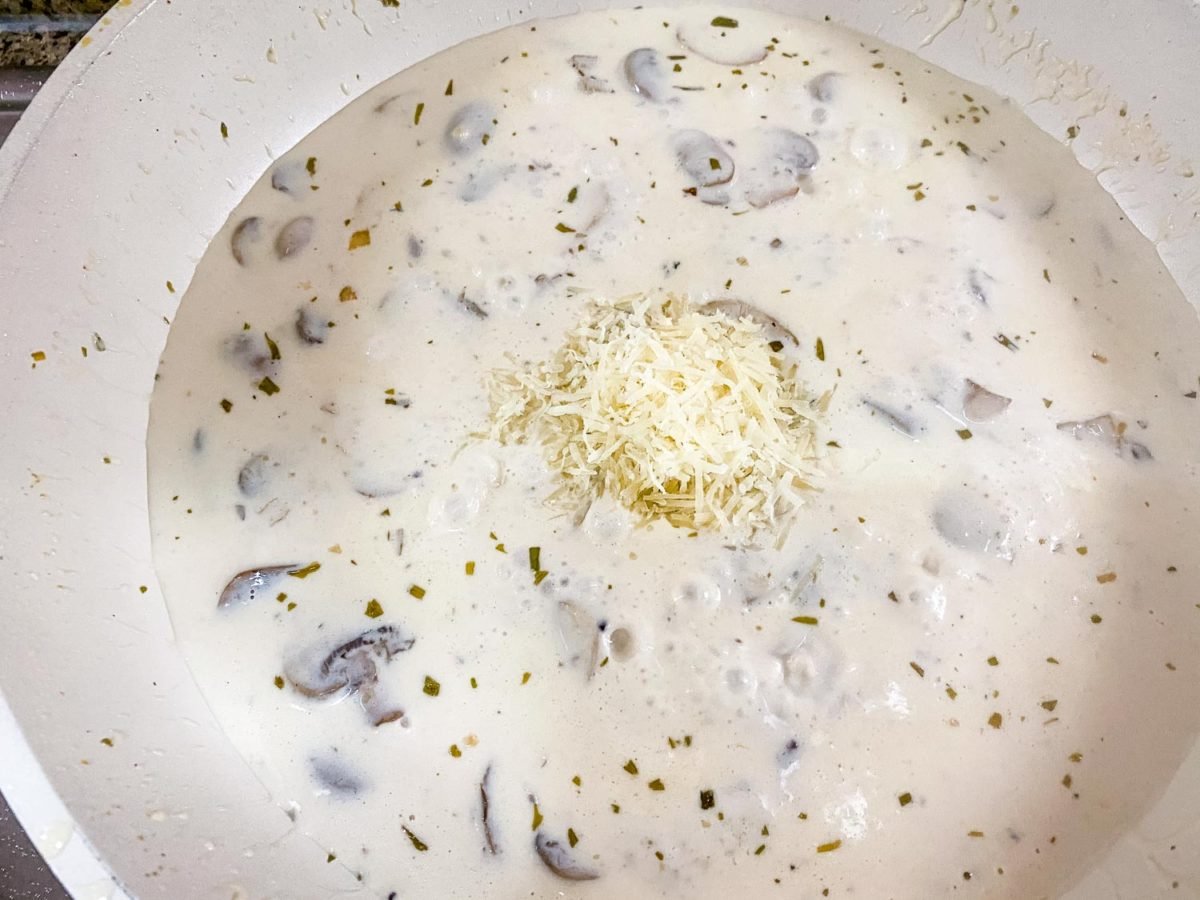 Look how yummy that sauce looks!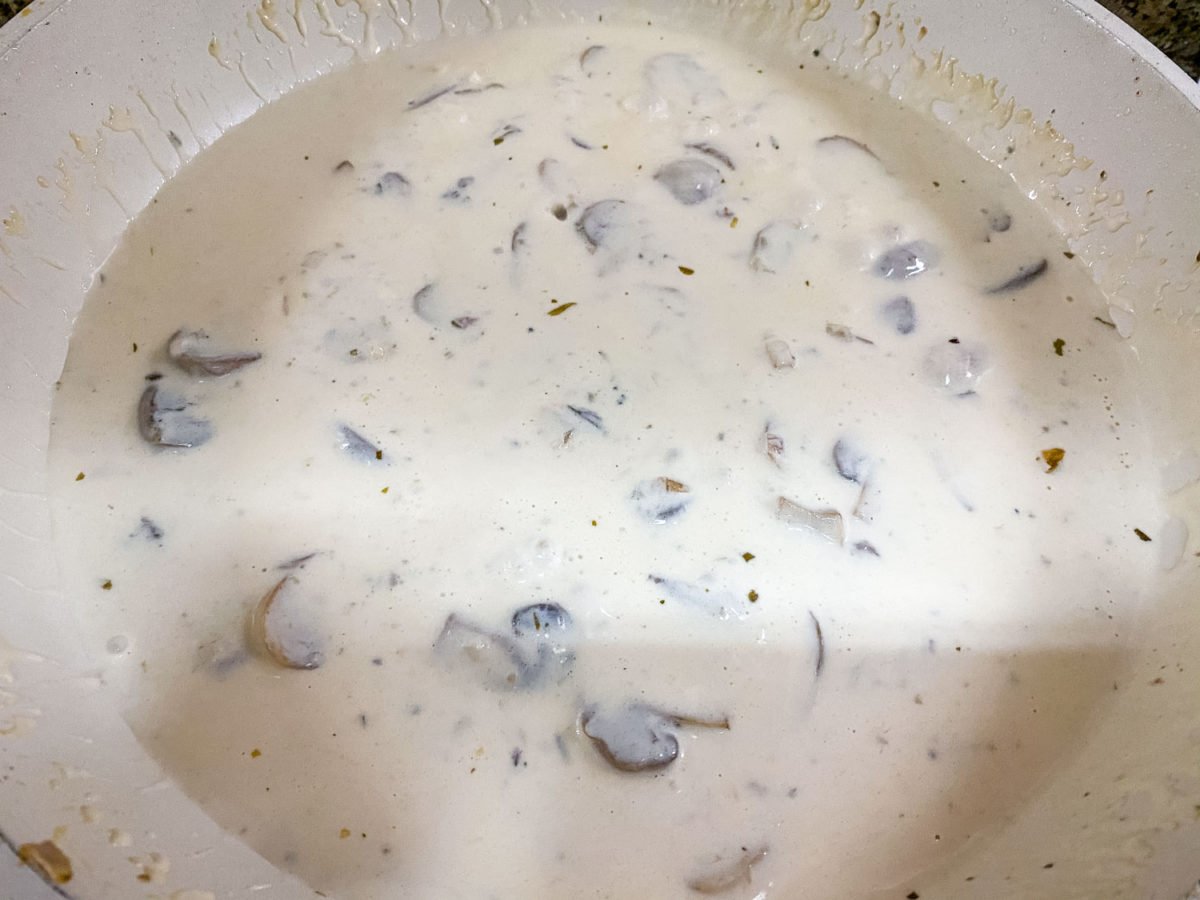 As a final step, nestle your cooked chicken breasts back into the pan with the sauce for 2-3 minutes over heat. This will help to reheat the chicken prior to serving. Plate up and serve with a sprinkling of fresh parsley. Enjoy!
Top Tips & Recipe FAQs
How should I serve this one pan chicken recipe?
This dish is so decadent and delicious that it will taste good with just about anything. We often it eat solo, but also love to slice the breasts and serve the dish over a bowl of pasta. Mashed potatoes also make an excellent accompaniment to help soak up all of the creamy mushroom sauce.
If you're following a low-carb or keto lifestyle, you can opt to use mashed cauliflower, cauliflower rice or heart of palm pasta if you want something on the side.
Finally, since this Creamy Mushroom Chicken is so decadent, a lovely green salad dressed in a simple vinaigrette can help to cut through some of the richness of this dish and provide a veggie boost to the meal. Alternatively, sautéed broccolini, spinach, kale or any other hearty green makes a great winter pairing as well.
I am lactose intolerant... can I make the creamy mushroom sauce dairy free?
While heavy cream and hard cheeses like parmesan are already naturally low in lactose, that may not be good enough for those of you who are really sensitive to the effects of dairy. In this case, I recommend opting for vegan butter, lactose free milk thickened with a roux (made from vegan butter and flour or GF flour) and about 1/4 cup of nutritional yeast.
Can I make this easy keto chicken recipe ahead of time?
While the chicken breasts and creamy mushroom sauce will technically keep in the refrigerator for up to three days, I find that the quality of the dish is best when it is served immediately. Since it requires just 25 minutes from start to finish and is a one pot chicken recipe, though, it is easy enough to make on any weeknight!
I am out of fresh parsley... what should I do?
In this case, parsley lends just a touch of lemony brightness to the dish and is mainly used to add a pop of color to the final product. If you have run out of parsley, don't fret! Simply omit it, or substitute a fine chiffonade of a few leftover tarragon leaves. In a pinch, a hefty crack of fresh black pepper also looks quite pretty.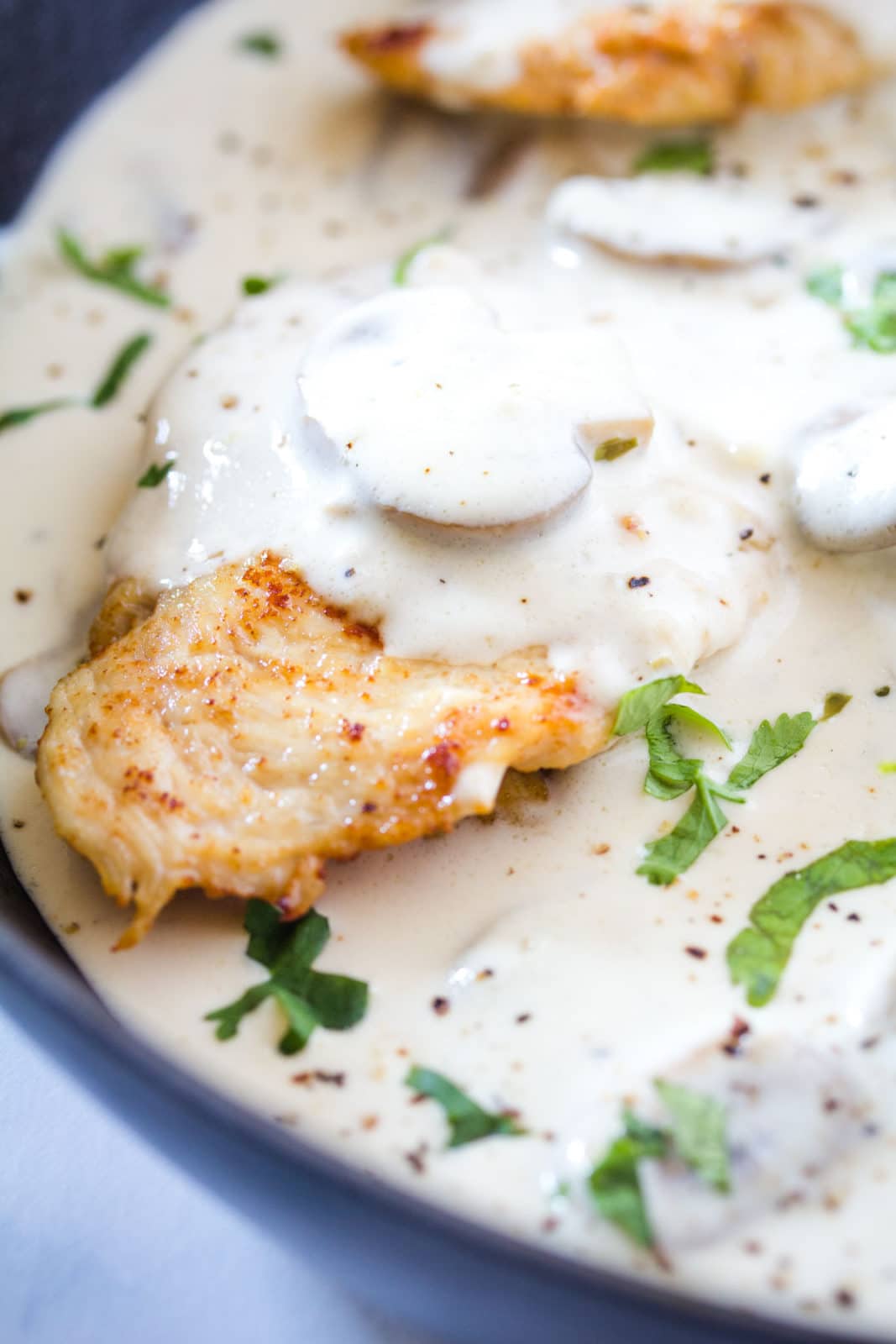 Need more chicken inspiration? Check out some of my other favorite recipes below:
Note: This recipe was originally published on 21st Feb 2017. It's been updated for new pictures and step by step instructions.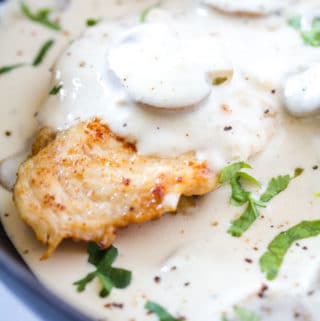 Creamy Mushroom Chicken Recipe
This restaurant style creamy mushroom chicken is so easy and fast to make at home. This will easily become a part of your weekly dinner rotation, it's that good!
Print
Pin
Rate
Ingredients
For the Chicken
4

tbsp

butter

450

grams

chicken

sliced half

Salt and pepper to season
For the Creamy Mushroom Sauce
2

tablespoons

butter

1

teaspoon

oil

1/2

onion

chopped

3

garlic cloves minced

250

grams

mushroom

sliced

1

cup

cream

1/2

cup

water

1

chicken cube

Salt & pepper to season

1

teaspoon

dried tarragon

1/4

cup

freshly grated Parmesan cheese
Instructions
For the Chicken
In a skillet, melt the butter and cook the chicken on both sides until golden brown and cooked through.

Remove and place on plate set aside.
For the Creamy Mushroom Sauce
Now to same pan add more butter and a little bit of oil.

Add chopped onion and sauté. Then add garlic and sauté a few seconds, until it's fragrant.

Add the sliced mushrooms, and cook until softened and golden brown, about 4-5 minutes.

Add the cream, water and chicken cube. Cook until the chicken cube has dissolved.

Now add the salt & pepper, dried tarragon.

Mix, and simmer for a few minutes, until the sauce has slightly thickened.

Add the parmesan cheese, and mix.

Add the cooked chicken, and simmer for 2-3 minutes until the chicken has warmed through.

Serve immediately!
Nutrition
Calories:
1642
kcal
|
Carbohydrates:
89
g
|
Protein:
147
g
|
Fat:
76
g
|
Saturated Fat:
25
g
|
Cholesterol:
426
mg
|
Sodium:
1090
mg
|
Potassium:
3705
mg
|
Fiber:
4
g
|
Sugar:
60
g
|
Vitamin A:
1909
IU
|
Vitamin C:
16
mg
|
Calcium:
1255
mg
|
Iron:
5
mg