It's creamy, it's luscious. It's earthy with the flavor of mushrooms. It's warm. It's comforting. Andddd it's made in one pot. Yes, I'm talking about this beautiful, dreamy One Pot Chicken & Mushroom Linguine Tetrazzini.
I'm going to sound like a broken record if you're a regular reader here, but this One Pot Chicken & Mushroom Linguine Tetrazzini is so simple and delicious your whole family will love it!
When I started this blog about a year ago (wow, a year!) I had a certain vision of all the recipes I would post, most of them being extravagant and full of complex flavors. And while most of the vision has remained the same, I feel myself gravitating towards easy recipes with simple flavors.
I mean, don't get me wrong there's nothing wrong with complicated recipes...the patience and work that these recipes require do result in great flavors. But life can be so busy that at times that all you want is an easy recipe which is flavorful and more importantly comforting for the soul.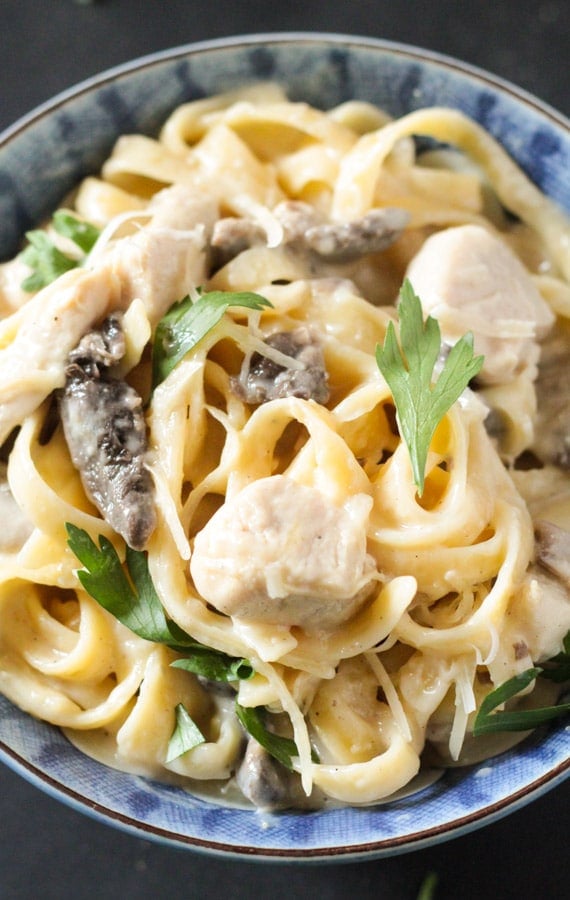 And as winter is approaching, I believe this easy one pot recipe will be one that you will want to make again and again.
It's unbelievable how such a few simple ingredients can marry together to form such a creamy, rich, and delicious pasta.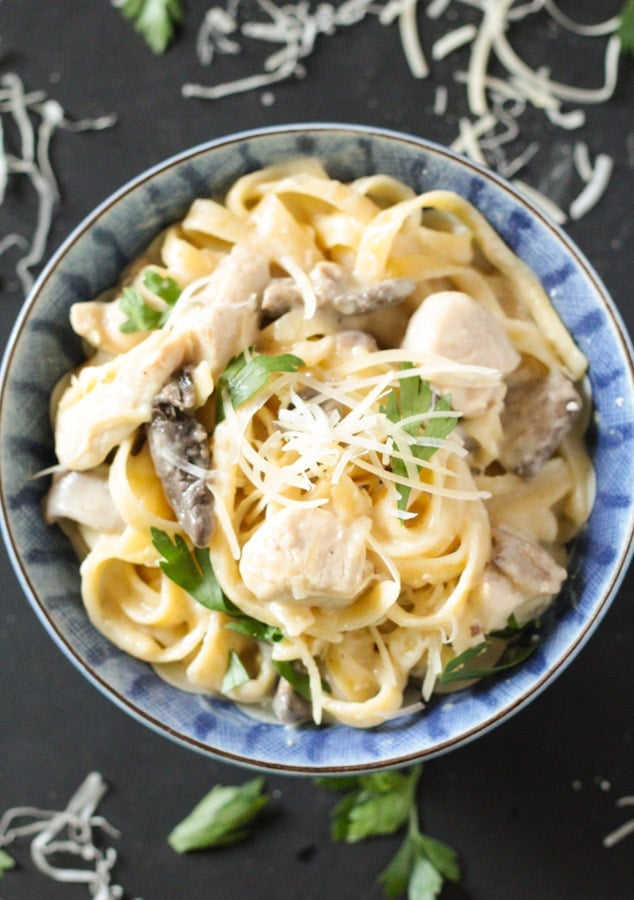 So if I still haven't convinced you to try this pasta recipe, here's a brief list of steps and reasons why you should make this recipe like right now:
Okay, so this dish starts from melting butter in a pot, and then lightly sauteeing the mushrooms and chicken. Umm, major flavor marriage going on right now. You'll know what I'm talking about when you make this and the scent of happiness (butter + mushrooms + chicken) wafts through your kitchen. Season with salt, pepper and garlic powder for even more flavor.
Then you take out the mushrooms and chicken and set them aside. Now it's time to make the roux (a bit of flour cooked in butter) and then the milk is added and whisked until it thickens into a luscious, creamy sauce that is to die for.
Next go in the pasta, mushrooms and chicken to be cooked on low heat until the pasta is al dente, the flavors have married into the most beautiful union ever (even better than Romeo & Juliet's love, people...although they didn't get married but you know what I mean :P).
And finally...the crowning glory...the parmesan cheese goes into the pot...to melt beautifully and add even more flavor.
Lastly, dish out a generous helping of the steaming pasta, and dig in with a fork. Welcome to happiness. This is what it looks like.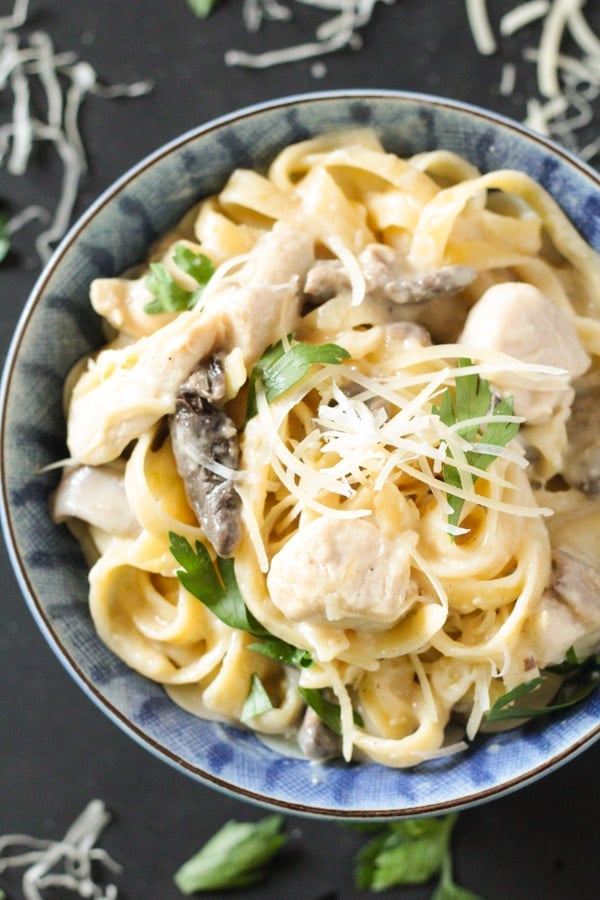 Okay, I think that was enough poetic love about a pasta recipe, no? Now go on, go to your kitchen and make this, you won't regret it! 😉
Looking for more easy pasta recipes?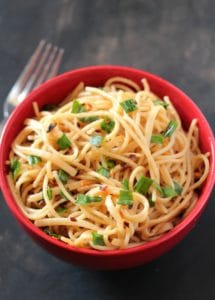 Crispy Lemon Chicken with Creamy Garlic Penne Pasta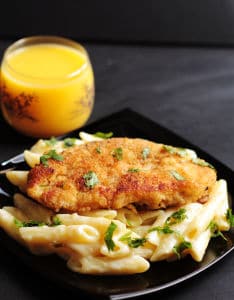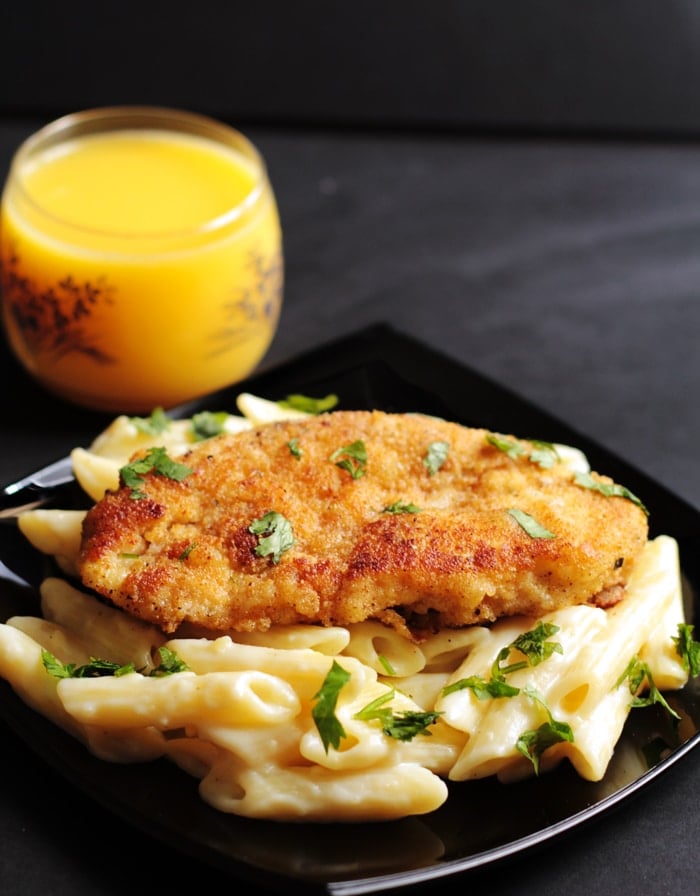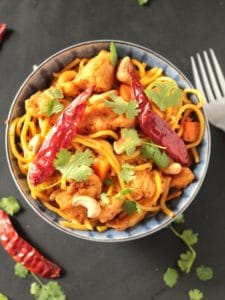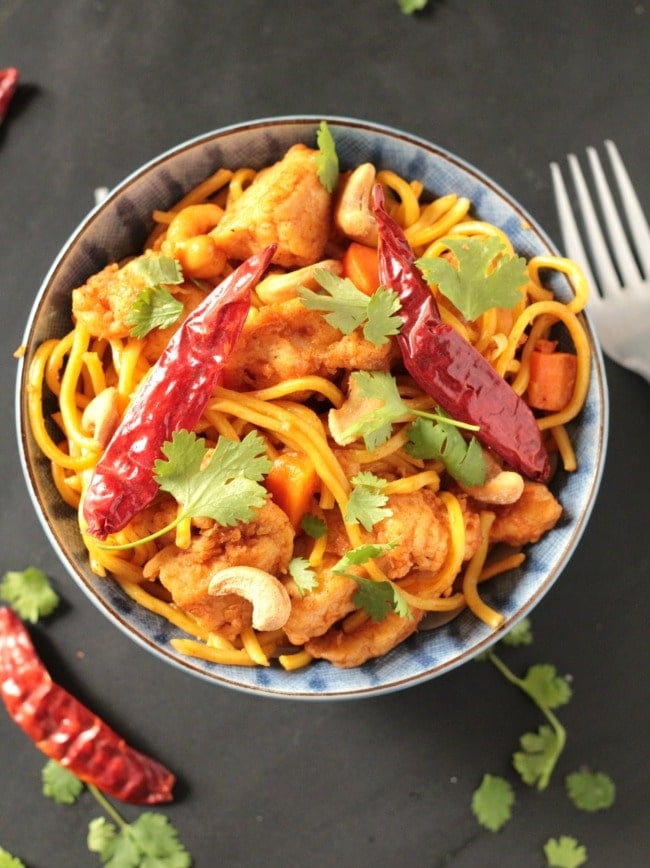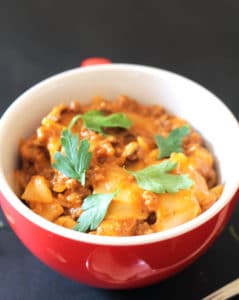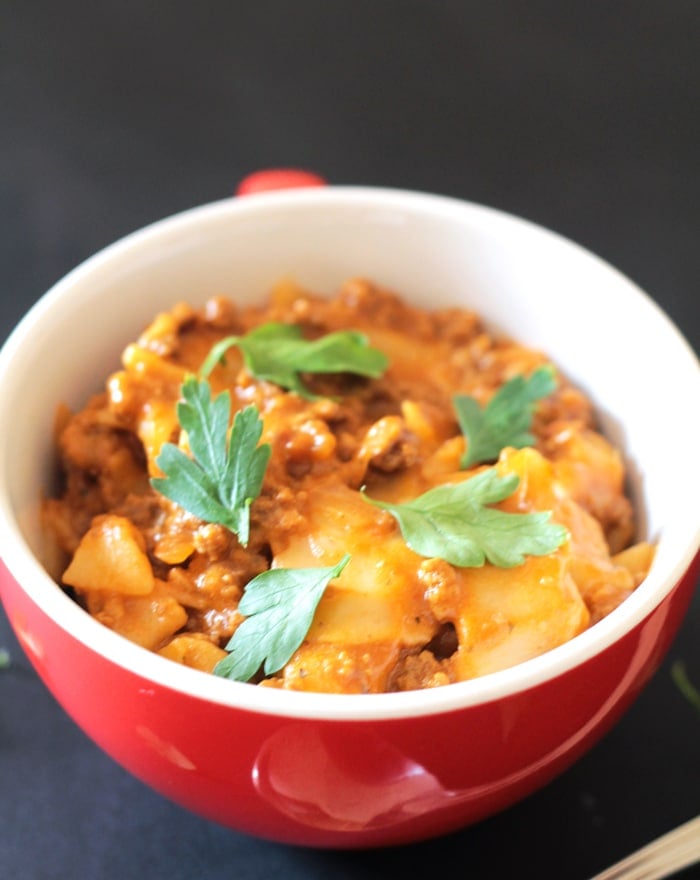 Chicken Chow Mein with Rainbow Vegetables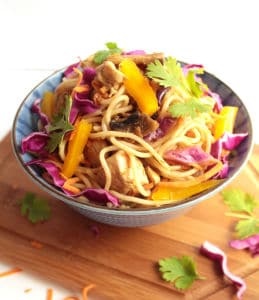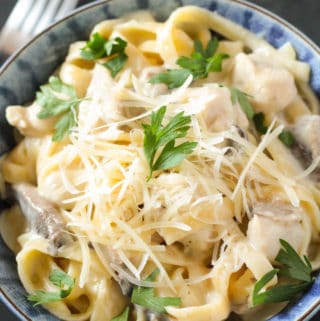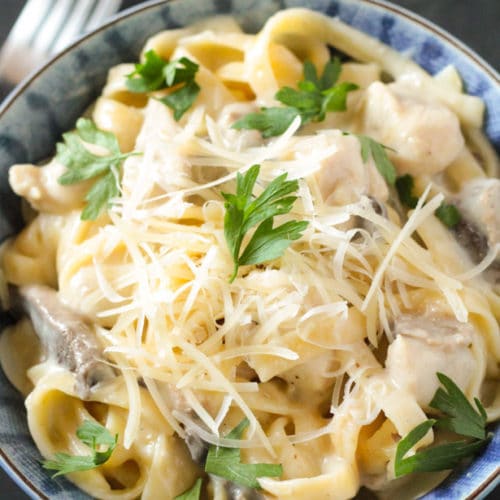 One Pot Chicken & Mushroom Linguine Tetrazzini
One Pot Chicken & Mushroom Linguine Tetrazzini - a very easy, but flavorful recipe that is made in just one pot with a handful of ingredients in less than an hour. Perfect for weeknight dinners.
Print
Pin
Rate
Ingredients
4

tbsp

butter

3

chicken breasts

cut into 1 inch cubes

2

cups

mushrooms

sliced

1/4

cup

all purpose flour

3

cups

chicken broth

see notes for substitution

1

cup

milk

8

oz

fettuccine

salt and pepper to taste

1

teaspoon

garlic powder

optional

1/4

cup

Parmesan cheese

Parsley for garnish
Instructions
In a large cooking pot, melt 2 tablespoons of butter over medium high heat. Add the sliced mushrooms and chicken, and cook until the chicken changes color and is no longer pink (this will take about 5 minutes). Add the salt, pepper and garlic powder and mix. Take out the chicken and mushrooms and set aside.

Add the remaining 2 tbsp of butter to the pot and 1/4 cup of flour. Add the chicken stock and milk and continue whisking to ensure no lumps are formed in the sauce. Keep whisking until the sauce thickens.

Once the sauce has thickened, turn down the heat to low and add the pasta and the chicken and mushrooms back to the pot. Stir well. Cover and cook for 20 to 25 minutes until the pasta is al dente, stirring every few minutes to avoid the pasta clumping together. After the pasta is cooked, remove from heat.

Sprinkle the pasta with parmesan cheese and chopped parsley.
Notes
Substitution for Chicken Broth: Add one chicken cube to 3 cups of warm water.
Recipe slightly adapted from Jo Cooks.