So, things got reallllyyy messy with this Salted Caramel Mocha Ice Cream Shake. I mean there was an ice cream avalanche. See in my mind, I had the perfect image for this shake: thick shake poured into a tall glass, topped with the perfect scoop of ice cream, and chocolate syrup and salted caramel drizzled gracefully over the scoop.
See how innocent this milkshake looks right now? Well, all the innocence flied out of the window once I added the ice cream, chocolate syrup and salted caramel sauce. In hindsight, maybe I went overboard with the toppings. But in further hindsight, it was a delicious mess.
Things did not go as planned. Turns out I filled the glass a bit too much with the shake (greedy much?), then I added the ice cream which did not want to stay frozen at all. Then came the drizzling of the chocolate syrup and salted caramel sauce. It was everywhere. And it was delicious. All of it. Every last drop. Am I repeating myself? It must be chocolatey, gooey caramel coffee drink talking in me.
Normally, I spend a lot of time day dreaming of the type of photos I'll take of a recipe I'm working on. Yes, yes, I'm weird and obsessed with taking perfect pictures of food. I'm a food blogger after all, it's my job. 😉 I also spend a lot of time taking photos of the recipe, as I'm obsessed with the getting the perfect shots – like the perfect salted caramel sauce pour shot, or capturing the perfectly ooey gooey center of a Nutella stuffed cookie. However, this shoot, well this one was a difficult shoot as I had to work really fast as the ice cream was melting a super fast pace. I was almost sure that this was a waste of a photoshoot and I would have to reshoot another day.
But then I looked at the pictures, and you know what? This is what this shake is meant to be. Messy. Indulgent. Over the top. Ice cream everywhere. Drips of chocolate syrup and salted caramel sauce all over the place. It wouldn't be fun to drink it as much if it was picture perfect.
So here it is. The messy, overly indulgent, delicious Salted Caramel Mocha Ice Cream Milkshake.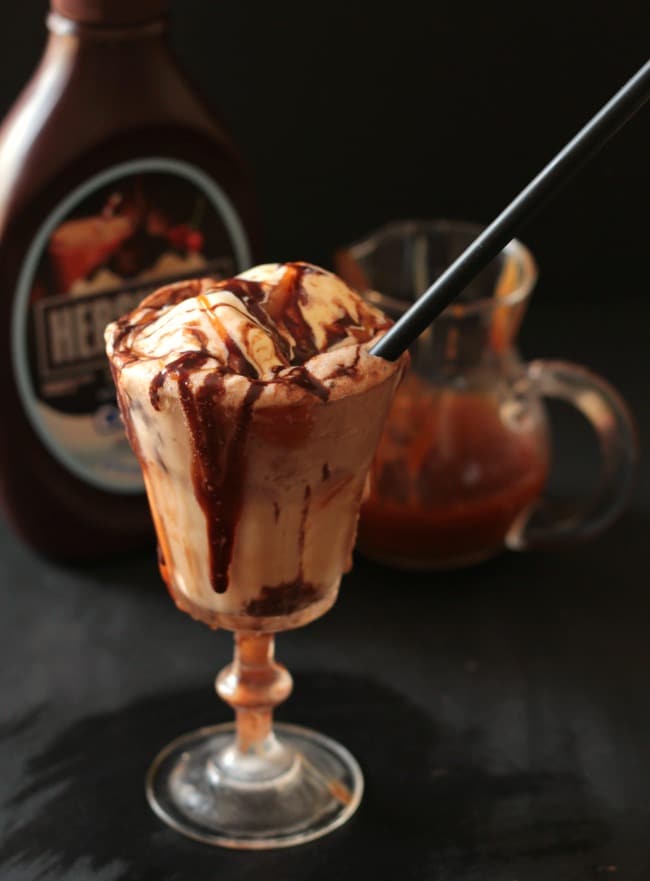 Enjoy!
Recipe for Homemade Golden Salted Caramel Sauce here.

Wajeeha
Yields 1
Salted Caramel Mocha Ice Cream Milkshake
This unbelievably delicious Salted Caramel Mocha Ice Cream Shake is the perfect and easy treat for hot summer days!
5 minPrep Time
5 minTotal Time
Ingredients
For the Shake
1/4 cup milk
1 scoop vanilla ice cream (you can use chocolate as well)
3-4 tablespoons Hershey's chocolate syrup
1/4 cup strong coffee
For Topping
Homemade Salted Caramel Sauce (you can use store bought as well)
Hershey's Chocolate Syrup
1-2 scoops of vanilla ice cream (or chocolate)
Instructions
For the Shake
Blitz all the ingredients in a blender until well combined.
For the Topping
Pour the shake into a glass, and top with ice cream, homemade salted caramel sauce and Hershey's chocolate syrup.
Enjoy!
7.6.3
47
http://ikneadtoeat.com/salted-caramel-mocha-ice-cream-milkshake/
Want to sip on more delicious drinks?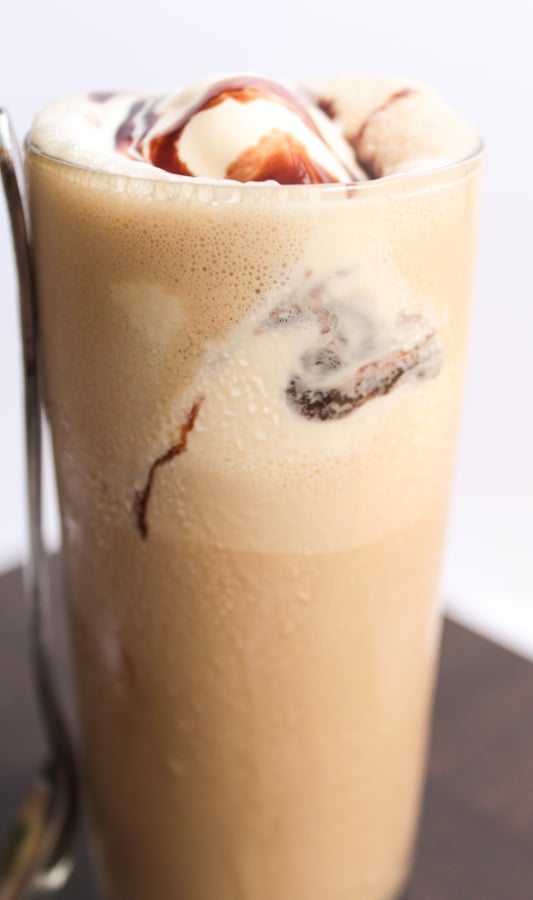 Reese's Peanut Butter Cups Banana Milkshake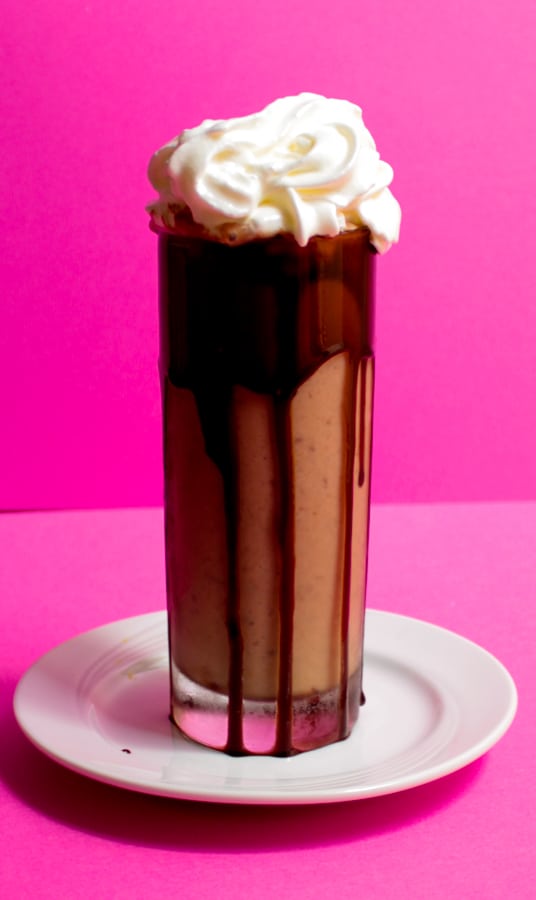 Cocoa Puffs Cereal Milk Milkshake