This Giant Chocolate Chip Cookie Stuffed with Peanut Butter Cups is not for the faint of heart. Dieters/chocolate haters/cookie haters/happiness haters...please avert your eyes. Because this a giant soft and chewy chocolate chip cookie stuffed with ooey gooey peanut butter cups and it's not something to be taken lightly. For the rest of you, welcome to dessert heaven. This is where you can indulge in your sweet tooth as much as you want, no one is going to judge you.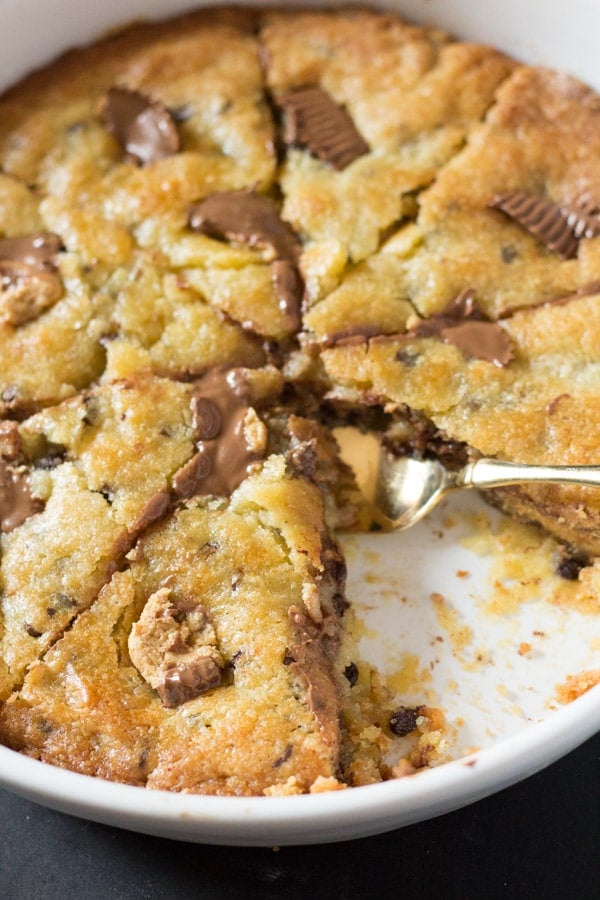 This cookie is so easy to make, and perfect for kids and adults alike. Cut it into slices, top it with vanilla ice cream and/or drizzle it with salted caramel sauce or hot fudge sauce. I promise you, this is what happiness is in food form. I mean we all know that food should only be consumed for nutrition and emotional eating isn't good, blah blah...but come on...don't you think this would put a smile on everyone's face? I mean if you don't like all those puddles of melted chocolate and golden cookie then you don't have a heart I'm afraid. Okay, just kidding, I can be a tad bit dramatic. 😛 But seriously, you must have serious willpower if you aren't tempted by this golden beauty of a cookie.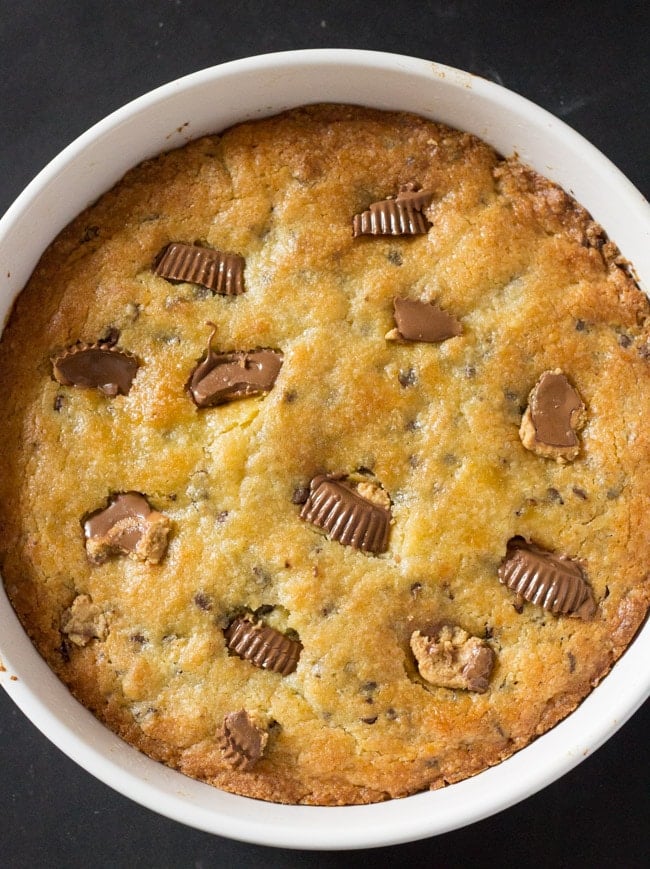 And guess what? This is really easy to make! Okay, okay I say that for all my recipes but that's because I only make easy recipes. Remember my motto? Minimal effort in the kitchen, but maximum flavor!
So these are the basic steps you have to follow in order to bring this beautiful cookie into your life:
1.) Make the cookie dough, which is easy peasy. Try not to eat the raw cookie dough as much as it's tempting. 😛
2.) Grease a 10 inch deep baking dish (I used a round one, but I suppose you could use a rectangular one too) and spread half of the cookie dough on the base of the dish. Place the peanut butter cups on the cookie dough. And cover up with the remaining cookie dough. Bake the cookie until it's all golden and crispy on the top, but still soft and gooey in the middle!!
3.) Top the cookie with ice cream, salted caramel sauce or hot fudge sauce. Sprinkles are also welcome too. And then dig in! 😀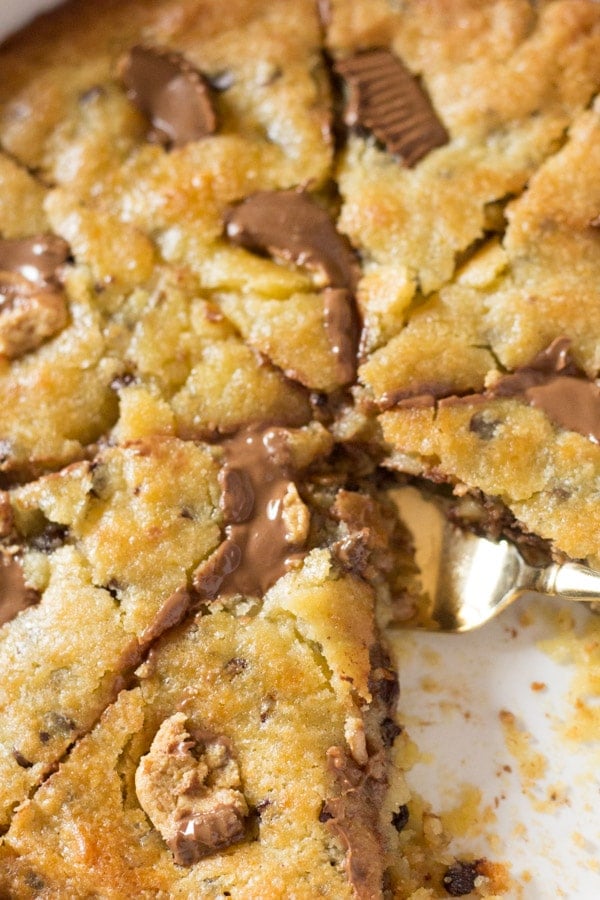 Okay, I gotta go now and sneak in a couple of spoonfuls of this awesome cookie while my toddler naps! 😉
P.S. This Giant Chocolate Chip Cookie Stuffed with Peanut Butter Cups is a part of the monthly challenge I take part in - Yum of the Month! This month's theme was chocolate chip cookie themed desserts. To see the other YOTM recipes this month, scroll below the recipe!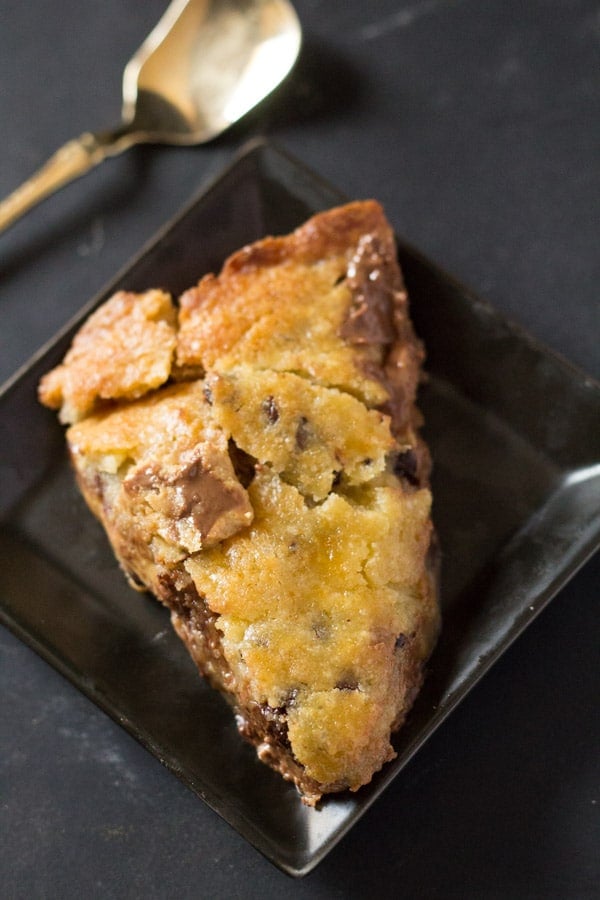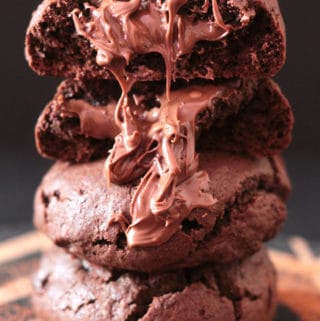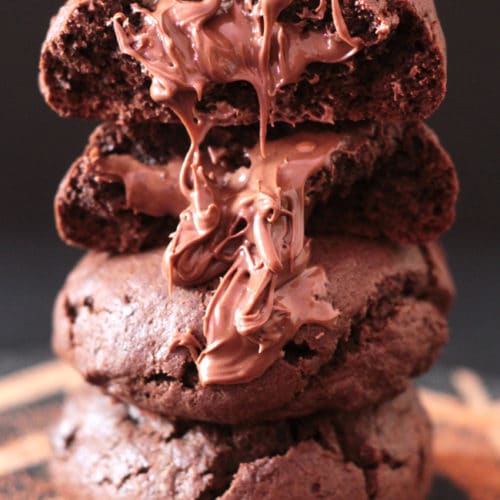 Giant Chocolate Chip Cookie Stuffed with Peanut Butter Cups
This Giant Chocolate Chip Cookie stuffed with Peanut Butter Cups is perfect for parties and gatherings, kids and adults will both love it. The dough is easy to make - no chilling required! Simple to make, and so delicious to eat!
Print
Pin
Rate
Ingredients
2

and 1/4 cups

280 grams all-purpose flour

1

teaspoon

baking soda

1

and 1/2 teaspoons corn starch

1/2

teaspoon

salt

3/4

cup

1.5 sticks or 170 grams unsalted butter (melted)

3/4

cup

135 grams light brown sugar

1/2

cup

100 grams granulated sugar

1

large egg + 1 egg yolk

room temperature

21/2

teaspoons

vanilla extract

1

cup

semi sweet chocolate chips

6

Reese's Peanut Butter Cups

and more for topping
Instructions
Preheat oven to 190 C/374 F and grease a 10 inch baking dish or skillet.

In a large bowl combine the dry ingredients: flour, baking soda, cornflour and salt. Set aside.

In another bowl using a wooden spoon mix the melted butter, light brown sugar and granulated sugar. Whisk until there are no brown sugar lumps remaining.

Add the egg and the egg yolk. Mix with a wooden spoon until combined. Add in the vanilla extract. Add in the dry ingredient mix, and mix until just combined.

Finally add in the chocolate chips and stir gently until combined. Divide the batter in half.

Add half of the cookie batter to the prepare baking dish/skillet and spread it so that it covers the base of the dish.

Place the Reese's Peanut Butter Cups on top of the cookie batter. Cover with remaining cookie batter. You can do this either by dropping spoonfuls over the dish, or gently spread the batter with your hands so that it covers the peanut butter cups.

Bake in the oven for about 25 minutes until the edges of the cookie are golden brown. Do not over bake. Instead I take my cookie out of the oven when it's still slightly underbaked in then middle as it further cooks when taken out of the oven. NOTE: Baking times may vary according to your oven.

Top with extra pieces of peanut butter cups and ice cream if desired.
Check out these awesome recipes from the other members of YOTM for this month's theme!
Amy at Accidental Happy Baker made this divine Chocolate Chip Cookie Pie!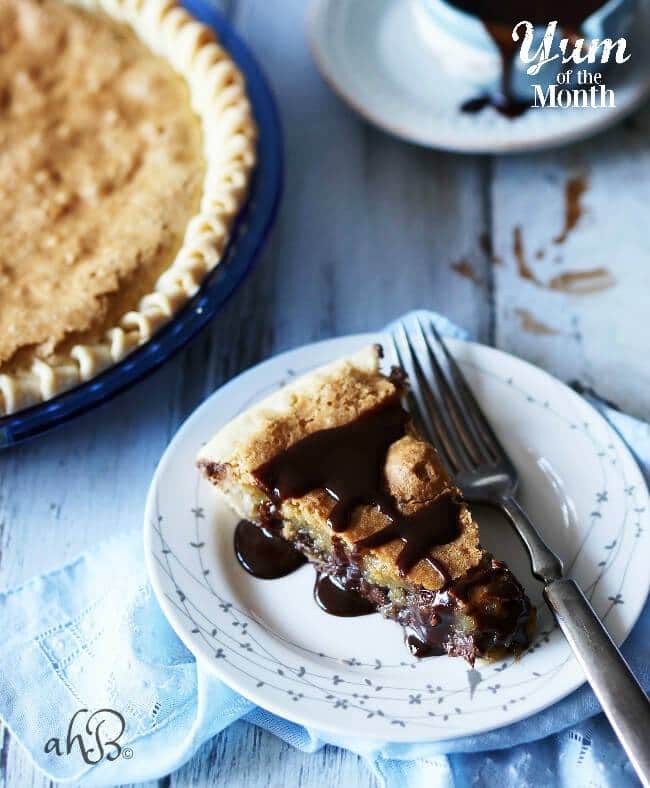 Michelle at Giraffes Can Bake made these drool worthy Cookie Dough Brownie Bombs with Salted Caramel (Gluten Free)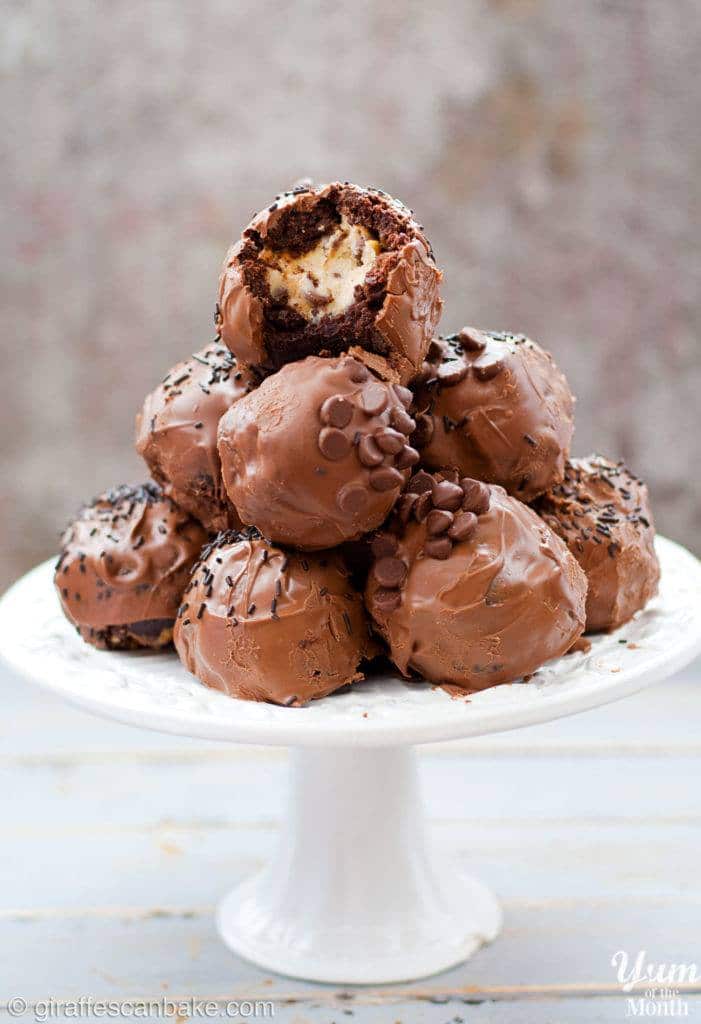 Looking for more mouthwatering sweet treats?
Ooey Gooey Nutella Stuffed Cookies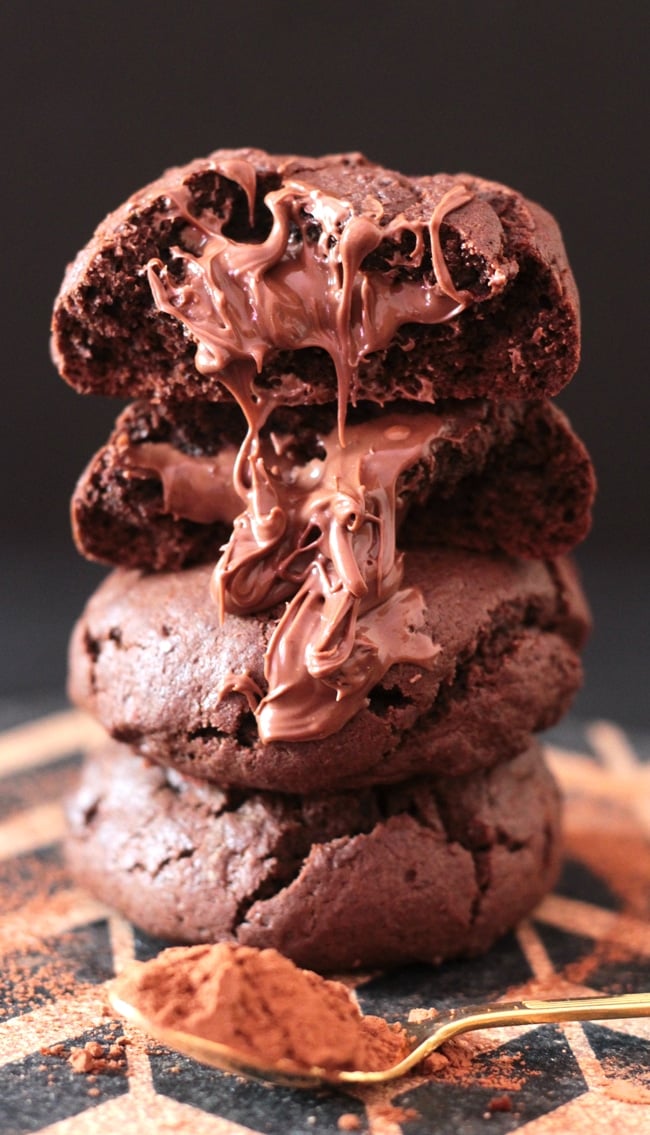 The Best Soft & Chewy Chocolate Chunk Cookies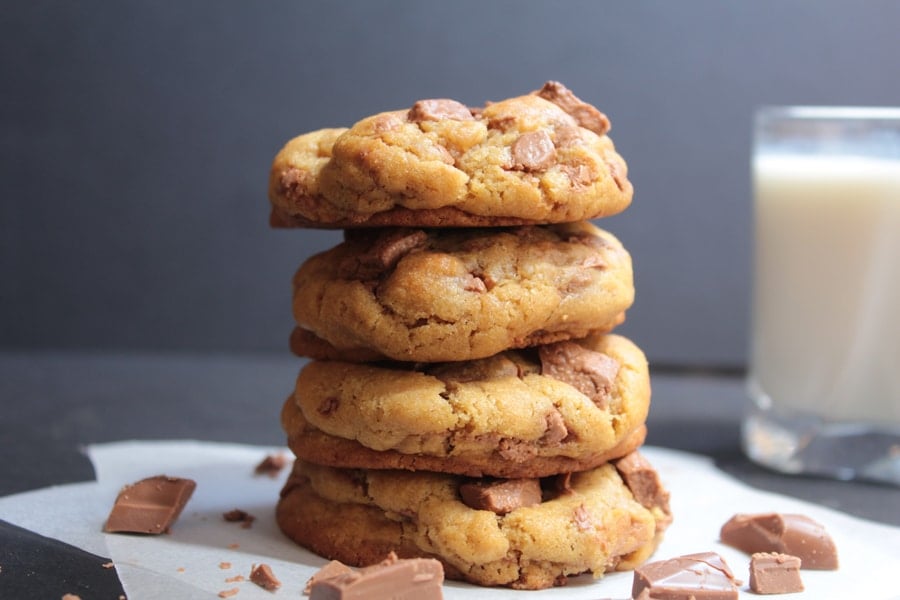 No Mixer Double Chocolate Muffins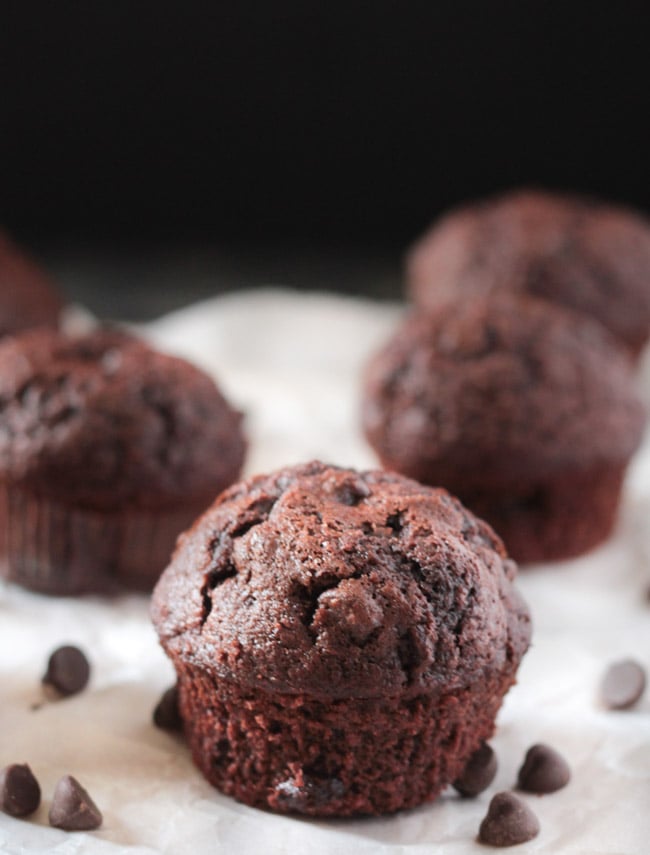 Lemon Swiss Roll Cake with Lemon Cream Cheese Frosting