Do you love PF Chang's Dynamite Shrimp like I do? Everyone raves about the crispy, battered shrimp, coated with spicy, delicious dynamite sauce and I've got a dynamite shrimp recipe you can make in your own kitchen!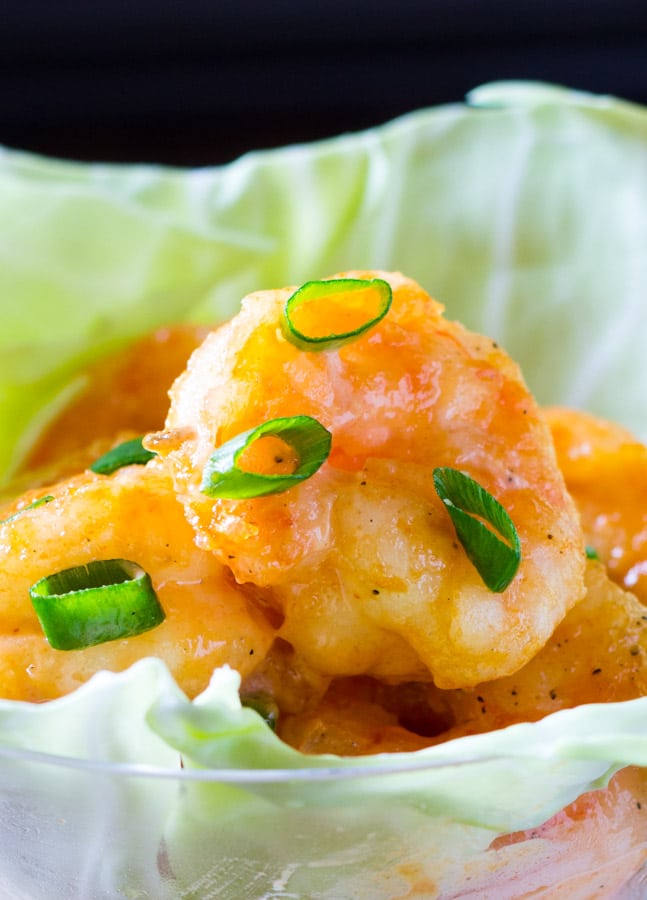 Creating this Shrimp Bomb Recipe
For most of my life, I haven't liked seafood (unlike my love for chocolate and all things chicken). But this all changed when I tried Dynamite Shrimp at PF Chang's.
I tried it one day to see what the craze was all about, and my mind was blown. As it should have been, since there was the word dynamite in the recipe title. Lol.
I started craving this appetizer and knew I had to learn how to cook dynamite shrimp at home.
I first started by making Honey Garlic Shrimp, because it seemed fairly easy and OMG so delicious. Also, I'd eat anything that involves honey and garlic. After that, I fell in love with this beautiful Lemon Garlic Butter Salmon that's ready in less than 30 minutes!
Then I started learning how to make the dynamite sauce recipe and - BAM! - dynamite shrimps were a regular on my menu.
I do hope you try this recipe, because it really is amazing! 😉
About this Recipe
I recreated this dynamite shrimp recipe so that I can enjoy the ever-popular P.F. Changs appetizer whenever I want to. And while it's not an exact copycat recipe, it does get close to the original in taste!
We are talking crispy, battered shrimp, coated with a delicious dynamite sauce that you won't be able to get enough of.
Why this Recipe Works
A great copycat recipe: Inspired by the popular restaurant appetizer, this PF Changs dynamite shrimp recipe comes very close in flavor and texture to the original. 
Economical: The PF Chang's version is quite pricey, so this recipe is perfect if you want to be economical but still enjoy your favorite dynamite shrimp. You can easily double the recipe and have a big batch to enjoy at home. 
Easy: This recipe is quite easy to recreate at home and doesn't require any special ingredients. 
Ingredients You'll Need 
Shrimp: I prefer to use fresh peeled and deveined shrimp for this recipe. You can however use frozen shrimp as well. 
Corn Flour: We use only cornflour for this recipe for that amazing crispy texture. 
Egg, Salt & Black Pepper: for flavoring the batter. 
Dynamite sauce ingredients: You'll need mayo, hot sauce, paprika or chili powder, honey, tomato ketchup, minced garlic, sesame oil, and white vinegar to make the delicious sauce.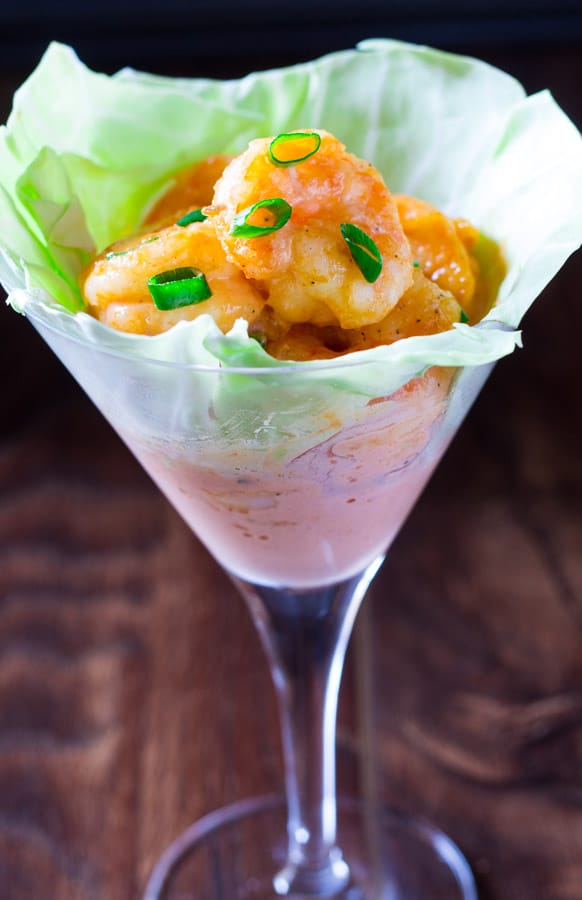 How to Make Dynamite Shrimp
Prepare the shrimp: Wash the shrimp and pat dry with a kitchen towel until fairly dry. This is an optional step, and you can skip it.
Make the batter: Mix together the egg, corn flour, salt and pepper. Add the shrimp and mix well until evenly coated. You can add a few teaspoons of water if the batter is dry.
Deep fry: Heat oil in a large wok or pot to medium high heat. To check if the oil is ready, you can drop a little bit of batter, if it sizzles, the oil is ready. Fry a few shrimp at a time, for 2-3 minutes until golden brown. Transfer to a kitchen-towel lined plate.
Make the sauce: Mix all the sauce ingredients together.
Assemble: Toss the fried shrimp with the sauce until evenly coated. Enjoy immediately!
Recipe Tips
Get peeled and deveined shrimp from the grocery store. This makes the prep so much easier than doing it at home yourself.
Shrimp overcooks very quickly, so be sure to not deep fry the shrimp for too long.
You can also make the sauce ahead of time and keep it in the fridge for 2-3 days. It's ready to use whenever you make the fried shrimp.
Recipe FAQs
Can you reheat shrimp?
It's best to enjoy the shrimp immediately, but you can gently reheat it in the oven for a few minutes on low heat.
What is dynamite sauce made of? 
Make your own dynamite sauce with mayonnaise, hot sauce, paprika or chili powder, honey, tomato ketchup, minced garlic, sesame oil, and white vinegar.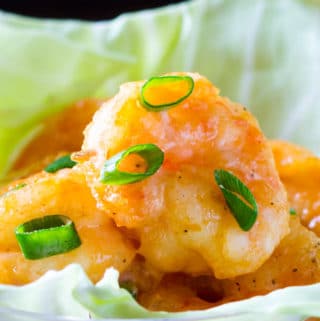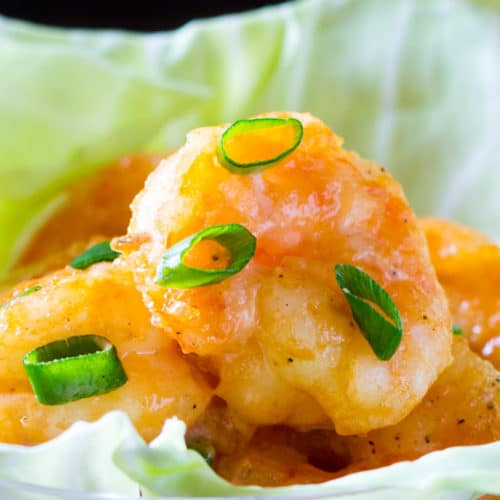 Dynamite Shrimp
Learn how to make Dynamite Shrimp - Crispy fried shrimp coated in a spicy tangy mayo sauce! A perfect recipe for your favorite appetizer.
Print
Pin
Rate
Ingredients
15-20

large shrimps

peeled and deveined

For the Batter:

1/4

teaspoon

salt

1/4

teaspoon

black pepper

1

egg

4

tablespoon

corn flour

For the Sauce:

1/2

cup

mayonnaise

5

tablespoons

hot sauce

3

tablespoons

tomato ketchup

1/4

tsp

paprika or chilli powder

1

teaspoon

honey

1

clove

garlic

minced

1/4

teaspoon

sesame oil

1

tsp

white vinegar
Instructions
Wash the shrimp, and drain on kitchen paper. Pat dry with kitchen paper so that the shrimp are fairly dry.

In a medium sized bowl, combine the batter ingredients, and whisk. Add the shrimp and mix well until coated.

Heat oil in a large pot and fry the shrimp for about 1-2 minutes. To make sure the oil is at right temperature, first test it by adding a bit of the batter to the oil. If it sizzles, it means the oil is at the right temperature. Fry only 2 or 3 shrimp at a time in order to maintain the temperature of the oil.

Drain the shrimp on kitchen paper.

In a medium sized bowl, combine the sauce ingredients and then add the fried shrimp to coat with the sauce.

Serve immediately.