Hi! I'm Cherri, the imaginary food lover that my author (Wajeeha) has dreamed up of as the main character of her series Confessions of a Foodie. I love food. Especially chocolate. So go on, read below my latest culinary adventures: homemade golden salted caramel! (P.S. you can read the first part in the series here. It involves a delicious recipe for Triple Chocolate Banana Bread!)
So, I've just moved into a new apartment. I wish I could tell you it was gorgeous, with white marble flooring, a modern spacious sunlit kitchen, and a huge bedroom. But it's not, because I'm not made of money you know. Students are poor people, duh. We need to save money for books, and stuff. Actually I don't even save for books. Because I end up spending all my money on kitchenware and ingredients. Like I recently found the cutest mini bundt pan at Wilton, I couldn't resist it. I also have a thing for whisks. I've got a bright pink plastic one, a silver metal one, oooh and there's a purple one too with a yellow handle. Okay, I may have a whisk problem.
So, where was I? Oh yes, I was telling you about my new apartment. Instead of a gorgeous luxury marble flooring, it's got a creaky wooden flooring, but it's kind of nice. It's also currently covered with boxes and boxes of my stuff. Whenever the floor creaks, I like to think of all the people have walked and lived their homely lives in this apartment. A happy couple dancing on the creaky floor for no reason. A young girl sitting on the old worn out floor, weeping for a lost loved one.
Now let's talk about the kitchen, it's probably my favorite part of this apartment. It's small, with an ancient refrigerator. But it's got a functioning oven, and guess what? Somebody painted it pink. Totally love that person. It gives a very warm and bright feeling to the kitchen.
Okay, I might as well start unpacking. I hate unpacking. I mean packing is easy, you just take all your stuff and dump it into different boxes and suitcases. But unpacking is different. It means you have to organize and place all your stuff in the correct places. I guess I'll start with my collection of cookbooks. They're precious. These cookbooks of mine. My most prized possessions.
As I'm digging through my cookbooks, I come across a worn out and dusty leather diary that I've never seen before. Wiping the dust off with my fingers, I see it says Recipes to Nicola on the cover, in curvy gold letters. I've never seen this diary. I wonder where it came from. I look around worriedly, is this place haunted or something? It's definitely not my diary, or maybe, maybe I must be tired. I like to collect vintage cookbooks and may have picked this up years ago and forgotten all about it, I reason with myself.
Carefully, I open it and shuffle through the yellowed, crinkled pages. It's a handwritten diary, in fact it seems like a collection of letters. I randomly flip through, until I settle down on one letter:
Dear Nicola,
Today, I want to tell you about a recipe very close to my heart - homemade golden salted caramel sauce. Legend has it, that this sauce is powerful, it heals broken hearts and brings smiles to those with sad eyes. It's said that just one spoonful of it melts the coldest of hearts. It's warming, soothes the soul, and can be used as a topping for a number of desserts. Or be eaten by the spoonful, if needed, in order to eliminate the strongest case of sadness.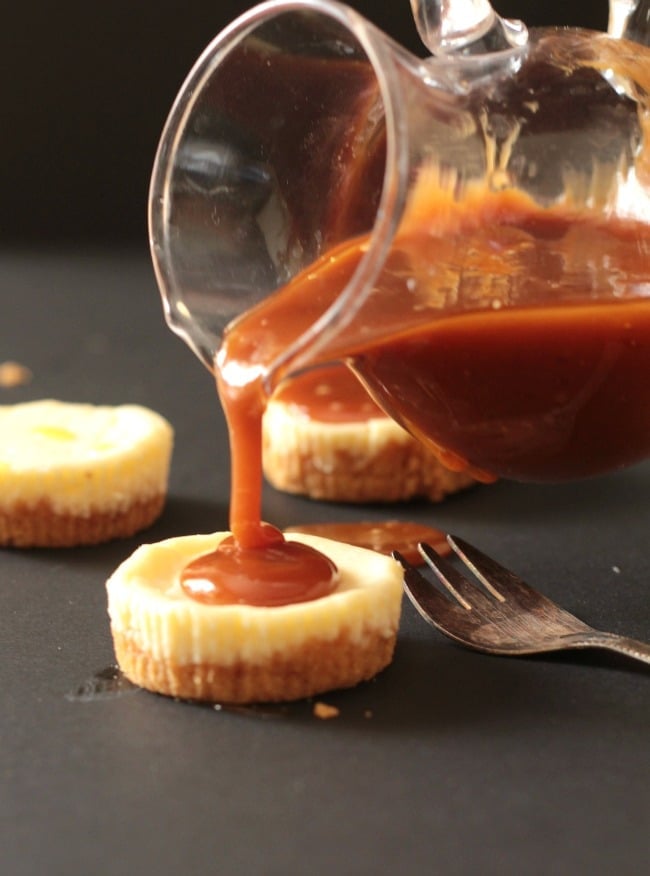 So if one day, you're feeling sad, lonely or your heart is tired, I would advise you to make this. This potent gold liquid has healing properties, I promise. And with only four ingredients, this decadent sauce is sure to make the darkest of days bright with happiness.
All it takes is a bit of sugar, golden butter and the creamiest of heavy whipping cream, and some hope for happiness. Be careful while stirring the hot sugar my love, and when it melts into a deep amber-gold, you'll know that its ready to meet with butter. As the butter melts, be sure to slowly add in the whipping cream, and let it cook for a minute or so. The last step is to add the salt, it brings out the sweet caramel flavor, so be sure to not omit it.
I know you'll want to taste it right away, but it might burn your tongue. Let it cool down to room temperature, and then take a spoonful. Your heart will sing, I promise.
Lots of love,
Nana
Okay, who is this lucky Nicola who was given a handwritten diary of recipes? And more importantly, who is this Nana and why haven't I met her? She seems totally like my person. I really do think salted caramel sauce has magical properties. Finally someone who thinks like me. I think I've found my new favorite cookbook author. Sorry, Nigella Lawson. Okay, I gotta go and make this salted caramel sauce, I'm tired after all the moving and kind of sad too. Well no, I'm not really sad, but I really want to make this sauce, so let's pretend I'm sad, okay?
I think I'll pair it with mini cheesecakes. After I taste it with a spoon though, of course for my tired heart and all. I gotta go now, important caramel sauce making to do in the kitchen.
Until next time.
Love,
Cherri.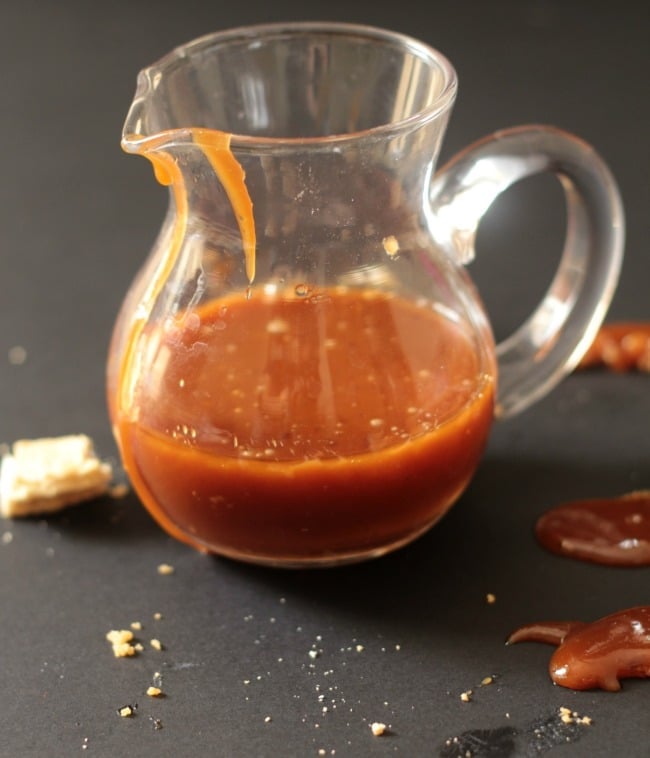 Homemade Golden Salted Caramel Sauce
This delicious and super easy salted caramel is so quick to make at home. Perfect for as a topping on ice creams, cheesecakes, brownies, and many more desserts. Only four ingredients needed!
Print
Pin
Rate
Ingredients
1

cup

200 grams sugar

6

tablespoons

90 grams unsalted cubed butter

1/2

cup

120 ml heavy cream

1

teaspoon

salt
Instructions
Place sugar in a medium saucepan, and place it on a medium hot stove. Stir continuously with a wooden spoon.

The sugar will take sometime to melt, so be patient with it. It will first start forming clumps as it melts, and change color to an amber-gold liquid. Be careful so as to not to burn the sugar.

Once it has melted completely and is a deep amber-gold, add the cubes of the butter and keep stirring continuously. The caramel will bubble rapidly as the cold butter hits it so be careful while stirring.

Once the butter has melted completely, add in the heavy cream. Once again the caramel will bubble rapidly so please be careful while stirring.

Allow the caramel to boil for 1-2 minutes and then take it off heat. Add the salt, and mix it.

The caramel needs to be cooled completely before it can be used.

Eat with a spoon. Or you know, do the less indulgent thing by adding it to ice cream or your choice of dessert.
Want to see browse more delicious recipes? Here you go:
Walnut Brownie Oatmeal Bowl with Strawberries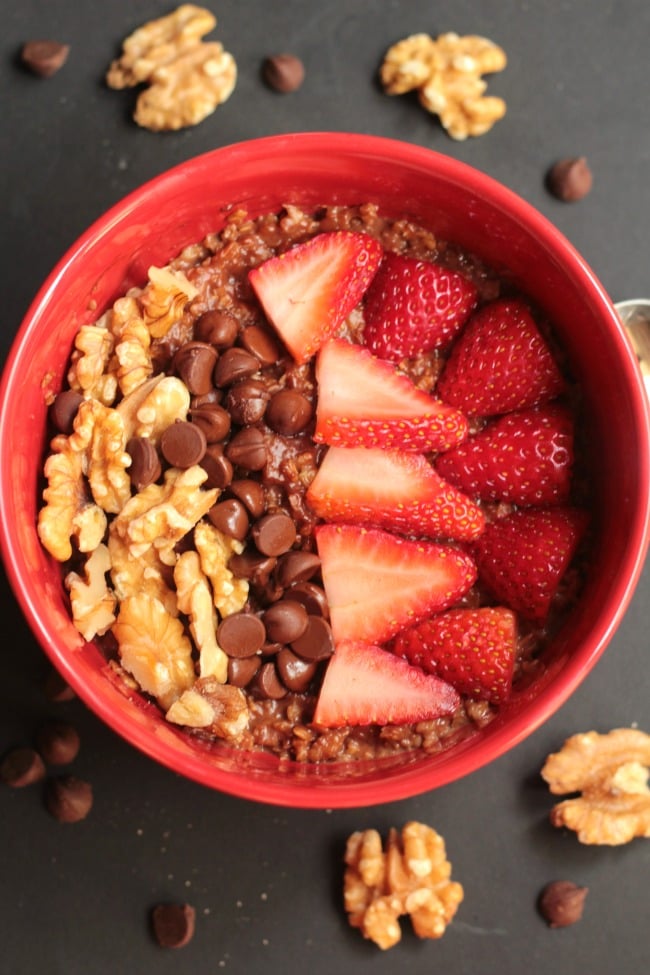 Juicy Chicken Burger with Fried Eggplant and Creamy Coriander Dressing