Happy December everyone! Here's to a month of cozy winter evenings, holiday festivities and lots and lots of fun and happiness, and delicious soul warming meals. Now that it's officially very cold in most of the places around the world, I thought I'd start this month with a warm, cozy and easy recipe for Lighter Chicken Pot Pie! And don't run away from the word lighter, because we all know how much we want calorie loaded comfort food during chilly weather, because I promise you, you won't miss all the cream that is usually added to traditional chicken pot pie recipes. I make this Lighter Chicken Pot Pie with an itty bitty super easy trick, which makes the pot pie super creamy but without the cream. So this is a creamless creamy lighter chicken pot pie! 😉
And there's not even a lot of butter that goes into this, except for the puff pastry (store bought) and I'm sorry but we can't eradicate the puff pastry because what sort of a cruel world would it be to have chicken pot pies without puff pastry? :O
So puff pastry it is, but we've got a healthier yet perfectly comforting filling in this Lighter Chicken Pot Pie. It's all about balance right? 😉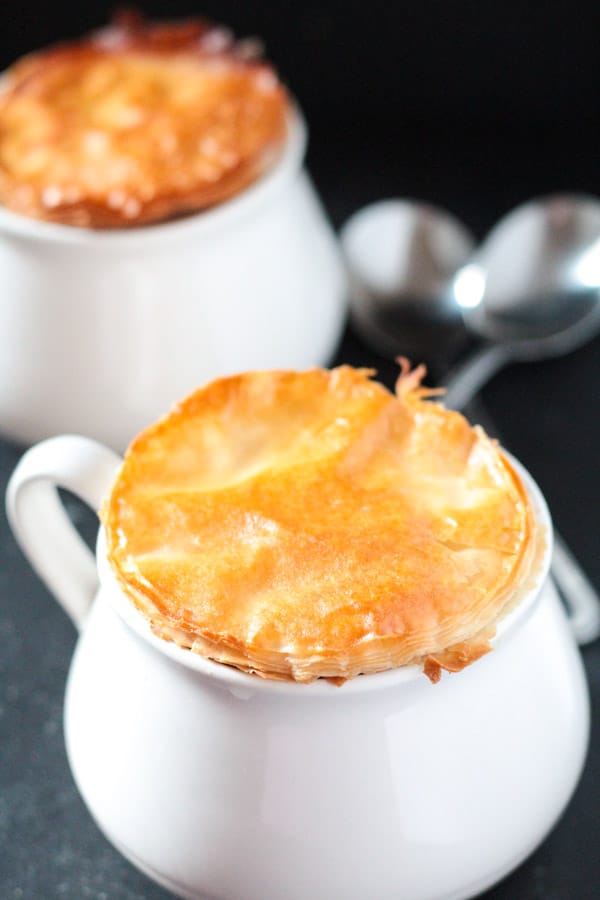 Okay, so before I go any further, I want to make a funny confession. I'm supposing most of you have guessed that the puff pastry lids in the pictures, isn't actually puff pastry. See the thing is, I live in the Middle East and a lot of products are labelled in Arabic and I don't know Arabic.
So the other day, I was in a hurry, and couldn't find my usual brand of puff pastry while grocery shopping, and quickly grabbed what I thought was puff pastry. Well clearly it wasn't puff pastry, and I realized this right when I was about to put the pot pie into the oven for baking.
So I made use of these crispy pastry kind of things that these were, and went with it. But don't worry, in the recipe card I have written instructions using puff pastry, actual good buttery puff pastry.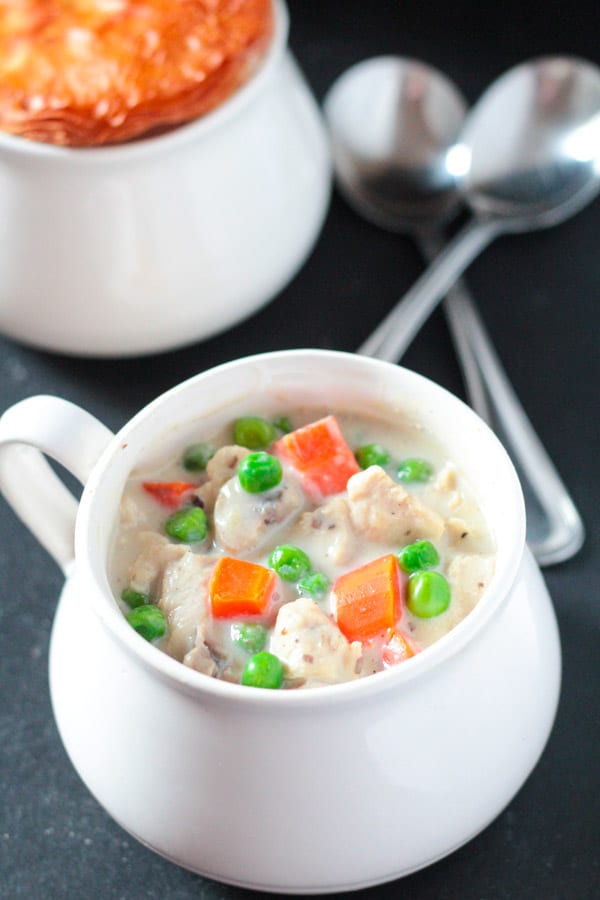 Okay, now it's time for cooking nerd alert. I'm going to give you some basic tips on how to make this Lighter Chicken Pot Pie perfectly each time, because it's so good and I can guarantee you that it will become a regular in your kitchen during the long, cold winter months!
How To Make the Perfect Lighter Chicken Pot Pie 
1.) Let's start with the filling first. This is a one pot affair, and quick and easy. You will start off by cooking the chicken in just a handful of spices such as salt, pepper, and my very favorite spice these days: garlic powder. Because that means I don't have to chop garlic. Lol.
2.) Then we take out the chicken and set it aside, and prepare the vegetables and sauce for the pot pie. A little bit of butter, some chopped onions, chopped carrots, sliced mushrooms and frozen peas are all we need. Since we aren't going to be using cream for thickness and creaminess, we will be making an easy roux.
Roux is just a mix of butter + flour but this is a very basic roux, and we're going to add a few more things to amp up the flavor. So we start by melting a bit of butter, add chopped onion and cook the onion a bit until it's softened. Then instead of adding flour, we add the rest of the veggies: the carrots, mushrooms and peas. Cook for a few minutes (about 5-7 minutes) until the veggies have softened and are cooked through.
Now it's time to add the flour which is the thickening agent here, and will give that creaminess we want but without all of the fat that comes with heavy cream. Now when you mix through the flour, the whole thing will seem a bit dry, but don't worry, the milk is about to come into action! 😉
So cook the flour veggie mix for a minute or two, to make sure the flour doesn't remain raw. Now slowly pour in the milk, while stirring, so as to avoid lumps of flour. Mix, mix, mix for a few minutes until the sauce thickens up. Also add a few seasonings like salt, pepper and garlic powder (my fav forever).
At this point, you can decided on how thick you want the base of the pot pie to be. So if you want it to be soupy, take it off from the heat or thicken it up as to your liking. We like it on the soupy side! 🙂 Add in the chicken, taste test for seasonings and now it's ready to be baked.
3.) Pour this chicken pot pie filling to a baking dish and cover with puff pastry. Brush it with egg wash and bake until the puff pastry has puffed and is golden brown.
4.) And now dig in! Oh wait, not so soon, because it will be piping hot. This comes from an impatient person who burnt her tongue, but obviously that's not me! Ahem, or maybe. Or maybe not. Anyway, so wait 10 minutes before serving if you have the patience! 😉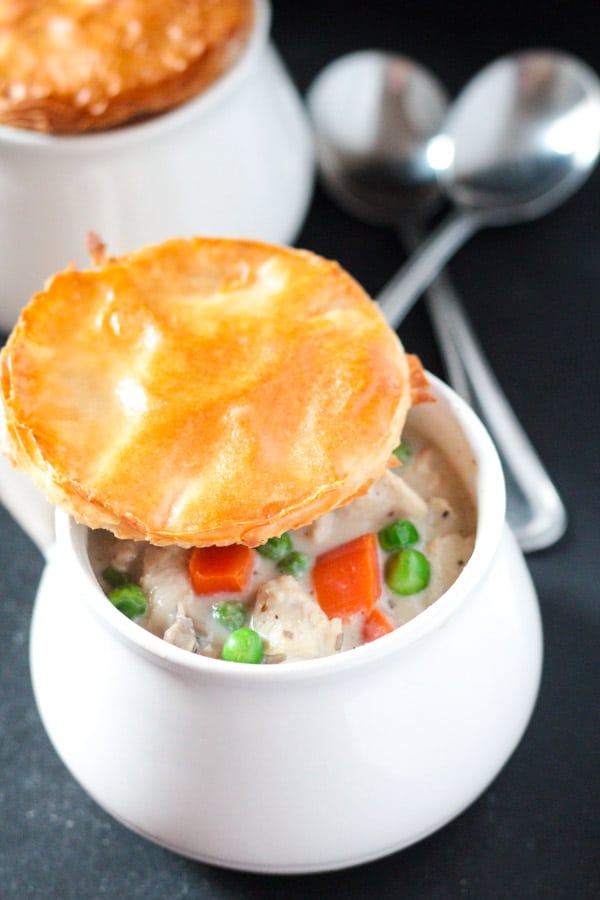 Enjoy! 🙂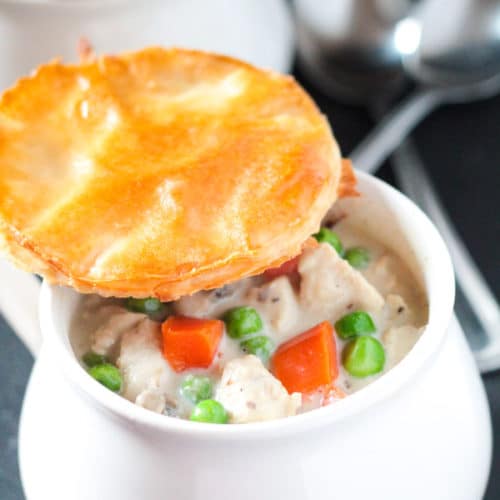 Lighter Chicken Pot Pie
This Lighter Chicken Pot Pie is just as delicious and creamy as the traditional pot pie. It's quick and easy to make, and is perfect for winter dinners!
Print
Pin
Rate
Ingredients
2

tablespoons

oil

3

medium sized boneless

skinless chicken breasts (chopped into 1 inch pieces)

1/2

teaspoon

garlic powder

or freshly minced garlic

Salt and pepper to taste

4

tablespoons

butter

1

medium onion

finely chopped

1

carrot

chopped into small cubes

1

cup

peas

I used frozen peas

1

cup

sliced mushrooms

4

tablespoons

all purpose flour

2

cups

milk

1

package thawed puff pastry

Egg wash

1 egg + 2 tablespoons water, whisked together
Instructions
Preheat oven to 180 C.

In a medium sized pot, heat oil and add chicken pieces, garlic powder (or minced garlic) and salt and pepper. Cook on high heat until the chicken has changed color, and is cooked through. Remove from the pot and set aside.

To the same pot, add butter, let it melt and then add the onion and cook until slightly softened and translucent. Now add the carrots, peas and mushrooms and cook for 5-7 minutes until tender.

Now add the flour, and mix. Don't worry if it looks too dry, we'll be adding milk soon, Cook for 1-2 minutes so that the flour is cooked, and then slowly add in the milk, while stirring continuously.

Keep stirring for 5-7 minutes on medium high heat until the sauce has thickened, and then add the chicken. Cook for 1-2 minutes and then transfer to a baking dish.

Cut the puff pastry according to the size of your baking dish, and then gently place it on the top of the dish, to cover it completely. Make sure the edges of the puff pastry seal the sides of the dish. Make a little cross in the middle of the puff pastry (to release steam during baking) and then brush with the egg wash.

Bake for about 20-25 minutes until the puff pastry is golden brown.